The JK Story
The Just Kampers story
Introduction
This page gives a brief run down of the history of Just Kampers. From our founding back in 1989 when we were just a one man workshop, right through to the present day where we're sending tens of thousands of orders out, to customers around the world, every year!
For a more detailed history of the company, or just to check out some awesome fashions and haircuts, visit our Facebook page.
1989 - In the Beginning
Mark Reynolds founded Just Kampers on his Birthday, September 1st, as he couldn't get motor traders insurance before he was 22 years old.
The business started as a 'one man band' workshop, specialising in the repair of VW Campers, at the Old Pump House in Bagshot, Surrey. The premises were so small that with the doors closed there wasn't enough room for Mark to actually work on a Camper. So the doors were always open which was less than ideal in cold weather and whenever the sky turned grey a tarpaulin had to be draped over the workshop doors to keep the rain off!
The Old Pump House didn't have a land-line telephone connection so Mark had to make use one of the ironically titled 'Motorola Transportable' mobile phones – With a battery pack about the same size, and weight, as a car battery it really wasn't all that transportable!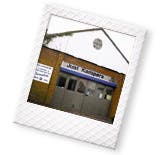 1990 - The Move to Wrecclesham
In the spring of 1990, around the same time that his son Josh was born, Mark moved JK into larger premises Wrecclesham near Farnham in Surrey.
The site had previously been used as a Rolls Royce service and repair shop and could accommodate up to six Campers. The workshop was situated next to a retirement home and it soon became clear that our new neighbours didn't share our enthusiasm for air-cooled VWs!

There were a few complaints and while we did our best to be good neighbours we knew it wouldn't be long before we be looking for somewhere new to move!
1991 - 24 Hour VW People
The business continued to grow and so did our neighbours cause for complaint. By 1991 JK was running nearly 24 hours a day and we'd begun breaking old VWs in order to sell second hand parts. This was the beginning of our transition from workshop to parts business.

In hindsight a lot of the VWs that we broke would be repaired and restored these days, but it was a different time, and the vehicles just weren't in such demand twenty years ago and were not nearly so valuable!
Mark and Pete Dempsey (now our Development Director) saw this Bay Window and decided to make their own version of it, which they dubbed "Roofless and Cold-Hearted"!
1992 - Becoming a Parts Shop
We finally moved to Farnborough, at the site where Farnborough VW operate from today.

The new location gave us more space, which was great, but our new neighbour was a four star hotel and their residents were no happier with our 24 hour VW workshop than those of the nursing home had been!
We were finding that more and more customers were struggling to find certain parts, so we decided to source them ourselves and sell them from a small shop, which we set up in our workshop.
1993 - Buried Treasure
Whilst on holiday with his wife Kerry in Malta, Mark inevitably took an interest in the local VW scene! Completely by chance Mark and Kerry discovered a closed down VW Main Dealer that had stored all of its parts in a nearby cave! Mark knew this was an unbelievable find and the week after returning from holiday he flew straight back to Malta to buy all the parts and get them shipped back to the UK!
Here's Pete chopping a Bay Crew Cab... Pete loved roof chops so much that every time Mark went out he'd take the hacksaw with him - Just in case Pete decided to chop his car while he was getting a sandwich!
1994 - Wheeler Dealers
Here's a photo of Ed China, of 'Wheeler Dealers' fame, standing next to the Bay that Pete had chopped - We knew him before he was on TV! Ed once rented the unit next to ours at our HQ in Odiham, and used to amaze everyone at JK with his fantastic and imaginative vehicles!
Here we are at Stonor Park in 1994 - As well as parts we were also selling the crew cab that Pete had roof chopped! The guy in the middle is Andy from Farnborough VW - Sorry Andy!
1995 - The Grand Tour
1995 saw an attempt to find another Malta style treasure trove. Having found a 1959 Volkswagen Dealer map with every VW dealer in Europe marked out, Mark began a trip to see if they were still in existence and if they had old treasures gathering dust. A few thousand miles later, it was decided that Malta was a bit of a one-off and running the workshop paid the bills better than treasure hunting!

As you can see from the photo, we expanded our shop and the range of products that we stocked, but were still 95% workshop.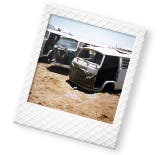 1996 - LA Story
In 1996, Mark and his wife Kerry went to LA to see if they could start importing parts ofr Volkswagens like doors and front axles back to the UK. They found a few scrapyards that were full of VWs like these, which were scrapped back then but these days would probably be restored!

As you can see from the photo, Mark had already been busy stripping away the best bits to send back home to JK!
1997 - The Space Race
In 1997, the first container of VW parts that we'd bought in LA arrived.

We knew we'd soon have to start looking for a new place to store all of these parts, as we were quickly running out of space in our workshop!
We started to stock more and more VW parts, to keep the workshop busy, which led to JK becoming a parts business.

Initially we ran it from a small shop in North Camp. When we took on the shop we thought we could never fill it, however, it was not long before we had outgrown not only the shop, but the four shipping containers we wedged into the rear car park, as well as the offices above our shop and the two shops next door too!
1998 - Mail Order VW Parts
In '98 Mark and his young family travelled to South Africa to find parts. Many of the parts we found on that trip we still sell, more than 10 years on. Some of the products we've sold over 5,000 of!

The family took some time while they were out there to go on Safari - in a T25!
This was also the year that we found many of our customers preferred to shop via mail order and so we started to extend our mail order offer.

Here's a photo of Mark on the phone in the old Sales Office. He's ditched the Vans, but he still sits like that when he's on the phone!
1999 - New Scrapland Yard
Mark managed to find the parts he was looking for, and also leased some land out in LA so that we could run a VW Scrap Yard out there!

We'd salvage the best parts from wrecked VW Campers and ship them back to Just Kampers, to sell second hand in the UK.
In 1999, Mark went back to California, bringing his family with him again so that they could take in some sights while we looked for more car parts. He managed to spare some time to go see some drag racing though!
2000 - Tidying Up
Once again we started to expand our warehouse and get everything more organised.

We've always tried to keep everything tidy, organised and logical in our warehouse, which is why we now run all of our picking on handheld computers to minimise the chance of errors.
Here's a photo of Mark and Pete at Brighton Breeze 2000!
2001 - Taking Office
In 2001 we started to build more permanent offices at JK, because more orders meant we needed more sales staff!

Here's a photo of Mark holding down the fort in the new offices! They're still used today, but they've been used for a dozen different things over the years!
2002 - Kamperink-ing it Up
As well as growing the range of mechanical parts and accessories, 2002 was the year we got the JK Kamperink!

We used to fill it absolutely full of stock and take it to all the shows with us, and we used it to test a lot of products, too.
2003 - Online Sales
In 2003 our Internet business really picked up, so we had to get ourselves mich more organised to keep up with the increase in demand.
New racking went in to our warehouse in Odiham, and we revised the way that orders are processed.
2003 is also the year we started to stock a lot more new parts from places like Empi, as well as selling second hand parts.

This was a big step for us, and it meant that we were sending more artic lorrys down the country lanes of Odiham!
2004 - Volksworld Show
2004 was the year of JK's first VolksWorld Show - We loved it then, and we love it now!

If you've got any photos from old VolksWorld shows, please send them to us, we'd love to see them!
2005 - Getting Tooled Up
In 2005 we saw more and more parts becoming obsolete, we began to invest heavily in tooling up to produce the parts ourselves so that people could still get them.

This is an ongoing project as the vehicles become older and the parts harder to find.

We've also manufactured some non-mechanical products, such as our ever popular melamine sets.
2006 - Breezing to Brighton
Mark Reynolds and his son Josh put together their first, but not last, team for the London to Brighton bike ride which included a few JK Staff Members, in order to raise money for charity.
Edd China, of 'Wheeler Dealers' fame, made these Bread Bays in 2006 - We know you love interesting VWs, so we thought we'd share them with you!

It was also the year he relocated, moving out of the unit next to ours at our HQ in Odiham. We quickly took over the empty space, but we left his Cummfy Banana sticker on the door. It's still there today!
2007 - Doing it for Ourselves
In 2007 we began to increase our focus on designing and manufacturing our own products, such as our popular melamine dining sets, and our Spacemaker awnings.
2008 - How Low Can You Go?
At Bug Jam, Santa Pod, in 2008 we were part of a team that set a record for the world's lowest campervan, along with Andy Saunders.

It was an amazing thing to be a part of, and although it took all weekend we got it finished in time for a run down the drag strip at Santa Pod!
2009 - Going Social
Throughout 2009 we became increasingly fond of Facebook and today we use the site ona daily basis to stay in touch with customers, colleagues, friends and our VW family. To read about our more ecent history and current deals simply head over to our Facebook page.
2010 - Branching out
At the end of 2010 we announced our launch of Just Kampers Australia. Wanting to cater to Volkswagen lovers on the other side of the world, we sought to set up a sister warehouse in Auburn, Australia. By having a partner on the other side of the world, we are able to service customers with the same great products we sell here, whilst also minimizes shipping costs and dispatch times to the VW enthusiast, which would otherwise be unattainable.
2011 - Build-a-bus
In 2011 Just Kampers bought and restored the 'project bus' together as a team, each willing member of the Just Kampers Staff took a turn at turning the broken bus into a fully functioning one, from new breaks to choosing the interior, eveyone did their bit to make the bus the bet it could be!
Shop for Volkswagen parts and accessories and camping equipment.