This week, we're casting a spotlight on another top-quality brand. We'd like to delve into the world of Fiamma and explore everything this unique Italian company has to offer!
You've likely heard of Fiamma if you've spent any time in the classic or modern VW scene, as their bike racks, vehicle awnings and other accessories are incredibly popular on campervans and other vehicles, but just who are they?
Image credit to Tobias Weinhold, via Unsplash.
Who are Fiamma?
Fiamma are a world-class company, which specialise in manufacturing technical accessories for the recreational vehicle market. Ever since the company started back in 1925, Fiamma have been pioneers in the development of accessories dedicated to recreational vehicles! They have over 100 patents registered in areas all over the world, including Europe, USA, Japan and Taiwan.
Fiamma has an unmatched dedication to their mission, to invigorate the world and its appreciation of life! Fiamma show genuine passion for enjoying the freedom that comes from travelling in an RV. Since their products are loved by so many, all over the world, the Fiamma catalogue has been translated into 11 different languages including: Chinese, Japanese and Russian.
Fiamma's enthusiasm for nature makes a lot of sense, since the company has always been grounded within the stunning sights of Italy. Just outside the heart of Milan, Fiamma's HQ is now based in Cardano Al Campo.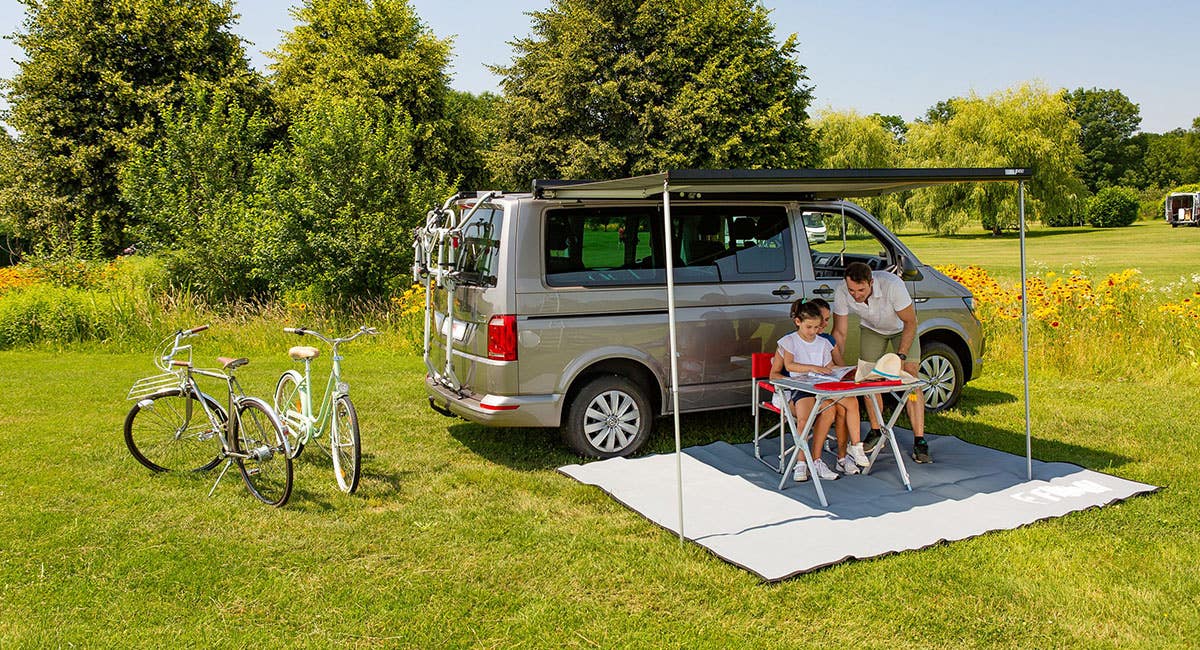 What do Fiamma make?
Fiamma specialise in a variety of products, they're most well-known for their high-quality Bike Racks and Canopy Awnings. That's what makes them such a popular brand here at Just Kampers, however they also produce a wide range of accessories including: Roof vents, lighting, ladders, and hygiene products.
Fiamma look past the gimmicks and seek to achieve practicality. If it's a camping/travelling essential, they'll do their best to resign it to perfection.
Canopy Awnings: We've recently expanded our current range of Fiamma awnings, for increased compatibility between a variety of vehicles! We're now stocking canopy awnings that are perfect for vehicles as large as motorhomes and caravans, to your average van conversion vehicle.
Not only do Fiamma produce awnings in different shapes and sizes, but they've also developed these in a range of different colours. Most awning cassettes come in a choice between Titanium or Deep Black, and most canopies are available in either Royal Blue or Royal Grey.
Here's just a few, we consider to be perfect for the average van-conversion:
Bike Racks: We've been selling Fiamma Bike Racks for many years now. They're built to last and are conveniently customisable, to cater to your travelling requirements. The most popular models here tend to be made to fit to the VW Crafter but we stock quite multiple racks which are suitable for all kinds of RV's.
Fiamma have taken the time to consider customer concerns; some of these can even be fixed to the vehicle without drilling! (Please note, this isn't a guarantee for some models and depends on the application to the vehicle)
Here's a few which are designed to fit to your van-conversion:
What's the quality like?
All these products look fabulous, but how good id the quality? Fiamma are leading experts in their field of manufacture, so you can rest assured that products you buy now, have been subject to over 75 years of development and testing. All of Fiamma's products come with a full manufactures warranty, so on the rare occasion that a product is not up to standard, it will be covered!
If you experience any issues with your product, please get in touch with our Customer Service Team, via this email address: sales@justkampers.co.uk
Image credit to Anders Nielsen, via Unsplash.