Get yourselves ready for this year's National BBQ Week. It's time to get your grill on and enjoy a series of feasts amongst your family and friends. As the group exclaim on their website, 'we're all going barmy for a barbi this summer'!
When: 4 - 10 July 2022.
Where: All over the UK. Their BBQ Road Shows will hit county and food festivals throughout July.
Image Credit to Vincent Keiman, via Unsplash.
What is International BBQ Week?
This is a celebration of all things barbecued! Whether you're simply a lover of food, or enjoy making the most from your top of the range grill and smoker, don't be afraid to get involved. One of the UK's top five awareness weeks, and probably the most tasty; this event was first celebrated back in 1997.
The holiday has helped change attitudes towards barbecueing and encourages the creativity behind summertime dinners. Increased celebration of the event has promoted the growth of the BBQ and outdoor cooking market by up to 15 times, since it was started.
As part of the festivities, the organisers have built a thorough campaign and continue to raise awareness every year. Alfresco cooking back in 1997 was relatively under-celebrated and the market was lacking. These days, the sun only has to break through the clouds and the neighbours are out in their gardens, firing up the BBQs!
It's no secret that food brings people together. The practise of dining together, with family or friends at the table, is cross-cultural. Though BBQ's in particular, tend to provoke a more sociable atmosphere and greater celebration of the food served. Barbecue's are a poignant symbol of Great British Summertime and their unique qualities drive everyone around to get involved.
Whether you're setup on a beach with a tin full of coals, or chilling at home beside your industrial sized smoker, barbecueing is definitely one of the most exciting ways to cook!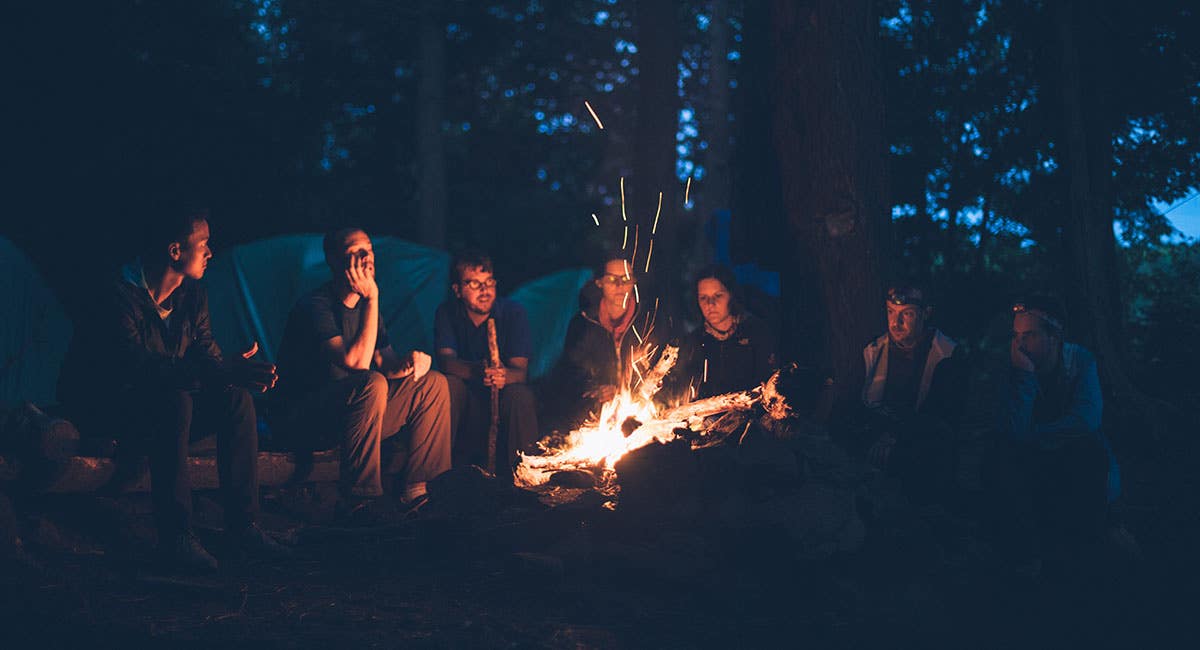 Image Credit to Mike Erskine, via Unsplash.
What is it we love so much about BBQ's?
We know that cracking out the BBQ is fun for most people, but there might be more to it. Research suggests that barbecueing food can relieve symptoms of stress and can in some cases, be a healthier alternative to oven cooking.
An article in the Wall Street Journal spoke about experimentation with cooking therapy, as a method of calming patients in American clinics. The process of cooking and preparing food, is said to shift attention from your external concerns, and instead focus on being present and in the moment.
Grilling in particular, is therapeutic in much the same way.
Barbecueing often requires less precision than standard cooking, plus there's no strict time structure. People take BBQ's as they come; you don't know the time it will take for something to cook, so just sit back and watch the flames and smoke swirl. Not to mention, when modern life gets a bit too much, grilling helps us focus on simple ways of doing things. Stripping back to the essentials and cooking with just fire is interactive and helps us to achieve a sense of clarity.
After all, that's why most of us enjoy camping, isn't it? We're so easily distracted. When you cut back on your belongings and focus on what's important, it gives you more time to appreciate your company and surroundings.
If your grilling over time improves and becomes more of a skill, there's loads of jazzy gadgets for you to give a go! When cooking becomes a hobby, it gets a little more imaginative. It's so good for you to exercise your creativity.
As we step into the fast-paced world of work and full-time jobs, few of us exercise our creative minds as much as we did when we were kids. Engaging with our creative side, uses problem solving and planning; using these skills daily is reported to improve brain function! Our brains work just like muscles, the more we exercise them, the stronger they get.
So when it comes to barbecueing, they don't only produce great tasting food. They also facilitate productive brain function and they're super fun to use. So, what are you waiting for? Get grilling!
Shrimp on the barbi
This 2022, we've endeavoured to extend and improve upon our supply of camping products, especially regarding our cookware range. We've got a vast range of cooking gear available, designed to complement your camping lifestyle. Plus, there's a few added luxuries!
They may not be necessities, but there's certainly nothing wrong with enjoying some extravagant foodie style fun while you're out camping! Who's gonna stop ya?
So, what appliances do we recommend? Let's get down to business…
Vango Camp Chef Pro 30 Single Burner, complete with Carry Bag
This simple cookware bundle gives you everything you need for a standard weekend away in the van. The Vango Pro 30 boasts high performance, for efficient cooking wherever you need it.
Once assembled, the frame stands tall, so you can cook wherever you need. Gone are the days of stealing tables, so you can cook yourself a late-afternoon omelette!
The stand is equipped with a small side table, which give you space to rest plates or dirty packaging. The hob itself boasts a whopping 30,000 BTU/Hr, and this all comes complete with a matching Camp Chef Single Burner Carry Bag!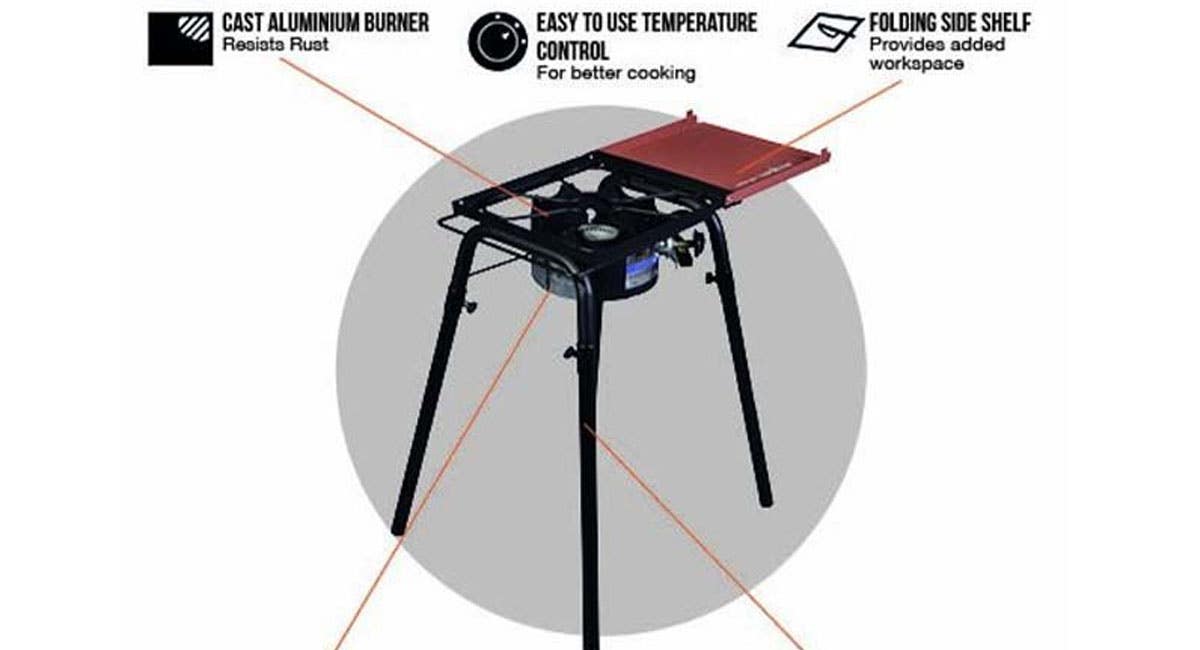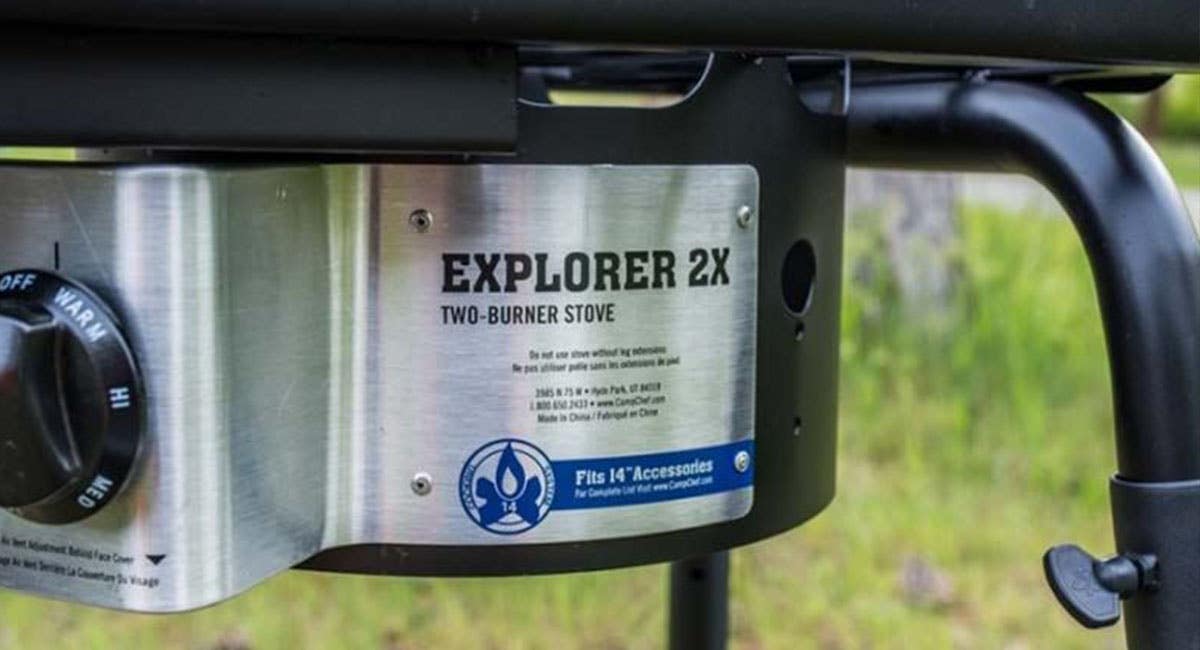 Vango Camp Chef Explorer Double Burner, complete with Carry Bag
Much the same as the aforementioned bundle, this Vango hob is easily reached, thanks to the free-standing frame. The burner features two separate hobs, supplying you with a larger work area. Both hobs supply you with 30,000 BTU/Hr worth of cooking power.
With capacity to cook twice as much, it's a perfect option for those tasked with cooking for the whole family.
The dual burners are built from high-quality cast aluminium, for resilience against rust and corrosion. The stand comes prepared with a three-wall windscreen, so you can carry on cooking, despite the breeze.
Don't forget, this burner also comes complete with its own carry bag!
Vango Camp Chef Explorer Double Burner, complete Bundle Kit
This kit provides you with the following:
Camp Chef Explorer Double Burner,
Camp Chef Explorer Double Burner Carry Bag,
Camp Chef Leg Adjusters,
Camp Chef Pizza Oven.
You'll be the life and soul of the party! Well…campsite.
Indulge in a little extravagance; enjoy fresh Italian pizzas, cooked evenly by the Vango Pizza Oven! Place the oven over a single hob and watch as the flames toast your dough to perfection. To accompany the kit, comes a set of Vango leg adjusters. This accessory pack can be used with any Camp Chef burner built with 1.25-inch diameter legs. They help to keep the unit level, should you not have access to flat ground.
And of course, all this comes wrapped up with a double burner carry bag!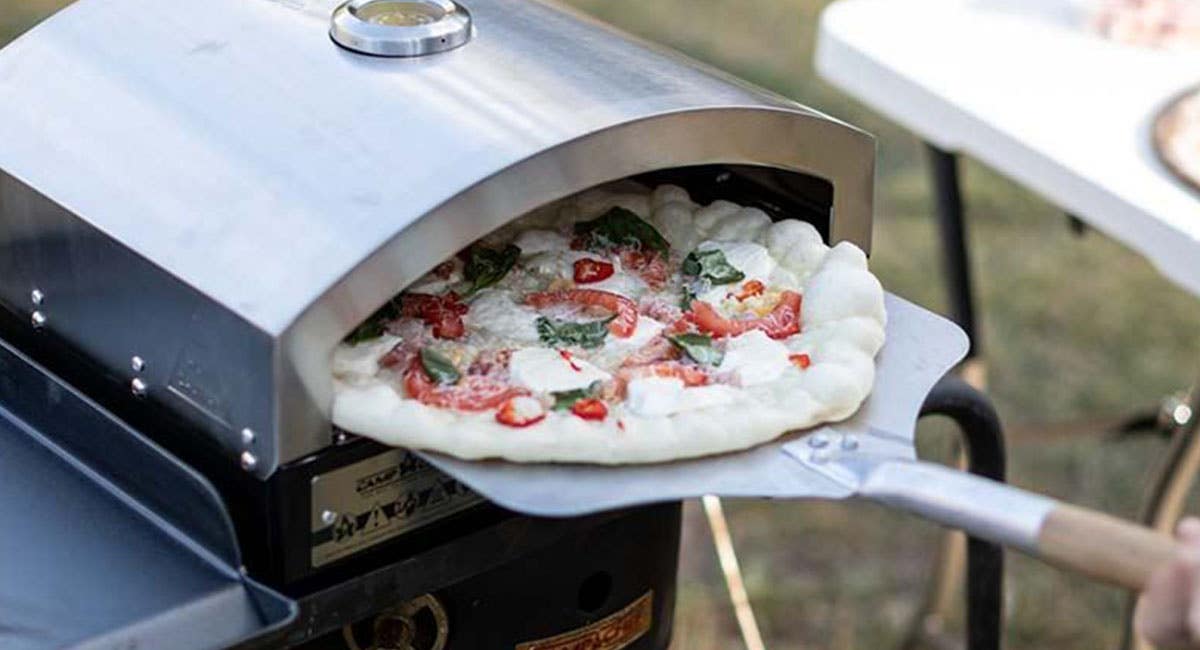 Cobb BBQ Set with Roast Rack, complete with 6 pack of Ultra Quick Bricks
Now this is what you need, if you want to enjoy the full grilling experience, on the go!
This bundle meets all the requirements to facilitate a magnificent feast. What's unique about the Cobb Pro, is that you can pretty much cook anything inside it. You can even use it for baking! The Cobb set is assembled from a few components, designed with deliberate focus on their function. As an example, the holes within the dome shaped lid facilitate controlled ventilation during cooking. This feature is more suited to roasting and baking, which of course the Cobb set allows you to do. It can even produce a full roast dinner, with the addition of a Cobb Roasting Stand.
Since it's National BBQ Week, we best talk about the Cobb's grilling advantages!
The set can also be used as a BBQ or Grill, for juicy and flavoursome food that will put a smile on everyone's face. The most impressive feature of the Cobb Pro is it's potential for use as a hot smoker! Now more than ever, smoking meat and other produce has become a dominant trend. Thanks to its versatile design, you can keep up with the trends, without buying more cookware!
To use the Cobb Pro as a hot smoker:
Rest some pre-soaked wood chips on top of your hot coals within the fire basket,
Place a Cobb Roasting Rack* on top of the included grill plate, for support,
Rest the food you wish to smoke, within the roasting rack,
Pop on the dome lid to keep in the heat and allow the food to gently cook,
Sit back and allow the smoke from the wood chips, to infuse your food with flavour!
*Roasting Rack does not come included.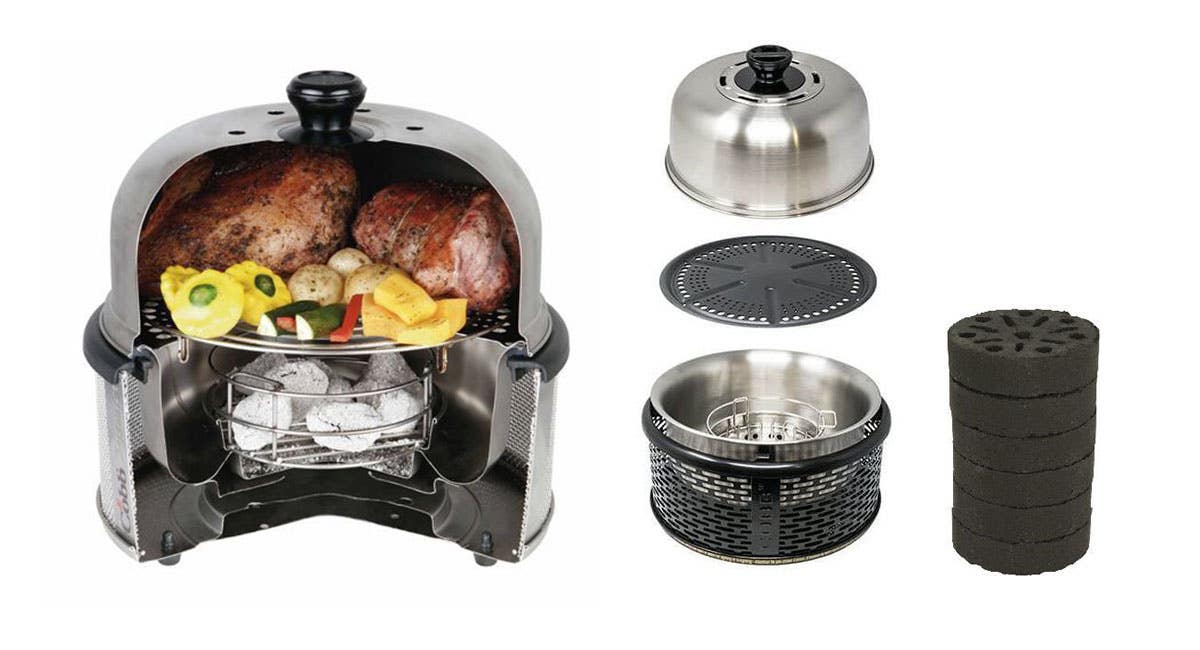 If you're planning on cracking out the barbeque later…
We'd like to remind you to take precautions. Grilling at the campsite gets you up close to the action! But since you're likely working with heat, flames, or compressed gas, that comes with risks. So, it's important to stay alert while using hot appliances. If you're cooking at the campsite, keep a handy first aid kit stashed away, so you'll be prepared if someone has an accident.
If your vehicle setup requires keeping gas internally, it's good practise to install a carbon monoxide detector.
If you wish to source one, we sell a simple battery-operated version, via our website here.
You can store gas within your vehicle safely, by keeping it in a gas locker.
These are also available on our website, follow this link.
If you'd like to find out more about gas safety, you can read our advice blog, by clicking here.
So long as you are careful, you can use these fun gadgets to create delicious and imaginative meals on the go! The development in mobile cooking tech, has reinvented the standard camping menu. Thanks to companies like Vango and Cobb, we can enjoy high quality food while travelling, such as fresh pizzas or even a roast dinner. The opportunities afoot are now endless!
I'm a barbie girl
We hope we've piqued your interest, for the remainder of the commenced awareness week. It's a prime excuse to treat yourself and make some happy memories! You could celebrate the event with a small barbeque party, or maybe it's a reason for a spontaneous trip in the camper. In the coming days, the weather is forecast to reach temperatures of almost 30°C, by next week. Take advantage, use this short heat wave as a final opportunity to enjoy campsites, before the summer holidays begin!
It's great news that we can share these inventive appliances but cooking at the campsite can sometimes limit you. So, if you're a bit stuck for food ideas, you should check out the recipes by our friends at Chef Campers.
Click here to find our blog on Chef Campers and read a few of their recipes!
It's good to get down to basics and appreciate how versatile barbequing really is. Don't forget, the versatility of these unique products, makes them just as perfect for using at home!
To browse the full selection of our other cookware appliances, click here to go to our landing page.
Image Credit to Arthur Poulin, via Unsplash.
JK's Summer Camping Sale is still on!
If you've got all the cookware you need, maybe have a peep below at what other camping produce is part of our summer sale!
Enjoy your cooking adventures and Happy National BBQ Week, from all of us at Just Kampers!