The latest Transporter is now a common sight on the second-hand market, here's what to look for when buying your own.
Why buy a VW T6?
Put simply, ultra-modern looks, all the tech you could ever want, and the famous VW build quality all stack up to make the sixth generation VW Transporter a fantastic family Camper / school-run weapon / Work Van / delete as applicable. The T6 has been with us since 2015 and was given a face-lift and a whole heap of tweaks in late 2019 when VW introduced the very latest / current model, the T6.1. But why would you need a guide for buying one when it's possible to step onto any VW Commercial Dealer forecourt in the land and pick one up with a VW used-approved warranty, or better still, brand new? Because there are a bewildering number of variants to choose from when perusing the T6 range and after seven years (and counting, depending on when you're reading this), a number of common issues and niggles have been identified that are worth keeping your eye out for. But first, a bit of T6 model history.
What's the difference between a VW T6 and T6.1?
Due to the way VW names its Transporters, the 'point one' in T6.1 means it's the second-generation model. Not enough of a new vehicle so as to deserve an entirely fresh designation, but an improvement of the breed worth shouting about and marketing the heck out of to the buying public. VW did the same with the T5, so it was only natural they continued the theme when they gave the T6 a facelift in 2019.
As with the T5 and T5.1, the T6.1 was tweaked to have things like a revised grille and more modern looking headlights than the previous model. The freshened up exterior moved the T6 even further on from the T5, which is no bad thing, as there are those out there who consider the T6 to be little more than a duded-up T5 but start digging into them and you'll realise that's not the case at all. Under the skin, the T6.1 comes with things like electric power steering which in-turn, means you get modern safety equipment like crosswind assistance and lane assist.
Every time anyone writes about the latest generation VW Transporter they say it drives more like a modern car than its predecessor and once again, that's impossible to argue. The T6.1 really does feel like everything else in the current VW line-up, only larger and more practical.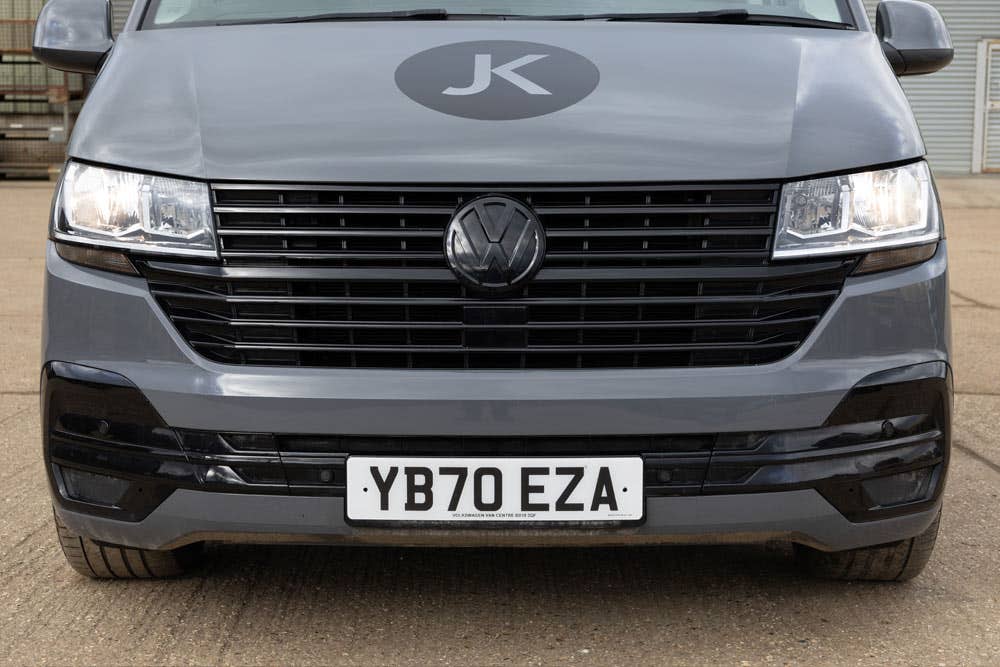 What model of T6 should I buy?
Where do we start? The T6 range offers a bewildering 600 different model configurations so there are Panel Vans, Kombi Crew Vans, Shuttle Vans, Chassis Cab and Drop Side models and that's before we even discuss trim levels, which are probably the simplest way to define them.
The entry point is the aptly named Startline. Standard equipment was fairly minimal on the T6 (it always is on a Commercial VW) but you could buy and then add options should you wish.
In T6.1 form the Startline now features cruise control, forward collision warning, a leather-wrapped multi-function steering wheel, DAB radio and App Connect.
The next run up the ladder was the Trendline. We say 'was' because VW dropped it for the T6.1 when they simplified the range, but if you're looking to buy second hand, the Trendline came with rear parking sensors fitted in its body-coloured bumpers. Mirrors and door handles were painted to match and there are electric windows and mirrors. Inside, you'll find such niceties as better sound-deadening and a driver's armrests and it does look and feel like a more up-market affair.
When talking T6.1 (2019 onwards) you go straight from the Startline to the Highline. The Highline has all of the bits the Trendline came with but also things like adaptive speed limiting cruise control, electronically controlled climate control, an auto-dimming rear view mirror, a heated windscreen, a better multi-function display and sound system and those front fog lights that have the cornering function. Also 16-inch or 17-inch alloys.
Top of the tree was and still is the Sportline. It's the one everyone wants, be it as a work Van that shows customers' you're a tradesman who knows their business or they are the perfect base for a top-spec camping conversion. We're talking 18-inch alloys, two-tone Sportline leather upholstery, sat-nav media system, side bars, puddle lights, carbon mirror covers and the pokey 204bhp BiTDi engine.
Should you be looking for a Van to convert into a Camper, the Transporter Kombi typically came with five seats and two side windows. In the front there's usually a single seat for the driver and a double bench for the passengers, but it could be ordered with a three-seat front bench if that option was ticked.
The Transporter Shuttle is the basic people carrier variant and offered eight or nine seats and came with two additional side windows towards the rear.
If you want a great people carrier, the Caravelle is the well-heeled MPV for you. It's available in SE and Executive trim and the floor rails mean you can arrange the rear seats in a number of handy configurations.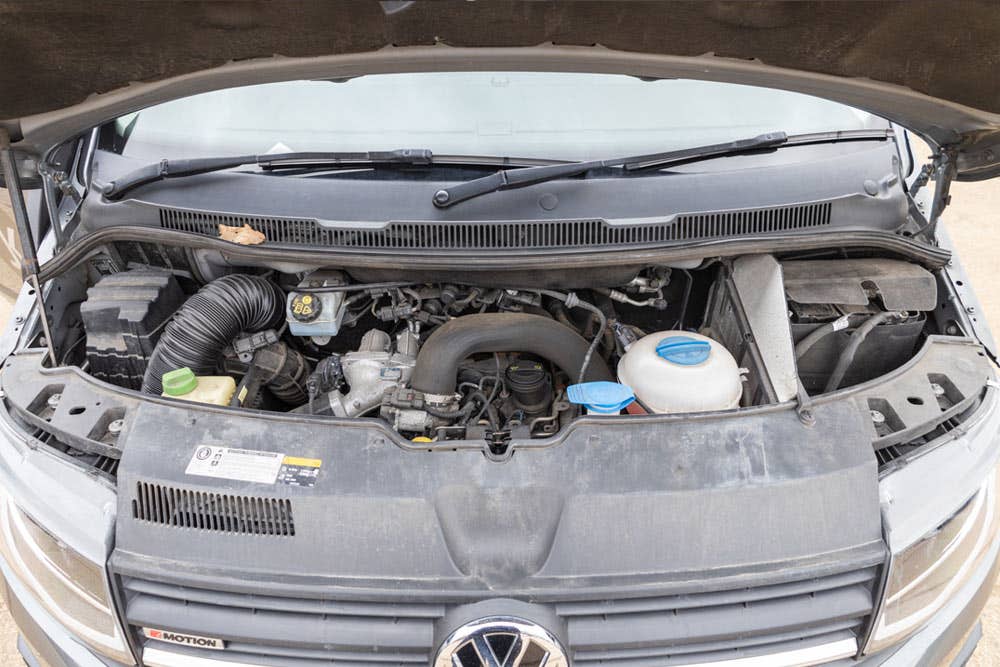 T6 tailgates
Whilst we're talking about specifications and options, spare a moment to think about the tailgate. Twin doors are better for working Vans as you can use a forklift to slide a pallet directly into the back, which is why most converted Panel Vans have what are known as barn doors in modern Transporter parlance. However, if you want an upmarket looking Camper conversion, something that looks like it rolled off the production line oozing class and a high price tag from the get-go, most people opt for a single top-hinged tailgate.
Some tailgates are solid, which means you'll have to pony up to install rear windows, although when you're ordering one now, a tailgate with glass is a no-cost option. Should you need to retro fit tailgate glass then look here. And for a full range of aftermarket window options, including dummy side windows to make a Panel Van look like a fully-windowed Bus but without the effort of cutting them in, go here.


T6 load ratings explained
It really doesn't help anyone dipping a toe in the modern Transporter scene water, that there are a bewildering number of names bandied about. What the heck is a T26, T27, T28, T30 or T32 when it's at home? Simply put, those designations relate to a vehicle's gross vehicle weight and so a lot of people refer to them as such. The higher the number the higher the pay load it can carry. So, T26 means it can carry 2.6 tonnes, T32 equals 3.2 tonnes. You follow? Obviously, the T32 has upgraded brakes and suspension to cope with its larger load carrying capacity and they fall into the Class 7 MoT category.
Long or short wheelbase?
Like the T5, the T6 also comes in either Short-Wheelbase (SWB) or Long-Wheelbase (LWB) guises and there is the option of a Tin-Top, Pop-Pop, or Hi-Top roofline. The SWB Low Roof measures in at 4,892mm long and is 1,990mm high (in stock form). The SWB has a load length of 2,570mm and is able to carry 8x4 wooden sheets. The LWB T6 measures in at 5,292mm and if you want a High Roof (available in SWB only) then that measures in at 2,477mm tall. There is also a Medium Roof option that comes in at 2,176mm but that was discontinued in early 2018.
The T6.1 is slightly longer as it has a bigger nose to accommodate the larger engines. Not a great deal but the SWB is 4,904mm and the LWB is 5,304mm. Exterior height is 1,978mm for the Low Roof and 2,506mm for High Roof.
What are the most common problems with a used VW T6?
There aren't a great deal of issues to be unduly concerned about although internet research suggested there have been some reports of 180bhp and 204bhp engine failures due to faulty EGR valves. When the EGR valves fail, they allow coolant to leak into the cylinders.
It's worth keeping in mind that woes reported on the internet are often repeated until they become all anyone ever mentions, and they're talked up into major issues – much like a Porsche's IMS bearing – and are often greatly exaggerated when you look at the proportion of vehicles actually affected.
EGR issues can result in the engine management light coming on (fault code P0401) and the fix here is to clean out the carbon deposits. You're most likely to find this on a vehicle that has been used for mostly short journeys. A good blast up the dual carriageway and the occasional bottle of Redex in the tank can help an engine run cleaner.
Mileage is one of the main factors to consider as that will dictate the amount of wear and tear on components. You need to ensure whatever vehicle you're looking at has a full service history, the service intervals have been adhered to and any recalls were carried out. You can check to see if there are any recalls that were carried out / ignored on a particular vehicle here as well as a specific vehicles MoT history, which will tell you if there is anything that's going to result in any additional expense before the next MoT.
There have been three recalls you should be aware of, the first being a minor side airbag fault, another for an issue with driver's side door bowden cable in cold weather and finally, one for a fuel line issue that was created by a fault in the manufacturing process.
T6 and T6.1 bodywork issues
Other than accident damage there shouldn't be anything to worry about on a Transporter of this era but one thing to be aware of is an issue with some factory-fitted side windows. Poorly designed drain rails in Kombis and the like can result in water seeping in behind the seals, which isn't good for soft furnishings, floors and interior units if you have a Camper.
What do T6 owners think?
Opinions are simply that. They are someone's opinion. No matter what make or model of vehicle you're looking at someone will always say the previous generation was better for one reason of another. Some of the owner feedback you're likely to come across varies from trivial, like the front windscreen steaming up if you place a hot beverage in the upper cupholders, if you have that style of dashboard, to the H4 headlights not being particularly effective. Later H7 headlights are better.
Open storage compartments in the lower trim level dashboards niggle some, but you get glovebox lids on higher spec models and there are upgrade parts readily available for those wishing to ring the changes.
Other things can be more of an issue - or not - depending on your point of view. For example, some owners say they dislike the soft ride from the suspension and the lack of grip from the standard tyres, but you can upgrade and modify the wheels, tyres and suspension to taste. Look here for T6 suspension components.
A smaller fuel tank than previous models is another gripe, although MPG is improved so that shouldn't be an issue.
Finally, some owners report that the cruise control takes a bit of getting used to, at low speeds you can only increase it in increments of 5mpg unless you know how to set it properly, in which case you can increase or decrease it in increments of 1mph.
Some people find it quicker and easier to post about a 'problem' on the internet than look in their owners' manual.
Like any new (to you) Van, the T6 and T6.1 will have character traits you learn to love and loathe, but there is a great deal to love about the latest generation VW Transporter.
Make the most of your VW T6 viewing
Take our handy VW T6 viewing checklist with you to your viewing and make sure you're covering the critical checks.