After many iterations and product testing, our own Just Kampers Chairpods are finally here, and we're really pleased with them!
Camping chairs are just another thing to remember on your camping trip and a way to keep them tucked out of the way would be great.
Our new Just Kampers Chairpod system is a neat, tidy and reliable way to store your camping chairs and keep them out of the way. They'll be there when you need them, but won't get in the way or rattle around in the back of your VW T5 or T6.
We have two different variations which include a set of two chair pods for barn door models, and a singular, larger chair pod which fits Transporters with a tailgate. Purchasable with or without chairs, the Chairpod system will store your flat pack chairs with ease, keeping them secure, in a discreet manner.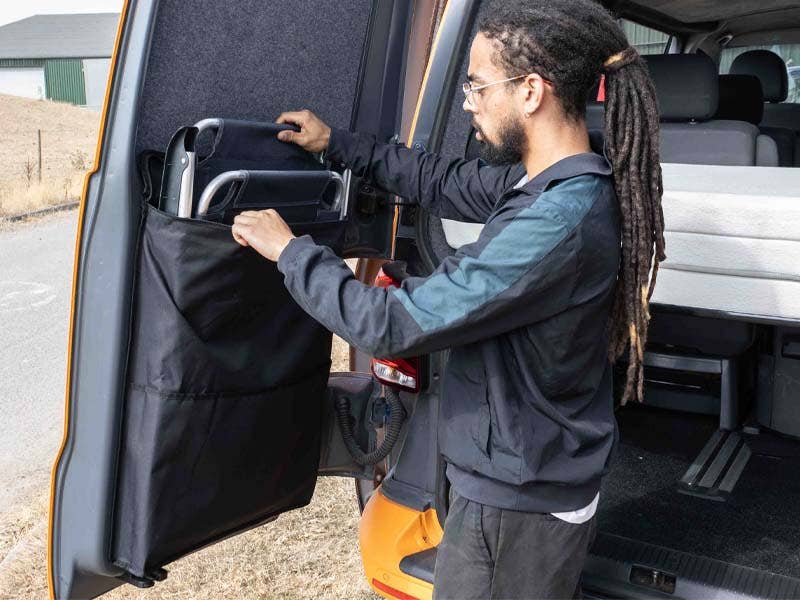 Why did we create the JK Chairpod?

Whether you're a keen camper with a long list of things to take along each time you set off for an adventure in your VW, or you're someone that likes to take a seat wherever you end up, this is ideal for you!
Our new Just Kampers Chairpod systems are a perfect solution to ensuring you've always got your camping chairs with you, but that they don't take up loads of space in your camper. Quick and easy to install, our new JK Chairpods let you carry your camping chairs with ease. You can just simply now leave your chairs in your van, not even having to compromise on any space.
How do you fit a JK Chairpod?

Fitting these systems, either to the tailgate or barndoor-style rear doors of your VW T5 or T6 is really easy.
Just remove the door or tailgate card by pulling out the push-fit clips which are holding the door cards on, leaving you with an open area in which the Chairpod bag(s) will go. With this area now accessible, you can use the push-fit clips to attach your JK chair pod in moments.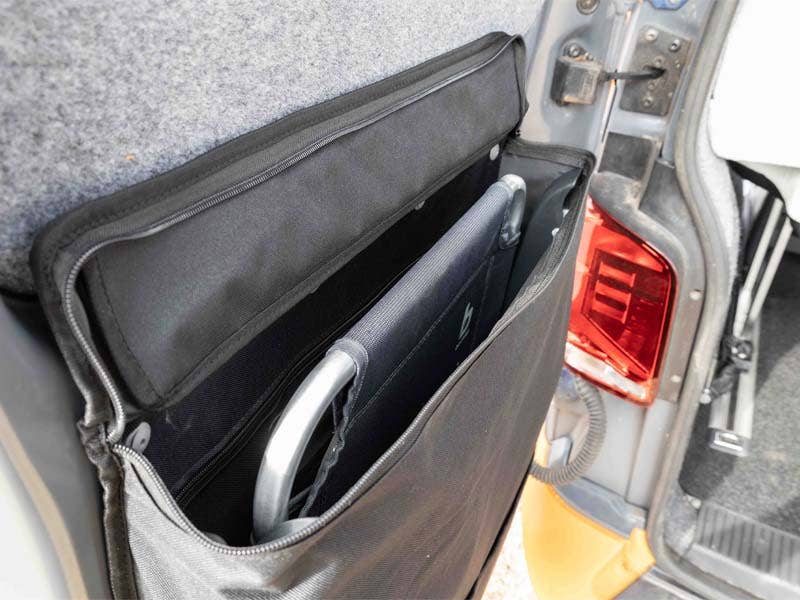 More information on the barndoor version:
The barndoor version of our JK Chairpod system comes with two bags which are both slightly different to each other, so it should be easy to get the right one on the right door.
One has a handle cut out along with slightly different hole positions making them side specific.
We've put together a money-saving bundle kit for the barndoor Chairpod system, which comes with chairs which are designed to fit, as well as push-fit clips to install the Chairpods to your VW Transporter's doors.
Unzipping the bag will reveal the interior where you should be able to see which side is which, allowing you to know which door they fit on. Match up the holes to the predrilled holes that are currently in your door and use the push-fit clips to secure them. Once this is done, your Chairpods are fitted and are waiting for the seats to be inserted!
All about the tailgate version:
The tailgate Chairpod is slightly different, being a single, larger bag instead of being split into two. It's definitely easier to fit this JK Chairpod bag with the tailgate closed, fitting from inside the vehicle, rather than opening the tailgate and having to fit the Chairpod system above you. Trust us, we tried this first time and it didn't end well!
The tailgate version is fitted to your Transporter in the same way as the barn door Chairpod, with the push-fit clips attaching it to the holes in your tailgate.
Our new tailgate chairpod can also be bought as a kit with chairs and the push-fit clips, but also comes with a pair of heavy-duty gas struts.
You'll need to replace your tailgate's existing gas struts, as the Chairpod and chairs will be extra weight on the tailgate from the Chairpod and chairs. Before you remove any of the gas struts, please make sure your tailgate is propped up by something strong and sturdy as you won't want it to fall and potentially cause an injury.

All you do to remove the old struts is to pull the clip that secures each end of the strut to the ball joints and you should be able to just pull them off easily.

To fit the new ones, you just pull the clips to allow you to push them onto the ball joint, and then just push the clip back in to secure them - that's it!