We're excited to confirm that Dom Chinea will be with us at the VolksWorld Show later this month, parking up his Oval project on the Just Kampers stand for the weekend.
Star of BBC One's The Repair Shop and his own popular YouTube channel, Dom is a huge fan of air-cooled VWs, and is currently working to fix up his mum's 1955 Oval Beetle, which he'll be bringing to the show.
The Oval is the third project he's currently got on the go, alongside his VW T2 Splitscreen and a pretty ambitious Porsche 356 restoration.
We've been helping him get his Oval ready as he juggles all of these projects, Ranalah Wheeling Machines and a hectic filming schedule for The Repair Shop on BBC One.
Dom will be with us on the Just Kampers stand at the VolksWorld Show on Saturday 18 March, chatting with all of you about his different projects and maybe even signing copies of his book, Tools A Visual History: The Hardware that Built, Measured and Repaired the World, if you ask nicely! He'll be joined by his friend and colleague Honest John, who you'll recognise from Dom's YouTube videos.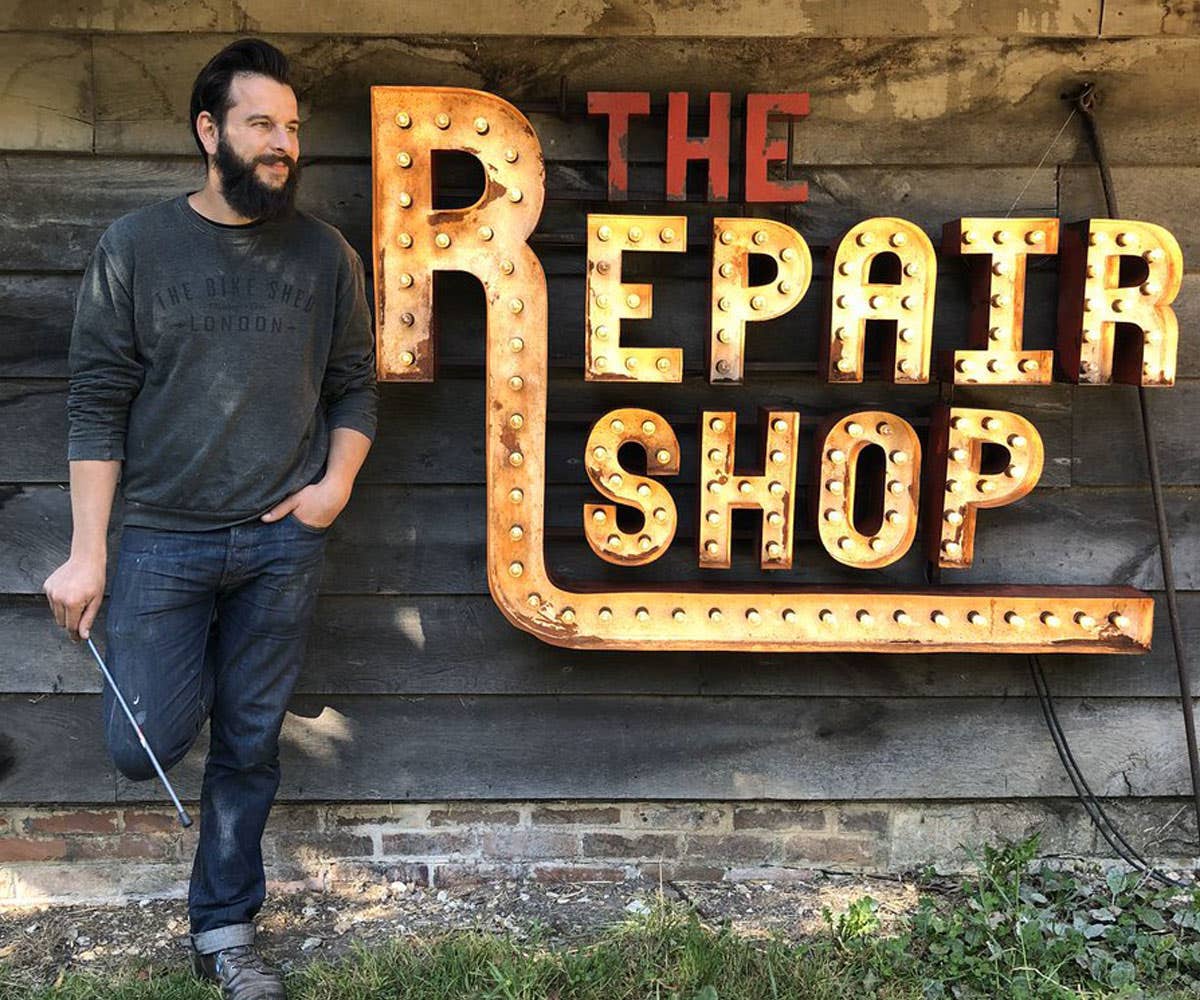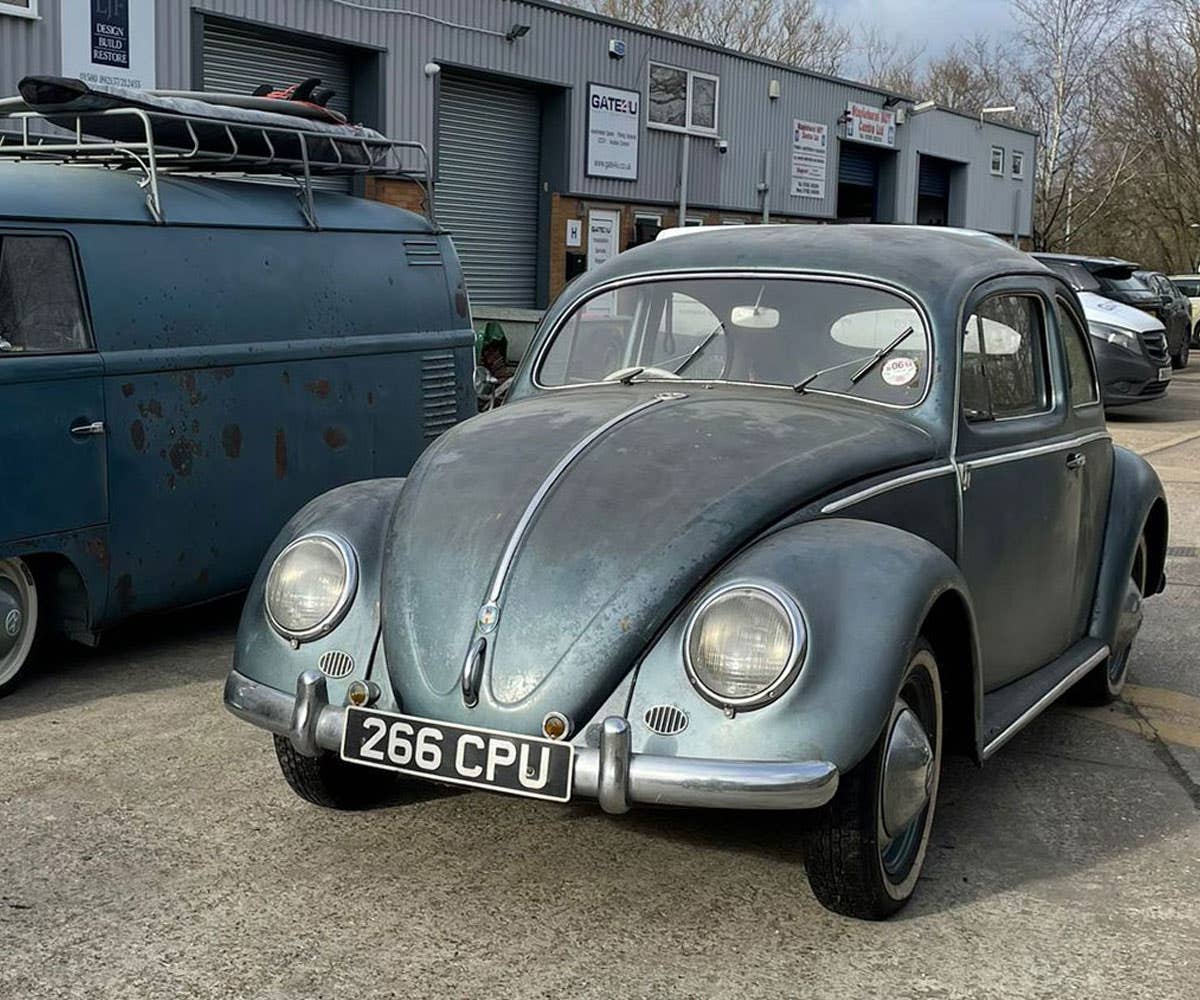 You'll be able to see his mum's 1955 Oval during both days of the VolksWorld Show, as it'll be parked up on our stand for the duration!
The Oval is actually up for sale, so this will be a fantastic opportunity for you to take a look at the Beetle in person and have a proper look around. If you're in the market for a new air-cooled classic, this one is definitely worth checking out!
More about Dom's mum's Oval
The 1955 Oval rear window Beetle that Dom is currently working on belongs to his mum, but it's been parked up in a garage for the last fifteen years, so it's in need of some TLC.
Dom's mum purchased the Oval from the original owner, so it's two owners from new – and you could be the third, if it takes your fancy when you come see it at VolksWorld!
The front wing still has the dent from where a Transit bumped into the Oval in Southend, and Dom isn't planning on knocking the dent out.
In fact, Dom and John aren't planning on doing anything to the Oval that isn't necessary, as they want to keep it an honest Beetle. It's not being fully restored, it's more like a recommissioning to get the Oval back on the road again where it's meant to be.
We've written more about Dom's mum's Oval, and you'll be able to ask Dom and John all about it at the VolksWorld Show when you come to meet them on the Just Kampers stand.
More about Just Kampers and Dom
It's been great to be able to help Dom get his mum's Oval back on the road, as we're huge believers that classic VWs (and all classic cars) should be out on the road being used and enjoyed – it's what they were designed and built for, and it's what they do best.
As well as helping Dom to transport the Oval from the garage it had been hibernating in to his workshop in Kent, we've also been able to supply him with the VW Beetle parts he needs to get everything sound and sorted.
We've been watching Dom's updates on the Oval as they come out every Sunday evening, and then discussing them in the offices here at JK HQ – it looks like it's going to be a real challenge for Dom and Honest John to get the Beetle ready in time for the VolksWorld Show on 18 & 19 March, but we're confident they'll be able to get it done!
If you've got a project you need some help with, get in touch with the JK Team by email or give us a call on 01252 86 22 88 and we'll be able to point you towards the parts and accessories you need, offer some help and advice, or even let you know which workshops in your area you might be able to take your VW to, if it's all getting too much!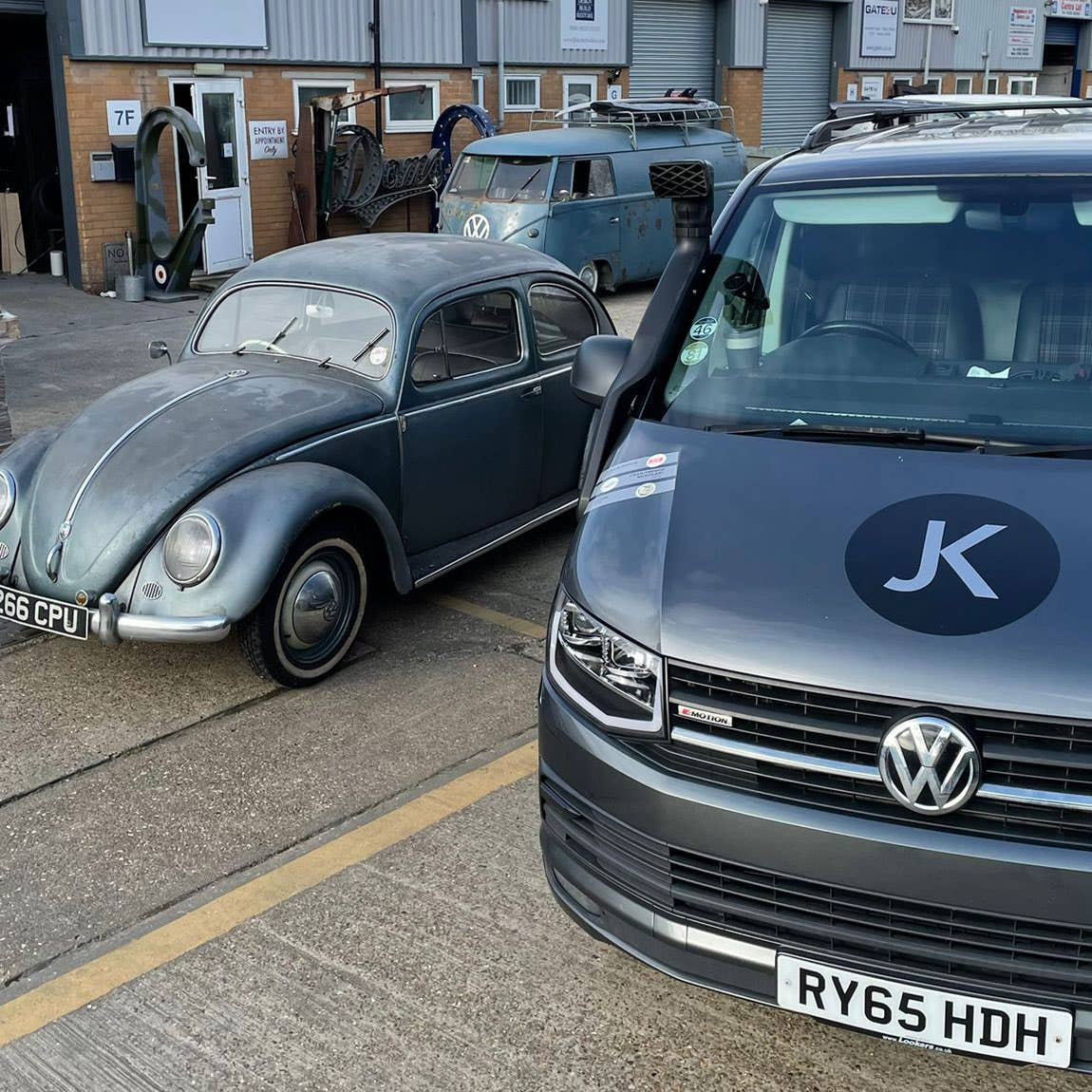 Dom's mum's Oval, and the JK Transporter
The 1955 Beetle getting some attention in Dom's workshop
More about the VolksWorld Show
Dom Chinea and Honest John will be hanging out with the JK Team and chatting about the 1955 Oval Beetle they're working on at the VolksWorld Show later this month.
You'll be able to find them both on the Just Kampers stand on Saturday 18 March, so make sure you've got your tickets to the show if you want to meet them!
The Oval will be on our stand for the Saturday and Sunday, so if you can only make it on the Sunday you'll still be able to meet an Internet-famous Beetle.
As well as having Dom and John join us, our Just Kampers stand will also have some new products to show off, a range of special offers, free retro tax discs courtesy of Just Kampers Insurance, and a LEGO campervan giveaway.
We'll also be taking orders at the show, so if you want to chat with the JK Team and find out exactly which parts you need for your classic or modern VW, then make sure you drop by!
Watch Dom and John's work on the 1955 Oval Beetle on YouTube
If you're keen to see more about the work that's been done on Dom's mum's Beetle, you can take a look at their videos below:
New Project! | Rescuing a 1955 VW Beetle | Episode 1
Dom takes on his mum's beloved VW Beetle as a new project, so that he can sell it at the VolksWorld Show. The Oval has been sitting in a garage for the last 15 years, but with a little help from Just Kampers, it's soon on its way to Dom's workshop in Kent.
Engine Trouble | Rescuing a 1955 VW Beetle | Episode 2
It's time to take a closer look at the engine in Dom's mum's Oval. The list of things to do just keeps getting bigger, while the time until the VolksWorld Show ticks down rapidly!
After running into more trouble with the VW beetle engine last week, Dom and John are finally ready to rebuild it! Butill it run? And will the Oval be ready for the VolksWorld Show?
After rebuilding the VW Beetle's engine, Dom and Honest John are moving onto the brakes. But with only two weeks until the VolksWorld Show, is time against them?