How Do You Shower in a Campervan?
For a lot of people, a large barrier preventing them from going camping or caravanning is the lack of showers, and hot ones at that. However, this doesn't have to be the case.
Showers are readily available and there's a solution for every need, whether you're happy to brave the outdoors, or want something a bit more luxurious. You can also fit your camper with a DIY alternative, or get a pre-formed solution that simply requires sealing in.
We've looked at some common questions and misconceptions around showering in a campervan. In this guide, we provide practical fitting tips as well as helpful tricks.
How Do You Shower in A Campervan?
There are three key areas when showing in a campervan to be aware of. Once you know what to look out for, you can plan to shower more efficiently.
The Common Things to Remember When Showering in A Campervan
1. Be frugal in your water use.
Water tanks, typically, have enough capacity for a couple of showers, along with regular use. You will also have to consider the capacity of your wastewater tank. For these reasons, and to reserve capacity, you will need to be quick in your showering
2. Thoroughly dry the shower area down after each use.
Regardless of how your shower works, any inside area near your shower needs drying well, either with a microfibre cloth or something similarly absorbent. This helps to prevent limescale build-up as well as residual damp, something which is hard to repair in a campervan and may result in costly damage.
3. Choose products that are environmentally safe.
When you're camping out in the wild, disposing of water waste that potentially contains chemicals and could damage the natural wildlife is irresponsible. Products that are natural and created with as few chemicals as possible are ideal, as well as ones that aren't too harsh or aggressive. This includes the cleaning products you use, as well as your showering ones.
Showering Outside when Campervanning
Showering under the stars or the blue sky is the ultimate outdoors goal. Outdoors showering benefits from being surrounded by natural beauty and seclusion.
The easiest way to create an outdoor shower is to get a camp shower, or solar shower, and hang it from the back of your camper, using the doors as a privacy screen on two sides, before suspending a shower curtain between the two.
A solar shower is an incredibly cheap way to shower effectively outdoors, giving you the flexibility to shower no matter where you are. As the special material is black, it will heat up in the sun, creating a warmer shower.
If you want a reliable and portable way to shower outside of your campervan, then a shower and toilet tent could be ideal for you. It's simple to erect and provides a standing height place to shower whilst providing sufficient privacy.
Showering in your Camper
For those with larger campervans, showering inside your campervan is a popular option.
You may have a designated bathroom space installed, in which case regularly checking for routine wear is important. Campervan showers may not always be built to last for regular, repeat use, as the trend of living in a van has only become mainstream in the past few years.
A lot of campervan owners choose to use an air shower head, which forces air into the water, creating a higher pressure and more water-efficient shower.
Some people also use a foot switch to safely turn on and off the water pump without the risk of running electrics near water. This can be mixed with a submersible water pump, which is fantastic for indoor showers without overloading your campervan electrics, especially if you're retrofitting.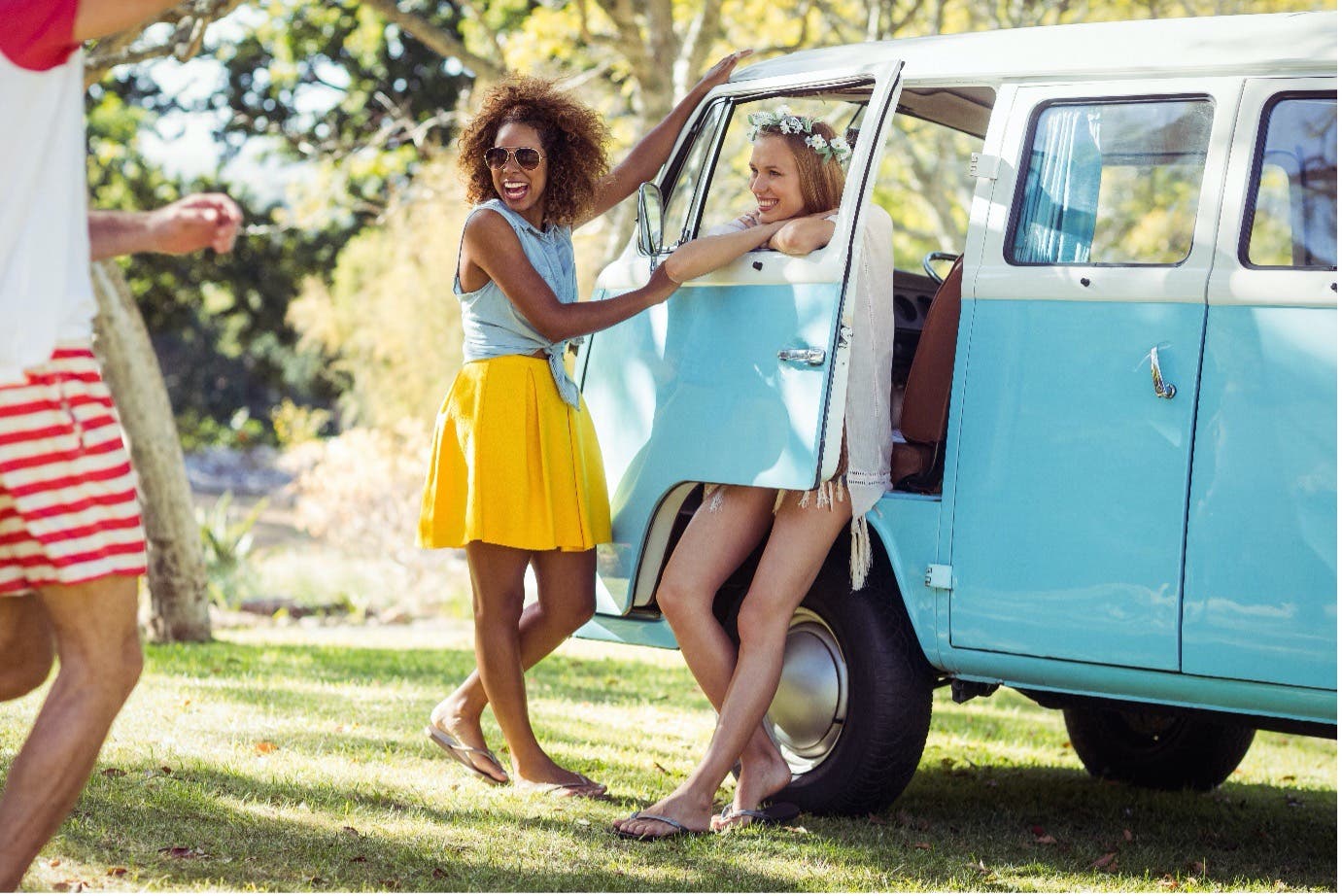 Fitting A Shower In Your Campervan
If you're building or retrofitting a van, here are some considerations to think about when fitting a shower.
You need to fit your shower at the beginning. To properly plumb in a shower, it needs to have a drainage point, which needs underfloor plumbing. You'll also need to install waterproofing at the beginning and seal the shower properly.
Add in proper ventilation. Whether a ceiling vent or on ventilation on the side of the van, good ventilation is very important to prevent damp and mould growth.
You can always install a pre-formed shower. Depending on the type of van you have, some websites offer fully enclosed units that simply require installation and sealing.
Showering at Public Facilities
A fantastic hack for living in a van is to get a multi-site gym pass or similar membership. PureGym will charge you £49.99 for access to every gym in the UK, which includes an unlimited number of visits. This way you can shower and care for yourself in a cost-effective way with access to health equipment. If you're showering four times a week, for example, it works out to approximately £3 for a shower over a year for full-time membership.
In America, Planet Fitness has gyms across the country, and membership for access to all its facilities starts from $22.99 a month, plus taxes.
If you don't want to shower in your camper and have the budget, then this is a way to feel clean and safe, and also have showers in peace without a time limit.
You can also use campsite showers if you've pitched up on-site, or some site owners may let you use them for a minimal cost per use.
So, Can You Shower In A Campervan?
In short, yes! There are many ways to get creative with showering and you don't have to feel limited by your campervan.
View our range of shower products for your campervan today and get ready for your next adventure.