This week is Sun Awareness Week! We all love the warmer weather, but it's important that we all protect ourselves properly from the sun.
Sun Awareness Week runs from the 2 May till 8 May and is the campaign run by the British Association of Dermatologists, to raise awareness of skin cancer.
We think it's super important to protect yourself from the sun on those hot summer days, and there's a variety of products designed to provide you with some much-needed shelter. Here's a little bit more info about the campaign on Sun Awareness, why you should protect yourself and vehicles from the sun, and how you can protect yourself.
More information about Sun Awareness Week:
Sun awareness week is organised by the British Association of Dermatologists (BAD) and helps to set a reminder to protect yourself from the sun, before the hot weather really kicks off. They hope to get as many people from the general public involved as possible, in an aid to prevent the consequences of over exposure to the sun. The most common cancer in the UK actually happens to be skin cancer.
We've raised a lot of money for charities like Cancer Research, Breast Cancer UK and Phyllis Tuckwell Hospice Care in the past, and continue to do so, and preventing cancer continues to be a cause close to or hearts here at JK HQ.
Lots of people make the common mistake of assuming that they don't require sun protection or sun cream, most likely because the UK isn't considered a hot country. But as rates continue to rise, it's important that awareness for the disease is raised so we can prevent future cases.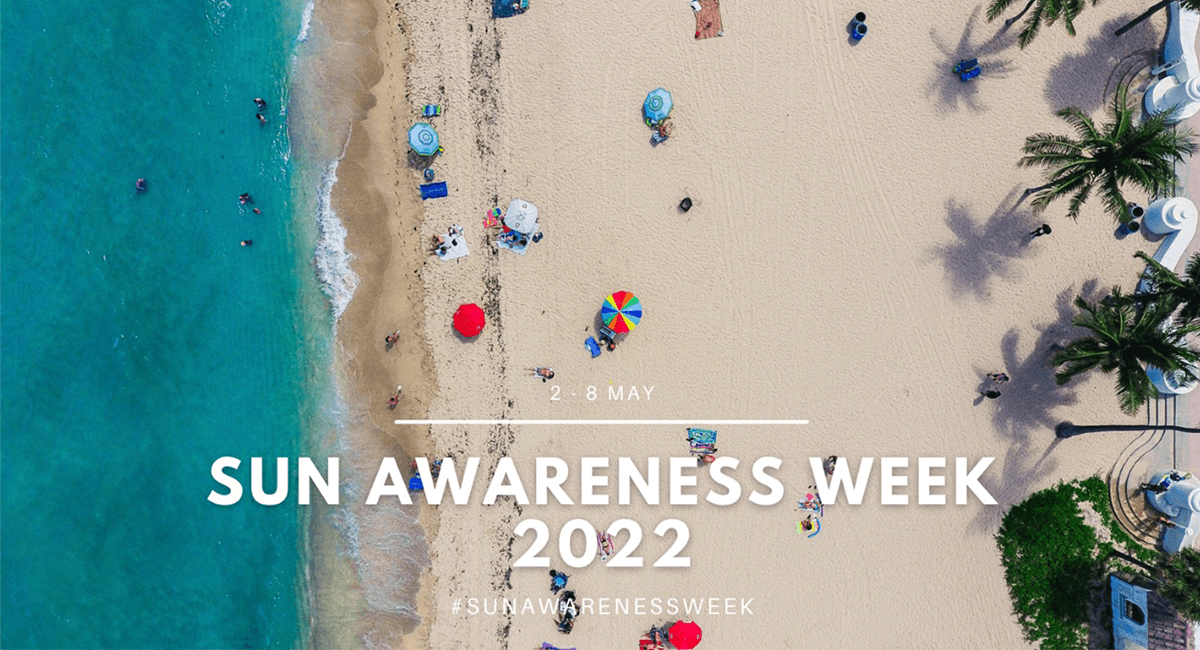 What does the sun do to the skin?
Extended time in the sun can cause damage to the DNA of your skin. Anybody can develop skin cancer, however there does appear to be increased risk in those with fairer skin, light eyes and lighter hair. Repeated exposure to the sun is another factor which increases risk, this could be due to a job that requires working outdoors. There may also be an increased risk if there is a family history of developing skin cancer.
If ultraviolet light from the sun, does cause a change to the DNA in the skin, this can cause mutation. When mutations occur, the affected cells can replicate and multiply and cancers can develop.
Ways which you can reduce the risk of skin damage include:
• Avoiding sunburn,
• Applying high SPF before exposure to the sun, such as 30 or higher,
• Reapply sun cream every two hours or more frequently if you're swimming or heavily sweating,
• Wear a large hat to shade your face,
• Avoid time in the sun during peak hours, from roughly 11 am to 3 pm,
• Avoiding tanning beds,
• Examine areas of the skin for changes, this includes any new or changing moles and areas of sore skin.
Taking the time to prepare yourself effectively before spending time in the sun, dramatically reduces the risk of skin problems in future!
What damage can the sun do to vehicles?
In the high heat of summer, the sun can cause a surprising amount of damage to your car!
The sun can cause substantial damage to the quality of your paintwork. In worst case scenarios, the pain can crack and fade as a result of sun exposure. Bumpers and fenders can also fade in the sunlight, so it's important that you take preventative steps to keep your vehicles exterior healthy.
The inside of your vehicle can also be damaged by the sun. If the suns rays are able to reach your vehicles interior, then over time your upholstery can fade. If your seats are made from leather then the sun can even cause the fabric to stiffen and crack over repeated exposure.
The heat can also significantly harm your tyres, especially if they are a little under inflated. They can blow out and burst in very hot environments. If you leave your car out in the sun frequently, on areas of tarmac that gets hot in direct sunlight, it can increase the risk and become dangerous.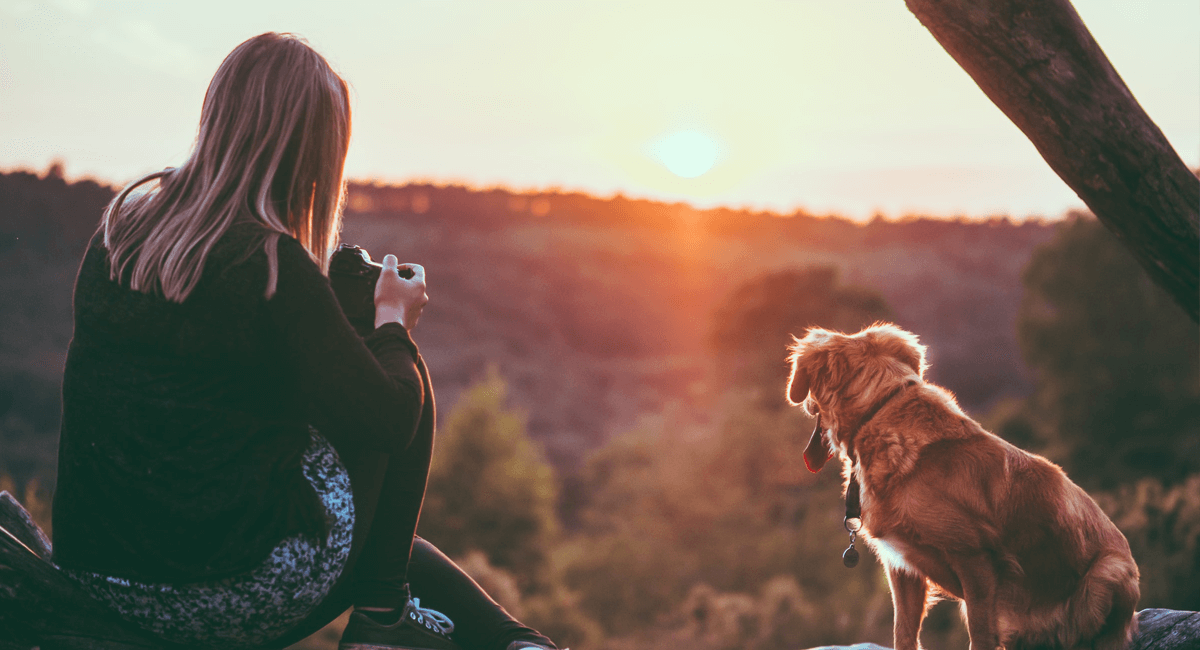 Image credit to Jamie Street, via Unsplash
Image credit to Daniel J Schwarz, Unsplash
The sun can also damage your camping equipment
The sun can be an unforgiving element, and can cause some serious damage when you underestimate its power, even the best quality tents can perish when left in the sun.
The materials that tents, awnings, and similar products are made from are not indestructible, and require tending and care.
Over time, exposure to UV can often damage the integrity of the material which can lead to rips and tears along seams, where tension is applied. It's important that products are used as intended by the manufacturers guidelines to prevent any issues occurring.
High quality awnings and event shelters are often protected with a variety of coatings which help to protect them against UV damage as well as abrasion and water damage, but these coatings will decline in quality as the sun bakes them.
So, it's important that where they are pitched, there is a small amount of shade provided by trees, or maybe one side is shaded by a building. It's important that the capabilities of products like these are not overlooked, after all they are still built from fabric.
What we mean by this is that these products are not built to be basking in direct sunlight for over a week at a time, or left assembled at the same pitch for a month.
It's not just the UV that can cause the material to become brittle but also the heat. The warmth of the sun should not be underestimated; in the height of summer metal conducts a lot of heat and this can upset the material that is in direct contact with it.
How can you protect yourself from the sun?
We provide a variety of products which are designed to provide you with a bit of extra sheltered space. These range from additional walls for event shelters or small sun canopies, all the way through to XL shelters or broad awnings!
If you're looking for a fast escape from that baking sun, then maybe a pre-attached, roll-out awning is the sort of thing you're looking for. An example of this is the Fiamma F35 Pro. The 250 cm model can work great for T25s, T4s, T5s, and the newer T6s! This smart bit of kit has everything you need to give you that extra protection while you sit back and enjoy your lunch, or maybe even a few cocktails!
All you need to do is open the rail and gently unroll the awning, it's often better to have at least two people on hand, to help setup. Once you have fully unrolled the cover, gently pull out the extendable bars from each side of the awning edge.
The nearest bar to the campervan, should be extended until it reaches the mount, and then secured in place. Do this on the other side as well, so that the awning roof is well tensioned. The last two bars should be extended towards the ground. You can then fasten these at the required height.
The poles can then be adjusted to make the roof as tight flat as you'd like, and voila! You can chill in the summer shade, in peace.
Some awnings provide a lot of versatility. An example of this is the Vango Faros II Low Drive-Away Pole Awning. This door is equipped with two eyelets, which can be used with two extra Vango King Poles, to provide a small sun canopy.
The king poles slot inside the eyelets and when propped up, will support the strength of the overhead canopy. This is perfect if you'd love to have that little extra outdoor space as you camp.
The Vango Faros awning is made with Vango's supreme Sentinel Active Fabric. Many awnings are made from well formulated materials which provide superior outdoor protection.
Sentinel Active is waterproof, fire retardant and has a UPF rating of UPF30+, a UPF rating is given to materials which are intended to provide some shelter from the sun, this includes things like clothing, tents and awnings.
A score of 30+ is rated as Very Good and means that the fabric will block out about 96.5 % of the damaging UV rays which pass through.
While there are shelters designed to protect us from the suns damage, it is still important that we respect those products and do what we can to protect them from the sun as well. After all, if we don't protect them from UV, then they can't protect us effectively from UV.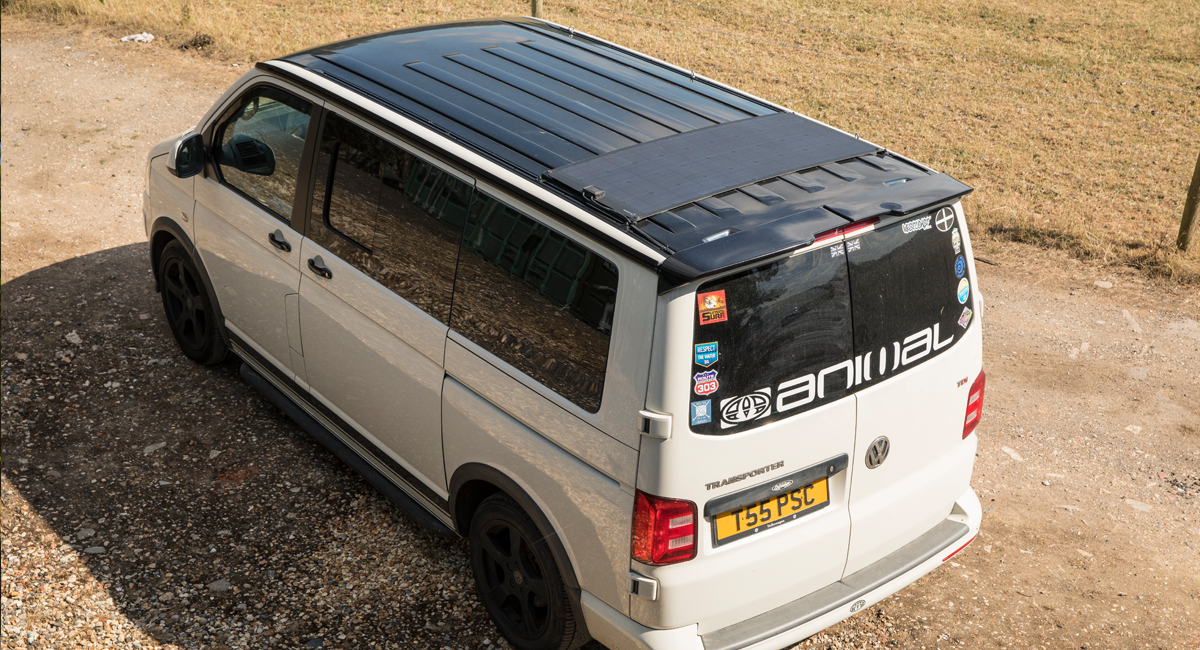 Canopies and awnings are there to protect us, how can we protect them?
As mentioned previously, if you can, it's best to set up your canopy or awning in an area where it will have shade for a few hours of the day. This helps to reduce the exposure of the fabric to the sun and just help prevent any damage.
If you're unable to set up your tent or awning in an area of shade, then you could always keep a tarp handy! During the day, where the sun's rays are at their most damaging, you could always drape a tarp over the tent to absorb most of the sun's rays and keep your tent happy underneath. Not only will it protect the material, but it will also help to keep the tent a little cooler.
If you're feeling a little fancier, then there are UV protectant sprays out there. These are to be sprayed onto the material and wiped clean with a dry cloth, to produce a matte finish. The coating will act as an additional barrier against the risk of UV degradation.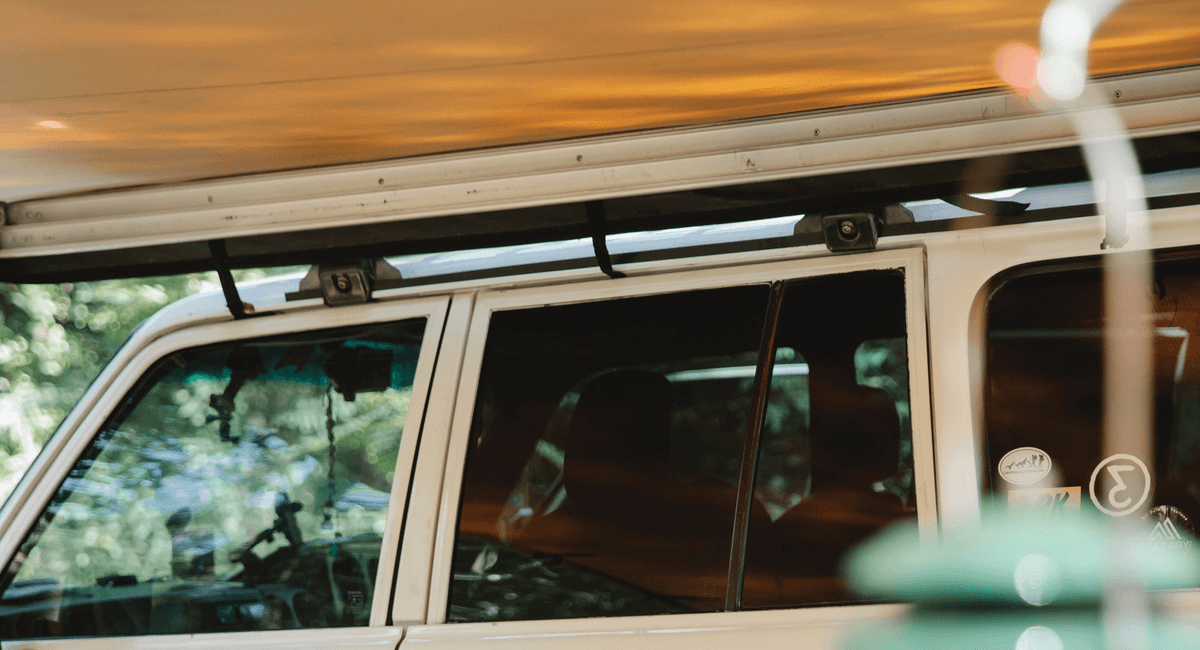 Image credit to Uriel Mont, via Unsplash
Image credit to Jack Sloop, via Unsplash
How can we protect our vehicles from the sun?
We sell a few different products that will effectively protect your vehicle from the sun. One of which is our range of Clarke Heavy Duty Instant Garages.
These are fabulous at providing a temporary or permanent storage space for your vehicle, that will protect against the elements. The shape and composition also make it great as a shelter for trade stands at shows and various other applications.
The heavy-duty advanced fabric is made from three layers, is waterproof, made from extra-tough polyethylene fabric and is fully UV treated! The material is also treated with fade blockers, anti-ageing, anti-fungal and anti-yellowing agents too.
These instant garages are available in various sizes on our website, to best suit your vehicle and your needs! Very fancy indeed!
Another great way of protecting your vehicle is to use a vehicle cover. Most people would think that a cover will only protect against rain, but if anything, you need to pay attention to the sun as well. The combination of hot sun and rain can be a real problem for those experiencing paint problems such as lacquer peel. By protecting your vehicle with a van cover, you prevent issues like these from happening in the first place.
Our luxury breathable van covers are the perfect way to protect your vehicle. We provide various fitting covers, for different vans and campers. Our covers will help to protect your vehicle from not just sunlight, but dust, bird droppings, mud splatters and other messes.
The cover is made with elastic around the bottom hem, to keep the cover tight to the vehicle, and straps which fix around the bottom help to reinforce this. The covers feature zips which follow around the doors, for easy access rain or shine! Door zips have rain flaps to provide extra protection and all doors have ties, which allow your vehicle to air in winter storage.
One other product that prevents the sunlight from damaging your vehicles interior is our assortment of thermomats.
A thermomat is composed from seven layers and sits across the windows of your vehicle, to protect your internal surfaces from suffering as a result of UV exposure. UV can cause dashboards to split, upholstery to bleach, and heat entering the vehicle can be generally dangerous if it becomes too warm.
Click this link to take a look at the variety of thermomats available on our website, we have a plethora made to fit almost every vehicle.
UV protectant sprays are also useful for your vehicle. They work remarkably well at preventing cracks in dashboards and the like when used correctly.

How to use the sun to your advantage!
We've told you enough about how the sun can be dangerous, but it can also be great! We all love the warm sunny weather, everything gets brighter and it helps to improve everyone's moods! Well the sun can also be useful, have you ever thought of harnessing the suns energy, while you're out galivanting?
We've got lots of solar panel products which allow you to use the sun, to charge your leisure batteries, how very exciting!
The products range from permanent fixtures to temporary dual-purpose items.
The size of the solar panel you require, depends on the size of the battery you have, and what appliances you are powering. Only using a few small appliances? Go for a Semi Flexible 50 W Solar Panel. Using a fridge, a kettle and a few other bits and bobs?
Use a 100 W Solar Panel. These panels are super robust and very versatile. You can use them on a temporary set up, by fixing them with the eyelets, or you can permanently bond them to the roof of your camper! The panels are designed to be connected to your main and leisure batteries, to feed them with power during the daylight hours.
The panel is built from individual solar cells, and these convert energy from the sun into electrical energy to feed your camper. These panels are made using a monocrystalline solar cell structure, for optimum energy absorption per area of surface. The solar cells are incredibly thin as well, which means the panel is easily flexible, for a brilliant fit to your vehicle roof. Their flexible properties also mean there's no awkward gaps for dirt and grime to sit in.
Our most recent addition to the solar product on our website is our very own, JK Solar 120 W Charing Screen. This product incorporates two products into one: Windscreen cover meets Solar Panels! We are incredibly proud with the work that we have put into designing and refining the JK Solar Charging Screen, and are very happy with the final result.
If you're a dedicated Van-lifer then our solar screen will be an absolute game changer for you! You can use your laptop, camera, DVD player, fridge, radio or TV as much as you'd like! Safe in the knowledge that you can charge your kit and your vehicle batteries straight back up when the sun rises.
The built in charging cable measures three metres, which is more than enough for you to connect at the front of the van, while you're relaxing in the back.
You can take the solar screen with you wherever you go! The screen folds up to a compact size of just 37 cm, by 30 cm by 6 cm, and is easy to carry around thanks to the built-in carry handles. The screen is super easy to set up too!
There's no complicated mounting process, it can be mounted either inside or outside the windscreen using the provided suckers!
The screen features eyelets, which provide an anchor point for the suckers to hold onto the screen. Once the screen is in place, you can simply plug it into the vehicles electrics by using the 'cigar lighter'. This connects it to the vehicles 12 V system, or you can plug small appliances directly into the provided ports.
Lastly, not only does the solar screen absorb the energy from the sun and convert it into usable electricity, but it also blocks the light from the sun, to stop it entering the vehicle. So you get two products in one, you get to charge your appliances and protect your interior from the harmful UV rays!
Be safe out there!
The sun can be very dangerous and it's important that you ensure the safety of yourself and your loved ones! Appy sun cream liberally and remember to reapply when dipping in and out of water. Keep in the shade during the middle of the day and remember to keep well hydrated!
Enjoy the sun responsibly, let's get ready for summer!