We've decided to focus today's blog on Clean Beaches Week. This year, 1 July brings about the start of 'Clean Beaches Week', an initiative established by The Clean Beaches Coalition in the US, which runs until 7 July.

What is Clean Beaches Week?
The event is a seven-day celebration which recognises and embraces the importance of coastal cleanliness. Since it was founded in 2003, Clean Beaches Week has drawn mass encouragement in the US, including support from over 150 coastal governors, mayors, and county commissions. Various positions of influence have now issued proclamations in support of their message.
In 2007, both the US Senate and House of Representatives passed resolutions, which were put into practice in favour of their misson.


Raising awareness is important!
A pivotal part of encouraging change is the awareness of a campaign. Their mission alone wouldn't go far, without reaching a wider population.
Increased concern for our environment has been expressed in our society, progressing focus in the media. There's now deeper empathy for our diminishing marine life, oceanic eco-systems, and our coastal landscape. This media influence exacerbates the severity of our situation.
It's important that people understand the impact of small differences. There's lots we can do to help and the changes we make to our own lives don't need to be big. When many people take small steps to improve their environmental impact, it can make a huge difference overall.
Promoting the message across a seven-day event, encourages plenty of people to involve themselves in the campaign.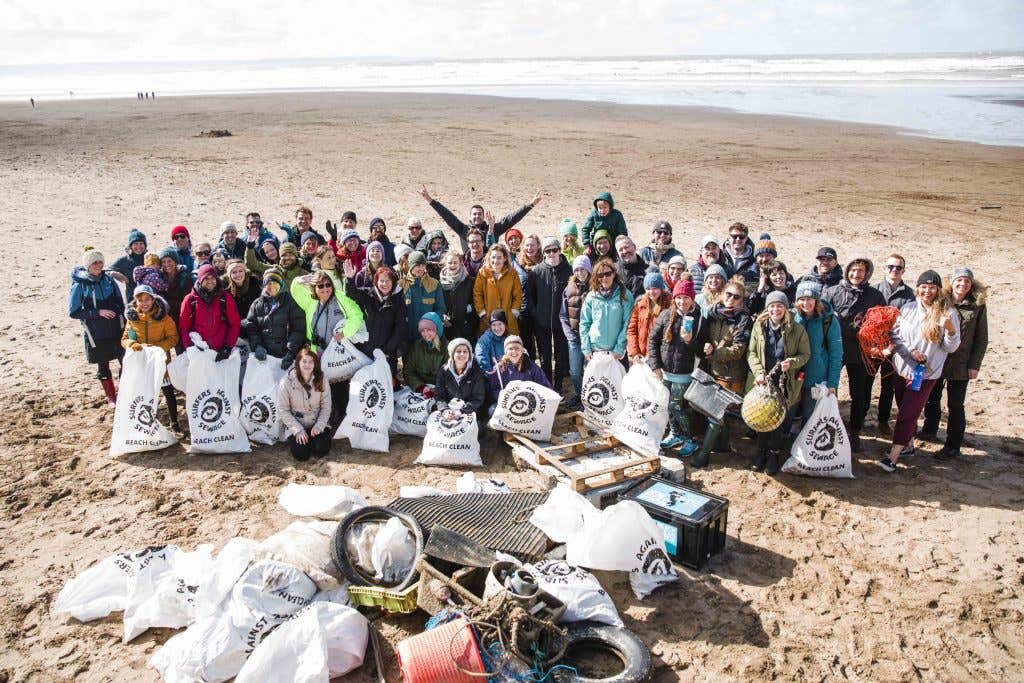 Why is the event held from 1-7 July?
Hosting the 'Earth Day' of beaches, across a whole week, isn't its only significance on the calendar. This awareness event deliberately spans across the week of Independence Day.
July 4 is the biggest day in America for beach visitation and is subsequently the most popular day for beach littering.
During the week-long awareness event, visitors to public beaches will be strongly encouraged to leave absolutely no trace of litter. Hopefully the event date will drastically lessen the amount of litter on beaches and reduce coastal pollution.
JK and Surfers Against Sewage
The message and enthusiasm behind Clean Beaches Week, heavily resonates with us at JK. We've long been supporters of Surfers Against Sewage. Their campaign is in many ways the UK's answer to the Clean Beach Week initiative.
Gemma, an important member of the Purchasing Team, is our very own Surfers Against Sewage Local Rep.
Gemma's application for the SAS position, was driven by her passion to improve our oceanic landscapes. She's enjoyed spending time by the ocean, but her attention has shifted to the coastal problems which most turn a blind eye to.
She was unsatisfied with our significant contribution to seaside pollution and made a sincere effort to help.
The role of an SAS Rep involves motivating and empowering communities to do their bit and fight the good fight! Reps lead beach cleans, conduct educational talks, connect with local councils or MP's and act as the local voice for the SAS campaign.
If you'd like to get involved, you can find their website by clicking here.
Outside of SAS, Gemma has been working on a long-term plan with us, to improve JK's sustainability.
It's not just about beaches, keep everywhere tidy!
Litter is a big problem for pretty much everyone everywhere nowadays. Plastic being the most prominent problem causer. At a time when the effects of our industrialism and increased population are most heightened, we have the opportunity to make a dent in the trends. There's blatantly lots of room for improvement.
On the bright side, we've the capacity to make a big difference, without doing much at all!
We've addressed the impact of litter in previous blogs. We shared 'The Great British Spring Clean: Keeping Your Campsite Tidy' just a few months back. There are many ways we can improve our camping routine, to make a difference environmentally, with minimal effect on our camping experience.
Examples of these include:
Organise a general waste and recycling bin, as soon as you arrive at your campsite. Getting bins ready first allows you to allocate rubbish correctly, while you set up and empty your vehicle,
Use eco-friendly soap and an abrasive pad to wash up effectively,
Dispose of dirty dish waster in the allocated area. Pouring close to the pitch will encourage pests,
Using melamine or other smash-resistant re-usable tableware. Avoid using disposable plates and napkins. They're easy, but very wasteful,
Brab some organic or eco-friendly toothpaste. The fluoride and sodium phosphate in toothpaste causes harm to plants and wildlife.
In addition, environmental consciousness shouldn't be reserved only for camping or awareness events, it should be common practise every day. This doesn't require huge effort; you aren't expected to walk 20 miles to work and back each day! But as we've said, small changes make a big difference.
Here are a few ideas on how you can improve your environmental impact, while you're at home:
Use quick-disperse wet wipes,
Don't flush wipes down the loo, dispose of them in your bin,
Wash your clothes in colder water,
Dry your clothes on the line, rather than using a tumble dryer,
Swap old filament lamps for LEDs or energy efficient alternatives,
When throwing out blown lamps and other miscellaneous materials, dispose of them responsibly,
Never ever throw batteries in the general waste! There are allocated bins for them in most supermarkets,
Re-use items or upcycle things to give them a new life, rather than throw them out when you're bored of them,
If you're really tired of old furniture, donate it or list it for free! Someone may want your old armchair for their new home,
Use eco-friendly washing products. That includes washing up liquid, detergent, shower gel, the works,
Turn lights off when you leave a room,
Eat protein-packed meat alternatives up to twice a week.
If you're unsure about the right way to dispose of something, this website should help.
Hopefully this has inspired you!
With a higher cost of living, it's all within our interest to limit our energy consumption. But we sometimes forget the other pollutants.
We skip over the affects of everyday items. We forget about the effects of the chemicals we wash down our drains. That includes things like: toothpaste, toilet cleaner, 'drain-unblocker', detergent and shower products. This finds its way into the water works and chemicals end up in oceans and rivers. Clean Beaches Week is a great opportunity to research and discover inexpensive changes, that will lead to a wider difference.
We're doing our bit to reduce our impact on the climate; we all miss the Haribo bags, but we couldn't justify attributing to so much plastic disposal!
We're working hard to continue our environmentally conscious efforts, and we hope we've inspired you to make some small changes too!