It's here! It's Drive your VW to Work Day!
We've enlisted the help of our very own JK Team, to come together and celebrate our enthusiasm for VW's. 'Drive your VW to Work Day' or 'Day of the VW Beetle', is now a world-wide event that's celebrated on the 22 June, every year.
Blog written by Heidi Padoin.
What's it all about?
The event was founded by Alexander Gromow. Once he'd decided to push an annual celebration of the VW Beetle, his aim was to drive it internationally. Pardon the pun.
Drive Your VW to Work Day was first broadcast on a Brazilian VW Beetle bulletin, where he encouraged the debate over the chosen day for celebration. June 22 was chosen by majority and this was because of its significance in VW Beetle history. On this date in 1934, a contract was signed between the 'German Automobilistic Industry National Association' and Dr. Ferdinand Porsche. Porsche received an honorary doctorate from the Vienna University of Technology in 1916. The contract signed on June 22 was full confirmation that the development of the VW Beetle would soon be set in motion.
Here's a copy of the formal document that cemented the annual celebration of the VW Beetle, and by proxy the celebration of Volkswagen vehicles in general:
How are the Just Kampers team celebrating?
Many of our team drive and own a variety of VW's. To showcase this, we've asked all our staff to drive their beloved VW's to work today! This includes driving their standard daily VW, or stretching their legs in their classics, if they own any. Luckily, we've been blessed with blazing hot sunshine today, which is prime time to dig out the oldies.
We've been granted with a supreme selection of different VWs to admire, which are all currently chilling in the JK HQ car park. We don't just own Beetles and Campers, we've got a Mk3 Scirocco and even a Mk2 Polo staying with us today!
Here's just a few of the VW's which have been driven in by staff today:
Phil's 1967 Sparkafer Beetle (Goods-in Team)
Phil became the custodian of his Beetle back in 1998. It would have originally been a 1200 cc, but the engine and gearbox had already been replaced before he got his hands on it. After a year of cruising about, the clutch cable snapped! That was the start of his restoration journey...
Areas of rot were removed and replaced and panels were removed and refitted with rust-free Californian originals. When Phils Beetle returned to the road, she'd had a complete re-spray to compliment her newly rebuilt bodywork. She now has lowered suspension and new dual-circuit brakes all round. Phil's Beetle was also upgraded with a new 1600 cc engine which is running twin-port heads and dual 36 Dell'Ortos.
Chet's 1956 Oval Beetle (Sales Team)
Chet's Reed Green RHD Beetle was purchased in February 2020. The Beetle's been modified with a stripped out interior and additional gauges for a bold race look. He built the car with Ron Fleming's Black DKP oval as inspiration, with the goal of a high-sitting and aggressive look. Reminiscent of the 'Gasser' drag cars of the period.
He raised the stock front beam and sat it on period-correct 6 inch Crestline wheels. These are kitted out with BF Goodrich Silvertowns upfront and Firestones on the rear. At the heart of Chet's Oval is a 2007 cc engine with MSD ignition and twin 40 DRLA carbs.
She's a treasured character at JK and makes a regular appearance when Chet drives her to work!
Dan's Mk3 Scirocco (Product Lister/ Photographer)
Dan is a new member of the JK Marketing team, and his Scirocco was bought just days before his first shift here. Dan uses his modern VW as a daily, but it's got some guts behind it! The previous owner had the engine remapped to 270 bhp, so she's got some poke!
Dan says his Scirocco is great at handling and is incredibly fun to drive. There've been a couple maintenance challenges, one of which included a failed coil pack, but this was easily resolved. More on that below!
Dan plans to upgrade all his coil packs with Audi R8 ones as the remaining three are now nearly 10 years old.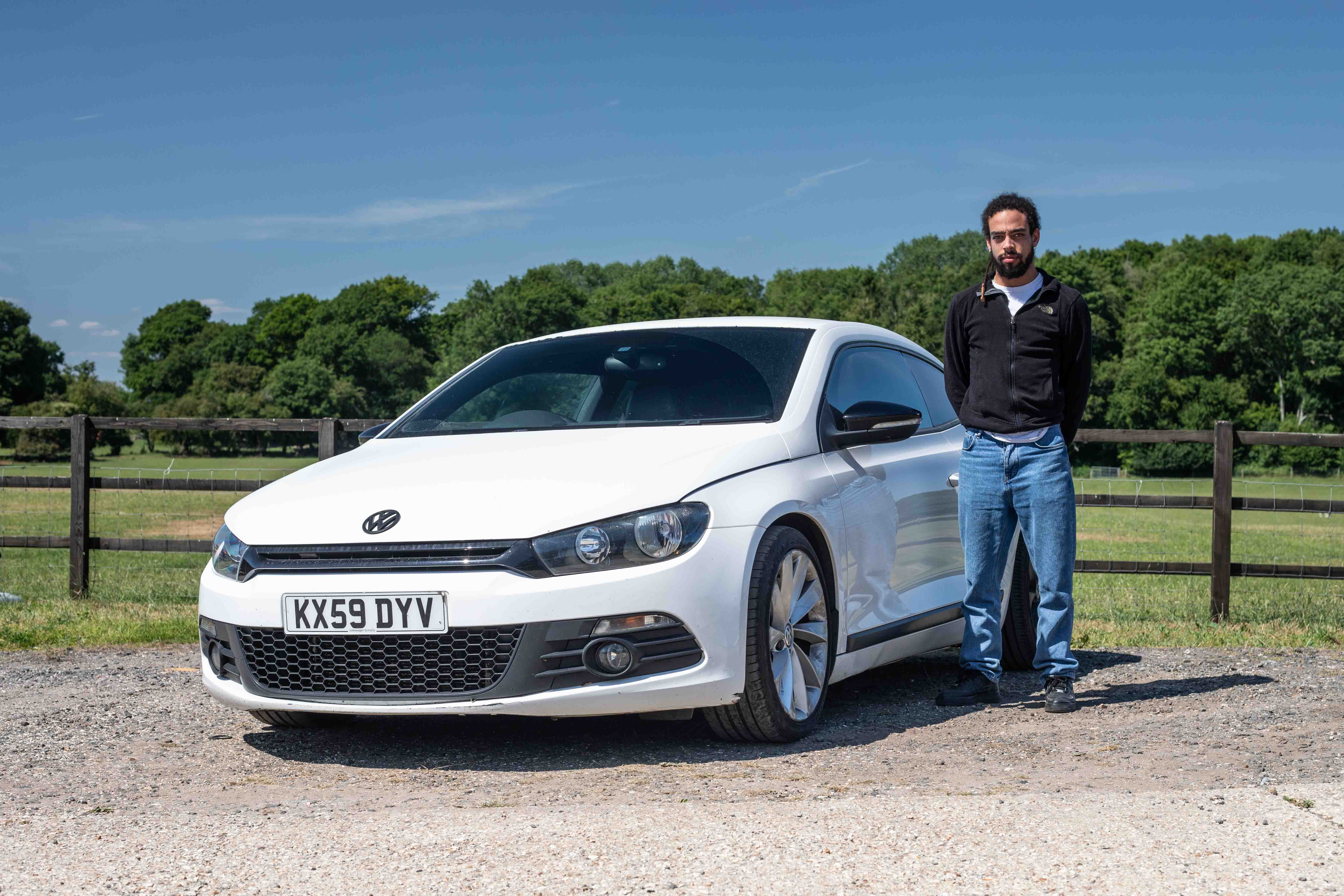 JK Vehicle Maintenance Tip: According to the Scirocco Central Forum, coil packs are the most common failure in petrol VAG cars. You can distinguish a coil pack failure quite easily.
If your modern petrol car's in limp-mode and your warning light is on, get an OBD reader. If the OBD reports a fault in "cylinder 3" for example, swap the coil packs in cylinders 3 and 2. If the fault moves to cylinder 2, it's time to replace the coil pack.
If the fault code doesn't change, it may be a spark plug problem or a different issue.
Jakes 1992 Mk2 Polo Coupe GT (Warehouse Team)
Jake recently grabbed himself a Mk2 VW Polo with a 1.3 engine. There's been a couple teething problems, but that's sometimes the case when you commit to a classic car! Jake has varied taste in motors; before his Polo he drove a Toyota Starlet Glanza V, which he used as his daily.
He chose the Polo because it's one of his favourite cars, he's always wanted to own one...it's all about the small hatchbacks! He's performed a few replacements and modifications such as the dizzy cap, hall sensor and spark plugs. He's also got his hands on some Empi window winder handles.
The Polo's been fitted with a 421 branch manifold and straight through exhaust system. She's sat on 13 inch ATS classic wheels and has lowered springs. Jake said if he were to get another VW in future, he'd go after a MK2 Golf GTI or a MK2 Polo G40.
Weener has reclaimed his lost T2 Bay (Goods-in Manager)
Back in 2005, Weeners beloved T2 was sold in a deal to a friend's Dad, so that he could buy his Splitscreen Camper. He's wanted it back for many years and last year he travelled to Cornwall for his birthday. On his trip he visited his old friend and asked if he'd consider selling it back to him. This was met with an "I'll think about it".
Weener said, "that's good enough for me, I'm buying it" and they struck a deal there and then! Weeners T2 Bay is now chilling round the corner and he couldn't be more chuffed about it! He's got many plans for her, like a lick of new paint. When he bought her back, the T2 was sporting quite a different colour theme than it was when he had it last!
While the Bay has been stored at JK, Weener has lowered it, installed a CSP disk kit and fitted a narrowed beam. Other vehicles in his VW collection include the famous 1985 T25 Karmann Gypsy, his 1963 Split Bus, a 1954 Oval Beetle, 1972 UVA Fugitive Sand Rail and a 1991 T25 Caravelle. Today he drove in his 1954 Oval Beetle.
Luke from the Warehouse Team was lucky enough to drive to work in Weener's 1982 Mk1 Golf.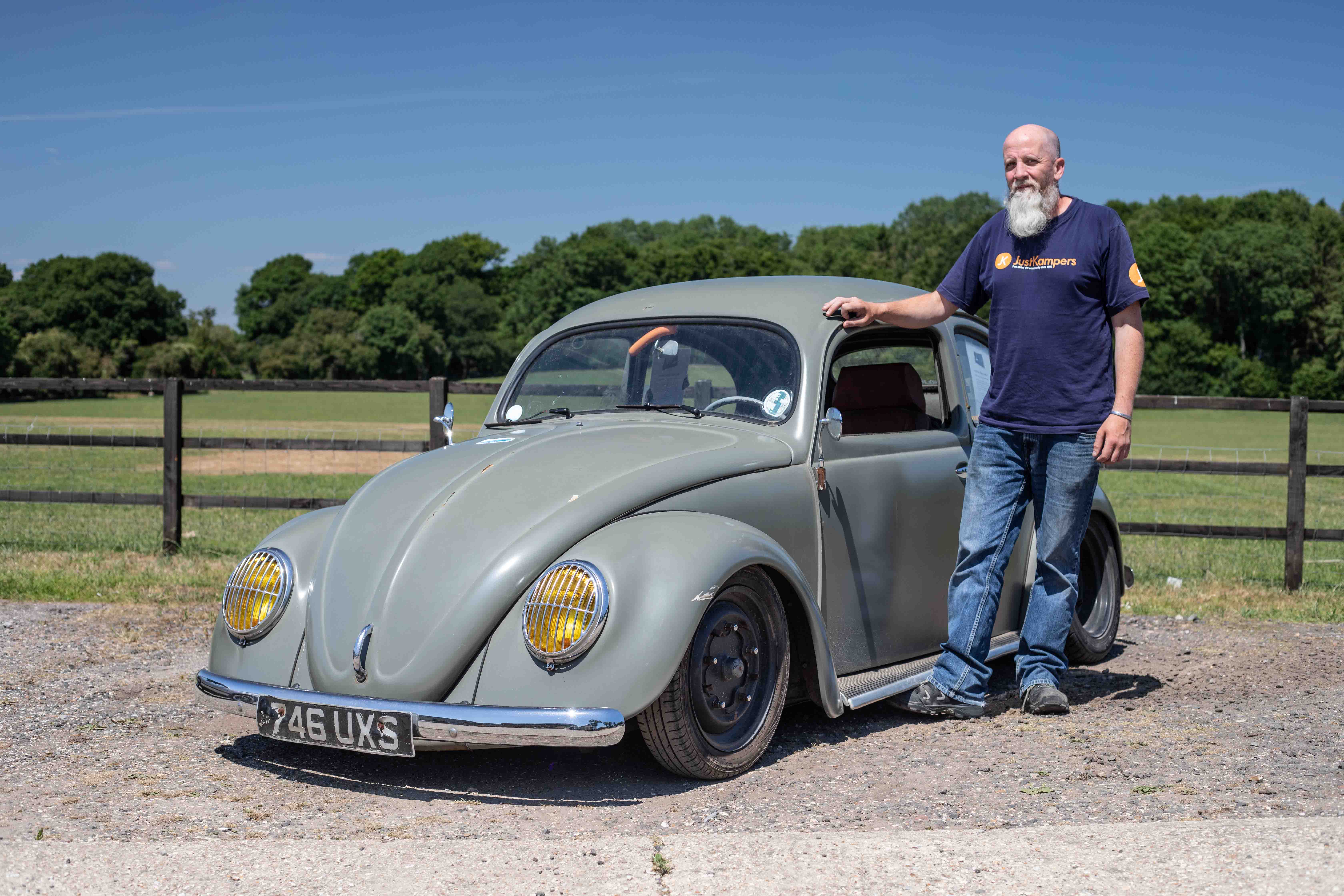 Pete's 1970 T2 Bay (Product Development Director)
Pete's been at Just Kampers for many years and has owned many a VW in his time. Today he's driven into to work with his T2 Bay, Betty. She was imported from California back to the UK. She's maintained to the highest standards and always ready for the adventure ahead. His family have travelled loads with Betty over the years and that's actually how Betty became a part of his family.
Years ago, Pete and his family went on the holiday of their dreams in California. They bought Betty out there for the holiday, with the intention of selling her on. They drove the Pacific Coast Highway and fell i love with her. In true VW loyalty, the family wouldn't let Pete sell her, so he had her shipped to the UK and the rest is history. Pete's owned other VW vehicles including a 1968 T2 Bay Deluxe, 1971 Beetle 1300 and a slammed T25 Panel Van.
Jason's 1969 1300 Beetle (Marketing Team)
Jason has owned Val, his 1300 Beetle, for over 20 years now. She was his daily driver and first car for some years after he first passed his driving test. Over the years Val has been modified bit-by-bit from a late 80's slammed resto bug, to a nose-down Cal-look streetcar. He's installed a newly built 1776 cc engine for some extra poke.
Val has long been an important part of Jason's life; she was even designated driver at his wedding back in 2017. His worst experience was when he lost all his oil on the M3, coming back from Bug Jam in 2001!
Josh's 1956 Oval Beetle – Jack (Head of Content)
Today Josh had the pleasure of driving the famous Jack to work. Jack is a Stock Oval Beetle installed with an Okrasa Twin-Port period engine. Jack earned his nickname (The Giant Slayer) back in the famed Mille Miglia of 2017. In true under-dog style, Jack took on a field of the world's highest quality classic cars, in the epic Italian road race stretching more than 1000 miles. Jack finished in 223rd position, from a starting line-up of 460. His impeccable performance has earned him the endearment of the JK Team.
His entry into the Mille Miglia was alongside a quailty team. JK Chairman Mark Reynolds, who founded Just Kampers back in 1989, drove Jack for the duration of the race. Following behind on track was a JK Support Crew: Steve Gosling, Pete Dempsey, Alex Noel and Josh Reynolds, Marks Son, who has driven Jack to work today!
You can find out more about Jack and his adventures, in our recent Blog Post, by clicking here.
Steve's T6.1 Panel Van – Project 22 (Marketing Director)
In a modern twist, Steve has driven the Project 22 T6.1 to work today! We've long been excited to share with you our extensive range of conversion parts, so we kickstarted Project 22. The conversion was initiated back in January this year, with the goal of transforming a vehicle into a high-spec campervan, using only JK products. Not only have we nearly finished the job, but we've documented every step along the way!
With the help of our friend Mark R, and our videographer Nick Proctor, we've produced a series of 'How To' tutorials which are currently on our YouTube.
Check out the playlist on our channel by clicking here.
Of course since we are still filming a few last clips for our YouTube series, the Project 22 Van was not available for a photo opportunty today...Steve has got off lucky!
JK Staff Members other VW's, Past and Present
Just Kampers Head Quarters has a variety of VW's in the car park on your average day; classic and modern, running or…not quiet running!
Caz and Shaun: Caz is our talented Events Coordinator and Shaun is our Copywriter and Sales Director. They've spent a wealth of time celebrating VW's and the Van-life lifestyle. Together they co-own their very special 1974 T2 Bay Window Westfalia, Doris. The Bay sadly couldn't make it here today, which was delightfully explained yesterday as Shaun attempted to replicate the strange sounds coming from the engine bay. Based on his performance...it sounds like there must be a fox stuck in the wheel arch.
Megan: Meg is one of our Technical Sales Advisors. She owns a beautiful 1200 bug named Earl and has been subject to extensive work since he was purchased back in 2017 He used to have a 1300 engine but he's since been upgrade to a 1600 cc. Meg's life's been jam-packed with VW's since forever; her Dad Paul who used to fix anything and everything here at JK, owns a very clean Mk1 Golf Cabriolet. Meg's also got a Blue Mk3 VW Polo, which she uses as her daily. She's a knowledgeable and enthusiastic member of our team, with a sincere appreciation for VWs.
Gemma: Gemma is a critical member of our Purchasing Team. She's the proud owner of three classic VWs: Beetle, T25, and T2 Bay Window. Unfortunately though, none of these were ready for the road today. Gemma until recently, was the owner of a peppy bright yellow VW Lupo. This was bought as a first car for her daughter, but upheld the role of Gemma's daily for quite some time. Just a couple weeks ago, Gemma's daughter passed her test, so congratulations to her! She has now inherted the car and is the proud owner of a VW too. These days Gemma uses her motorcycle to get to and from work.
George and Mike: George is one of our Sales Team and is a knowledgeable member of the JK Staff. She and her husband Mike, who works in returns, have owned several VWs between them over the years. They've owned a Mk2 Golf Cabriolet, Mk3 Golf Cabriolet, VW Bora, T25, T4 and a Mk5 Golf. They haven't got a VW at the moment, but they've moved onto the camping side of things now and enjoy galivanting in their Hymer Motorhome. Speaking of...they've only just returned from their three-week trip around Italy in it.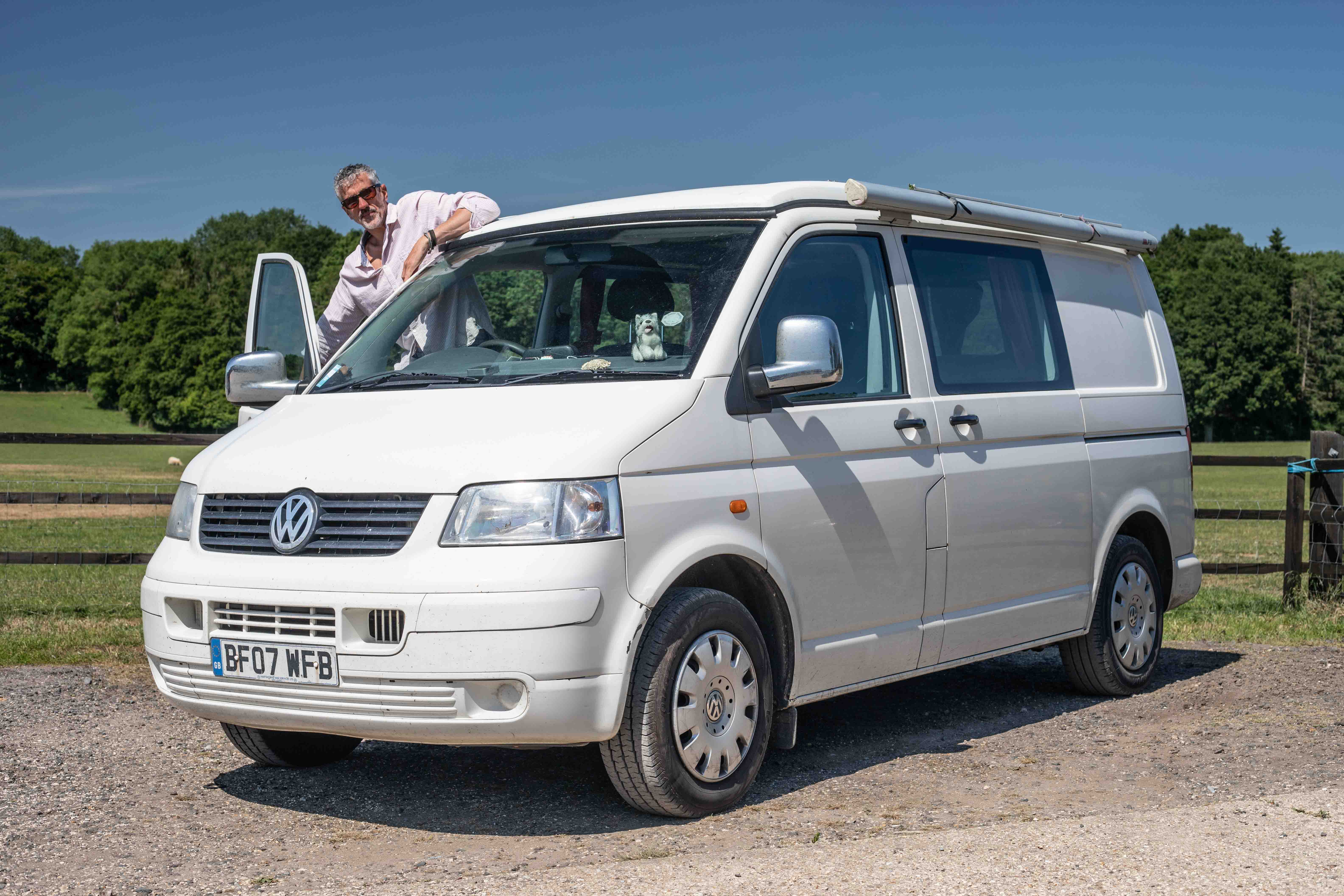 Al, our Graphic Designer stood in his T5.
Andy: Andy got himself a 2005 VW 9N Polo Sport, back in 2019. The Polo is totally standard, but he's performed a few replacements on worn parts like tyres and cambelts over the years. Also in his VW collection is a 1988 T25 Caravelle GL and a Mk2 Polo Coupe S. These are unfortunately off the road at the moment, but they'll be back one day!
Becky: Becky is our Email Coordinator. She currently drives a BMW 128 TI, but she used to own a green MK5 Golf GTI and she absolutely loved it! It was fast…and that's what she wanted.
Heidi: Hello there! I'm Heidi, this blogs writer, and I'm a part of the JK Marketing Team. I drive a modified black Mk5 VW Polo 1.4.
Oh and when I say modified...I mean dented by another vehicle.
I drove my Polo to work today, she's now my only car. I used to own a Mk2 Scirocco Scala. She was a beautiful dark blue with a 1.8 8v injection engine. Sadly she had to be sold on, though I did enjoy her for a while as my daily car. My next classic car goal is not VW, but I hope to get an early Porsche 924.
Me admiring my Polo's most unique features.
Amber: Amber couldn't make it today. She drives a 1.9 Mk5 Golf TDI as her daily and is having fun with it. She aims to replicate a combined Mk5 GTI and R32 style. The Golf is running Audi alloys and a GTI bumper already. Amber plans to lower the suspension, instal an R32 body kit and re map the engine. She'd love to own a Mk1/Mk2 Golf GTI or a Subaru.
Leanne: Leanne is a valued member of the Customer Service Team. She's been known to enjoy her journeys to work in various VW's, her current daily is a silver Mk5 Golf. It does the job, though she admits she much preferred the predecessor in her collection, which was a jet black Mk5 Golf GT TDI. It was rapid and she loved it! Unfortunately, over the years it developed a couple issues, so it had to be replaced. Ever since the swap, she's been longing for something a bit sportier. She quite likes the idea of a Mk3 VW Scirocco.
How many of us own VW's?
We conducted a survey, which was sent to every member of staff here at JK HQ. The aim of the survey was to collect and sample data, to show approximately how many of us drive and own VWs. 26 staff members that were on site yesterday had a chance to contribute.
Here's a few statistics based on the data we collected:
70% of the staff at JK* own at least one VW,
12.5% of the staff at JK* own a whopping five or more VWs,
50% of VW owners at JK* own a classic VW,
60% of VW owners at JK* plan to get at least one more,
25% of non-VW owners at JK* prefer Japanese vehicles,
40% of non-VW owners at JK* would love to get a van or bus in the future.
*which contributed to our survey.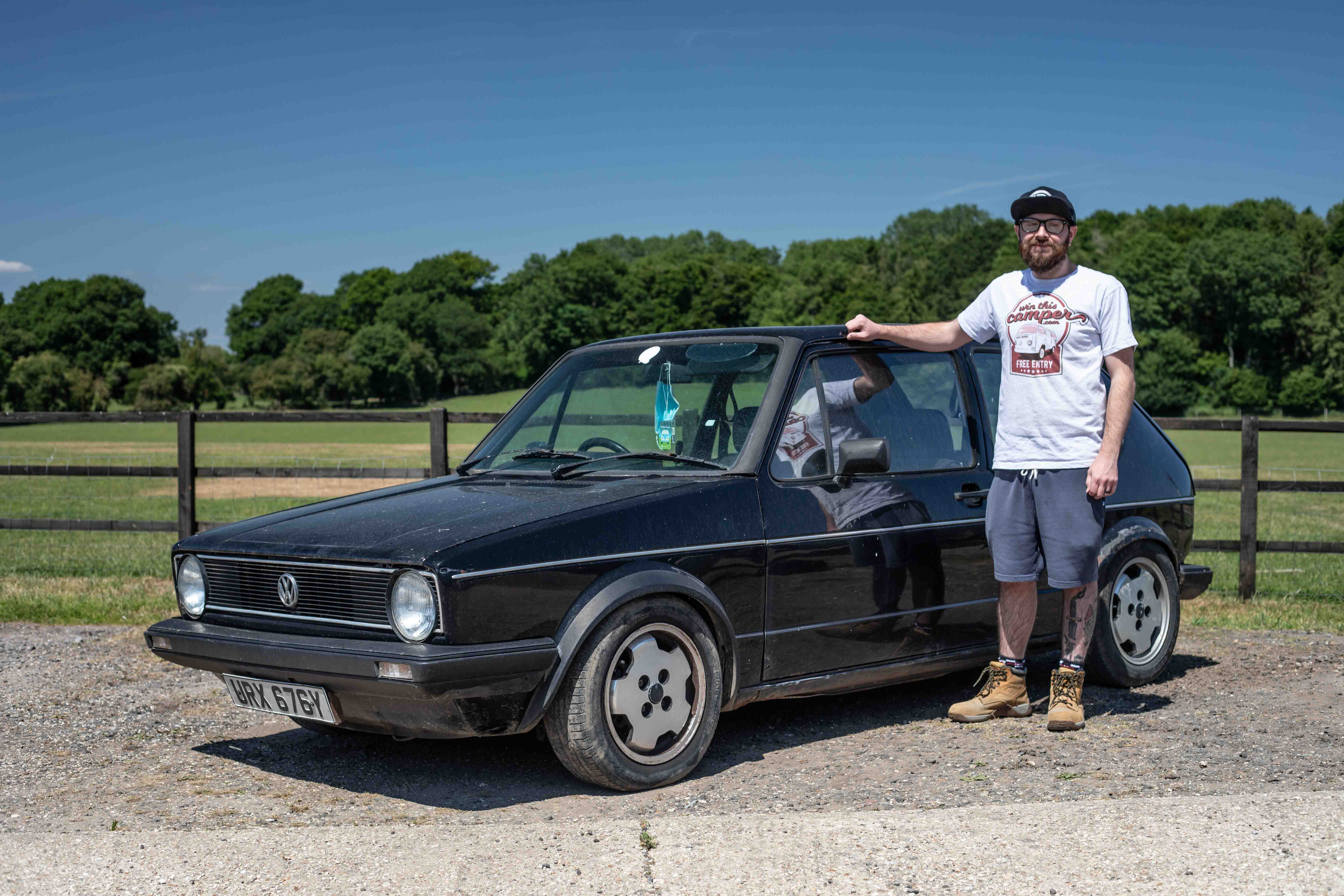 Luke from our warehouse Team, who drove in Weeners Mk1 Golf.
Did you take part in Drive Your VW to Work day?
We at Just Kampers have long shown a sincere admiration for all things VW. Classic Campers and Bugs are some of the most beautiful and unique vehicles ever on the road and Drive Your VW to Work Day has been an opportune moment to celebrate them. Here at Just Kampers, we've got copious products that will help you mend, modify and maintain your beloved VWs.
If your vehicles of interest don't fall within the Volkswagen remit, we've got loads of accessories perfect for other vehicles too. If you're converting a van, we've got the goods to transform things like your standard Ford Transit, all the way to your MAN TGE.
We hope you enjoyed reading about the VWs we drove to JK HQ today. If you've celebrated Drive Your VW to Work day, be sure to tag us in a post about it on Instagram or send it to us in a DM!