As most of you will know, the JK Open day is making a return this year! We hope you're looking forward to getting back out in the beautiful Hampshire Countryside alongside other camping and VW enthusiasts.

Here's a reminder of all the information for anyone who's missed it!
Open Day Date: Saturday 11 June 2022 (Day Visitors)
Time: 10:00 to 16:00
Camping Availability: Email openday@justkampers.co.uk
Location: Just Kampers, Unit 1, Stapeley Manor, Long Lane, Odiham, Hampshire, RG29 1JE.
Ticket Prices: Day visitors are invited to make a donation on entry, all of which will be donated to the Phyllis Tuckwell Hospice Care, in support of their incredibly important work within the community.

Anyone who purchased tickets for the cancelled event back in 2021, will be able to use their tickets for entry to the 2022 event! (Tickets will be emailed approximately two weeks prior to the event and will be required for entry - either on mobile or a paper print out).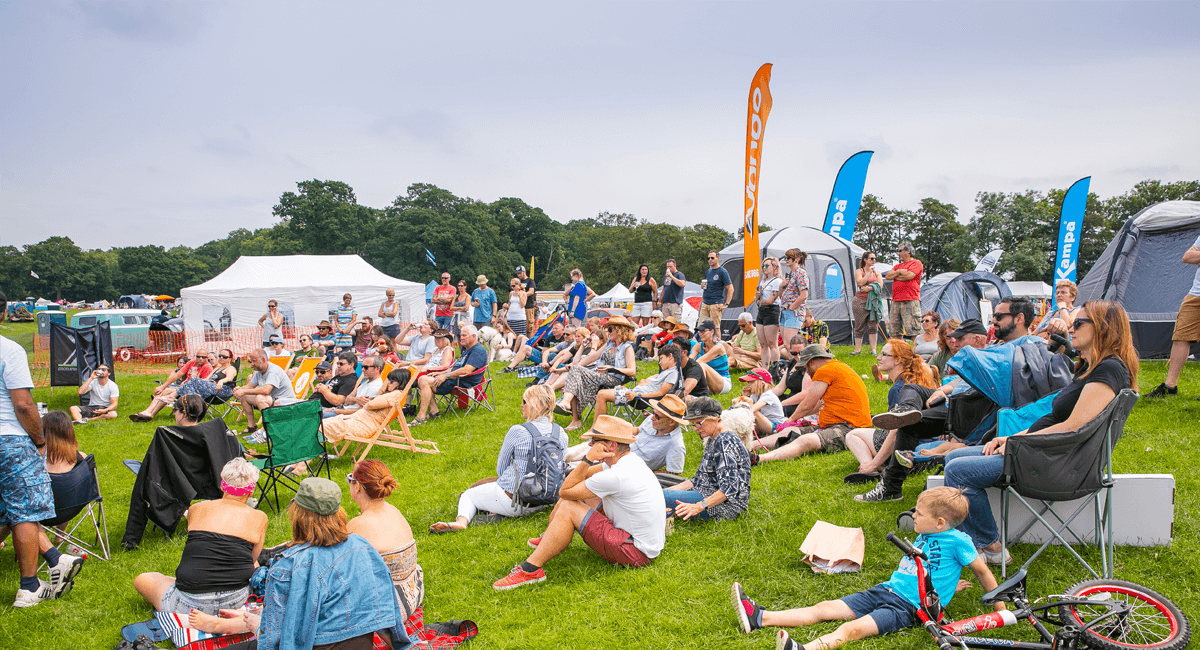 So, what's crack-a-lacking?
Camping entry for the Open Day Event will commence from 2 pm on Friday 10 June and last admission will be at 8:30pm later that day. You must have pre-booked camping tickets.

Can't camp? Day Visitors are welcome from 10am on Saturday 11 June! Attendees will be asked to give a donation on the gate, please dig deep and support our wonderful charity partner. As previously mentioned, all monies donated will go directly to Phyllis Tuckwell Hospice Care.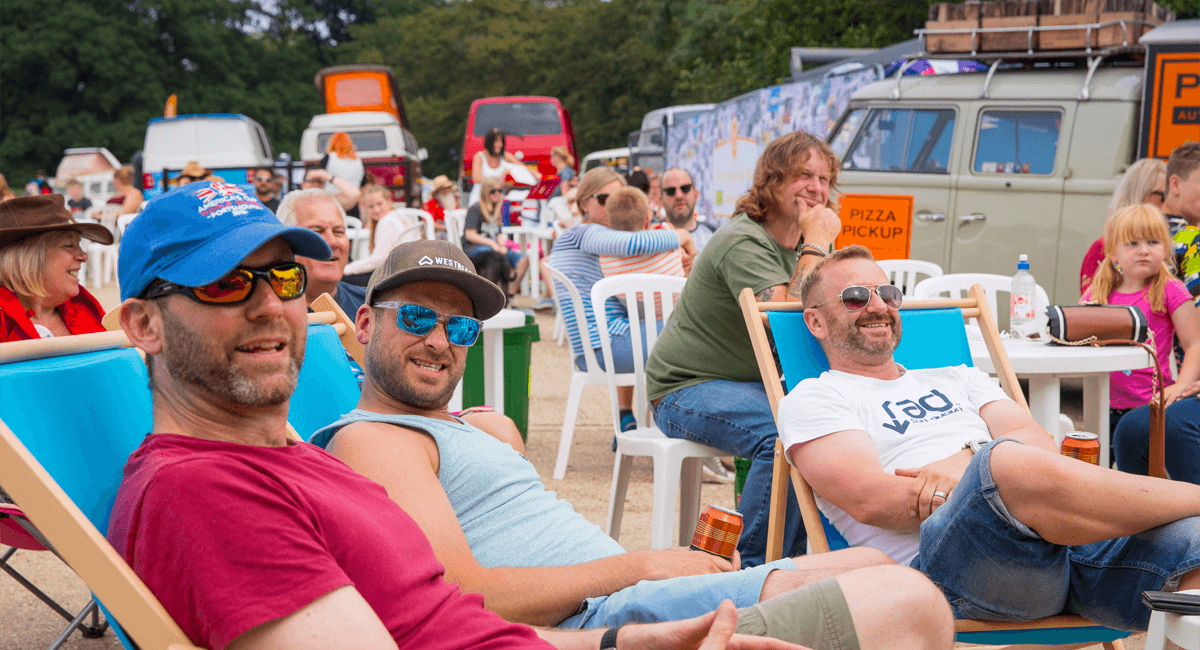 If you haven't been to a JK Open Day before, then here's what to expect. They'll be the customary roar of Aircooled engines and the hum or Watercooled loveliness with VW's a plenty, a chance to chat with the JK team, awning displays, independent trade stands, and a vintage retro stall from Phyllis Tuckwell who have spent their time prepping for the show by collating those retro treasures!

There will also be cookery demo's from the exceptionally lovely ChefCampers, childrens activities, amazing food and drinks vendors and lots more.
For those of you who are spending the weekend there will also be live music, and we will be showing two classic 80's films on our open air cinema screen!

The field to the side of JK HQ will be full to the brim of campers, VW's, family, and friends. So whether you're joining us for the weekend, or a few hours, you'll be sure to have a great time!

Bar 83
Bar 83 will be attending the event and serving their high-class selection of soft and alcoholic beverages. Ice cold drinks are the perfect way to complement a day in the sun! All drinks are served from the bar within their unique converted 1983 Rice Double Trailer horsebox. This stunning spectacle will offer a variety of treats such as wine, spirits larger, ale, soft drinks, and even botanical gins for the fancier folk among you!
MyPie
MyPie have been joining us and the open day for some time and it simply wouldn't be the same without them.My Pie will serve us up a storm from their mobile kitchen. This catering van will have a variety of pies to choose from, including vegetarian and vegan friendly options! They've got classic like their Beef and Ale, or Chicken and Mushroom Pies available. The veggie and vegan recipes are adventurous and delicious, they even have a pie made with truffle oil – how posh! These pies are award winning - try them you won't regret it.
VDub Grub
Serving burgers, chips, hot dogs and more all prepared by some of the loveliest people! We're looking forward to welcoming the team this year.
Stone Rose Pizza
Another open day newbie. This local duo have put their heart and soul into their business working hard to provide the best quality, freshest, handmade pizzas possible. We've been looking forward to this for quite some time. They will be joining us on the Saturday evening only - so get your orders in fast before they sell out!
O's Coffee
Would it even be an open day with the wonderful O's family. We don't think so. As well as being incredibly fantastic individuals, the O's team have worked tirelessly to create their own coffee blend that really hits the spot. Their hot chocolates are to die for and to top it off they are committed to maintaining family friendly prices.
And to top it off... Dubbie's Icecream
Working from a converted Splitscreen campers - the Dubbies duo are also intrinsic to our open day vibe. We were their first show some time back and we're thrilled that they keep coming back. Serving some seriously good ice cream treats you'll be sure to be soaking up the cool vibes from them!
What bands are playing the live music?
On the Saturday early evening, there will be two music acts performing on our stage. Please look forward to some music from Blue Eyed Soul and Pippa & The Players! We can't wait to see them, and they are both generously giving their time for free in support of the Phyllis Tuckwell Hospice Charity.


What's playing on the big screen?
We provide a free open air cinema for our camping contingent so you have the choice as to whether to stay and chill by your vans or wander across and enjoy some movie classics. Our films start 30 mins after sunset (approximately 21:45). For those who enjoy those classic 80's films, we will be showing one film on the Friday afternoon and another on the Saturday afternoon.
On Friday we'll be inviting you to bust some moves with Ozone, Turbo and Special K with Breakdance - so get digging the cardboard and leg warmers out!
On Saturday, we've been told by officials that...Daniel La Russo is gonna fight! So break out the car polish and get ready to Wax on, Wax off!
What else should we know?
If you've not been to a JK Open Day Event before, we are so looking forward to welcoming you! We're a laid-back charity event with the aim of raising much needed money for the local hospice. We do this by celebrating in our own way, by gathering a plethora of individual VW lovers and camping fanatics!

All the funds from the tickets, ttrade fees, and donations on the day will be donated to the hospice, so we thank you for your help by attending the event. Your attendance will help them to continue such important work, supporting their patients and their families.

Camping tickets will be sent out roughly two weeks before the event, so be sure to check your emails in a couple week's time! Please keep a copy on your phone or bring a print-out to be checked in on arrival.
Please note the following:
We're located on a working farm, with residents and other businesses in a close proximity, so please be respectful of that as you arrive and depart. Camping will not be allocated, so you are welcome to pitch as you please, in the indicated areas. We do ask that you ensure a 2-metre firebreak is left between yourselves and other pitched units.

BBQ's are allowed, but they must be elevated from the ground. We ask that you keep them under control at all times and that all coals are disposed of in the allocated hot coal and ash bin provided.
There is a strict 5 mph speed restriction in place for the safety of others on site. Toilets and limited showers will be provided, please know there are no Elsan disposal facilities. Well behaved dogs on leads are welcome, please pick up after your pups!

If you have any questions or queries, please get in touch via our email address: openday@justkampers.co.uk. We seriously cannot wait for this year's event; it's really been a long time coming! Get excited and remember to check the post for your tickets if you're camping.

See you there!
Team JK.