After weeks of supply-chain delays, the JK Solar Charging Screen has arrived at Just Kampers HQ and it's even better than our initial designs!
If you haven't seen our previous blog post about it, and didn't see it in action at the VolksWorld Show, our brand new JK Solar Charing Screen is an exclusive product which we've designed, created and registered ourselves.
It's a light-weight, portable, 120-Watt solar panel setup which can fold out to fill the windscreen of your vehicle, mounting on either the inside or outside of the window, and charge a number of devices and your vehicle's batteries without having to cut holes in your van, car or camper!
New and exclusive to JK
Our existing range of solar panels and accessories has always been really popular, especially at this time of year when the sun reappears and people start getting excited for exploring the great outdoors in their campervan.
Although fitting a solar panel system into your vehicle isn't quite as complicated or scary as it might seem, a fair few people seem put off by the thought of cutting a hole in their roof to let the cabling through.
Others were concerned about investing in a solar panel set up, which they'd then lose if they sold their vehicle. Some people (including several members of the JK Team) were looking for something they could take with them while they were off rock climbing, surfing, kayaking, biking or wild camping.
We took all of this on board and sketched up the designs for a solar panel screen which fits into the windscreen of your vehicle, but also folds up to be flat, thin and light enough to carry with you and set up on the beach, at the wall or at base camp to keep phones, laptops and other gear fully powered up.
Packed with features, but also packs down flat
There's loads of great little features which add up to make the JK Solar Charging Screen a fantastic new product, and one we're really proud of. Here are some of our favourite features:
It generates 120 Watts of power when mounted on the inside of your vehicle's windscreen (and slightly more if mounted to the outside), which is more than enough to keep your leisure battery from being run down by your fridge, lights and other camping gear.
You can mount it quickly and easily to either the inside or outside of your vehicle's windscreen, which offers a lot of flexibility. If you're having a laid back day at your campsite, relaxing by your camper, you can mount the JK Solar Charging Screen on the outside of your vehicle and leave it charging your leisure battery, laptop and phones without having to fiddle with any settings.
If you're leaving your camper behind while you set off on an adventure, you can fix it to the inside of your windscreen knowing that it's still working hard to keep everything fully charged, but that it's tucked away safely.
The charging cable is three metres long, so you'll be able to move and reposition the JK Solar Charging Screen to make sure it stays in the sun to get the most charge as quickly as possible.
Because the whole unit is totally self-contained, you can set up our new JK Solar Charging Screen and forget about it. No need to drill any holes in your roof, alter your existing wiring set up, or install a control system. Everything you need is right there in the box!
When you're not using it, you can fold our solar charge screen down flat, and stash it away in a cupboard, under a bed or in the seat-back pocket in your camper. It's not heavy or bulky, and folds in on itself to protect the surface of the solar panels from getting scratched or damaged.
It's so easy to pack away and carry about that we've taken the trial samples rock climbing, surfing, to the park and out camping, just carrying them in our backpacks or with our gear and then folding them out when we need to charge our mobiles. The handle is nice and comfortable to hold, and there's a zip-up pocket which holds the USB and power outlets which is also great for stashing your cables, keys, money, or phone!
How do I set it up?
Getting the JK Solar Charging Screen set up is really simple. There are six surprisingly strong suction clamps supplied in the box, which can be secured to the inside or outside of your windscreen. Once they're in place, you can fix the JK Solar Charging Screen to those clamps, then connect the power lead to your vehicle's 12v socket, and you're done.
It takes moments to do, and is just as quick to pack away again.
We've also ensured that the charging screen is easy to fold away, and comfortable to carry, so you can take it with you while you're enjoying the great outdoors. To test one of the final prototypes, we gave it to Al from the JK Team to take when he went rock climbing, and he was really impressed with it!
So, how does it work?
Without getting into the surprisingly complicated details of how solar panels work, the JK Solar Charging Screen uses twelve highly-efficient solar panels, each made up of loads of monocrystalline solar cells.
We chose to use monocrystalline solar cells, rather than polycrystalline, because they work better in lower light conditions. This means that the JK Solar Charging Screen is still incredibly effective when mounted on the inside of your vehicle's windscreen, despite the glass blocking some of the solar energy from the sun.
Because monocrystalline solar panels still work great in low light, you'll be able to use our solar charging screen all year round, and in all weathers, too.
What's in the box?
Your JK Solar Charging Screen will arrive with everything you need to plug it in and get powered up!
• The solar screen itself, complete with twelve solar panels, DC, USB and USB-C outlets,
• A set of crocodile clips to hook the charger up to your vehicle or leisure battery,
• A full set of instructions.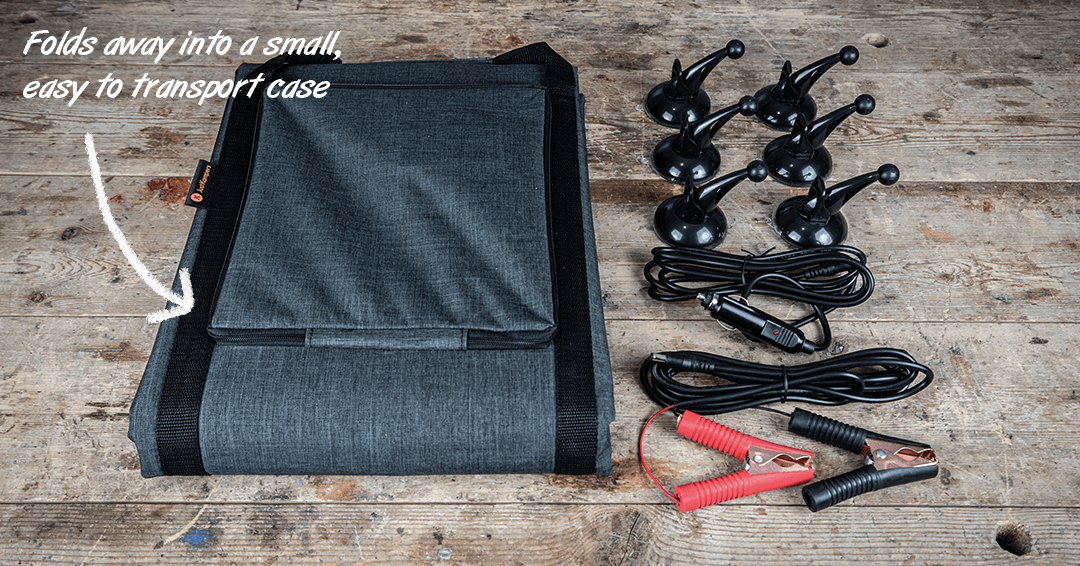 The technical information
It's all very well and good for us to go on about how excited we are by our new solar charging screen, but what about the technical info – how efficient are the solar panels? What does it weigh? How big is it when it's folded out? How small does it pack away to? Don't worry, we've got all that information and more!
What does 120-Watts actually mean?
Without going into the physics and scientific formulae, a 120 Watt solar panel will give you 120 Watt hours (120Wh) of power for each hour of sunlight it gets.
This will, of course, be more useful in the summer, or in warmer climes, but your solar panel will still produce energy during the day if it's overcast or cloudy, just not as much.
A 120-Watt solar panel is ideal for keeping a leisure battery topped up while it's running smaller electrical devices like lights, phone chargers etc., and should certainly be enough to handle things like a fridge, although it's best to check the energy demands being put on your battery beforehand.
Size and weight
• Measurements when packed away: 300 mm, by 370 mm, by 60 mm,
• Measurements when unfolded for use: 1582 mm, by 890 mm by 5mm,
• Suction clamp measurements: 70 mm, by 70 mm, by 78 mm,
• Total Weight: 3.5 kg.
The solar panels
The JK Solar Charging Screen uses twelve monocrystalline solar panels to transform energy from the sun into electricity to charge up your vehicle batteries, mobile phones, laptops and other devices.
There's one word in there you might not have heard before: monocrystalline. Solar panels made using monocrystalline designs use many small, efficient solar cells, rather than fewer larger ones. Each solar cell is made from high-purity silicon, and cut into octagons, so that lots of them can fit together across the surface of the solar panel.
Monocrystalline solar panels are ideal for use on your campervan or caravan:
• Designed for a larger surface area on each solar cell, to absorb and convert more energy,
• Reduced reflectivity, so more energy is captured by the panel and less is reflected away,
• More efficient than other types of solar panel,
• Lifespan of up to 30 years, with proper care and maintenance.
Each one has an efficiency rating of around 21%, which is really efficient – currently industrial-grade solar panels are rated for around 24% efficiency, so you know you're getting a really high-quality solar setup.
A long (design) journey
We've gone through a number of different designs and configurations before settling on the final design for our JK Solar Charging Screen.
In order to perfect the design, and get the solar screen made to our standards, we worked alongside Jerry Ranger of Texenergy, who has received a number of awards for his innovative work with solar products, including two Queen's Awards for Enterprise, plus multiple ISPO Gold awards and a Red Dot award.
It was really important to ensure that the screen fits any vehicle, and can be kept securely in place for hours on end, without needing to check or adjust the heavy duty suction clamps.
The placement, size and composition of the solar panels, the way in which it folds away, the material and colour of the material and handles, and the layout, length and type of charging cables have all been altered and amended multiple times, and we're now really happy with the final result!
We're really happy with the result and it's come a long way since the beginning. If you're interested in this product then please have a gander at the product listing page on our website here: JK's Solar Charging Screen.
If you still have any questions, please don't hesitate to get in touch with our sales team, via the web chat function on our website. Our staff will be happy to advise on any queries you have about the product.
See you later,
JK Team.