Today marks Earth Day, a time to reflect on our environmental impact as individuals, communities and businesses.
Although it's a day full of sobering statistics, there's also a lot of hope. Things are changing, and people are more aware than ever of the actions they can take to help minimise their impact on the environment.
This is something we've been focussing on as a business for years, and we wanted to take this opportunity to talk about some of the changes we've made here at JK HQ to help reduce our environmental impact.
Gemma from the JK Team has recently gone through the training to become a regional Rep for Surfers Against Sewage (SAS).
We took some time to ask her about the reasons she felt compelled to get involved, what the process was like and whether you need to live by the sea to be a Surfers Against Sewage representative.
You might remember Gemma from our series of blogs for International Women's Day earlier this year, where we chatted to her about her VWs.

Gemma from the JK Team with her VW T25. We're really proud to have a Surfers Against Sewage Local Rep on our team!
Why did you become an SAS rep?
I've always loved spending time outside in nature and the near ocean, it's my safe space where I switch off and renew.
Unfortunately, when you're in it a lot you tend to notice the issues that other people tend to turn a blind eye to, like the amount of plastic and sewage pollution right here on our doorstep that we are contributing to.
I'm already working on a long-term plan with Just Kampers to improve our sustainability and knew I wanted to do something more so when the chance came up to become a Surfers Against Sewage Rep, I went for it.
What was the process like?
Initially I sent an email to Surfers Against Sewage telling them about myself, why I wanted to become a representative and what I thought I could bring to the role, a little bit like a job interview.
Once accepted it was a case of getting to know the rest of team via zoom and planning for the year ahead.
And what did that involve?
Acting as the voices of Surfers Against Sewage in our communities. We lead beach cleans, conduct educational talks, connect with local councils and Member of Parliament, highlight regional issues, and promote Surfers Against Sewage's national campaigns and initiatives.
We engage, motivate, and empower our communities to do more and, in our own words, fight the good fight.
Do you have to live by the sea to do it?
Definitely not. All our oceans are fed by the rivers that run right across the country, and we have Chapters spreading from Lands' End to John O Groats, across Wales and into Ireland.
What will be your focus locally, and what impact are you hoping to have?
My focus for the local area is to increase knowledge of the problem through schemes such as Plastic Free School and communities, River and Beach cleans and local community events.
We'll have a stand at our JK Open Day in June, for people who want to learn more.
How can other people get involved?
Come along to a local clean! You can find out when and where they are on the SAS website.
If there's not one nearby you can organise your own clean! It's easy to do, and Surfers Against Sewage will provide everything you need.
There's also lots of information on their site on how to get involved in other ways, too.
Click here for more information on Surfers Against Sewage, and to find out how you can get involved.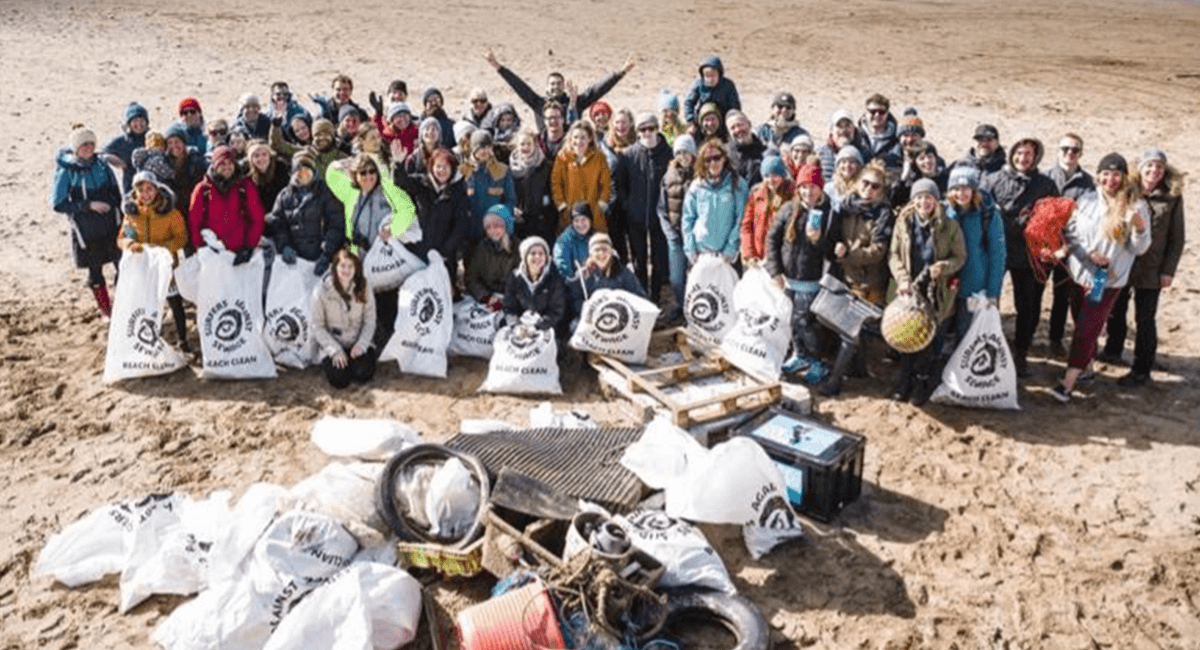 Some of the JK Team on a Surfers Against Sewage Beach Clean, which we organised ourselves (it's really easy to set one up!)
So who are Surfers Against Sewage?
The charity began in a Cornish village hall in 1990, as a response to the many surfers who became ill because of their exposure to raw sewage.
At the time this was regularly dumped in the oceans around which they surfed, and unfortunately this is still a problem now. The nineties film, Blue Juice, may have had some memorable dialogue.
"I've just seen a turd!" "It's not a turd terry, it's a fish." "What a round brown fish?"
Amusing as this was in film, the unfortunate reality was that this was all too common; and had quite considerable affects not just on human health but on our environment and on the oceans ecological systems.
From humble beginnings centred around raw sewage pouring into our oceans and a surfing community response - to a global powerhouse charity who holds not only international acclaim but respect as a force for change.
Remarkably the SAS team has only twenty full time employed staff. Still based in Cornwall, they work tirelessly to address the environmental issues we all face.
Just Kampers and Surfers Against Sewage
We've been proud members of the Surfers Against Sewage 250 Club since 2016. Over the years we've hosted Surfers Against Sewage Reps at our JK Open Days, attended many beach cleans and have been working hard to ensure that the way Just Kampers operates isn't contributing to the problems that we're jointly trying to resolve.
The 250 Club is a group of companies who've pledged their support to Surfers Against Sewage. The money that we give to the charity helps them to operate and run education sessions, organise beach cleans and run their campaigns. You can find out more about the Surfers Against Sewage 250 Club here.
With the help of our passionate staff, we've been addressing the way we process our recycling, stopped adding little bags of sweets to our orders, and made direct donations to SAS.
Some of these seem like minor changes, with tens of thousands of orders leaving JK HQ every year, cutting out those bags of sweets means there's tens of thousands fewer bits of plastic which need to be recycled, and fewer to make it into landfill or to become litter.
We continue to strive to be, and do, better. We have a continuous dialogue with our suppliers to tackle the amount of plastic packaging in which their goods arrive.
You can check out some of the changes we've made to how we do things at JK HQ by clicking here.


Here's what Surfers Against Sewage are campaigning for:

End Sewage Pollution Protests
Surfers Against Sewage are organising a series of protests across the country, supporting the following demands:
1. Stronger and bolder targets to end untreated sewage discharge,
2. An enhanced testing regime which shows a true picture of the UKs water quality in real time,
3. Nature restoration to reduce pressure & minimise impacts on sewage infrastructure,
4. Increased investment from industry in infrastructure to prevent destructive practices,
Over 90% of sewage outflows pump sewage directly into rivers. With rivers flowing into the sea, it's clear that the state of our rivers directly impacts the health of the ocean. So, we need to give rivers a voice.
Click here to find out more about this issue, and the Surfers Against Sewage protests.

Million Mile Clean
The Million Mile Clean is all about communities coming together to get involved in local, beach, river and community cleans. To collectively, spend time as a community to tackle and address the plastic plight. All plastics collected are carefully catalogued to help identify the main offenders.
The aim is to make the UK a cleaner, greener place for everyone to enjoy. That's why they've created our biggest ever beach clean campaign: the Million Mile Clean.
Surfers Against Sewage are mobilising 100,000 people each year to get out there and protect the areas they love!
Click here to find out how you can join a clean, or even organise your own!
Plastic-Free Communities
SAS are instrumental in encouraging and facilitating the support and creation of plastic free communities, businesses, and schools. Given our continued reliance on single-use plastics, it's incredibly important that we all start to reduce our useage and quickly move to alternatives.
When you consider the 38 million plastic drinks bottles that are bought each day, the 112,000 pieces of plastic packaging leaving supermarkets every minute and the 8,000,000 pieces of plastic pollution that find their way into our oceans – it's clear just how important these sorts of changes are.
Surfers Against Sewage have community at their heart and their Ocean Activists are at the forefront of the community action that is the centre of positive action and definable change.
Designated Bathing Waters
Designated bathing waters are sites which have been designated under the 2013 Bathing Water Regulations, due to their popularity for swimming and paddling with the public. The quality of these waters is regularly tested, to ensure that they remain safe for people to swim in and enjoy.
At present, of the 600+ designated bathing waters in England and Wales only one is located on a river, the River Wharf at Ilkley, Yorkshire.
This is despite the fact that 4.3 million people visit the UK's inland blue spaces every fortnight. Rivers need our support.
Surfers Against Sewage are demanding that swimmers, paddle boarders and kayakers on rivers, lakes and streams have access to the same high standard of water as those who surf, sail and swim at the coast.
This petition calls for the UK government to designate at least 200 inland bathing waters by 2030.