Today marks five years to the day since the JK Team set off on the Mille Miglia race around Italy!
Back in May 2017 five of us set off with a VW Beetle, a T6 support van and a massive amount of excitement to race, rally and ride over one thousand miles through Italy, from Brescia in the North, down to Rome and back up again in one intense, adrenaline-filled weekend!
We're taking some time to look back on how epic a challenge the Mille Miglia was, and what we've achieved since then.
Italy's Mille Miglia is an incredible open-road endurance rally, which has been taking place since 1927. When we took part in 2017, the event was celebrating it's 70th year and Just Kampers was celebrating its 30th, which made it even more special.
Only open to models of cars, or the car itself, that took part in – or completed the entry to – one of the Mille Miglia rallies between 1927 and 1957 can enter to take part to the event, which means you're up against a huge number of impressive and rare cars.
Luckily for us, the VW Beetle was on the approved vehicle list, so we took part in a 1956 Oval window Beetle, which we fitted with some extras to help us close the gap between us as the custom-made historic race cars we'd be competing against!
The course takes racers from Brescia in northern Italy, south and east to Padova, San Marino and then Rome, before they hurtle back up toward Parma and end where they began – amidst cheering crowds in Brescia.
Why did Just Kampers take part?
Taking part in the Mille Miglia had been a long-term dream for Mark Reynolds, who founded JK back in 1989, for a long time.
With Mark turning 50 that year, and with the JK Team looking for a new project and a way to test out our range of Preservation Parts panels and other bits, the stars seemed to have aligned and we had the perfect opportunity (or excuse!) to take part in one of classic motor racing's most infamous events.
Image credit to Dan Pullen
Who was on the JK Race Team?
Driving our 1956 VW Beetle was JK chairman and founder, Mark Reynolds, who'd wanted to tackle the Mille Miglia for years. In the navigator's seat beside him was me! I was a freelance writer and editor at the time, but did some work with JK and couldn't pass up a high-adrenaline, father-and-son weekend.
Following along behind us was the JK Support Crew, driving a VW T6 full of spare parts, snacks and water.
Pete Dempsey, who's been a Director at Just Kampers since the early days, did the all driving and a lot of the tinkering and adjustments during the race.
Steve Gosling spent a good chunk of the race leaning out of the window with a camera, taking photos and videos of the event and sending them back to JK HQ in the UK to keep everyone updated via social media.
Alex Noel did a huge amount of work to get our Beetle ready ahead of the event, and came along to help put everything back together if anything went wrong – luckily it didn't, but it was still great to have him along!
Image credit to Dan Pullen
How did the Beetle start off?
We first saw the Beetle we'd be racing in when it drove into the JK Open Day in 2016, and then had a For Sale sign put up in the window.
It's a 1956 Oval rear window VW Beetle, which was in great shape, especially considering its age. We snapped it up to transform in into a Mille Miglia race car!
All hands on deck
We had our work cut out for us getting the Beetle ready to take part in the Mille Miglia – while it was pretty solid and mechanically sound, we needed to make sure that everything was the best it could possibly be, and that every element had been tested and trialled to make sure that nothing went wrong while we were speeding around Italy!
Brakes, electrics, steering, suspension, gears, engine, wheels, tyres, glass, seals – we went through everything bit by bit, replacing or repairing anything which wasn't absolutely 100% perfect.
All of the work was done on site here at JK HQ, in the workshop unit which is adjoined to our main warehouse building. The work was done using parts and accessories which we stock ourselves, with the exception of niche items like the Brantz race timer we used to help navigate and complete time trials during the Mille Miglia.
One of the biggest changes we made to the Beetle was fitting it with an Okrasa engine.
We wrote a whole blog about it at the time, which you can read here.
With help from our friend Bob at BBT, we got hold of a replica of a famous Okrasa race engine, which was created for a VW Beetle to see if fitting the engine to a Bug would make it faster than a Porsche 356 (the short answer is yes!).
Click here to read more about the history of the Okrasa engine we fitted.
The engine worked great (and still does!), and we suddenly felt really optimistic – could we actually do this? Would we be able to go toe-to-toe with the classic Ferraris, Mercedes and custom-built race cars in what was essentially a modified daily driver?
It definitely felt like we might – our Beetle performed amazingly well, and we dubbed it Jack the Giant Slayer, in anticipation of being able to leave a load of other racers in the dust.
With all of that work done, and a lot of trial runs done with Mark behind the wheel and me reading navigation instructions from hastily-printed Google Maps directions, we were as ready as we'd ever be!
The race itself
While some of the JK Race Team drove from our HQ in the Hampshire countryside with the support T6 towing Jack the Giant Slayer, others took the easy route and flew over to Italy to meet them.
After giving Jack a few final checks, it was time to head off to scrutineering to get him (and us!) checked over. With my Italian speaking skills being limited to ordering pizza and beer in a terrible accent, it was a nervous wait while the team running the Mille Miglia checked over the reams of paperwork and looked at every aspect of Jack, to make sure that everything on the car was period-correct and approved.
There were a couple of other Beetles and other unlikely looking entrants in the scrutineering hall, but in general it was crammed full of gorgeous race cars from the 1920s and '30s.
Luckily, Jack flew through scrutineering and Mark and I hadn't forgotten any paperwork, so we were approved to enter the race! There was no turning back now, and I spend the rest of the day exhausting a pink highlighter pen marking up all the turns, exits, markers and petrol stations on the 1,000 mile route, which covered no fewer than four spiral-bound A4 book.
If something was going to go wrong on the race, I was going to make sure it wasn't me missing an exit or navigating us off the wrong exit of a roundabout! After some pacing, panicking and pizza, it felt like Christmas Eve mixed with the night before a big exam as we all tried to get some sleep before the start of the race the next day.
Day 1 – Brescia to Padova
For better or worse, the days of smashing out the Mille Miglia in one almighty day of breakneck speed, finely-honed skill and luck are over. When Sterling Moss did the race back in the 1950s, he completed the whole route in about 16 hours – but the event is run differently now. With more traffic on the roads now, and a series of casualties which put an end to the race for a while in the 1950s, the race is a slightly different beast now.
Interspersed along the way are a series of time trials, scheduled stops and even a couple of lunches where you can chat to the other racers. Initially we missed out on a lot of the best food, because we started towards the back of the pack, but by days three and four we'd climbed enough places to arrive at these stops before there was only salad left!
Our first day of racing would be a relatively tame drive from Brescia, through Verona, up to Asolo and then down to Padova.
Mark and I waited for our turn to drive up onto the elevated podium/stage to be announced and cheered, before we were sent off on our way. We started off in position 429, towards the back, but that's certainly not where we ended up!
The route took us through some beautiful gardens and then out onto the roads to battle it out with the regular Italian traffic and our fellow racers.
The day went without a hitch, and Mark was loving using the secret 'third lane' which appears between the two normal lanes on the road when people see a load of Mille Miglia cars racing – with the event having been going on for 90 years, it seemed that most other road users were happy to make way for us and wave as we passed, since they knew all about the race.
I had made a tally chart in one of the race books, so I could mark down how many other racers we overtook, but quickly gave up on it – not only was I too busy navigating, but we were flying past so many of our competitors that it sort of became boring to keep marking them off!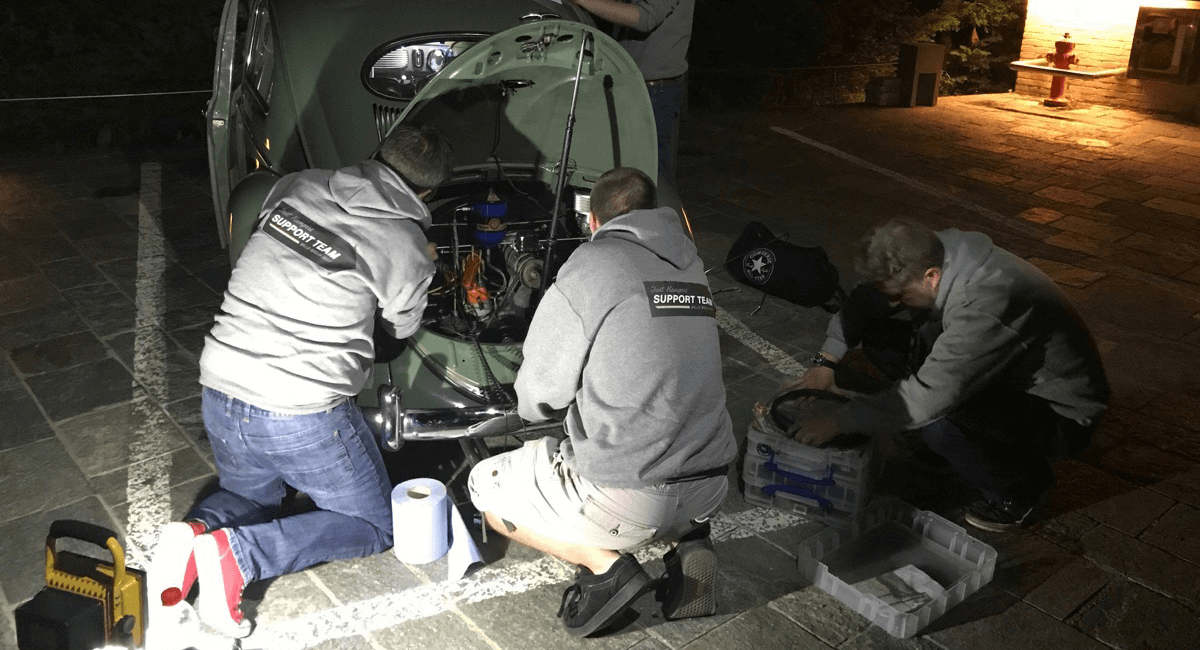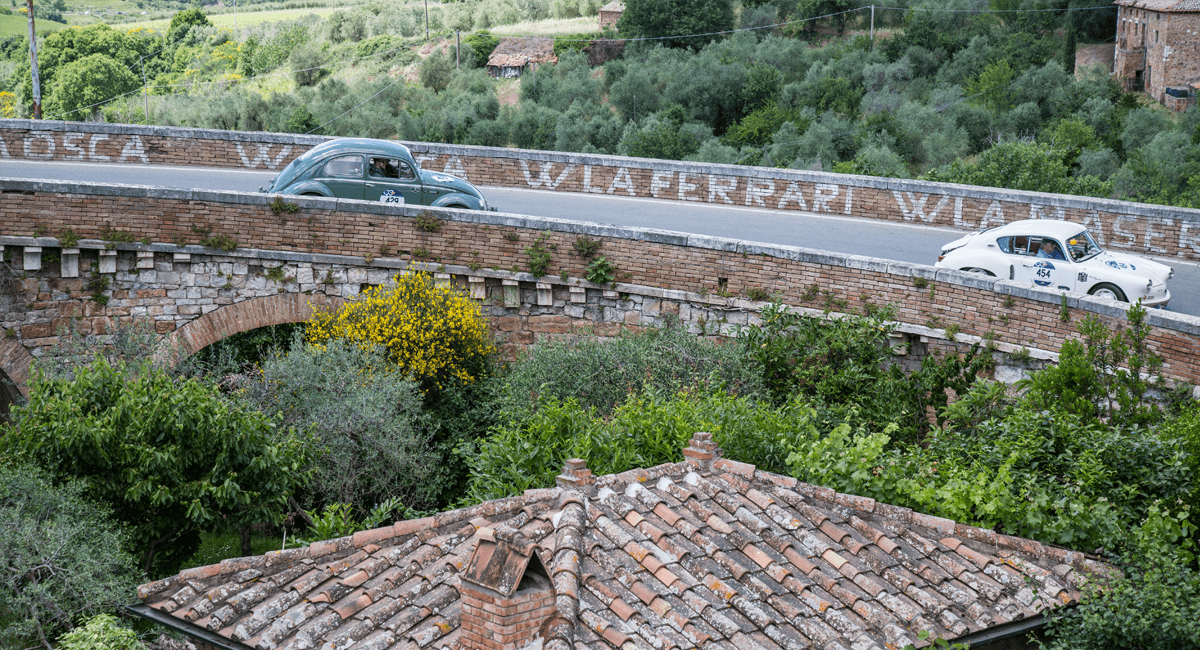 Day 2 – Padova to Rome
The second day was infinitely more challenging – and memorable – than the first. A full day of 'proper' racing from early morning until well after nightfall, Jack the Giant Slayer didn't miss a beat as he took us from Padova, through the Republic of San Marino and into Rome.
We had a quick break in San Marino to meet some friends who were in town, and then were off again before I'd had a change to stretch my legs enough to get feeling back in my butt – both Mark and I are over 6 foot tall, and the two of us sat in the Beetle with all of our race books, snacks and water for a full day wasn't quite as comfortable as we'd hoped!
The route took us through narrow side streets in medieval towns, through gorgeous countryside and picturesque villages, before we ascended the hills outside Rome. When we got to the top, we could see a massive, impressive thunderstorm off in the distance, and watched it flash and thunder as we drove.
It didn't occur to us for a second that we'd be driving into that storm, until we got to the outskirts of Rome itself.
I don't think I've seen rain like that before or since.
Jack's wipers were going so hard to keep the windscreen even vaguely clear that one of the arms just flew straight off, landed in the gutter, and was swept away in the small river which was flowing down the side of the road. Luckily, Pete in the JK Support Van was able to hop out and grab it, and I've still got the wiper arm framed at my place – it was the only part which failed during the whole race!
There was meant to be a big celebration and welcoming party when we arrived in Rome, but it was rained off – unsurprisingly! This made it fairly tricky to find our hotel, since we'd been relying on following the other racers, but we could barely see ten metres ahead of us between the rain, darkness and the inside of the Beetle fogging up. Roads were flooded, signs couldn't be seen through the downpour and we were all wet and cold and tired.
Still, we eventually made it to a hotel, and I must have gotten a few hours' sleep (once the adrenaline from the day had worn off) and we were on the road again before I knew it.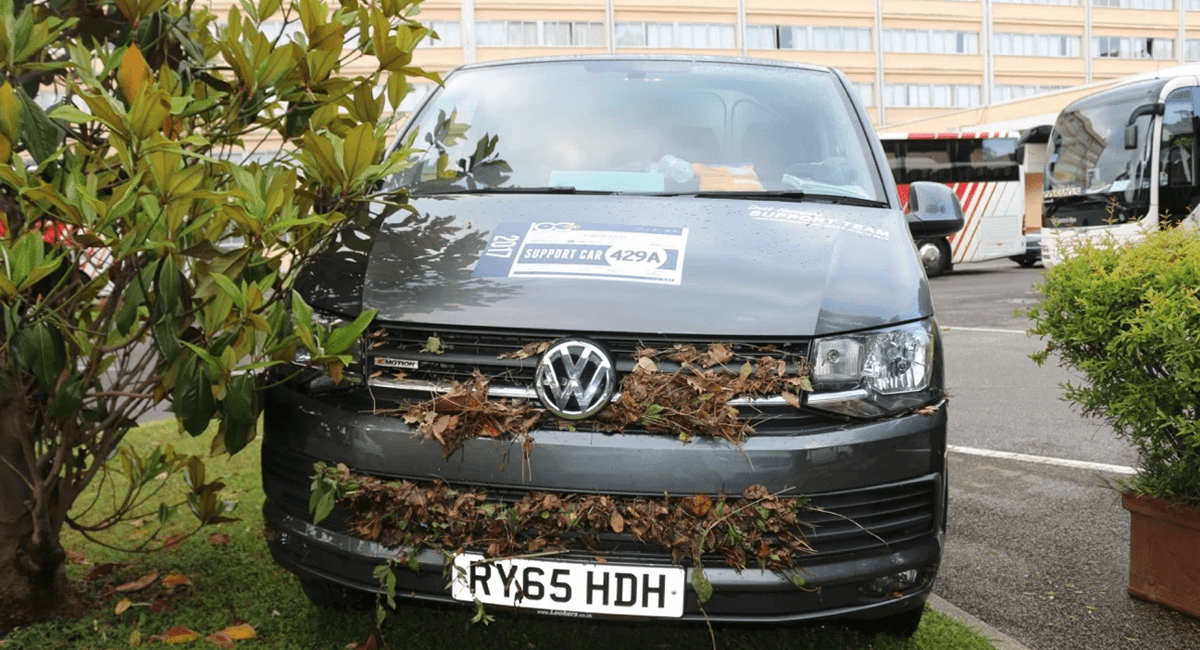 Day 3 – Rome to Parma
Another full day of racing took us from Rome, through Siena, past Modena and into Parma.
Speaking of Parma, we were given quite a lot of ham by people in the towns and villages which hosted the scheduled stops and time trials, all of which I passed on to the rest of the team, since I don't eat meat! I don't know why that memory sticks in my head so much, but every time we stopped (or even slowed down) in a town there'd be people handing out food and drinks, and occasionally wine!
The JK Support Crew had picked most of the leaves, sticks and other debris out of the front grille on the T6, after driving it through floodwater under a bridge (check out the photo below – it really was flooded!) and were having a great time keeping pace with us and occasionally stopping to help some broken down racers. Our support van was full of spares and three people with a load of technical knowledge, and they did more work on other competitors' vehicles than on Jack the Giant Slayer.
We left before we had a chance to replace the fallen wiper arm, so I did, on occasion, have to hang my head out the window like a dog on a road trip to see out the window when it fogged up – I had tried using an innovative sock-glove to clear the fog, but it wasn't very effective…
Mark and I were definitely getting a hand of the time trials and other challenges which form part of the race, but they're definitely where we lost the most points – it was something we hadn't really practiced or trained for, so we had to learn during the race!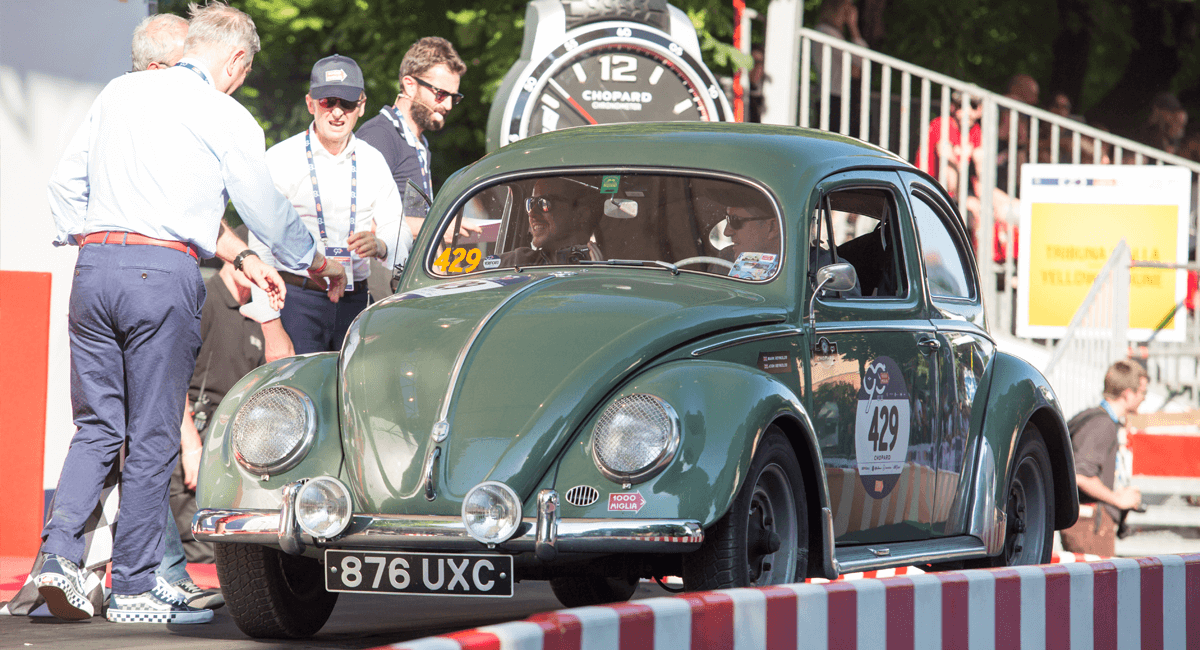 Day 4 – Parma to Brescia
With a lot more towns and villages to pass through on this fourth and final leg of the Mille Miglia, the cheers, waves and smiles of the people crowding the street were really keeping us going, with all five of us operating on minimal sleep, adrenaline and petrol station snacks.
It was amazing to see so many people out to see the racers pass, with some people setting up picnics on roundabouts or parking up by the roadside to cheer was we zoomed past.
One thing we'd worked out fairly quickly is that you lost a lot of points for arriving too early – the Mille Miglia isn't the same sort of race it started out as, and you're docked points for arriving at a checkpoint too early (as well as for messing up your time trials!), and so we'd often race hard so that we could buy ourselves some time to stop and stretch our legs around the corner from the next check point, then make sure we rolled over the line at exactly the right moment to avoid losing any points before speeding off again!
The final day of racing had some really cool stages, including passing through an Italian airforce base, before ending up where we'd started off a few days before – Brescia.
The results!
So, we'd made it to the end. We'd finished the 2017 Mille Miglia, the 90th anniversary event, and done so having only lost a wiper arm and four cable ties (which we'd used to fix the quarterlight windows open!).
But how had we done? We'd started in position 429, and it felt like we'd overtaken dozens and dozens of other racers, but had we actually? Or were we being optimistic?
Well, in the end, we came in 223rd, having climbed over two hundred places!
Not bad at all for a team who'd never done anything like this before, and done it in a VW Beetle while the others were in Maserati's and Ferraris.
Taking Jack on tour
After the Mille Miglia, we took Jack the Giant Slayer to loads of shows and events around the UK and Europe. We got a board printed up which explained about the Beetle and the event, and got some stickers printed for the rear side windows to explain that the JK Team built and raced the car through the Mille Miglia using parts from Just Kampers HQ.
Still working as a freelance writer and editor at the time, I wrote up a few magazine articles about the car and the event for different magazines, and we did a post-race interview which we posted up on our YouTube channel.
Jack has settled in nicely in the fleet of classic and modern VWs here at JK HQ, and is still used as a pool car by many of the staff, who are welcome to borrow the Oval if they want to head off to a show for the weekend.
What have we done since the 2017 Mille Miglia?
It's hard to believe it's been five years to the day since we set off from Brescia on the first day of the Mille Miglia. A whole lot has happened in all of our lives, and there's been some huge changes at Just Kampers.
As well as growing the physical size of Just Kampers, to take on more space at JK HQ in Hampshire, our team has grown as well, as there's now around 60 of us working here to get your parts and accessories in stock and then shipped out!
Not wanting to miss out, my sister Meg navigated the Gran Premio Nuvolari in 2019 with Mark, who drove a 1959 Karmann Ghia with a 1300cc Denzel engine – click here to read all about their adventure.
Just Kampers celebrated its 30th birthday in 2019, marking three decades since Mark set up JK in a small workshop back in the late '80s! This was a huge milestone, and one we celebrated with a few small events across the summer that year, as well as the Gran Premio Nuvolari race.
2019 also saw the Just Kampers team take part in a drive from John O'Groats to Land's End to raise money and awareness in the right against breast cancer. There's more information about that epic trip available if you click here.
We've partnered with Phyliss Tuckwell Hospice Care as our main charity partner, and you've helped us raise tens of thousands of pounds for us over the last few years, including over £21,000 at the 2019 JK Open Day.
We lent a T6 and some equipment to a team taking part in the 2020 GP Ice Race in Austria, which saw a series of modified classic cars towing skiers around a frozen racetrack. You can click here to learn more about that.
We're also supporting Surfers Against Sewage, as part of their 250 Club of businesses who support them and their important work to keep the UK's beaches, seas, waterways and rivers clean and clear of pollution. Gemma from the JK Team is also now a regional rep for Surfers Against Sewage, which is fantastic. Click here for more information about our work with Surfers Against Sewage, and what they do.
Mark and the JK Team have restored a rare Dannenhauer & Stauss back to an absurdly high standard, which won it an award at the 2022 VolksWorld Show. You'll be able to read more about the restoration in some VW magazines in the very near future!
Speaking of high quality restorations, 2022 will also mark ten years of Preservation Parts, the range of best quality panels and other parts we launched back in 2012 – many of which were fitted to Jack the Giant Slayer and our other vehicles. See, we've come full circle!
Would we do it again?
Of course we would! Any of us would sign up for another crack at the Mille Miglia in a heartbeat!
And, we'd probably do even better the second time around, as well as making sure we packed enough water, snacks and pink highlighter pens to see us through the whole event!
Who knows, maybe we'll give it another go in the future, or try our hand at another infamous motorsports event in a classic VW.
Personally, I've always wanted to do the Baja 500!
Written by Josh Reynolds, Just Kampers Content Manager and navigator on the 2017 Mille Miglia.