We had a great time at Camperjam 2022 this weekend, with Shaun and Caz from the JK Team heading up to Weston Park in Shropshire for a long weekend of campervan fun!
If you haven't been before, Camperjam is probably the single biggest VW show in the UK at the moment, with around 20,000 tickets being sold for the festival this year. Caz and Shaun met thousands of people and chatted with hundreds of friends, customers and newcomers to the VW scene.
There was a huge amount going on over the weekend, from tree-climbing and a dog show, through to a Show & Shine and a vehicles for sale section. There was also a massive amount of music on throughout the festival.
Of course, neither Shaun nor Caz got to see much of it, because they were so busy at the JK stand!
Click here to find out more about Camperjam.
Between them, Shaun and Caz were able to sneak off to get some great photos of the event, which you can check out on our Facebook page and our Instagram, as well as below.
Project 22
Shaun drove up to the show in our new Project 22 bus, a VW T6.1 which we've transformed from a basic van into a cool campervan. With a rock'n'roll bed, swivel seats, JKF50 fridge-freezer, cooker, sink, cupboards, lighting and a load of other great extras, Shaun was all sorted for a luxurious weekend in his home-away-from-home!
There was a slight issue when a tyre blew on the way, but Shaun gave us a call and we rang around a few different tyre placed before sending him off to Silverline 4x4, a wheel and tyre specialist in Warwickshire who was able to get the right load-rated tyre onto the bus to keep Shaun motoring!
We'll be covering Project 22 in a blog this week, but in the meantime check out some of these cool photos!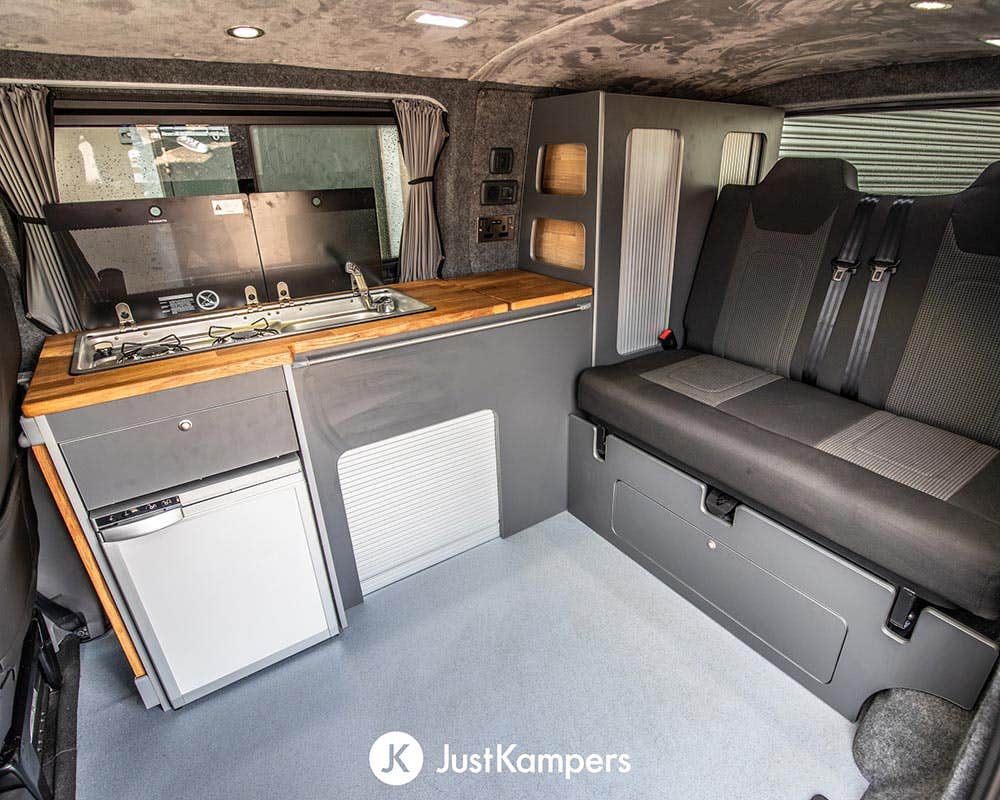 An excellent show, fantastically organised
Shaun has bounced into the office full of renewed enthusiasm this morning, talking about how great it was to catch up with so many people and how smoothly Camperjam was organised.
After the cancellation of so many events due to the Covid pandemic, it's been great to get out there again this summer and catch up with people we haven't seen for years, chat to customers and meet up with fellow traders during the show.
There were around 23,000 people at Camperjam over the weekend, which is a massive amount of people - all of whom arrived at the show in a great variety of super cool vehicles.
It's safe to say both Caz and Shaun thought it was well worth the three hour drive to Weston Park, and they're already looking forward to Camperjam 2023!
A big thanks to the team behind Camperjam for putting on another excellent show, and a massive thank you to everyone who came to our JK stand to chat with us, catch up, ask questions and talk about what you've been up to since we saw you last.
Here's a few of the pictures that we managed to get, in between chatting with people!