There's a lot of tired colleagues here at JK HQ this morning, as quite a few of the team have just returned from Hessisch Oldendorf in Germany, after a long weekend in the company of some of the rarest, oldest and coolest classic VWs in the world!
What is the Hessisch Oldendorf show?
Simply put, it's a massive gathering of pre-1957 Volkswagens and Porsche's from around the world, all gathered in a small town in Germany for four days of spectacle, camaraderie and swapping, buying and selling rare and obscure parts for rare and obscure VWs!
Also known as HO22, the show is named after the town it's held in, and occurs once every four years. Entire streets and plazas are filled with dozens of vehicles which would be almost impossible to find at other VW shows.
Hebmüllers, barn door T2 Splitscreens, Kübelwagens, and all sorts of other "hens' teeth" Volkswagens are lined up, side by side, with thousands of people trying to keep their jaws off the cobbled floor!
The JK Team at HO22
Mark and Kerry Reynolds, who founded Just Kampers back in 1989, headed to the show right from the Petermax Müller in Mark's Porsche 365 Speedster – which turned out to be the only one at the event!
While they were there they met up with Pete, JK's product development director, and Shaun, our sales director, who'd brought the newly-restored D&S over from JK HQ.
We gave Shaun the log-ins for our social media accounts, and he kept our followers on Facebook and Instagram updated with photos and videos from the whole weekend – he even did an Instagram Live, despite not really knowing how!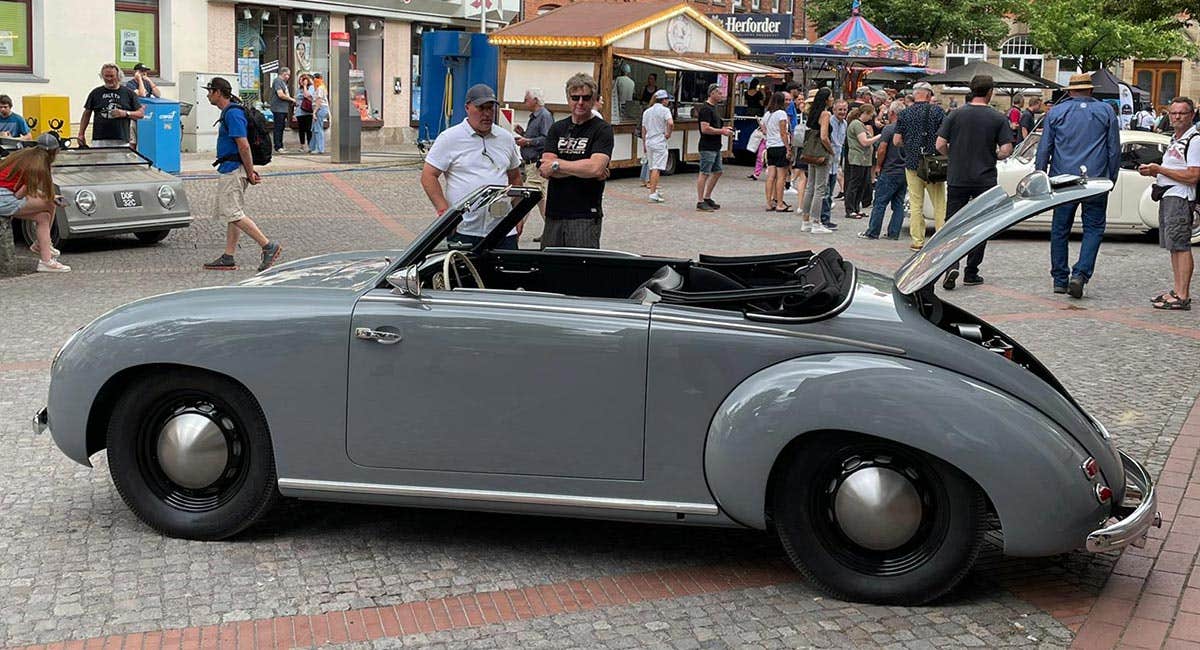 A long-awaited party
It was a great chance for us to catch up with dozens of different people from all around the world, who we hadn't seen for years. People and their vehicles had travelled from as far away as California and Australia to be at HO22.
As always, the atmosphere was excellent through the whole weekend, with people milling around and taking in the sights of a huge number of incredibly rare, incredibly beautiful vehicles.
Mark's Dannenhauer & Stauss drew crowds of admirers all weekend, who came to see one of the few D&S' still on the roads. If you want to check out the D&S, you should pick up a copy of Hayburner Issue 42, which is out right now, as there's a big feature on it, with photos of it after the restoration!
Really, it's a show which needs to be seen, so you should definitely try to head out to Germany for the next Hessisch Oldendorf event, although we're still waiting to hear when it will be held!
Back to work for a rest!
With the VW show season now in full swing, Mark and Shaun are back to work today for a break before Shaun heads off to Camperjam this weekend.
Shaun hasn't had a weekend off for a fair while now, having worked at the JK Open Day, Classics at the Clubhouse, Hessisch and then Camperjam, but he loves it really!