We were up at the Birmingham NEC over the weekend for the Classic Motor Show 2022, and had a great time chatting with new people and catching up with familiar faces.
Here are some photos of a few of the classic VWs we saw at the show, as well as an overview of the event and how we got on there. We've been to a lot of different car shows and events this year, but the Classic Motor Show at the NEC will be one of the last until next year!
Chet and Shaun hard at work, in their nicely-ironed JK shirts
What is the Classic Motor Show?
The event is held at Birmingham's NEC each year, which makes it accessible for a lot of people from around the UK, as well as visitors from overseas. The Classic Motor Show brings a fantastic range of classic cars, campers, motorbikes and more for a four-day celebration of iconic vehicles and everything associated with owning, driving and maintaining them.
This year's event was spread across a whole nine halls of the NEC, which is a massive amount of space and really highlights just how popular the show is. Vehicle display areas, autojumbles, accessories and parts suppliers (like Just Kampers!) filled these huge halls, which were then flooded with tens of thousands of classic vehicle admirers.
There were also opportunities to hear celebrities from the motoring world give talks alongside industry experts, and fundraising driving events, too.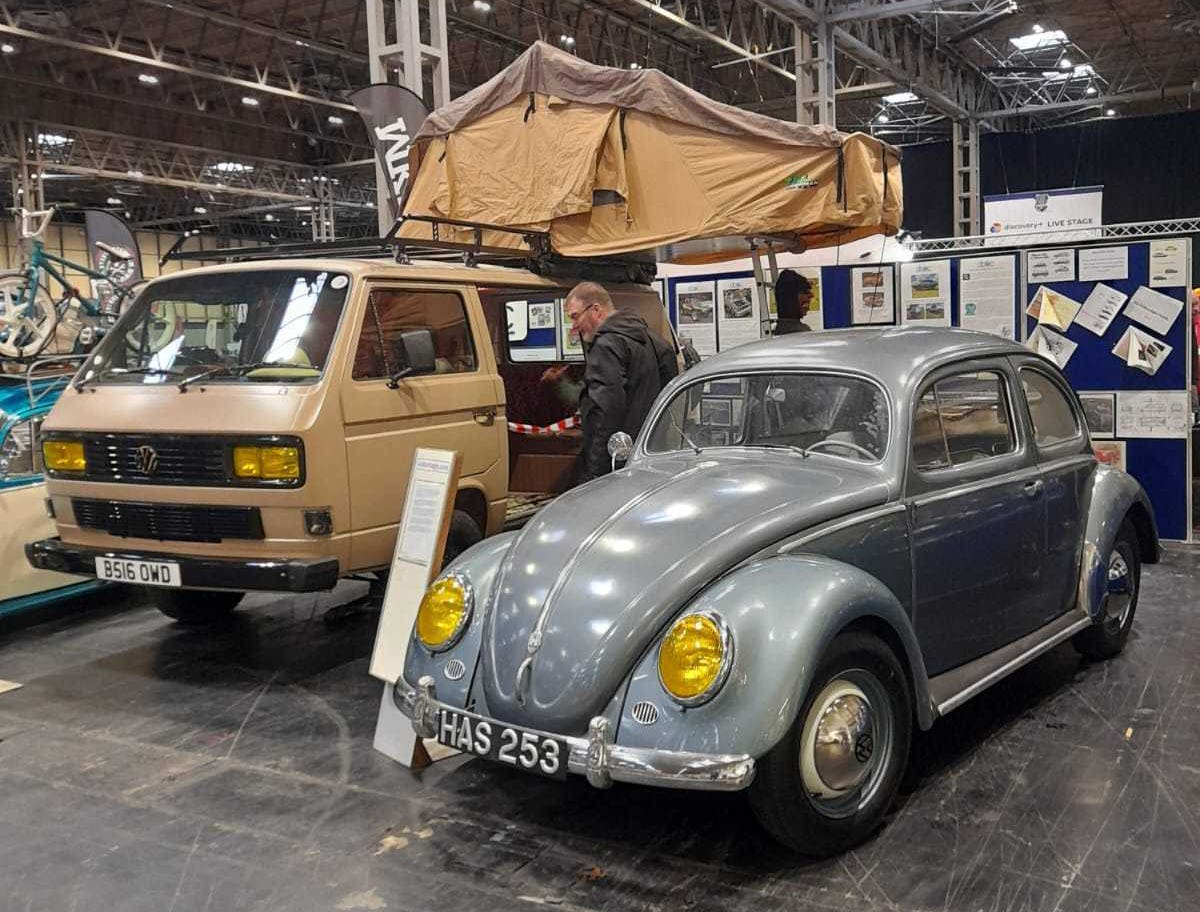 What did the JK Team get up to there?
Familiar faces Shaun and Chet, both from JK's trade sales team, headed up to the show on Wednesday last week to get all set up and ready for the doors to open on Thursday 10 November.
They parked our newly converted Project 22 VW T6.1 and Shaun's 1974 Westfalia camper on our stand, and the two looked great together. This was actually the first time that Shaun had driven his T2 Bay for any real distance since he'd finished fixing the old girl (named Doris) up.
Despite a few nerves before setting off, Doris didn't miss a beat and the journey there and back went really smoothly (except for a brief detour where Shaun ended up accidentally driving to Coventry on the way home on Sunday, instead of back to JK HQ in Hampshire, but he had been rushed off his feet for five days, so we'll let him off!)
Chet and Shaun were really pleased with just how many people came over to say hi, and how many people fell in love with Doris. Despite being a classic car show, Project 22 got a lot of attention, with loads of people asking how we did the conversion, which parts we used, how long it took, and whether we've got all the kit in stock. Luckily for them, we were able to point them towards our Project 22 information page and the full playlist of How-To videos we shot during the conversion.
Will we see the JK Team there again next year?
Almost certainly, yeah! Shaun and Chet both had a great time, and got loads of excellent feedback from everyone they chatted with over the four days of the event.
We'll probably bring our own coolbox stacked with sandwiches, kettle, mugs and teabags, though, as four days of eating and drinking at any vehicle show gets pretty expensive pretty fast. Who knows, if you ask nicely we might even make you a cuppa while we chat!
Have you got any more photos from the 2022 Classic Motor Show?
We absolutely do! Check out our Instagram account and Facebook page to see more photos and videos from the event, as well as special offers, news, helpful tips and loads of other stuff.