This weekend one of our Marketing Assistants, Heidi, took a trip to Goodwood for the Players Classic show. She and her Boyfriend Josh went down together in his Austin Mini Pickup. Their side hustle Vamp Original will be sharing coverage of the event shortly but for now we've got a couple images snapped from Heidi's phone. Here's a short run down of the event and more about Players Classic.
Players Classic at Goodwood Motor Circuit
This weekend we had the pleasure of visiting Goodwood Motor Circuit for the weekend car event, Players Classic. There's a wealth of variety year upon year, it's interesting to see such a vast spread of vehicles. Spotting a Hot Rod Ford Anglia sat just a few spaces from brand-new Golf R is quite the spectacle; all modified of course! It's quite a sight; the juxtaposition of old and new modified vehicles, gathered within the historic grounds of Goodwood Motor Circuit.
Players are a group that show immense enthusiasm for the automotive industry. The brand has organised and promoted automotive shows across the UK, Europe and America for over 15 years. As an attendee of the Players Classic shows for around 5 years, I've got confidence in saying they're true to their message: "Our main ethos is to be different, if it doesn't go against the grain, it's not Players!". The team behind the brand is made up of four people. That's Jay, Carl, Rikki, and Ben. Jay and Carl are the co-founders of the Players brand. Rikki is a skilled videographer and content creator. And Ben, Carl's brother, handles the merch side of things.
Year upon year they've inspired other car enthusiasts to push the boundaries, whether builds are admired, or they provoke a bit of a stir. I suppose the thing that makes the modified car scene so loud is the sheer effort and creativity that goes into it. It may not be the sort of energy for the car owner in search of true stock perfection, but it's important to have a place for car enthusiast to celebrate their imagination; that place is Players.
Players Classic, despite its name, isn't restricted to older motors. They are greatly celebrated here but they're not alone! Amongst the old greats are a scattering of modern classics, hot rods, drift cars, and others. Players state on their website "every scene and automotive sub-culture are not just represented but integrated into a melting pot of curated metal." and if I haven't quite summed up the show, that sure does!
We were lucky enough to get quite a good spot when we arrived on the Saturday, perched in the centre of the grass beside the wooden paddocks. Once we parked up, we headed over to the Auto Finesse stand. With Josh's wristband, he'd received a small ticket in the post, to be exchanged at the event for a free Auto Finesse gift; a little offering for the cars accepted into the Auto Finesse area.
Only expecting a small something, we were shellshocked when we were given what was essentially a hamper of goodies! We thought it was a very generous idea and Josh was over the moon with it.
Josh's red Austin Mini Pickup.
Thatchers MG Midget
Josh and I walked about to get a glimpse of what was there, the first thing which caught my eye was an MG Midget. This wasn't your standard MG; this was embellished with a sincere love for Thatchers Cider.
I had a peep inside and the commitment to the theme was applaudable, there was even a stash of cans on in the back, stacked on top of a fire extinguisher. The real surprise was at the front of the car, a fat turbo sticking out the top of the bonnet!
Lotus Exige
We turned into the next set of paddocks and spotted a vivid purple Lotus Exige; I've not seen anything like it before. As you looked closer, you could see the paint wasn't your standard custom job.
Under the purple, you could see carbon fibre poking through the pigment. I don't really know enough to do this car justice, but I can tell you this modified Lotus has 460hp!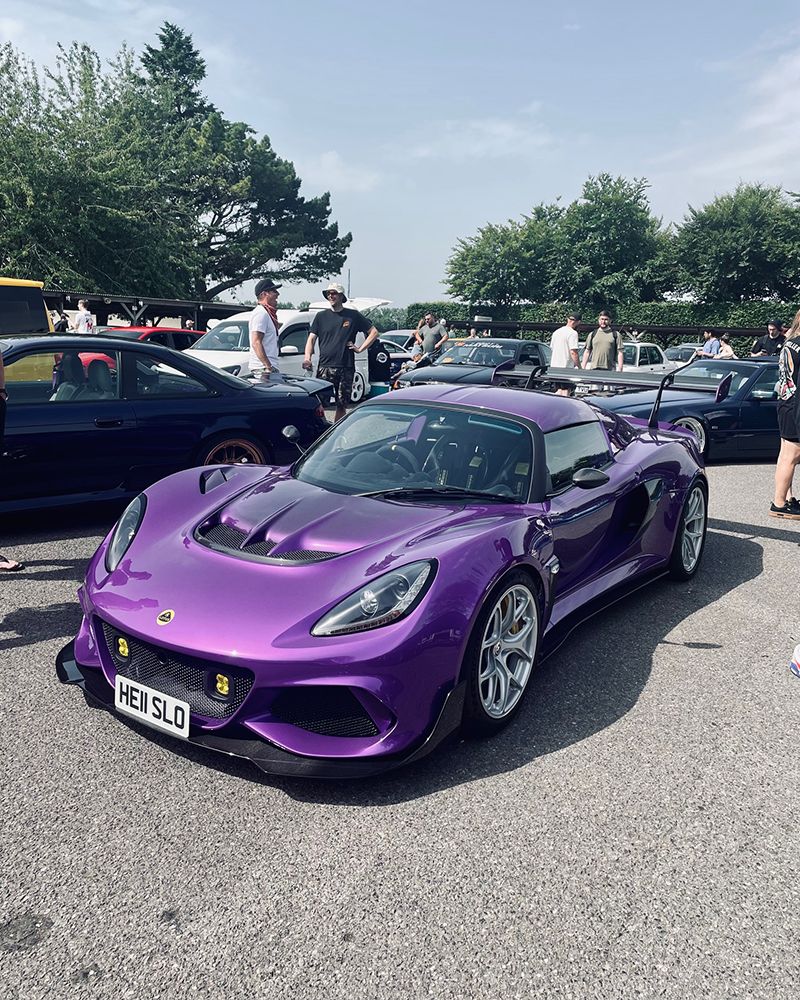 Here's a few other pictures that I got as we were walking about:
I sat in a Porsche
I did happen to spot a Porsche 924, which I was very excited about as I hadn't seen a single one at the past few shows we'd been to! I had a chat with the owner, who it turns out we knew and found out a bunch of interesting stuff. He explained to us how the injectors on the LT engine are actually Porsche, which made them hard to get hold of. So instead of spending a fotune, he swapped the injectors for bike carbs and it's worked a treat! This got me a bit amped up and now I'm desperate to get one.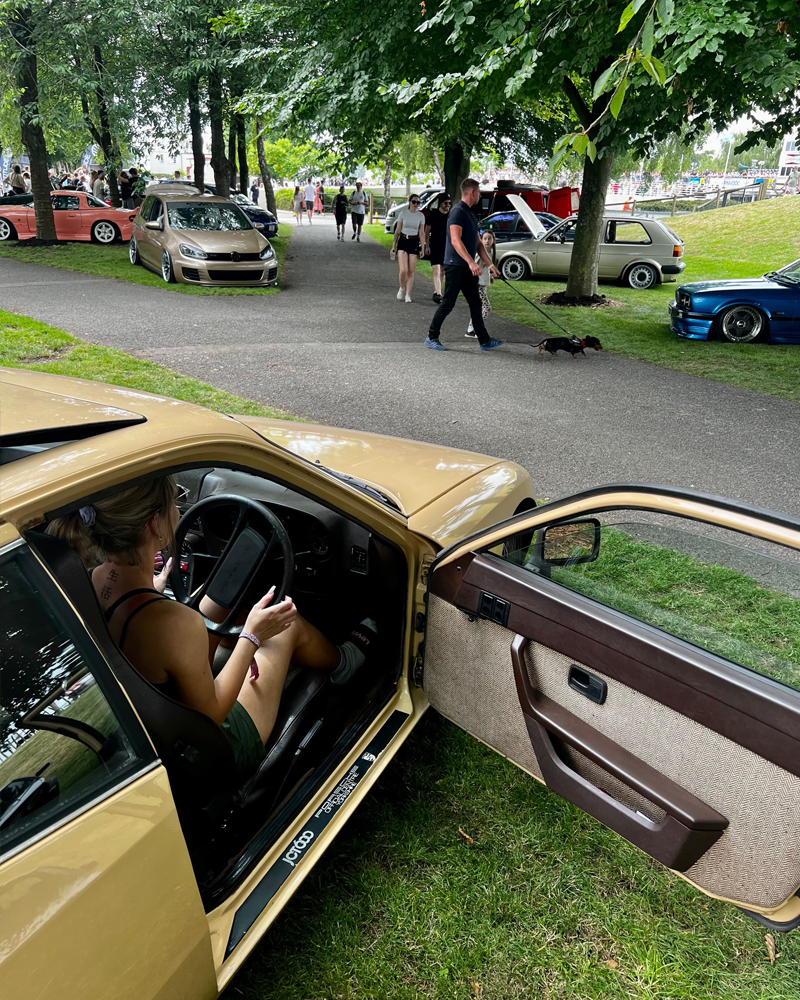 He let me sit insude the car and I fell in love with it. He's also got a beetle panned Porsche 911 Targa. Josh captured the moment I was sat inside and spotted a sausage dog trotting past, I was in my element!
Me sat in @Hawky.52's Porsche 924. Photo credit, Josh Richards.
Jason's MK1 VW Scirocco
We managed to get another glimpse of the totally custom Mk1 VW Scirocco which we saw earlier this year at Ultimate Dubs. The Scirocco's been fitted with a wide body kit and the exterior was totally hand painted by Ornamental Conifer. The car's been swapped with a USF3 engine (US Formula 3 engine) which was found scrapped and totally refurbished for the car.
That's about as much as I can say I know about it, but there's a good YouTube video which talks all about the build journey and how it came to be. The video was written and hosted by James Pumphrey and produced by Donut Media, you can watch it by clicking here.
We also spotted something a bit different, tucked away amongst the fun: a red Honda Motocompo Bike. Definitely my favourite motor that's on only two wheels. The folding scooter was sold by Honda between 1981 and 1983 and was introduced as a compact bike to fit inside the smaller Honda cars like the Honda Today. The Honda Motocompo was designed to be sold as a package item within the trunk of Honda City cars.
Pagham Beach
Later on during the day we were invited to a small car meet, just off the seafront. Here we had the chance to chill out and walk around some of the cars we'd seen earlier in the day. It was also a chance to chat about cars and meet new people, especially since there's so much going on at the show, you're often too busy to find everyone you'd planned to. By this point the very nice weather was long gone so it was a bit blustery, but I did my best to get a few videos of all the cars without my hands shaking too much in the cold!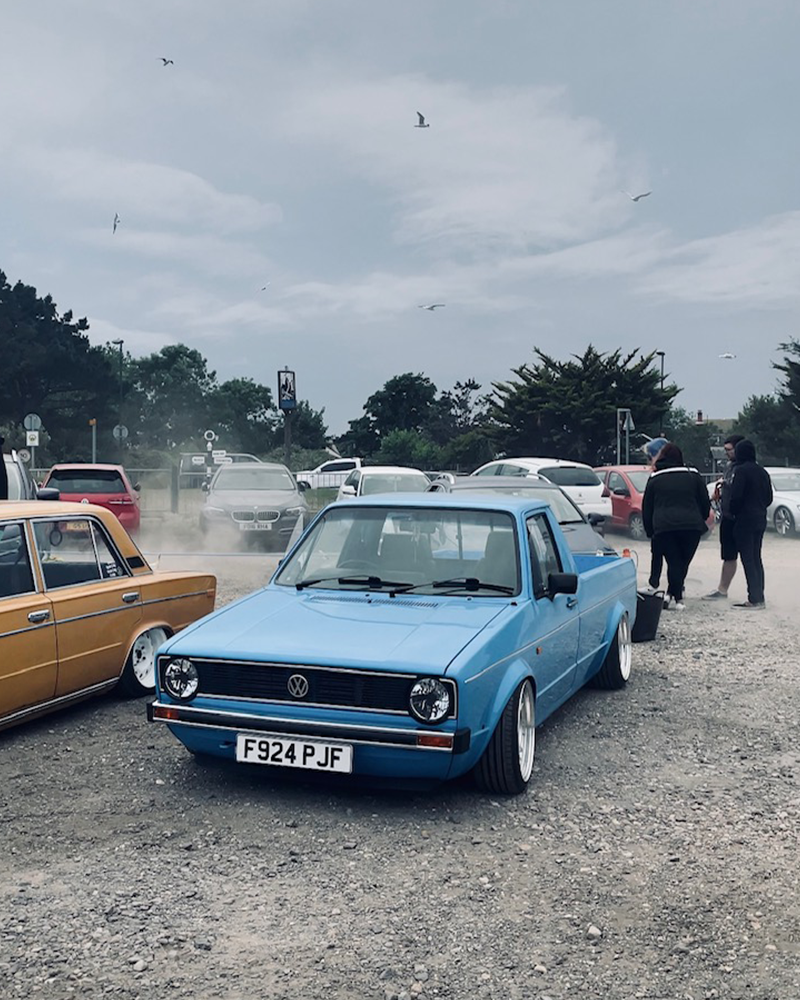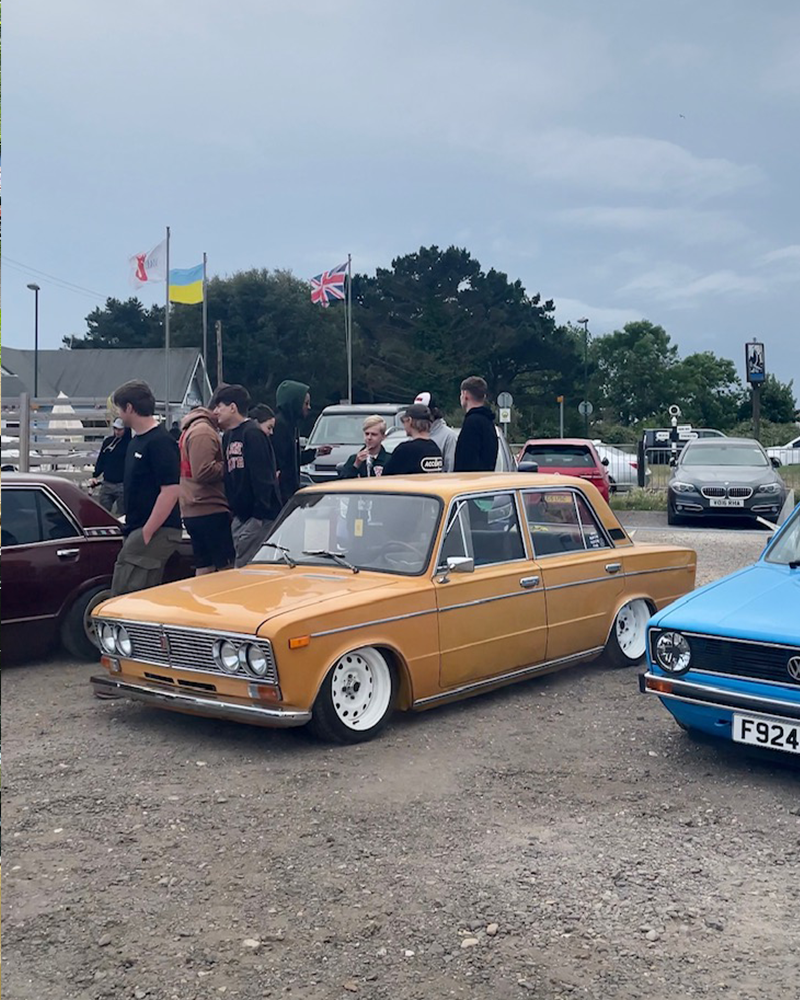 We got a good look Chris Denn's bonkers modified Classic Mini, who'd won an award at Players earlier that day. We also saw Rodney and his freshly painted Mk1 VW Caddy and Tom's Lada Vaz 2106. Josh had spoken to Rodney on Instagram previously as they've both got Caddy's. We'd spotted them earlier in the week driving through Camberley in their classics, so it was good to finally chat with them and put some faces to the names.
A message from Players:
We got in touch with Players before publishing this Show Report, here's a short message from them to everyone that went and helped make the show a success:
"We seriously can't thank everyone enough for making Players Classic what it is, and the support for the brand! We had a blast at the 9th Edition of Players Classic at Goodwood Motor Circuit. The level of cars was just ridiculous and as always, the vibe was on point! After a crazy few years of Covid, and a limited number event in 2021. It was truly great to be back in full swing this year. A big thank you to all our sponsors, staff and the team at Goodwood. Without all of them, none of this would be possible!" – Rikki.
Overall, Players Classic is a great weekend for anyone who's got in interest in cars and enjoys the creativity and variety that comes from modifying them. The show welcomes all avenues, if you think your classic would be a good fit then why not apply for next year? Show Car applications don't usually open until new year, so if you want to get your car ready, you've got plenty of time! You can even apply to have a go round the Goodwood Track.
For information and regular updates on other upcoming Players events, you can find their Instagram here.
See you at the next one!