We recently unveiled the work we've done to restore our beloved D&S cabriolet, which got pride of place and an award at the VolksWorld Show 2022.
If you didn't make it to the show, or you just wanted to see more photos, we've put together an overview of the car and the work we've done to get it into award-winning shape.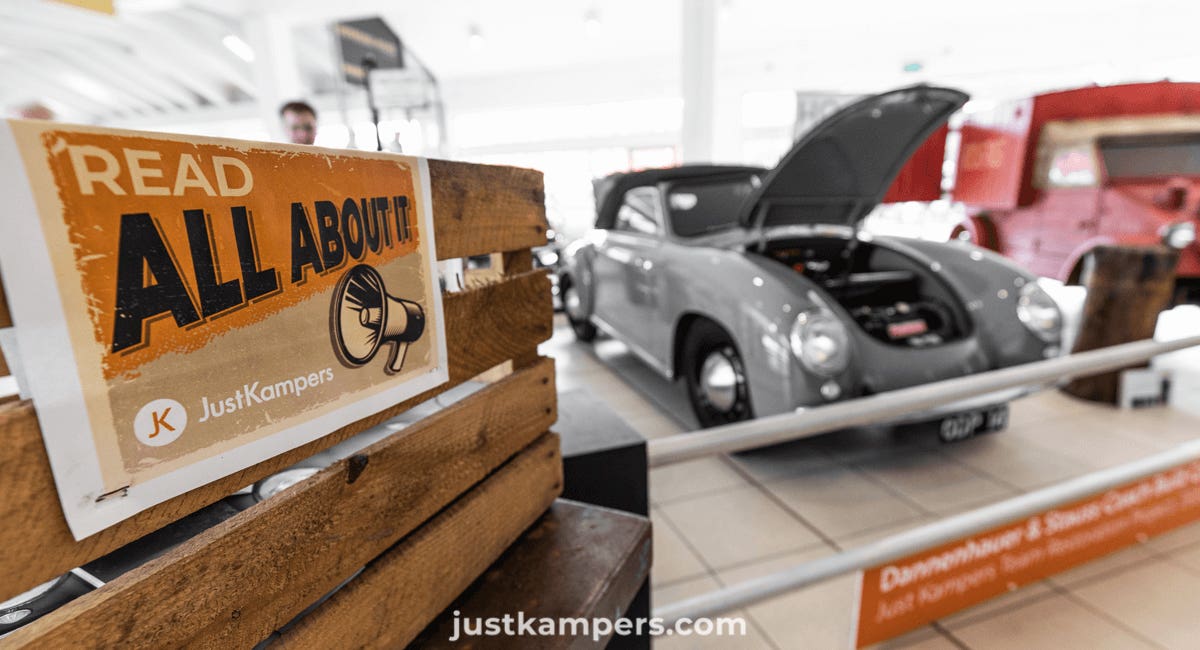 Our newly restored D&S Cabriolet got a lot of attention at the 2022 VolksWorld Show - luckily we'd already printed up flyers explaining what the incredibly rare car is, why we restored it and how!
About Dannenhauer and Stauss
D&S stands for Dannenhauer and Stauss, a German coachbuilding business set up in the Spring of 1950 by Gottfried Dannenhauer and his son in law Kurt Stauss. The business still exists today in the same location and is owned by Kurt's daughter Gisela, who runs it as a general car repair body shop.
Gottfried was no stranger to coachbuilding cars when they started their venture, having worked at Reutter's when they built the thirty prototype Volkswagens in 1937, known as Porsche Type 60 or VW38.
If you haven't heard the term before, coachbuilding is the process of creating bespoke, hand-made bodies for vehicles, instead of having them mass-produced.
As Gottfried and Kurt were both coachbuilders, as opposed to designers, they commissioned Wagner and Oswald of Auto-Tecnick, who were influential automotive designers of their time.
Wagner and Oswald had designed a car named the 'Auto-Tecnick' that looked remarkably similar to the early D&S cars. They also drew design features from the Gmünd Porsches.
Photos showing the creation of D&S coachbuilt vehicle bodies. Images courtesy of the George Barris Collection.
It's based on a Beetle
In the beginning, Dannenhauer & Stauss were turning VW Beetle floor pans and running gear into stylish coach-built cars, each built a bit differently to match the client's wishes.
Unusually for the time, the whole body was made of steel, as opposed to aluminium over a wooden or steel frame. Another interesting feature was the choice of forward opening 'suicide' doors, which make entry to the vehicle much easier.
Often the cars were based on the floor pan and running gear from an accident damaged Beetle. On occasion, they'd be on a totally new set of running gear, but this was only really when VW allowed supply.
In the case of our D&S, the original Beetle was manufactured on 14 October 1950, but it is estimated the coach-built body work was built and fitted in late 1951 or early 1952.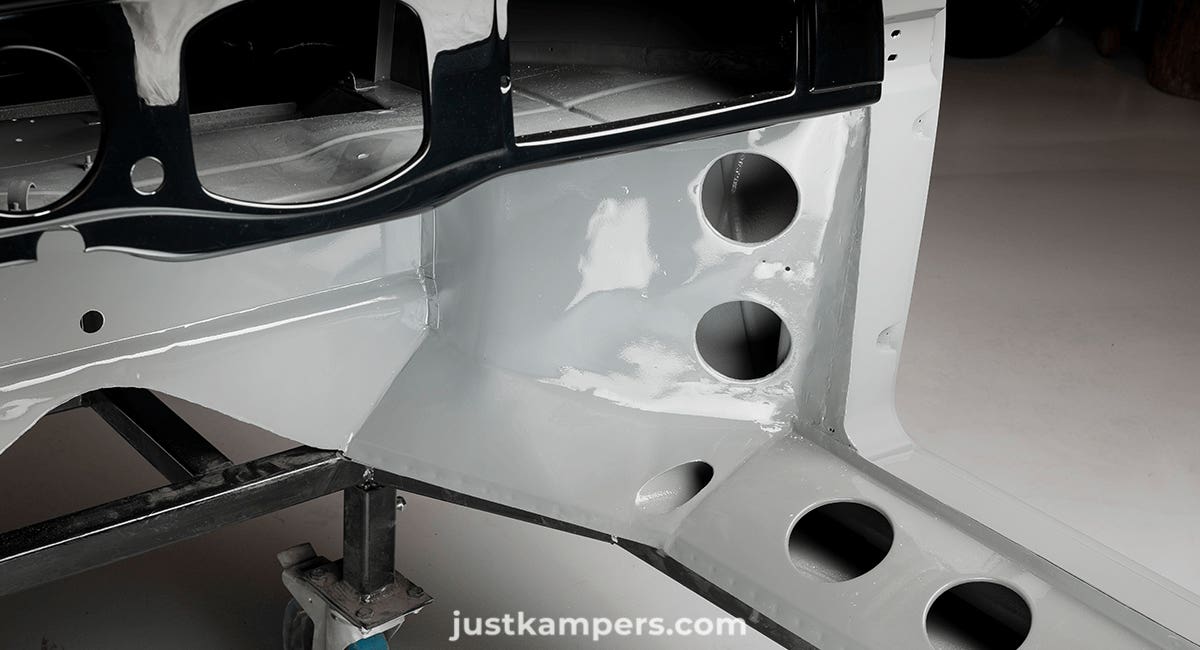 Everyone who contributed to the restoration of the JK D&S did an amazing job, as you can see from these closeup shots of the bodywork and floor pan, taken before we joined the two back together.
Before we married the D&S body to the fully restored floorpan, it was really clear that the beautiful coachbuilt is sitting on a VW Beetle core.
JK's D&S
There's very little known about our car until around 1979, when Rudolf Ettel from Austria bought it, in poor condition. He undertook a body-off restoration of the car, which lasted over 40 years. During this time, he drove the D&S extensively and attended many shows and rallies, including finishing second in class at the Italian Targa Florio in 1989.
Mark and Kerry Reynolds, the founders of Just Kampers, were in Germany just weeks before they set up JK in the summer of 1989.
As part of this trip they visited the Wolfsburg museum and they fell in love with the D&S on display. They must have loved it as a grand total 5 out of just 12 images from that day, are all of the D&S!
Fast forward to 2019, and the JK Team were looking for a unique project to celebrate 30 years of Just Kampers. Between Mark and the rest of the Team, they'd owned more VWs than they could remember (having lost count after 250), and so were on the hunt for something truly remarkable, like a D&S or a Rometsch Beeskow.
Mark spoke with his friend Bob at BBT, and was put in touch with the Bavarian Pickers, who were the new owners of the D&S. After 6 months of 'thinking about it' the JK Team took the plunge and became the new owners in October 2019.
On the way back from purchasing the car in Bavaria, Mark and Mat visited the D&S workshop and met with Gisela and had the 'full tour' including the privilege of purchasing the original Dannenhauer & Stauss parking sign and a wooden block which car bodies were hammered out on!
We sent Nick from the JK Team over to take some shots of the D&S while it was being worked on at Unrivalled Coach Trimmers, who created each element of the interior trim, and the hood, specifically for our vehicle, and did an outstanding job.
Getting stuck into the restoration
During this visit Mark discovered that in the mid to late 1950's, some owners bought their D&S cars back to Stuttgart and had more powerful running gear fitted.
This might explain why the car they had just bought was such a 'mish mash' of parts from different years, including 1950's gold Ford Taunus gauges!
A few weeks later, back in the UK and Mark spotted a Beach Buggy for sale on eBay, made from a 1955 Pre-A Porsche 356!
Unable to resist the opportunity, Mark and Pete from JK went on a cold, wet winters morning to Wales and bought the Beach Buggy so that the Porsche brakes, engine, gearbox, gauges, switches and more could go into the restoration project. This means all the running gear in the D&S is 1955 Porsche.
The restoration went from a functional tidy up, into a body-off, total nut and bolt restoration. Some 3,000 hours later we are delighted to say it's ready to start a new life, where it will be used and enjoyed when the JK Team take it to various shows and events around the UK and into Europe.
Our D&S is a 1950's model. The engine is a 1500S Porsche 356, which is now a 1700cc. The car has four air-cooled cylinders, the gearbox is a 1955 Porsche 356 four speed. The brakes are also from a 1955 Porsche 356, plus stork oil temp.
The wheels are 16-inch, the car features a beautiful black leather interior. And lastly, the car is fitted with USB accessories, heated seats and even a heated windscreen. Quality or what!?
The D&S was beautiful when we bought her, but she needed some work doing and we were more than happy to get her all fixed up.
Some 3,000 hours of hard work and dedication later, our D&S is now finished and we can showcase this gorgeous, rare piece of VW history with enthusiasts across the country!
Massive project, massive Thank Yous
We just wanted to say a big thank you to all those who made this restoration possible. This goes for Gisela at Dannenhauser & Stauss, for her unique insight, tour of the workshop and allowing us to purchase the sign and wooden panel beating block.
We'd especially like to include thanks to the JK team who have worked on it for more hours that we can count, in particular to Mark B, Pete D, and Mat W.
We'd also like to thank the FH Ellis Coachworks team, who did the body and paint; they also make all the JK Preservation Parts Body Panels.
We'd also like to thank Unrivalled Coach Trimmers, who made the hood and all of the interior work, including under the bonnet and boot.
Stateside Tuning rebuilt the 1500S Porsche engine.
Silvabronz completed all the chroming and plating.
Tegra Ltd blasted the bodywork inside and out.
Bob at BBT helped us find the car and gave us some special parts from his secret stash.
Finally, we'd like to thank Chris Jones, who encouraged us in those dark days of lock down to carry on with the project. PRS Services, Karmann Konnection, Replica Parts and Jopex supplied all the Porsche parts needed. And lastly Bossworx made the LED back lights, so it's now much safer to drive.
All the other parts and accessories we needed came from our own range at JK HQ.
You'll be able to see the JK D&S for yourself at different shows and events across the UK in the months and years ahead – now we've finished the restoration, we want to get out and enjoy driving it, like Dannenhauser and Stauss intended!