The ultra-rare Dannenhauer & Stauss which Just Kampers finished restoring in early 2022 is currently on display at the Royal Automobile Club building in Pall Mall, London.
Mark Reynolds, who set up Just Kampers back in 1989, was invited to display the JK D&S at the exclusive St. James' address after the coach-built classic won the People's Choice award at the Goodwood Road Racing Club (GRRC) Open Day in August 2022.
Our 1950 Dannenhauer & Stauss was on display at the Royal Automobile Club (RAC) Pall Mall clubhouse from Tuesday 3 January 2023, until Monday 9 January 2023.
It was incredible to have a vehicle we've worked so hard to restore be given pride of place in such a prestigeous building, and we documented the D&S' journey there and back again, if you weren't able to make it to the Royal Automobile Club HQ in London.
What is a Dannenhauer & Stauss?
The vehicle itself is one of around 100 hand-made convertibles built by renowned German coachbuilders Dannenhauer & Stauss between 1950 and 1957.
Most of the cars which rolled gracefully out of the Dannenhauer & Stauss workshop were based on the VW Beetle, and given a stunning new look by creating a custom metal body, made entirely by hand.
More commonly referred to as a D&S, there are thought to only be about 15 left in the world now. You can click here to read more about the history of our Dannenhauer & Stauss.
How did Just Kampers get hold of a 1950 Dannenhauer & Stauss?
Owning a Beetle-based D&S had been a dream of Just Kampers' founder, Mark Reynolds, since he visited the Wolfsburg Museum in Germany just before he set up JK in 1989.
He saw a gorgeous Dannenhauer & Stauss on display at the museum and added it to his list of dream cars to one day own.
Back in the late 80s Mark was working as a welder and hadn't yet struck out on his own by founding Just Kampers, so he didn't really think that 30 years later he'd have turned Just Kampers into a huge, international business and actually own a D&S!
We bought a Dannenhauer & Stauss in 2019 to drive, restore and enjoy as a cool project to celebrate 30 years of Just Kampers. It took a lot of work, and a lot of help from our friends around the world, but we couldn't be happier with how JK's D&S is looking now.
What's the RAC Pall Mall clubhouse like?
Well, we only really got to see it in the pre-dawn gloom, as a few of the JK Team went to deliver the D&S to the luxury St. James clubhouse at 5 am (leaving at 3:45 am to get there in time), but it looks lovely!
Located at 89 Pall Mall, between Trafalgar Square and Buckingham Palace, the Royal Automobile Club was opened in 1911 within the old War Office. The site now holds an impressive art gallery, seven dining and meeting rooms, a motoring library, and even Turkish baths. There's a pretty strict dress code, so it's probably best that we were in and out pretty quickly in our JK t-shirts and jeans!
The clubhouse's main entrance hall also frequently hosts rare and interesting classic vehicles, which are hand-picked by the Royal Automobile Club. When we arrived there earlier this morning, a historic Formula One car was being removed to make space for the D&S – sadly we were in too much of a rush to get a photo!
We're really proud to have our Just Kampers Dannenhauer & Stauss on display at the RAC's Pall Mall clubhouse, and hope people enjoy seeing it shown on such a grand backdrop.
Click here for more information about the Royal Automobile Club's Pall Mall Clubhouse.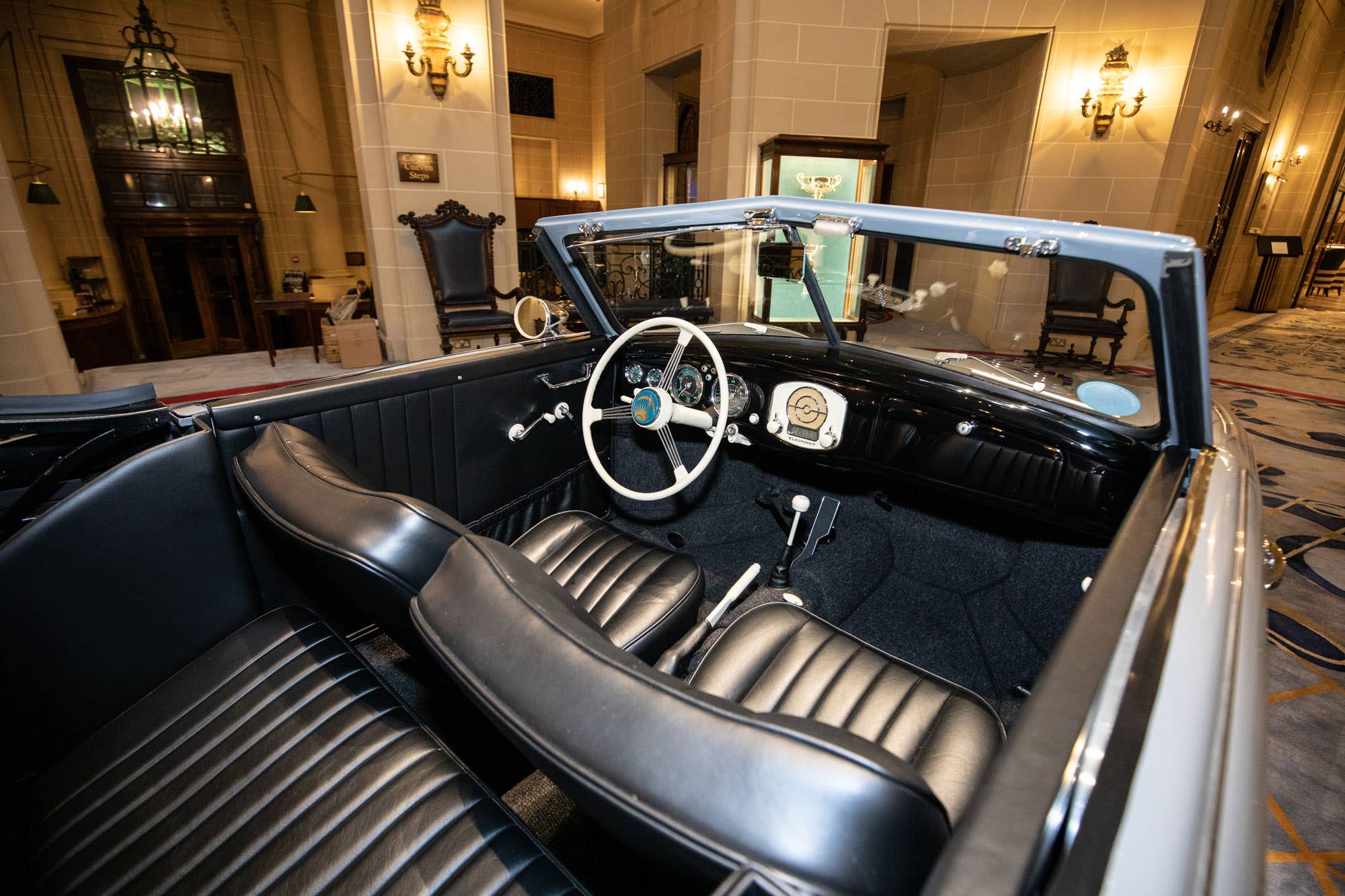 Where can I read more about Dannenhauer & Stauss?
We've written a few things about Dannenhauer & Stauss, as well as our Just Kampers D&S, which you can read below.
It's a really interesting vehicle with an amazing history, and well worth a read if you've got five minutes one evening.
Mark B (left) and Mark R (right), posing for a quick photo with Just Kampers' D&S at the RAC Pall Mall Clubhouse. Image belongs to Just Kampers, taken by Nick Proctor
Mark B is our resident mechanic, who you might recognise from our YouTube videos, while Mark R founded Just Kampers back in 1989. Both put a huge amount of time, effort and passion into restoring the Dannenhauer & Stauss along with a huge list of other people who contributed to making this JK vehicle a show winner.