Want to get a better night's sleep in your campervan? Here's our guide on getting some kip in your camper!
The Just Kampers Team have decades of experience sleeping in our campers, having been on adventures across the UK, Europe, and the USA in VW campervans, including sleeping overnight at different shows and events.
We've pulled together some of our top tips for sleeping well in your camper, to help you make the most of the great outdoors by staying well rested and relaxed!
How to Getting a Better Night's Sleep in Your Campervan
Park as flat as possible
As with so many things with camping (and life in general!) preparation is key. When you arrive at your campsite, try to park as level as possible to give yourself the most comfortable stay.
This may be easier said than done, with some campsites offering perfectly manicured pitches you could play boules on, while others are a bit more rugged, but it can make a huge difference to how well you sleep.
Parking at a severe enough angle can also affect the operation of camping equipment like fridges, which won't work properly if tilted past a certain point due to the way their internal mechanisms work. We've written about this elsewhere, so click here to read our guide on getting your campervan level.
Luckily, it's not too challenging to get yourself parked nice and level, even if you are wild camping or have a pitch up on a slope. You can pick up a set of vehicle levelling chocks relatively cheaply, and some of them even come with a spirit level if you really want to make sure you're parked flat!
Click here to see the range of vehicle levelling blocks in stock at Just Kampers.
Shut the light out
It's no secret that a nice dark environment is really important for getting to sleep, but it's also really helpful to keep the interior of your campervan dark if you plan on sleeping in past dawn!
With the earliest sunrise in the UK being around 5am, it's really important to make sure you've got curtains, blinds, thermomats, or some other means of keeping the inside of your camper nice and dark so you can enjoy a lie-in while you're camping.
Curtains ­
An increasing number of people are fitting curtains to the windows of their campers, especially if they're away for longer trips or living the vanlife. There are loads of different options out there for creating your own curtains if you've got the equipment, tools, and time to do so, and you can sew a layer of blackout material into them to ensure that the sun doesn't disturb your sleep.
If you don't have a sewing machine and a few metres of fabric handy Just Kampers sells a range of curtains which are tailor-made to the sizes and shapes of different campervan windows, from Citroens through to Volkswagens.
They're all made with blackout material to block out light, and fit perfectly to the shape of your windows, so no light can sneak in around the edges.
Click here to see Just Kampers' range of campervan curtains.
Thermomats
If you don't want to fit a whole set of curtains to the windows of your camper, or you just don't want to fit them over your cab windows and windscreen, then a set of thermomats or thermoscreens might be a better option for you.
Sewn to the same size and shape of your campervan's windows, thermomats stick to the inside of the glass with suction cups. The outer layer is reflective, to bounce sunlight away from your vehicle before it can heat up the interior too much, and the inner layers provide insulation to stop warmth escaping via the window glass during the night.
Because they fit your windows so well, they'll help keep the interior really dark as well as helping to keep the temperature comfortable. Quick and easy to put up or take down, they can be rolled up and stowed away when you're not using them.
Click here to see the full range of thermomats at Just Kampers.
Thermo Screens
If you've got curtains on the side and rear windows in your camper, but want something else to cover your cab windows and windscreen, then thermo screens are a great option.
Made of three pieces which Velcro together, two parts of the thermo screen will go over the top of your cab doors, covering up the windows and wrapping around towards the windscreen, where you can Velcro the large windscreen panel on to hold the three together.
As well as insulating your campervan and stopping heat being lost through the glass, they'll also stop frost and ice from forming on your windows, which is great if you're enjoying some off-season camping or use your camper as a daily driver as many of us do!
Click here to see the full range of thermo screens at Just Kampers.
Keep it toasty
As we mentioned above, it's important to keep the interior of your camper at a comfortable temperature to help you sleep soundly through the night. We've all been camping in tents and gone to bed shivering, only to wake up unbelievably hot once the summer sun has risen.
One of the many advantages of having a campervan is that you can do a lot more to insulate your living space than you can in a tent, and have better control of your temperature.
Insulation
Something to consider if you're building a campervan, or refreshing the interior, is to get proper insulation fitted to minimise the amount of heat lost through the metal bodywork during the night, and to prevent that same metal body from transferring heat from the sun into the inside of your camper during the day and turning it into an oven on wheels.
We've written a whole separate guide about campervan insulation, but in essence you'll want to find a material which works for your vehicle and budget, and then fit it along your walls and ceiling, making sure to use moisture barriers so that condensation doesn't get the insulation material wet and cause it to go mouldy.
This will help keep the interior of your campervan at a comfortable, consistent temperature which will help you sleep soundly.
Things like Dynamat can also help to insulate your vehicle against temperature changes as well as noise, and might be worth looking at, too.
Click here to read Just Kampers' guide to insulating your campervan.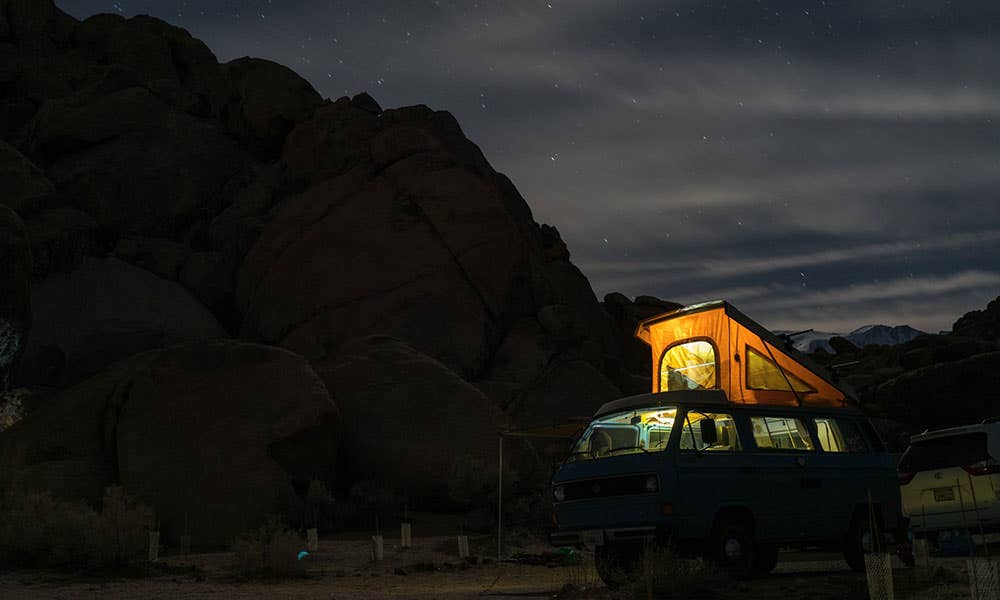 Heaters
If you're planning on heading off on an adventure during the off-season, or to colder climes, you'll probably want to look at installing an after-market heater to your camper so you can sleep snuggly all night.
There are a few different options available, with different features, with the Propex HS2000 and Eberspacher Airtronic being really popular with VW campervan owners, but all will provide a means to keep the living and sleeping area inside your camper cosy.
Most of these heaters will be fuelled by gas or diesel, and should be installed and tested by a registered engineer, but they can open up a whole new range of places to go and let you enjoy camping in the winter when campsites are quieter.
This is another topic we've written a separate article about, so click here to read our guide to campervan heaters.
Click here to take a look at the different heaters available from Just Kampers.
Invest in a comfortable bed
A really comfortable bed for your campervan is one of those things that's worth splashing out on – you'll sleep better, and you'll be less likely to wake up with mysterious aches and pains!
Whether you've got a rock 'n' roll bed in your camper, which folds out from a row of seats in the back, you have a bed in a pop-up roof, or your campervan is large enough to have a dedicated bed area, it's important to make it as comfortable as you can if you want to sleep soundly!
Bedding
If you've got the space to store them, then bringing your bedding from home can be a great idea, since you're already used to sleeping with them and they're (presumably) pretty comfortable.
Sleeping Bags
For those of us who need every bit of space we can get when we're loading up our campers, then sleeping bags may be a more practical option. We've written all about how to select the perfect sleeping bag for you, and what the different 'seasons' mean when talking about sleeping bags, so click here to read our guide on picking the right sleeping bag.
Mattress Toppers
A mattress topper is a great idea if you've got a rock & roll bed or a bed frame in the elevating roof of your camper. Rock and roll beds may be a bit firmer than you'd want your bed to be, since they function as seats during the day, and roof beds are generally pretty thin since they need to fit back into the roof once it's put down.
Getting a mattress topper for your campervan bed can make a massive difference the quality and quantity of sleep you get while you're camping, and don't take up too much space if you're good at getting everything to fit like 3D Tetris!
Click here to see the mattress toppers available from Just Kampers.
Keep the noise down
We mentioned briefly earlier that Dynamat can help insulate your camper against noise, which works great at keeping road noise down while you're on your way to the campsite, but also helps deaden some of the noise from outside.
If you don't want to be disturbed by strange noises while you're camping, it's worth looking at the decibel rating of appliances like fridges, and whether you can switch them off overnight without spoiling your food.
This is something light sleepers might want to take a look at while building their campervans, so you're not laying awake at night listening to the low droning of a fridge.
A set of earplugs may be worth keeping in your glovebox or a cupboard inside your camper if you're likely to be woken up or disturbed by noises coming from inside your campervan, or from others on your campsite.
Proper ventilation and airflow
This last point ties into keeping the inside of your camper at a comfortable temperature, but it's also worth its own section as it's sometimes overlooked by people heading off on a campervan adventure, especially if they haven't owned the vehicle for very long.
Ensuring you've got proper airflow and ventilation in your camper can be really important from stopping your sleeping space from becoming stuffy and close, and from preventing condensation from forming overnight.
This trapped moisture can find its way into all sorts of spaces, since it forms in colder areas of your vehicle, and can cause problems with rot and mould if it's not able to properly dry out.
We've written up a guide which talks about preventing this from happening, and it can be easily prevented in a number of ways
Window Vents
If you're camping somewhere nice and warm you may want to leave your campers cab windows open a little overnight to allow air to flow through. For many, though, this is a security concern and the possibility of bugs sneaking in is also a real one.
Fitting a set of window vents and a bug mesh can allow air to flow freely, but prying hands and roaming insects will be left outside.
Window vents generally fit over the glass in your cab windows when they're rolled down, and the windows are then rolled back up, trapping the vent securely in place. Insect meshing can work in a similar way, or it can be secured with magnets around the edge of the window.
Click here to see window vents and insect meshing available at Just Kampers.
Roof Vents ­
If you're building a campervan that you're going to be spending a lot of time in, it's definitely worth looking at roof-mounted vents which can circulate the air in your living space with an electric motor, or be left open like a secure roof window.
Many of these roof vents come with blinds, insect meshing, or even lights, making them multi-purpose and invaluable for extended trips or vanlife adventures.
The MaxxFan roof vent from MaxxAir has been really popular at Just Kampers for a long time now, and we've fitted a few of them to our own vehicles, too!
Click here to learn more about the MaxxFan ventilation system.
Some general sleep tips
None of these will be new to most of you, but they're worth mentioning while we're talking about getting a good night of sleep.
Limit screen use before bed – The blue light from phone screens, tablets, laptops and other devices can stimulate the brain and leave you waiting longer before you can fall asleep.
Get moving during the day – Going for a walk/bike ride/swim or anything else while you're enjoying the great outdoors on a camping adventure is a great way to get your mind and body ready for a solid night of sleep.
Avoid caffeine – Many people will find it harder to sleep if they've had caffeine recently, so be mindful of this.
Hang out elsewhere during the day – If you can avoid it, try not to use your sleeping area for general sitting and hanging out during the day, so your body and mind know it's time for bed when you're there. It's easier said than done in smaller campers, or if the weather stops you from sitting outside, but it can really help.
We hope you've found this guide helpful, and have a great night's sleep next time you're away in your camper. There are some more guides below that you might find useful, and the JK Team are always here to answer questions or offer some advice if you're stuck with anything.