We've put together a guide on camping with your kids, to make sure you have a safe, enjoyable adventure with your family.
No plan survives first contact with children, but hopefully these tips will help you make the most of your time away together.
How to prepare for going camping with your kids
Getting everything ready in advance is the key to a good camping trip, especially when you're planning on bringing your children with you. Here's a few pointers from the JK Team, based on our own experience.
Pick a good campsite
Location is a key factor when organising a camping trip with your children. You may want to look for a campsite which isn't too far from home, and has plenty nearby to keep the kids entertained – no one wants to spend a relaxing trip away hearing 'I'm boooored' every five minutes.
The facilities at the camp site are also important, with things like toilets and showers, electricity, drinking water and other amenities being even more important when you're camping with kids.
While camping toilets and privacy tents are a great option while you're camping, you may find that your youngsters are less keen on using them.
Think about the season and weather
You'll probably be fairly restricted on when you can go away with your kids if they're school age, meaning half-terms and summer holidays will be your default time to get away on a camping adventure. Still, it's worth looking at what the weather will be like where you're going, and then factoring in things like extra shade and shelter if you'll be away in the height of summer.
There's a huge range of sun canopies and drive-away awnings available on the market, including a large range which are in stock at Just Kampers, which can help you keep your family safe and protected from the sun.
You'll also want to check how cold it's due to get at night while you're away, and pack accordingly to make sure you can keep your kids snuggly and warm while you're camping.
Picking the right sleeping bag and looking at an aftermarket heater can really help you stay comfortable and warm while you're enjoying a camping adventure.
Make a note of where the nearest hospital is
This information will likely be made available by the campsite you're visiting, but it's well worth making sure you know where the nearest hospital will be, just in case.
If your children have any medical issues, or you've got any health-related concerns about your camping trip, it may be a good idea to speak with your family's doctor to make sure there's no problems and to ease your mind.
What to pack when you're camping with children
We've put together a checklist of things to take with you when you're camping with kids, to try and take a little of the stress out of that pre-trip scramble to get everything packed and organised before you go away.
There's also our larger camping checklist, which you can check out here.
First Aid Kit
A well-stocked first aid kit is essential for European driving, but also invaluable as your kids explore the great outdoors and inevitably come back with bumps and scrapes.
Water
Unless you're sure the campsite has clean, potable water to drink, you'll want to bring your own. This is especially true if you'll be making bottles of formula.
Whether you're going to install a water tank in your camper, or just need a bowser that you can move yourself, there's a whole range available at Just Kampers.
Baby Transport
This'll probably be on your list already, but a baby carrier and a pram/buggy that can handle the bumpy ground of a campsite will be absolutely vital for getting out and about
A baby carrier you can wear can be helpful, too, for anytime you need your baby off the ground.

Blankets
Spread it across the ground, wrap yourself up at night, use it to block a draught or as an emergency towel – you'll never think you packed too many blankets.
These are especially useful if you've got a young baby who is still crawling or doing tummy time, as it gives you a softer area for them to explore on.

Baby changing kit
Nappies, wipes, hand sanitizer, changing mat/blanket, nappy bags, and any other baby essentials you usually keep in your baby bag. (Baby wipes come in very handy for cleaning dirty feet and hands, too!)

Bug nets, repellent and balm
Flying insects like mosquitos are an almost unavoidable part of camping, but can be particularly annoying or hazardous for young children, preventing them from sleeping or resulting in itchy bites. Make sure you've got a mosquito net, citronella candles, and bug bite balm on hand.
Lights
Whether you're scrabbling around in the dark for a dropped toy, navigating to the toilet block for a late-night loo trip, or changing a nappy in the middle of the night, you'll definitely want to keep a small torch or a headlamp to hand, just so you can see what you're doing.
A dimmable one is a great option if you can find one, as you'll be less likely to wake the kids up while you're moving about in your camper, awning, or tent.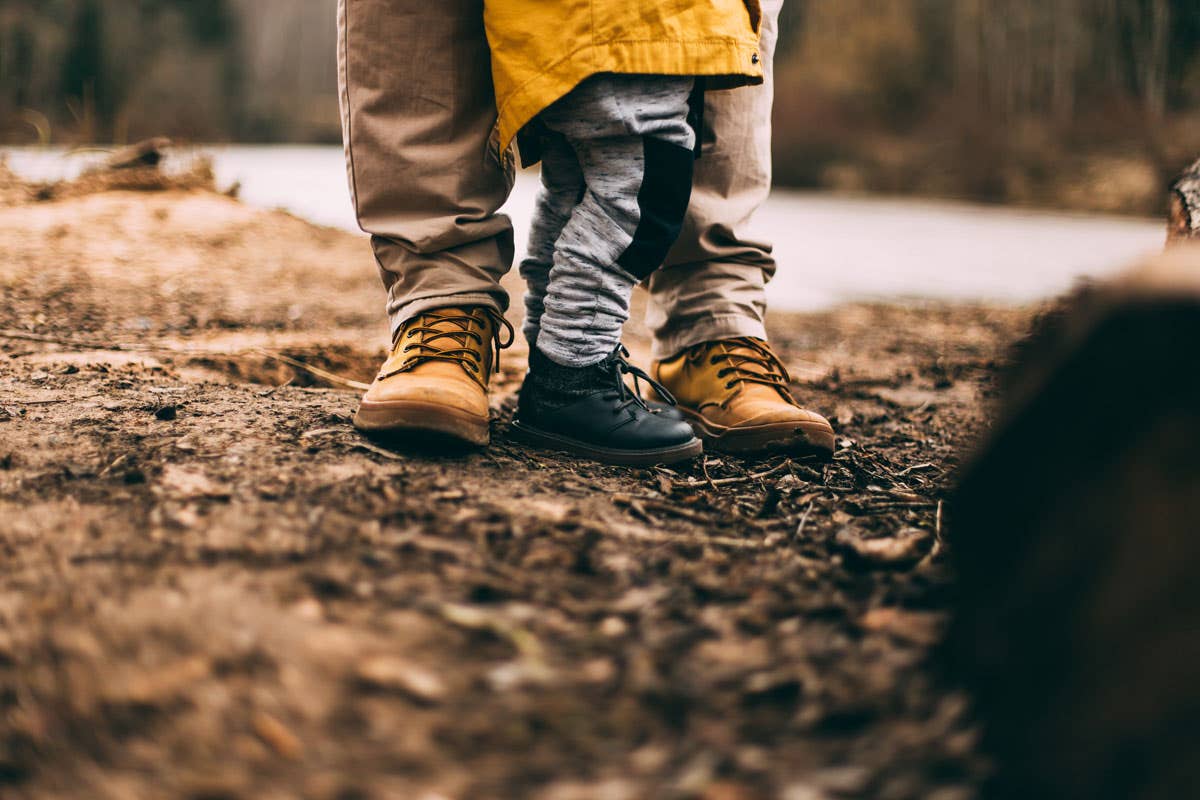 More tips on camping with a young baby
Taking your baby on a camping trip isn't too different to being with them at home, and with the right preparation they might hardly notice the difference.
You'll be away from the usual comforts of home, to keep this in mind, keep them comfortable, and go easy on yourself. Stay flexible and allow your family to do things around baby's schedule, fitting the fun in around things like naps.
Keeping your baby in more subdued colours and away from floral clothing can help prevent them being bothered by insects, which can be a real help depending on when and where you're camping.
Speaking of clothing, wrapping your baby up in layers will make it easier to keep them at a comfortable temperature while you're away from home, as the outside temperature is obviously much more variable while you're outdoors.
More tips on camping with a toddler
A lot of the advice for camping with babies carries over to going away with your toddler, too. Dress them in layers to help keep them at a comfortable temperature, make sure you've got plenty of food on hand, and be prepared to work around their schedule.
Still, once your child is walking there are a few more things to take into consideration.
Most of the tips that apply to camping with babies – dressing in layers, being prepared with plenty of food options, and selecting a convenient and appealing campground and campsite – also apply to camping with your toddler. But once your child is walking, there are important safety considerations to keep in mind at a campsite, too.
Campfire safety
It should go without saying that you'll need to be extra careful with campfires when you've got toddlers camping with you. Take the time to explain the basics of fire safety, and make sure they've understood that they shouldn't get too close or throw things into the fire.
Cooking marshmallows, gathering firewood, and other fire-based activities are all great fun for kids, but they need to be kept safe while the fire is lit.
Campsites with water
If your camp site has a nearby source of water, it's worth checking where it is and which direction it is from your pitch, to make it easier to keep an eye on your kids.
Lakes, rivers, and the sea are all amazing places to create some treasured memories with your little ones, so be prepared and make sure the whole family stays safe.
Pack some entertainment
We all know that toddlers need plenty of entertainment, and this is especially true when you're camping away from their toys, TV, and usual routine.
Make some space while you're packing for a few of their favourite toys and games, and prepare some things to do while they're in the car or campervan on the way to your campsite. We've put together a few different roadtrip activities for kids, which you can download for free and print out.
There are loads of different games and activities you can play in the great outdoors, too, from hunting for four-leaf clovers and doing bark rubbings, through to insect hunting and making dens. Embrace the joy of being outdoors and keep the little ones entertained with novel new games, challenges, and experiences.
Practice at home
No matter how you decide to go camping, in a campervan, tent, awning, or some combination, you'll have a much more enjoyable and less stressful time if you get some practice in beforehand. You could go all out and spend the night in the tent in the backyard first or set it up inside. Or, if you're using a camper, sleep in it while it's parked in your driveway.
You could even start off with getting the little ones to sleep in a sleeping bag on a camping mattress in their bedroom, that way it will be more familiar to them when it comes to the camping trip.
If you're planning on walking or hiking with your toddler, check out toddler-friendly walking routes prior to the location you are going to. This can be handy and save carrying an exhausted toddler all the way back!
Get them to pitch in!
One of the best bits about taking your kids camping is watching them get involved and feel a real sense of pride and accomplishment.
They could be your little helper and take part in unloading the car, setting up the tent, cooking and prepping food, and even tidy the tent! Having them get involved and feeling like they have contributed is really beneficial for everyone, you're also teaching them confidence and independence.
We hope you have an amazing trip with your kids, and create some incredible memories!