The weather is definitely starting to turn, and VW owners across the UK are wondering whether to tuck their vehicles away for the winter or get them ready to stay on the road right through to the new year.
Whether you're going to keep driving your classic Volkswagen right through the winter, or tuck it into hibernation like a Blue Peter tortoise, one of our JK exclusive Tall or Extra Tall Clarke Instant Garages is a great investment.
Are they Clarke garages, or JK exclusive?
Both! Clarke make a range of incredible Heavy Duty Instant Garages in Small, Medium or Large sizes, and we worked with them to create a Tall and an Extra Tall version, ideal for campervans.
These tall and extra tall garages are JK exclusive, and can only be found here at justkampers.com, but they've been created by Clarke to the same high standard as the Small, Medium or Large instant garages.
What are the Clarke Instant Garages used for?
There's a huge number of different uses for your instant garage, depending on what you need it for.
There's enough room inside for you to work on your vehicle within the garage, which is ideal if you've got some make-do & mend projects lined up this winter, or even if you're planning a full restoration or camper conversion.
If you don't have access to a traditional brick-and-mortar vehicle garage or lockup, but you've got space on your driveway or in your garden for one of these, then a Clarke instant garage can be an excellent alternative and allow you to shelter your vehicle from the elements without the need for an old tarpaulin and a handful of bungee cords!
Which vehicles are the Tall and Extra Tall versions for?
We had a lot of customers contact us to say that their vehicles were too tall to fit inside the other instant garages which Clarke had in their range, so we worked with them to create versions to fit taller campervans.
The tall version is 2.78 metres (9'1") high, and the extra tall measures 2.82 metres (9'2") high.
The full dimensions can be found on their product pages, linked below, but they're ideal for high-top campers like the Karmann Gypsy or Westfalia Club Joker or simply campervans converted from taller vehicles like Hymer, MAN or Mercedes.
How easy are they to set up?
It takes about an hour to get the whole thing set up, and we'd definitely recommend giving the instructions a good read before you get started to save some time.
On our first attempt at shooting the video below, the wind really picked up and made fitting the canvas a major challenge, so make sure you pick a nice calm day to set up your instant garage or it may turn into an impromptu parachute!
Once we'd got it all set up and staked down, the wind was no problem, and we're impressed with how sturdy and stable the instant garage felt.
Here's the video we shot of us setting up an Extra Tall Instant Garage here at JK HQ:
Some helpful tips from the JK Team:
Give the instructions a thorough read before you get started, so you know what you're doing – we know it goes against our instincts for a lot of us, but reading the instructions will save you time in the long run!
Make sure you've picked a day without strong winds, especially when you're fitting the fabric roof to the frame, to prevent the whole thing from turning into a bad comedy sketch with you chasing the material around the place as it catches the wind.
When you're setting up your instant garage, make sure that you insert the coach bolts from the 'outside' of the garage pointing in, so that the smooth, shiny head is pointing toward the exterior where it will touch the canvas. This will prevent damage to the fabric.
Once the roof section is assembled, you'll be better able to ensure that it's positioned exactly where you want it. It's best to adjust the location of the instant garage at this point, rather than when the legs are attached, as it's much lighter and less awkward!
Be sure to check the straps, material and poles before and after bad weather hits, just to make sure that nothing needs readjusting and your vehicle stays safe and snug inside.
How long can I leave my Clarke Instant Garage up for?
We've had prototypes of our Tall and Extra Tall Instant Garages set up at JK HQ for a couple of years now, and they're still going strong.
It's really important to check them regularly before and after storms, heavy rain or high winds, just to make sure that everything is still secure, and nothing has been blown loose, but as long as they're properly taken care of the Clarke Instant Garages do an excellent job all year round.
They've been designed to withstand the elements and provide shelter for your classic or modern Volkswagen throughout the year.
What's the canvas made of?
The tarpaulin canvas cover of each Clarke Heavy Duty Instant Garage is made from really high-quality, triple-layer Polyethylene fabric. The fabric has been woven for extra strength and has been treated to withstand UV damage.
Extra treatments have been applied to the fabric to prevent ageing, fungus and yellowing, as well as to increase its resistance to sun, rain and the elements so it'll last you for years to come.
The seams have been double-stitched and sealed up, as you can see in the video, which is a great finishing touch.
What are the poles made of?
All the poles which form the structure of Clarke's instant garages are made from high-quality steel, and then powder-coated for extra protection against wear and tear, scratches and rust.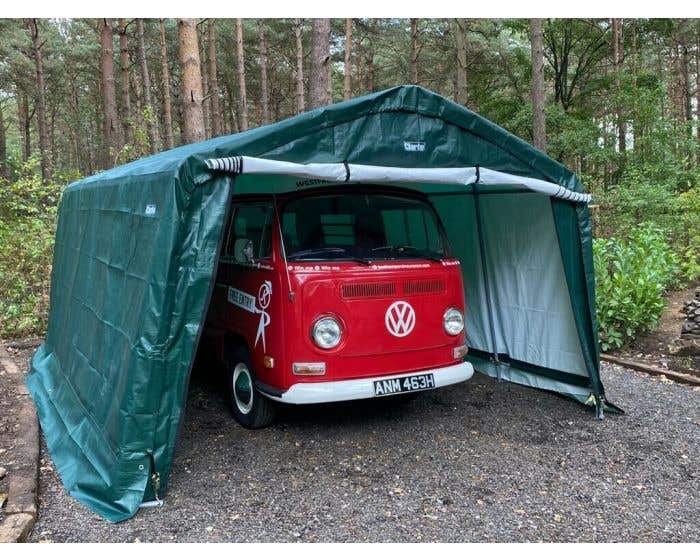 How big are the different Instant Garages?
We've got five different sizes of Clarke Instant Garages in stock, each with different sizes.
Clarke Small Instant Garage – J45618
Measures 4.5 metres long, 3 metres wide and 2.4 metres tall (15' x 9'8" x 7'9"). The door opening is 2.3 metres wide by 1.9 metres high (7'5" x 6'2").
Clarke Medium Instant Garage – J45619
Measures 6.1metres long, 3 metres wide and 2.4 metres tall (20' x 9'8" x 7'9"). The door opening is 2.3 metres wide by 1.95 metres high (7'5" x 6'4").
Clarke Large Instant Garage – J45620
Measures 6.1 metres long, 3.7 metres wide and 2.5 metres tall (20' x 12' x 8'2"). The door opening is 2.9 metres wide by 1.95 metres high (9'5" x 6'4").
Clarke Tall Instant Garage ­­– J45936
Measures 4.5 metres long, 3.1 metres wide and 2.78 metres tall (15' x 10'1" x 9'). The door opening is 2.51 metres wide by 2.16 metres high (8'3" x 7').
Clarke Extra Tall Instant Garage – J45937
Measures 4.9 metres long, 3.8 metres wide and 2.82 metres tall (16" x 12'4" x 9'2").
The door opening is 3.1 metres wide at the bottom of the door, 2.5 metres wide at the top of the door, and 2.25 metres high (10'1" / 8'2" x 7'3").
If your vehicle is too tall to fit through the door opening but will fit inside the instant garage itself, it's entirely possible to erect the garage around your camper!