We're proud of our extensive range of Vango Camp Chef products. This is the answer to your everyday camping concerns; you'll never need worry again about how to cook your food on holiday. The Vango Camp Chef range at JK provides you with a variety of cooking methods, from gas hobs to get the job done, to pizza ovens which provide gourmet quality meals on-the-go!
The Vango Camp Chef series is part of our biggest ever camping range; and this year we've got lots of new products to share with you, we want you to enjoy your getaway experiences as much as possible.
We'd like to introduce a variety of Camp Chef products, a brief explanation of what they do and what situations they'd be best suited to. Then you can make an informed decision on what Vango Camp Chef products are best for you!
As summer approaches, this presents an opportunity to get yourself organised and get your cooking setup ready for the upcoming holidays. Take this time to categorize so that you know where everything is, and what tools are best for what jobs. Give your new gear a couple test runs in the back garden and once you're familiar with your accessories, you'll find camping cooking a stress-free experience.
Blow everyone away with your organised Camp Chef setup!
Vango's Camp Chef Pizza Oven in action.
Vango Camp Chef Pro 30
The Vango Camp Chef Pro 30 is a gas hob cooker with a single burner and simple design. The burner boasts a whopping 30,000 BTU per hour of output, so the stove will provide efficient and speedy cooking on-the-go!
With a folding side shelf that can be used as additional workspace or as a barrier against draughts. A dial has been installed for easy-to-use temperature control and the burner its built with rust resistant materials: Steel legs and a cast aluminium burner. The detachable legs allow the unit to be packed up to a compact size, for easier storage. In general, the Camp Chef Pro 30 provides a camping friendly experience, which will last you for years.
This burner can be used with both propane and butane gas but a regulator is not included. The stand comes equipped with a one metre gas hose with a threaded connection to the stove.
If you like the idea of a more luxurious camping experience, then it's worth talking about the Vango Camp Chef Pizza Oven, of which this cooker stand is compatible with. The pizza oven is on our website,
if you'd like to take a look at the pizza oven itself, then please follow this link!
To use the pizza oven, simply sit it on top of the stove burner. We will talk more about the Vango Pizza oven further on in this blog.
Vango Camp Chef Flat Top Griddle
This nifty bit of equipment is a camping must for those who don't already have a griddle pan on their BBQ or portable gas cooker. Treat yourself and your loved ones to a cooked breakfast like no other and limit all mess to just one cooking surface. No one wants to wash up for ages after their breakfast; with just one cooking surface to clean, you can wash up fast and spend the day enjoying time with your family and friends.
Vango's Flat Top Griddle next to Camp Chef Grill Box.
The griddle is entirely made from high quality steel for even heat distribution; and is designed for use with other Vango products such as the single burner Vango Camp Chef Pro 30 but can be used with pretty much any stove top or BBQ. The smooth surface makes cleaning super easy; it can be hard to get in between those grooves on some domestic griddle pans. Sloped edges make grease run-off incredibly unlikely, and they help to direct the grease straight into your bin or disposal area for easy clean up. Lastly, the pan is super easy to carry and transport thanks to its conveniently located carry handle.
Perfect for camping and perfect for use with your home BBQ; a great quality rounded product.
Vango Camp Chef Pizza Oven
Here we go, finally, you can cook posh pizza's from the comfort of your tent! Alternatively, it's a great pizza oven that you can use in the back garden, with a few friends and some beers.
Vango's pizza oven has been designed with an open face that mimics the design of traditional pizza ovens. The oven reaches up to 370°C, and the temperature is fully adjustable and super easy to control. Wherever you are, fire up your very own portable Camp Chef Pizza Oven and enjoy the luxuries of Italian cuisine. The oven is compiled from a metal frame and a ceramic pizza stone. The stone disperses heat evenly across the pizza base and the metal frame helps to contain the heat from the stove whilst keeping the unit lightweight and easily portable.
The Camp Chef oven follows the principles of your traditional wood-fired brick oven. Be sure to look after your pizza stone properly as a healthy stone is imperative to its performance. When you use the oven, place on top of a high-powered gas hob, but start the hob on a low-medium temperature. You want to warm the stone up slowly and carefully to prevent damaging it. A slower warm up also helps the stone retain its heat for longer.
Vango's Pizza Oven, with open front.
It's good practise to check the temperature of the stone before you cook. Use the temperature gauge on the roof of the oven, to check the oven temperature. To check the stone temperature, you may want a laser thermometer. The stone should be at least 260°C degrees before cooking for the best quality pizza. The stone cooks the pizza from the underneath, and helps you achieve that crispy base. Heat from the stove then creeps up the sides of the stone and circulates around the inside of the pizza oven. And there you have it; an evenly coked pizza!
Thick base pizzas may want to be cooking for around 8-10 minutes, but it's recommended that you consistently check on your pizza, as you don't want it overcooked!
Perfect for use on-the-go or back at home; whether you're an experienced pizza maker or a beginner, get that Italian feeling!
Vango Camp Chef Grill Box
A lesson in grilling and a lesson in adventure. When you have a Camp Chef Grill Box, you'll no longer require a BBQ! It works in a similar way to the Vango Pizza Oven, in that you place it on top of a stove and the rising heat cooks the food above.
Much like your traditional grill, the grid is made from cast iron and finished with a seasoned texture for incredible tasting food. The seasoned texture also helps provide a non-stick surface and that in turn helps to make the cleaning process much easier. The grill contains heat diffuser plates which minimise hot spots and convert flames into infrared heat for inspired flavours.
Grease drippings are vapourised so that your food is infused with a plethora of flavours. This isn't just cooking; this grill is for those who really enjoy their gourmet food. Thanks to the integrated temperature gauge, cooking is easier than ever.
Now you can exercise your passions for cooking and camping, all in the same holiday!
For a truly supreme grilling experience, you can cook up a storm on a Vango Double Burner. On the right, you can place your Grill Box and on the left, have a go with your Camp Chef Flat Top Griddle. Anyone can be a master of grilling with just a few Vango Camp Chef products!
Speaking of a Vango double burner, here's a little more about it!
Vango Camp Chef Explorer Double Burner
The Vango Camp Chef Explorer double burner is much like the Camp Chef Pro 30 single burner, except there's two hobs and the product is a little more refined. Each burner produces an enormous 30,000 BTU per hour of heat output, which means you can get cooking quickly and efficiently. With two of these on the go, you'll be unstoppable in the kitchen.
This double burner may not feature any folding side shelves, but the addition of a three-sided wind screen has you covered in windy situations and protects the flame from wind! It's quite the debacle when you think you've been heating your griddle pan but turns out the flame was blown out 5 minutes prior.
Dials are installed on both burners for easy ignition and temperature control. Much like the Camp Chef Pro 30 mentioned prior, the assembly features steel legs and a cast aluminium burner. The legs are detachable and adjustable to the most convenient height.
Optional extras are available for these legs, we sell adjustable feet for this double burner. They allow you to adjust the feet to different heights, for a stable set up. In the event that you're not pitching at a camp site, or you're not blessed with an even pitch surface, these leg adjusters are the perfect thing!
This burner will last you for years, especially if you protect it with the below weather-resistant carry bag.
This burner can be used with both propane and butane gas, a regulator is not included. The stand comes equipped with a one metre gas hose with a threaded connection to the stove.
Perfect for making the most out of your camping holiday, you can cook for yourself and all the family from this convenient cooking station.
More about the leg adjusters
These are designed for use with the Double Burner and other Camp Chef burners with the same legs. These feet screw into the hollow underside of the 1.25 round diameter steel cooker legs!
Four adjusters are available per packet and they're made from black hardwearing plastic. There are many benefits to grabbing yourself a few of these; not only can you setup on uneven ground, but you can prevent scratches and paint chips in your powder-coated legs, which may occur with consistent use. These can easily be stowed in your Camp Chef carry bag or tightly screwed inside the table legs during transportation.
Vango Camp Chef Explorer Carry Bag for Double Burner
Are you looking for an easier way to carry your equipment? Well don't worry because this reinforced carry bag is the perfect thing for your Vango Camp Chef Double Burner.
The bag is made with weather resistant lining so that you can protect your metal equipment from the elements. The bag comes with reinforced handles, internal pockets for extra storage areas, a little extra room, should you wish to protect other equipment alongside your double burner, and is weather resistant.
These handy carry bags are great for protecting the Camp Chef equipment but will provide protection for other things. If you'd like to protect your existing camping equipment, the bag has plenty of room inside and is perfect for other double burner products or even for use as a BBQ accessories storage bag.
Did you know – A protective bag for your camping gadget can potentially extend its life by up to one hundred percent? By protecting your important equipment, this reduces the likelihood of moisture creeping in and causing corrosion and other horrible weathering processes! Bag up your equipment and you won't need to replace anything for a good few years; protect your gadgets and save your money!
Perfect for transporting your cooking bits and bobs from A to B or keeping your camping accessories well organised and protected from the weather.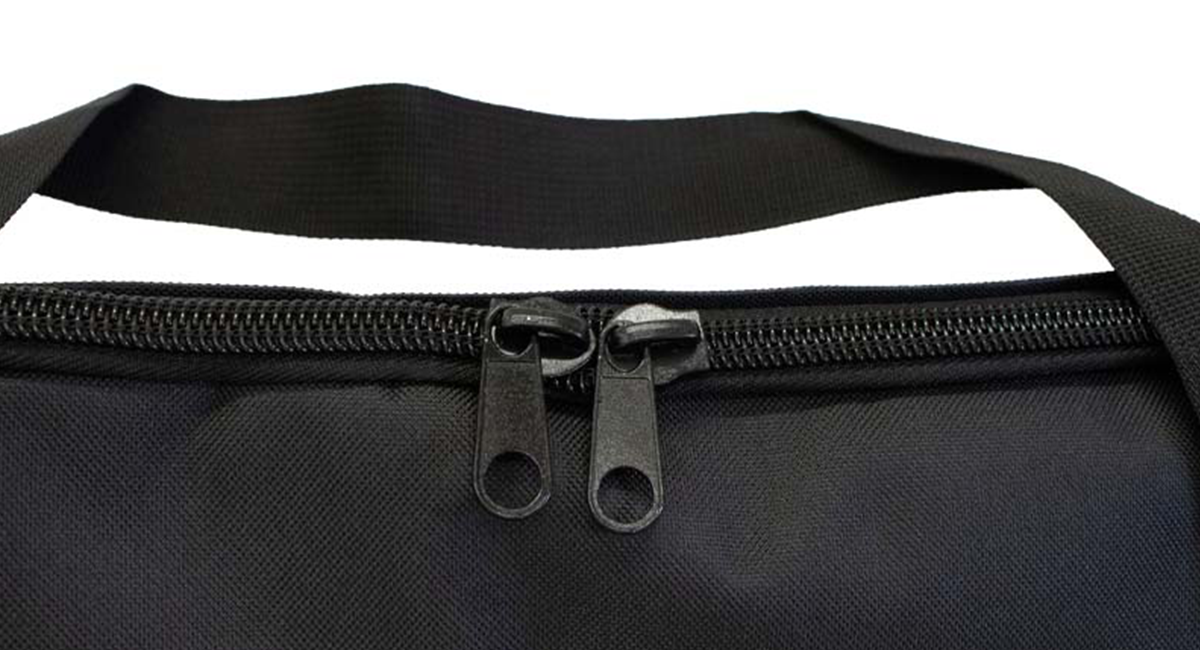 Closeup of the Camp Chef Carry bags heavy-duty zipper.
Vango Camp Chef Carry Bag for Single Burner
Did you know, that we also supply a carry bag for our Camp Chef single burner cooking station?
This carry bag is much the same as the bag for the double burner, except it is slightly smaller. The bag still comes with reinforced carry handles and a hard-wearing zipper, the bag has been made with weather resistant lining and will still protect your metal camping equipment from corrosion and other weathering processes.
This may be the most ideal bag for purchase, if you plan on using it for something other than protecting your Camp Chef single burner unit, as the bag is a little smaller and is more rectangular in shape. This would be the perfect bag for stowing bits and bobs such as: BBQ tongs, an additional BBQ shelf, and a small bag of charcoal.
Perfect for additional storage space or protecting and easily transporting your Camp Chef Pro 30 Single Burner.
Camp Chef products are designed to be used with each other and usually if you wish to use your cooking accessory with a different hob, this won't be a problem. If you have a Grill Box and used it with a 30 Single burner but wish to upgrade to a Double Burner, go head! Setup is the same and you'll find upgrading your cooking space a piece of cake!
If you have any questions about the products in this blog then please email our sales team, they'll answer any quibbles you may have about the cookers, accessories, and stove tops. We have great confidence in this range of products, hence why we have expanded our range even more with new products!
Please take a look on our website to see what else we have to offer from Camp Chef, you may be surprised at what we have to offer!