We've improved the wish list feature on the Just Kampers website, to help you keep track of the parts and accessories you need to finish your project – or to make a list of gifts for Christmas, birthdays or even wedding presents!
You can also quickly and easily share out your wishlist via email, allowing you to share your list of dream presents or vital components with friends, family and others.
Whether you're putting together a list of bits you need as your fix up your VW, or you're costing up a campervan conversion before taking the plunge, our wish list feature is a massive help.
How do I use the wish list feature?
Each product on the JK site has a little Wish List icon underneath the Add to Basket button. Clicking this adds the product to your wishlist, and takes you over to the wish list page on your account.
You'll need to be logged in to your Just Kampers account, but if you haven't already got one it's quick, easy and free to register for an account.
Your wish list will appear on your account page, just below your orders and account details. This makes it really easy to keep track of the parts and accessories you're after for your Volkswagen(s).
How do I share my JK wish list?
Once you've got your wish list all set up, it's really quick and easy to share it out to anyone who you think might be up for helping you out with your project, treating you to a big birthday present or really making your Christmas.
Here's an example of my wish list, for things I'd quite like to add to Jack (since I drive him pretty often).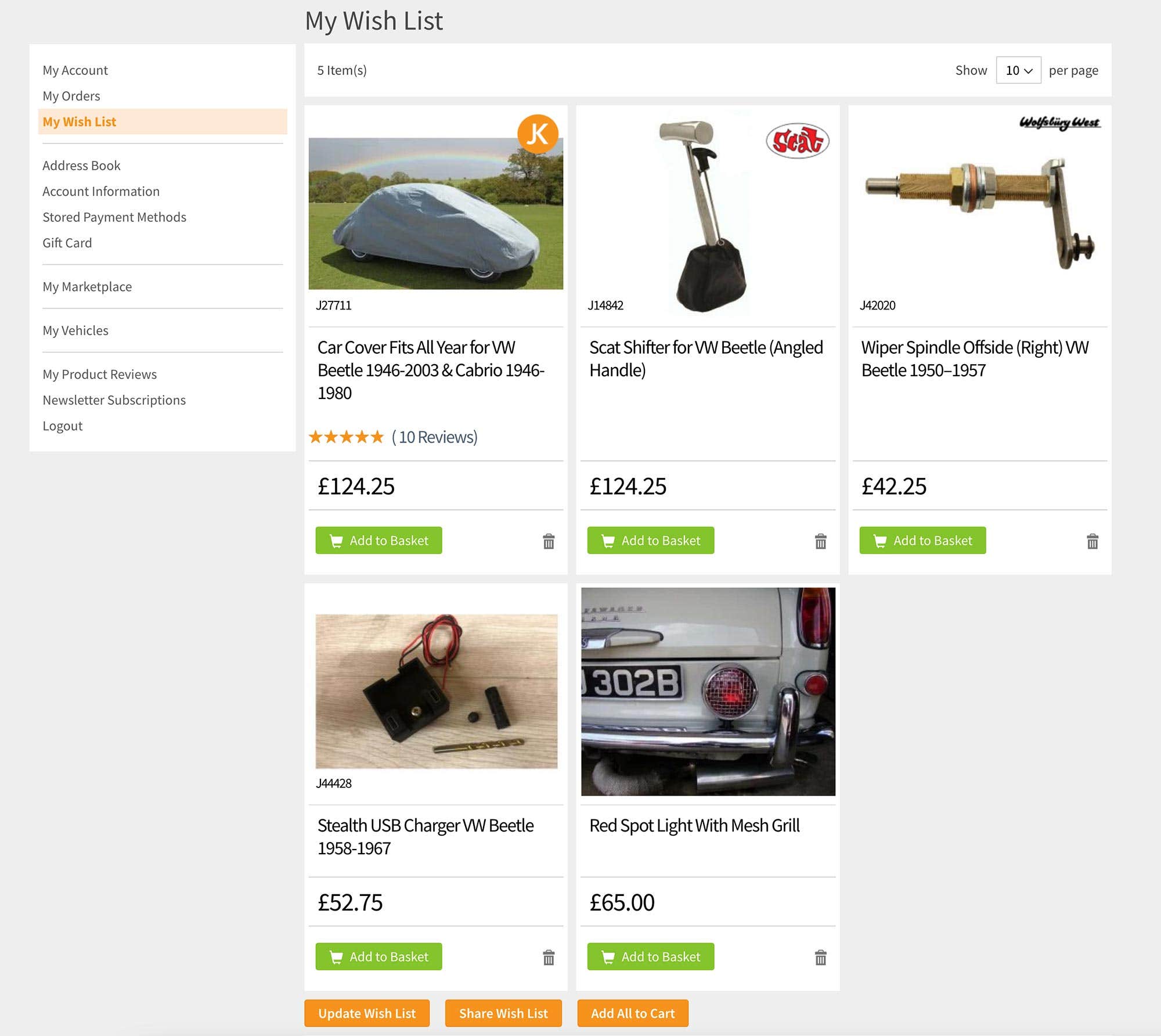 All you need to do to share your list out is press the Share Wish List button, enter the email address(s) you want it to go to, add a message, and hit Share Wish List again.
Your wish list will arrive in your loved ones inbox with your message and wish list products in there, and with luck they might take the hint!

Get organised with a Just Kampers wish list
Whether you're working to keep track of a vehicle restoration this winter, you're converting a basic van into a camper, or you're just angling for some awesome Christmas presents, the wish list feature on the Just Kampers site is an excellent tool for staying on top of the parts and accessories you're after.
Other features on your JK account
While you're taking a look at the wish list on your account page, you can also make sure. you're signed up to our Newsletter, so you don't miss out on sales, new products, discounts, events and other news.
You can also access the JK Marketplace from your account page, if you find yourself having to sell your VW campervan or Beetle, as well as edit and update your addresses, payment information and other key details.
If you're looking for cool new products and special offers to add to your JK wish list, then make sure you're following us on Facebook, Instagram and YouTube, as well as our newsletter, to get the latest news from Just Kampers right away.