2022 is set to be a very big year for camping enthusiasts. With more campsites opening back up this Summer, we need to make the most of it!
One of the most difficult things about camping is the clean-up, but it's a necessary part of keeping our campsites active and maintained.
Since today marks the start of The Great British Spring Clean, and summer is creeping closer, we thought it was a great time to talk about tidying!
The Great British Spring Clean is a project taking place this year from 25 March until the 10 April. It's been organised by Keep Britain Tidy, with the aim to keep the country tidy and free of litter.
Their pledge is to get as many people involved as possible, because every little helps. You can get involved by collecting just one bag of litter from your local area, or many more if you'd like!
This year's message is for people to join the big bag challenge and pick up as much litter as you can between the 25 March and the 10 April.
Click here for plenty of useful information and advice on how you can get involved and help the movement whilst working it around your busy lifestyle.
What can we do?
As camping enthusiasts, we have a duty to protect the environment around us, especially if we want to continue enjoying it.
It's not just about reducing the amount of litter and rubbish we dispose of, but making sure we do it properly and don't use harmful chemicals in the wrong areas.
Keeping your campsite clean doesn't just help the environment but it also helps to keep your experience more enjoyable from day to day, so here's a few useful tips on what you can do to make your next camping experience fun and environmentally friendly!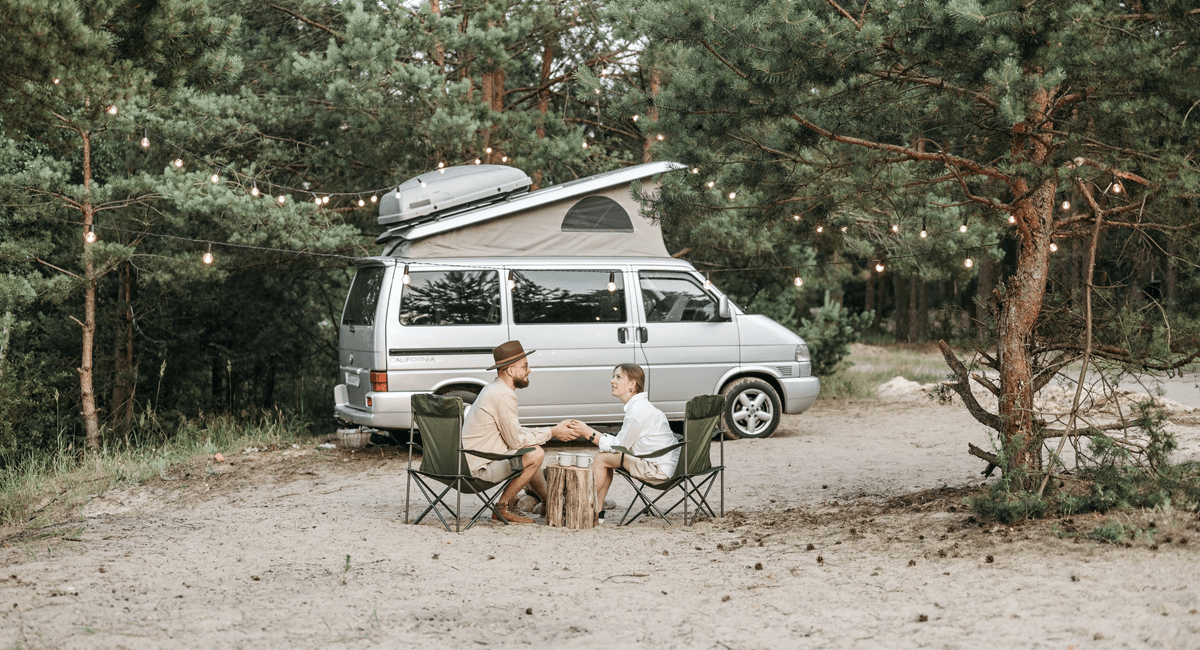 Image credit to Pavel Danilyuk, via Pexels
How to keep your campsite tidy
Bins:
Once you've set everything up, it's a good idea to have a general waste bin and a recycling bin ready and waiting. No doubt there will be cereal bar wrappers and all sort lurking in the vehicles from the journey to the campsite, so set up bins first thing and set them aside.
You can then dispose of everything as soon as you need to, including packaging of new equipment you've brought with you.
This means you're effectively sorting your rubbish from the get-go and it stops the stress of cleaning up straight after setting up your awning.
Washing station:
First things first, a good idea is to have an organised washing up system and to reuse plates and utensils, rather than using disposable ones. Disposable plates can lead to a large amount of rubbish being disposed of by the end of the trip. If you can get yourself a set of melamine plates, collapsible cups and some reusable utensils, you can reuse those and feel guilt free. They will also massively help reduce packing space.
Grab yourself a washing up bowl, maybe even a collapsible one if you're feeling flash. Use an environmentally safe, eco-friendly soap and a scouring pad to remove grease and food from your plates and cutlery. Leave them to dry somewhere in the sun or where they can drain.
When it comes to disposing of the waste water in UK campsites, be sure to do it responsibly. Most places will have a designated area but if not, travel a little way away from yours and others pitches and drain it. You don't want any smells of food to be too close to your pitch or you'll soon find mice cuddling with you in your sleeping bag!
It's all down to what's most convenient for you, paper plates may be the best and quickest option for your family, but be sure these make their way into the recycling and not just general waste.
Image credit to Kurt Von, via Unsplash
Brushing your teeth
We're sure most of you may be familiar with the occasional teeth brushing session back at the pitch because you forget to take your brush and paste with you to the showers! We've all had to brush our teeth in a rush sometimes, and it's sad to see that where you earlier spat your toothpaste has killed the grass it landed on, so here's how to avoid that.
If your pitch is on a grassy area, and you have no facilities available, try to use an organic or natural toothpaste. This means the paste will be free of things like fluoride and sodium phosphate which are the harmful ingredients that can harm plants.
Bring floss!
All dentists tell us to do it, and if you're concerned about a fluoride free toothpaste doing as good a job, access all areas and give your mouth a good clean by flossing before brushing. The floss should then go in the general waste.
Once you're ready to spit your toothpaste out, take a sip of water to dilute the mixture in your mouth. Then as you spit, try to spray it so that it doesn't land all in one area. This helps to keep all the plants healthy as opposed to targeting one area as that may cause harm.
Welcome mat
It's always a good idea to place a welcome mat outside the entrance to your vehicle, awning or tent. Preferably one that is made from coir, the fibrous material that surround the outer shell of a coconut. This is an incredibly common material for doormats, but they also clean very well. The fibres help to work as a brush to get in to the tread of your shoes and rid them of mud and sand and any other remnants of the days activities.
Wipe your shoes and step inside your vehicle or awning. Immediately take off your shoes in case any dirt was missed and that way you'll keep the floor of your awning or camper tidy and clean.
Image credit to Luke Porter, via Unsplash
Small broom or dustpan and brush
Should any dirt work it's way into the interior of your living space, a dustpan and brush or broom will be a great thing to have handy! Simply sweep up the dust and dirt and collect it in the dustpan. Carefully take it over to the general waste bin and tap it in!
Give them a good clap together outside to rid them of any remaining dust or dirt before you stow them away inside your living space.
Million mile clean
If you fancy a challenge this year, why not take part in the Million Mile Clean as part of the Surfers Against Sewage project. The aim of the campaign is to make the UK s cleaner and greener place to live. The project is open for everyone to get involved in, and it's not limited to beach cleans, you can clean wherever you like.
We're closely linked with Surfers Against Sewage here at JK as one of their 250 Club sponsors, and Gemma Halliday, from the JK Team, is a SAS local representative, helping to organise and coordinate beach cleans and other events.
You can register your clean with them and even track how far a distance you have covered. If you'd like to get involved, then please follow this link. (https://beachcleans.org.uk/about/)
Here's a few products that we sell that can help you keep your campsite clean: