Back in 2009, Just Kampers helped set a World Record for the Lowest Van in the World, by creating the one-of-a-kind Vancake at BugJam 22.
It took a whole weekend at the Santa Pod Raceway to transform a Volkswagen T25 from about £1,000 of campervan into a work of art worthy of the Guinness Book of Records.
Pete Dempsey from the JK Team worked alongside renowned automotive artists Andy Saunders, Jim Chalmers and Johnny Munden to shrink a 7' 7" VW T25 Viking camper into a 3' 3" record holder.
How Just Kampers helped create the record-setting Vancake
Working flat out on a small stage near the famous racetrack, the crew cut 4" 4' away from the T25 in front of over 30,000 people at BugJam. They were going from early Friday morning until the massively modified van was driven down the Santa Pod Raceway at about 5pm on the Sunday.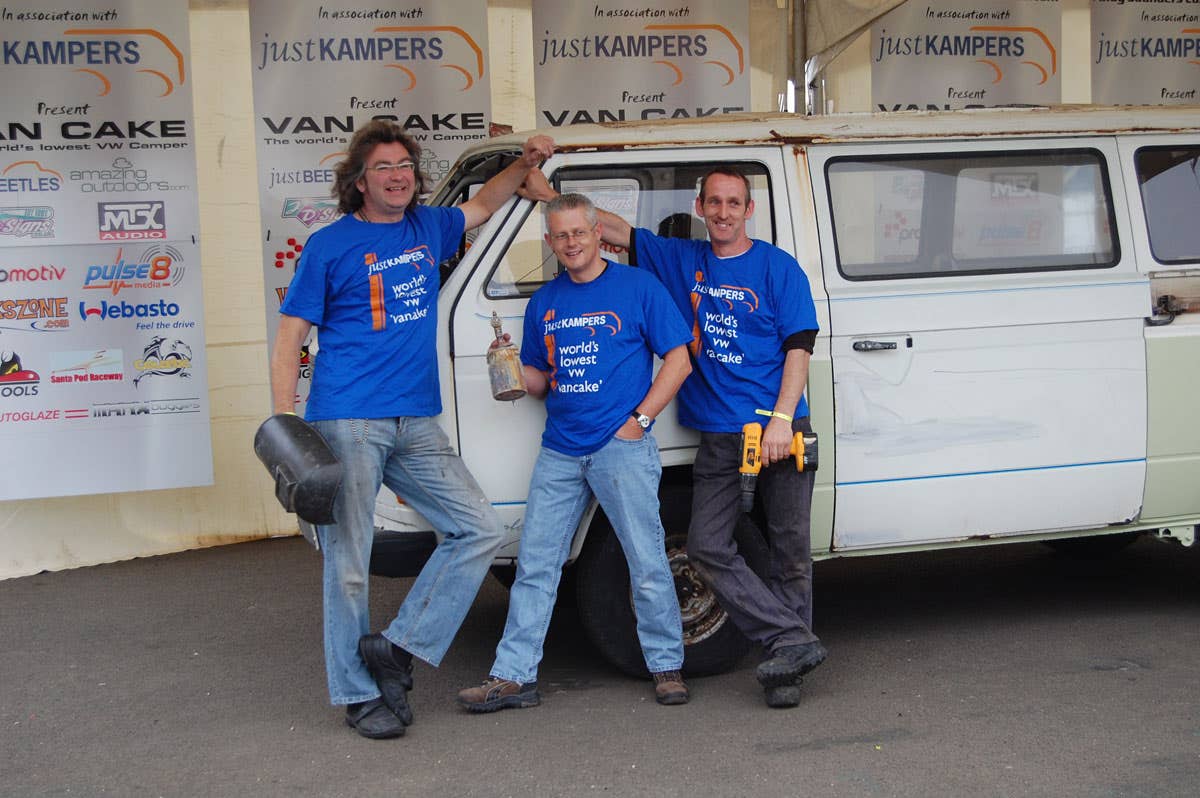 Before and after the Vancake project wrapped up - Pete from the JK Team is on the right in the beanie!
Heavily modifying Volkswagens is nothing new to the JK Team, who've built a few weird and wonderful VWs in their time, but Pete Dempsey has a particular love of chopping up campers, Type 3s and almost anything else he can get his hands on.
Since Just Kampers were sponsoring the attempt by Andy Saunders to create the World's Lowest Van, Pete was the obvious choice to help Andy, Jim, and Johnny to take a series of tools to the VW T25 and get it into the record books.
Here's a few shots of the VW Type 3 Fastback that Pete did 'a quick roofchop' on back when Just Kampers was still a full-time workshop.
When the dust had settled, late Sunday afternoon, the team had a pile of scrap metal, some worn-out tools, and a finished van which they hoped would be officially recognised as the world's lowest. It took another nine years for it to be officially added into the Guinness Book of Records, but the record still stands now.
The van was dubbed Vancake, after an online competition to name it, and photos and video of it soon circulated around the world.
What makes Vancake extra impressive is that there's a lot more to it than meets the eye. They didn't just hack away metal until the T25 looked a bit like a small camper, they made sure that the van still drove, too.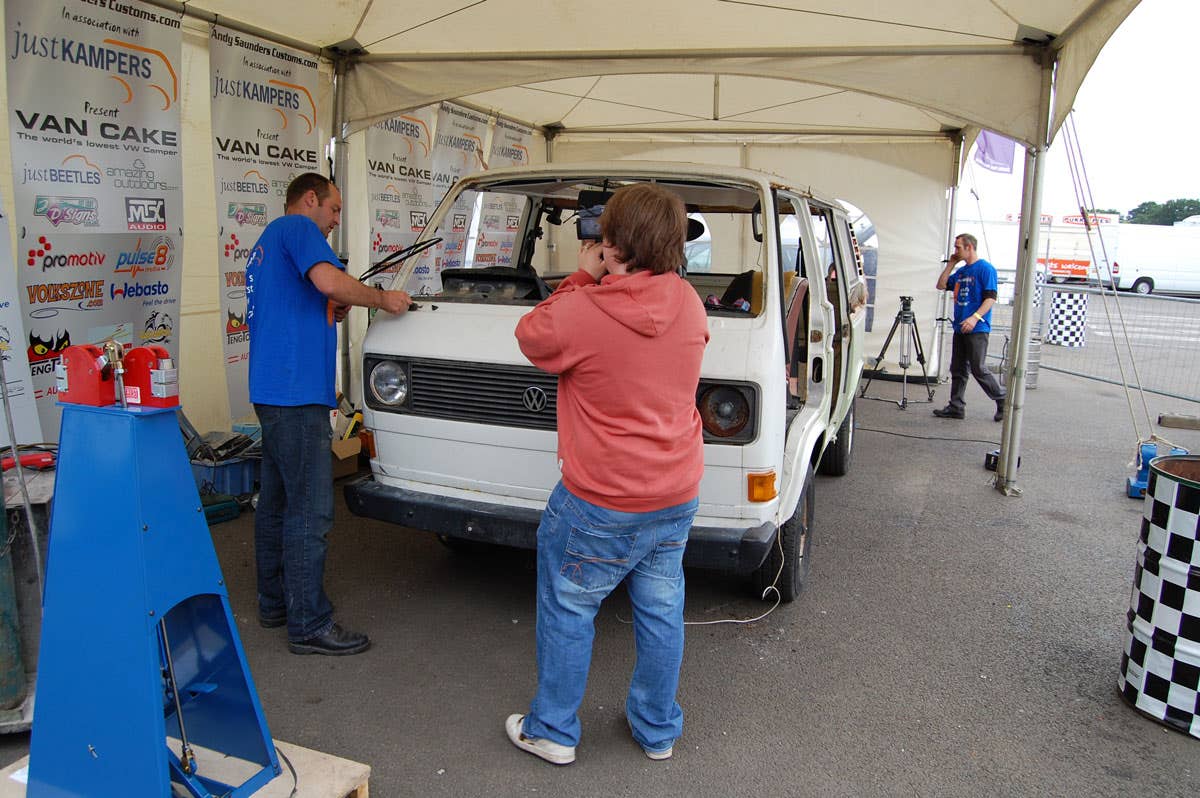 As if having a live audience of thousands wasn't enough pressure, they also had TV cameras following them around!
The steering unit and pedals were moved to the centre of the vehicle, with the driver's head sticking out of the sunroof. This might seem like a simple change, but with just three days to get everything done – and tens of thousands of people watching – it was no mean feat!
After it cleared the raceway at Santa Pod, Vancake sped into a number of different newspapers, TV shows, and spread across the internet at amazing speed.
A few shots of Vancake in all its glory - standing at an impressive 3' 3" or around 1 metre tall!
Vancake was last seen by a friend of the JK Team, who sent us this photo of the Worlds Lowest Van heading for the docks to be sent off to the USA.
We're not sure exactly where it was destined for, but we're glad it's still largely in one piece!
If you've got any other photos of it, send them through to us at jkworld@justkampers.co.uk, and we'll add them to this story!
Who are Just Kampers?
If you've not heard of us before, we've been part of the VW scene here in the UK since 1989. Over the years we've evolved from a small workshop fixing up Volkswagen campers, to a world-leading supplier and manufacturer of parts and accessories for a huge number of different VWs, and even some campers from other marques!
Just Kampers now has over 400,000 parts, ready to ship to your door, seven days a week.
Who is Andy Saunders?
The man behind some truly iconic car designs and incredible conversion jobs, Andy has been turning vehicles into works of art for years now, and has an incredible catalogue of previous projects.
Vancake was just one of three World Records that Andy set, with the other two being for creating the lowest car in the world!
Just Kampers worked with Andy to create Vancake at Bugjam 22 in 2008, and were really happy to see it awarded the official title of Lowest Van in the World after three days of hectic work.