We're getting increasingly excited to see you all at the VolksWorld Show this weekend, as we finish up the last bits of our preparations big event.
The JK Team haven't been to VolksWorld since 2019, and we've got a lot of catching up to do with our friends, customers and colleagues over the coming weekend!
If you haven't been before, the VolksWorld Show is generally seen as the unofficial start of the VW show season here in the UK, and is held at Sandown Park Racecourse in Esher, Surrey.
This year it's being held on 19 to 20 March 2022, and we're expecting an incredible show.
Tickets are still available, which you can get here.
Come have a chat with the JK Team
We've got a stand inside at the show, where we'll be talking with fellow VW enthusiasts, displaying some of our own vehicles, and talking about what we've been up to since the last time we say you at a show (hint: It's a lot!).
We'll also be showing off some of our newest products and talking watercooled in the trade area at the top of the show. We'll also have a range of our staff cars and projects will be up there, including a T6.1 we've dubbed Project 22, which we've been working away at over the winter as a way to test new products!
See our newly restored D&S!
We're really excited to show off the Dannenhauer & Stauss Cabriolet that we've been busy restoring since 2020.
This epic project started off as a way to celebrate Just Kampers' 30th birthday with a beautiful and unique vehicle from VWs past, and it quickly became a complete, body-off restoration.
If you haven't heard of Dannenhauer & Stauss before, we're not too surprised, as there's only a handful left on the roads! They were created by a pair of coachbuilders in the 1950s, who created unique vehicles from steel, using the VW Beetle as a base.
Here's a couple of preview shots, but if you want to see the JK D&S in person, you'll have to come along to the VolksWorld Show this weekend!
Project 22
If you received our New Years' Day email, you might have spotted that we're working on a VW T6.1 project van, which we've dubbed Project 22.
Over the last few months, we've been working away on the van in our workshop here at JK HQ, and transforming it from a panel van into a plush camper. It's been an excellent opportunity for us to test out new parts and accessories, and see if they're good enough to be added to our ever-expanding range!
The van belongs to JK's Steve Gosling, who's our Marketing Director, and once it's finished he's looking forward to being able to go camping with his family, as well as continuing to use it as his daily for his commute into work.
There's loads of cool stuff we've fitted to the Project 22 T6.1, and you should definitely come check it out while you're at the VolksWorld Show – you might get some inspiration for your own project, or see some new stuff to add to your campervan!
Check out our brand new, totally exclusive new JK Solar Charging Screen
One of the things we're excited about unveiling at the VolksWorld Show this weekend is our all new JK Solar Charging Screen.
We've designed and created this cool new solar charger to fit on the inside or outside of any vehicle windscreen, and then plug directly into your 12v system. It's also got a powerbank that you can plug your mobile phones, laptop or anything else into, to keep them fully charged, wherever you are.
It uses really high quality monocrystalline solar panels to capture huge amounts of energy from the sun and convert it to electricity to power your camper's leisure batteries and your mobile devices.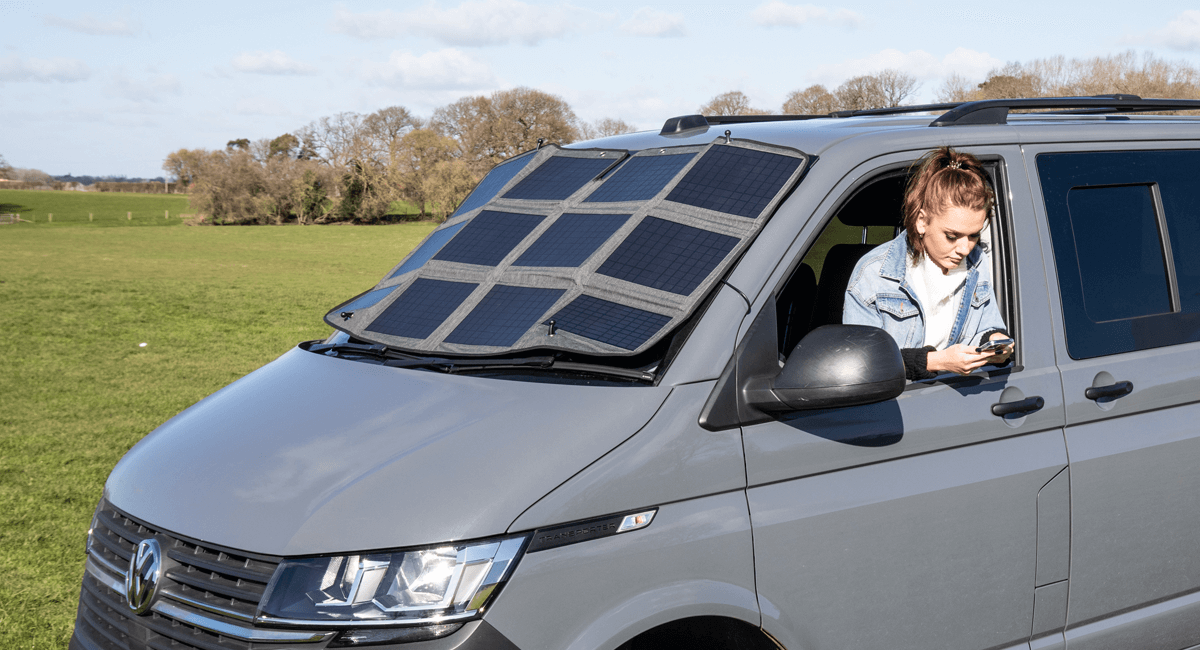 We're expecting our JK Solar Charging Screens to arrive at JK HQ in early April, but we've got a small number of them early, which we'll be showing off (and charging our phones with) at the VolksWorld Show this weekend.
If you can't make it to the show, but want more information, read our blog on the design process and find out more here.
Your chance to win £250, £150 or £100 in gift vouchers from JK
If you spot the Just Kampers Insurance team around the VolksWorld Show, make sure you enter our Gift Voucher Giveaway, for a chance to win one of three Just Kampers gift cards, worth £250, £150 or £100.
There'll be a giveaway each day of the show, with winners chosen at random at 4pm each day.
Check out more of our cars on display at the show
It's not just the gorgeous D&S Cabriolet and the stylish Project 22 van we'll have on display – several of the JK Team have been invited to display their vehicles at the 2022 VolksWorld Show, including:
Chet's 1956 Oval Beetle
We'll have a 1956 Beetle on display at the show, owned by Chet from the JK Team.
Chet's been busy modifying his Reed Green Beetle, which now runs a 2007cc engine with MSD ignition and twin 40 DRLA carbs.
He's also stripped back the interior and added extra gauges to give it a racing look to match the engine. It's currently sporting Crestline wheels with wide Oval rear tyres, too.
Chet will be at the show, catching up with the traders he speaks to day in, day out, but if you see him we're sure he'd be happy to chat about his Beetle!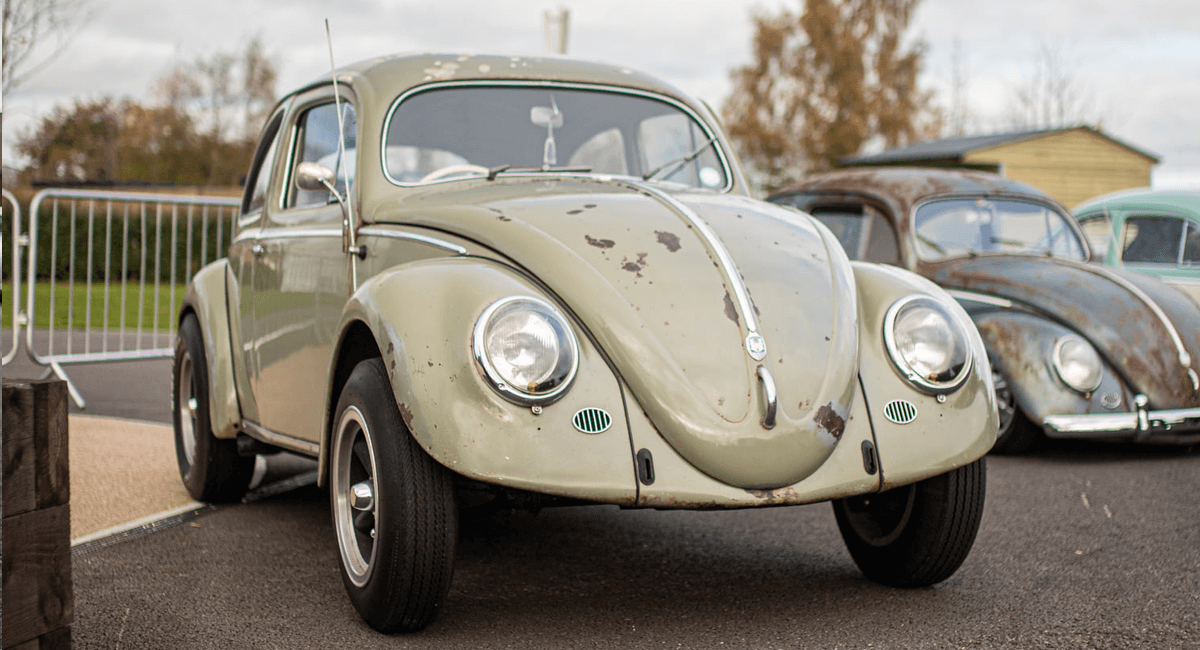 JK's 1959 Lowlight Karmann Ghia
You'll also be able to take a look at the '59 Ghia that Mark raced in the Gran Premio Nuvolari race in Italy back in 1959.
With his daughter Meg as navigator, Mark Reynolds - who founded Just Kampers back in 1989 - was able to beat over 120 other cars and finish the epic event with the Ghia still in great shape, without a single mishap or misfire!
Powered by a 1300cc Denzel engine, our Ghia is pretty unique. Developed in the early 1950's blending Denzel's unique parts and a VW 30hp engine case, the engine alone is worth coming to take a look at.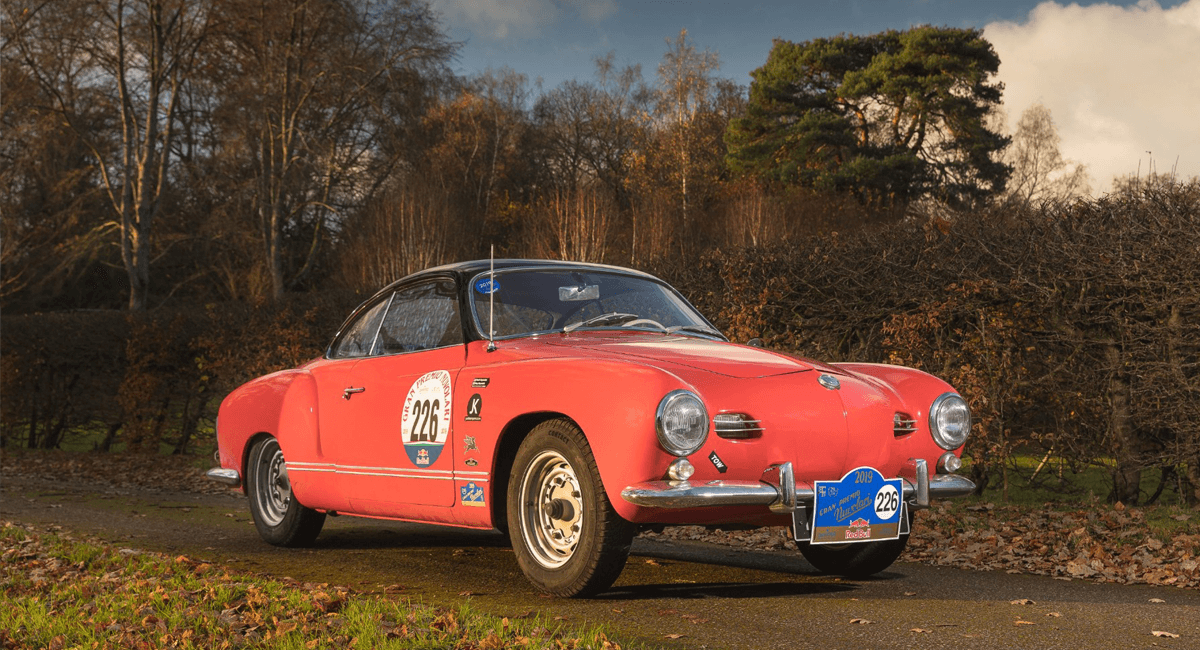 Mark's 1972 T2 Bay
We'll also be displaying Mark's beautiful yellow T2 Bay Microbus, imported from South Africa, outside at the show.
The eight-seater bus was amazingly similar to one which Mark owned before he set up Just Kampers in 1989, and when he saw it for sale he knew it was a chance to enjoy family camping trips and outings with his grandkids.
He's been busy making it child-friendly, fitting Isofix seat mounts as well as 16" VW Syncro steel wheels (which is nothing to do with the kids, but they look cool!).


JK's 1956 Oval Beetle
Another racing veteran, our '56 Oval has been dubbed 'Jack the Giant Slayer', after it hammered it's way around the 1,000+ miles of the gruelling Mille Miglia race in Italy.
Mark Reynolds, founder of JK, was able to leave dozens of more prestigious race cars in his wake, with his son Josh in the navigator's seat. Fitted with an Okrasa Twin Port period racing engine, and a number of other tweaks which helped it do so well in the Mille Miglia, Jack is enjoying a break from racing these days.
The Oval has been to loads of events in recent years, including Hessisch Oldendorf, the Goodwood Festival of Speed and others. He's a definite favourite among the JK Team, and well worth taking a look at!
More into modern VWs?
In the watercooled section up at the top of the show, we'll have a range of campers on display, all filled with cool new products we've tested and trialled on our own vehicles.
Our Sales Director Shaun will have his VW T6.1 at the event, which has been fitted with our own JK windows and curtains.
The VW T6 4-Motion Kombi, driven daily by our MD, James, will also be there, having been recently modified and used to test new parts and accessories on.
The JK Support 'Wagen will also be there, enjoying a relaxing weekend after a tough life driving thousands miles around the UK and across Europe. It's delivered two VW museums we sold to the VW Museum in Wolfsburg, supported Jack the Oval during the 1,000+ mile Mille Miglia race around Italy, and did the same for our Lowlight Ghia as it raced around the Gran Premio Nuvolari.
It might be one of the last times you see the JK Support 'Wagen looking like this, as we're going to be giving it a swamper makeover this summer!
Can't make it to the VolksWorld Show? We'll be at other events throughout 2022!
If you can't attend VolksWorld this weekend, don't worry! You'll be able to catch us at a number of other events in the UK and Europe this summer, and members of the JK Team are always out and about at local shows and events.
This year we're booked to go to Classics at the Clubhouse, Skegvegas, BeachDubbin, Hessisch Oldendorf, Camperjam, the NEC Classics show and, of course, the JK Open Day.
We'll also be holding our own Kampers & Koffee meet up at JK HQ in Odiham, Hampshire on 30 April, so if you're around you'd be very welcome to drop by for a chat, some coffee and maybe even a waffle!