We've recently added Klarna as a new payment option here at JK, to help you spread out the cost of keeping your vehicle on the road and adventure ready.
Klarna is a new option available at the checkout, which allows you to either pay in 30 days from the date when you place your order, or to split the cost of your purchase down into three chunks – you pay the first of these immediately, the second 30 days from when you place your order, and the third 60 days from when you place your order.
Times are rough for a lot of us at the moment, so we're pleased to have teamed up with Klarna to offer another way to make it more affordable to keep your classic, camper or van on the road.
Image credit to Alex Plesovskich, via Unsplash
Who are Klarna?
Founded in Stockholm, Sweden, in 2005, Klarna aims to make it easier for people to shop online.
Klarna is the leading global payments and shopping service, offering smarter and more flexible shopping and purchase experiences.
They have 147 million active users across more than 400,000 merchants in 45 countries. Klarna offers direct payments, pay after delivery options and instalment plans in a smooth one-click purchase experience that lets consumers pay when and how they prefer to.
How do I use Klarna?
It's really easy to make a payment with Klarna. Browse the JK site and add whatever item(s) you're after into your basket, and head to the checkout when you're ready.
Select Klarna as your payment option at the checkout. You'll then be prompted to enter your credit or debit card details as usual. Klarna will confirm your eligibility by performing a soft search with a credit reference agency, but this will not affect your credit score.
Once you're approved, check out as normal.
Does it cost more?
Nope! It doesn't cost you anything more to use Klarna to pay. They don't charge any interest or any fees.
If you want to scope them out before you select Klarna at the checkout, you can read through our Klarna FAQ page here.
Pay in 30 days – how does it work?
You can use Klarna to pay up for something you buy up to 30 days from the order placement or shipment of your goods or when services you have purchased become available.
Klarna will send you a payment reminder with details on how to make payment to them directly. If you'd like to pay off your balance before the 30 days is up, you can make a payment early through the Klarna App by paying by card immediately.
There are no fees, no interest, and you don't pay for items which are returned.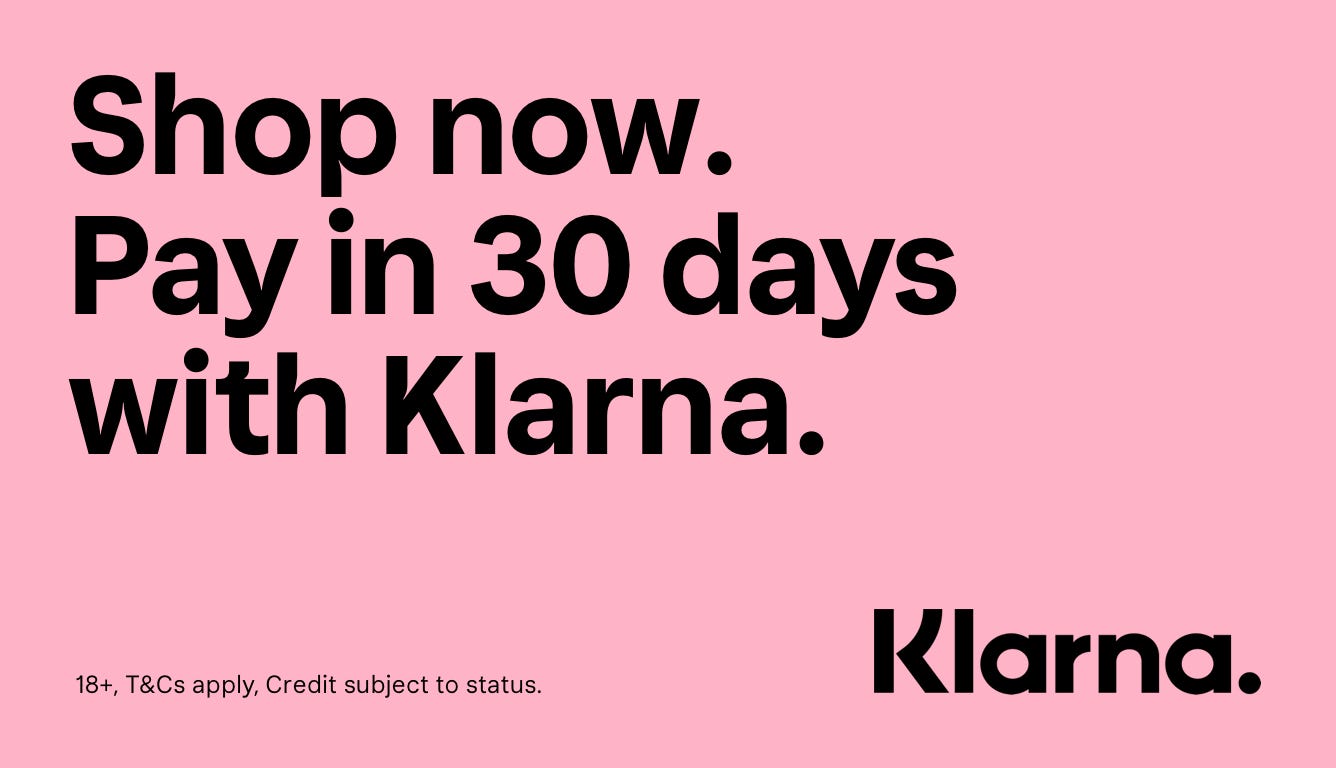 Pay in 3 instalments – how does it work?
Klarna also gives you the option to split your purchase into three payments, letting you spread the cost out over time.
You'll pay your first instalment when your order is confirmed by us, and instalments automatic payments 30 and 60 days later, respectively.
These payments can be managed through the Klarna app.
Again, there are no fees and no interest.
Still got questions? Check out our Klarna FAQ
There's much more information about Klarna and how it works available on our FAQ page, including details about how returns will work when you've paid with Klarna, their privacy policy, and more info about Klarna themselves.