Here's an update from a friend of Just Kampers, Amy, about how and why they converted a Ford Transit Connect from an empty van into a mobile coffee shop!
We always love getting emails into our JKworld@justkampers.co.uk email account with photos and stories about your rides, whether you've owned a Beetle since you were 13, or you've recently finished kitting out your own VW T6.
It was a bit different this time, though, as I asked Amy to give us some info about her van conversion while getting a juice, a gingerbread man and some duck food for my son (he doesn't eat the duck food, I should clarify, but we do feed the ducks every week) at a local park.
Amy was kind enough to take time out of creating coffees and tinkering with her van to send us this great update: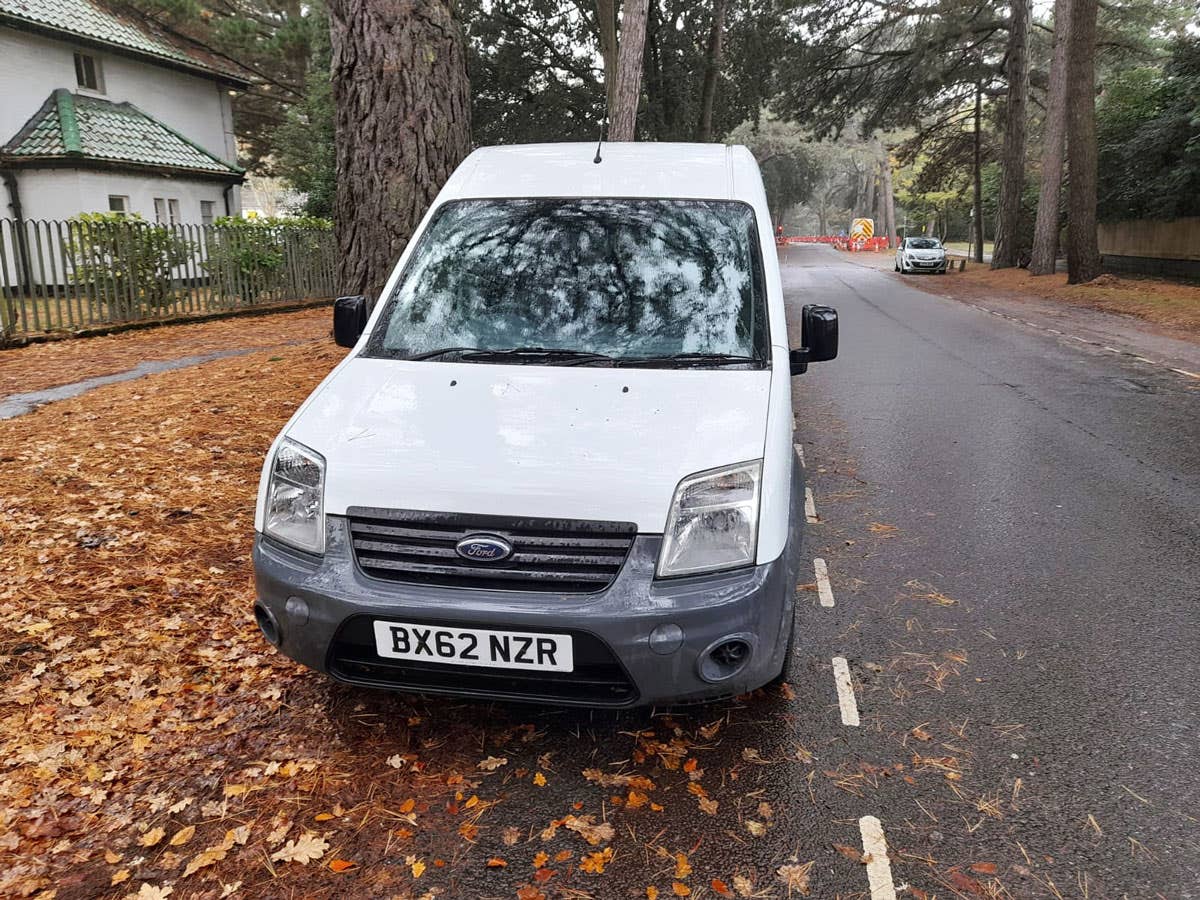 About Amy, CANdice and the Coffee Can Company:
I'm Amy, the founder of the Coffee Can Company. We started up two years ago at the end of the last Covid lockdown.
After losing my job managing a cafe in town due to Covid I wanted to build something of my own, that I could be creative with and still brew up amazing coffee.
I didn't have the budget to open a proper cafe, and with it still being in lockdown shops were still closed anyway, so I decided on a van instead. I spent weeks online searching for the type of design I wanted as I had chosen to build it myself.
The van itself is a Ford Transit Connect, called CANdice, and we have another called DunCAN, but CANdice was the original and I learned a lot while tackling the project.
The inner frame for the café area in the back I built from hardwood, with the countertop made from ash with a natural edge. Our second van's countertop is an up-cycled kitchen table we found on Facebook Marketplace!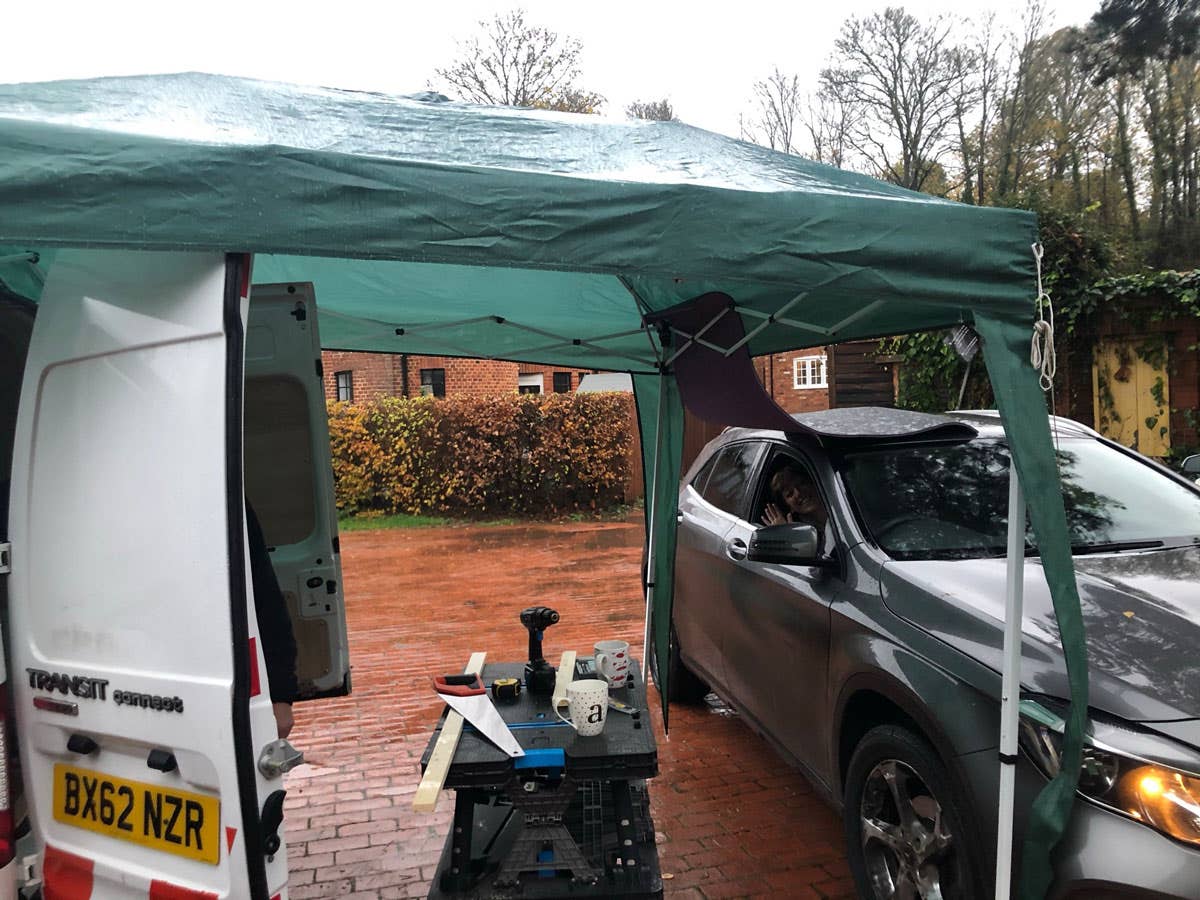 Converting the Ford Transit Connect from empty van to Coffee Can:
We really winged the conversion, to be honest. I made a rough sketch of the layout and me and my dad went to work figuring out how it would all fit in!
The tough bit was trying to get the fridge and coffee machine to both fit in the back, as one couldn't go on top of the other due to the height of the fridge, and there was only about two inches to work with in between them. In the end, we settled on two different height countertops.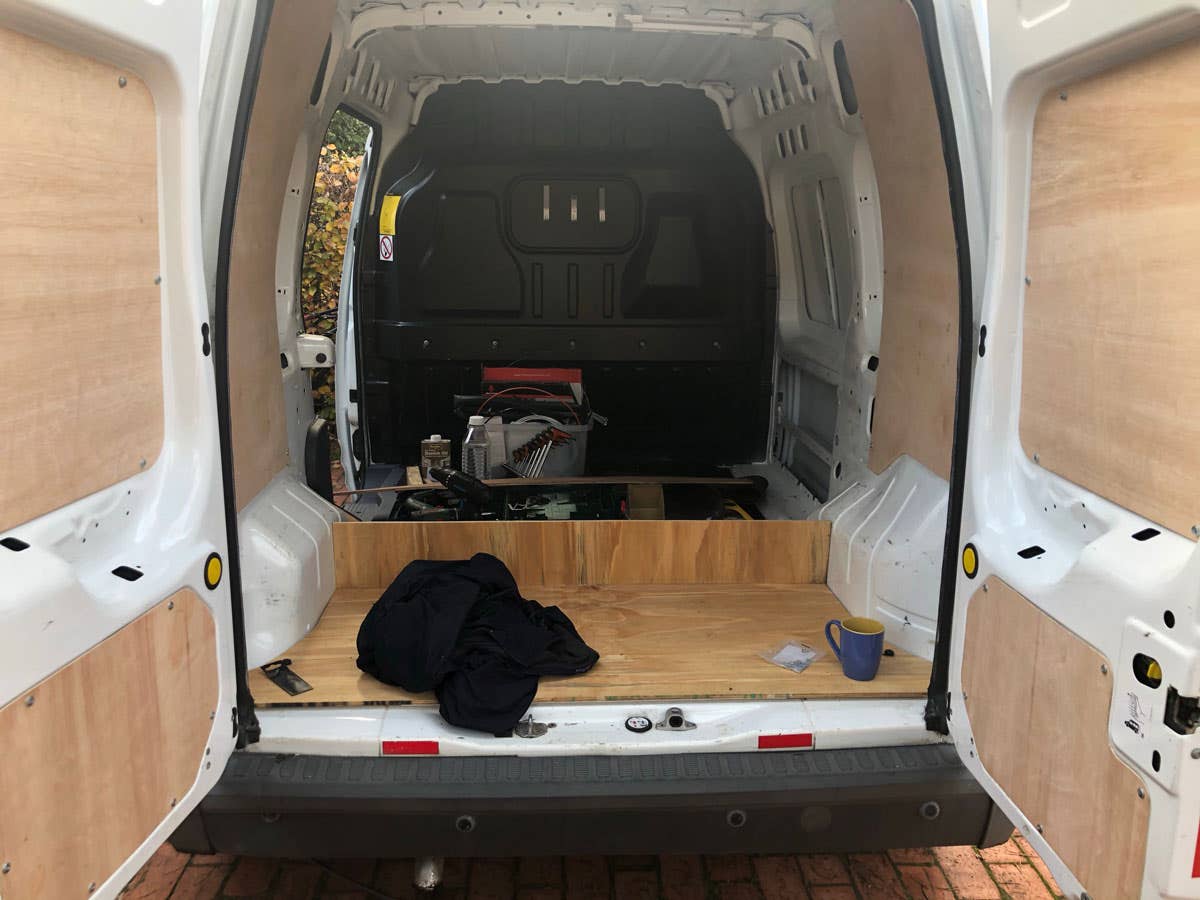 I did most of the work on my driveway, which really annoyed the neighbours, admittedly! We did it all in December 2020, and the cold definitely didn't help (just one of the things I learned during the project!).
My Dad helped lots with this first van, and it took about three weeks to build in the evenings after work. The second van I built basically on my own in two days - it was so much easier when I knew what needed to be done!
So what gear is packed into CANDice?
The van literally has everything a small coffee shop would have! A little storeroom in the back, a double group espresso machine, with a flow jet pump, water filter and water container in the back, a grinder for fresh coffee, cake stands, a gazebo for bad weather, and loads more!
What was your favourite part of the conversion project?
I loved building the van and figuring out where everything should go. Adding in touches like the soft-close draws was a highlight, but the best part was definitely my first day out in the van selling coffee. It was a very satisfying day!
What were some of the unexpected challenges?
Getting a second wooden bulkhead into a van is to this day one of the hardest things I will ever do in my life! Vans are NOT the same shape on each side – something else I learned during the conversion project.
Wood doesn't bend nearly as much as you want it to… and I think we said 'last cut' about 400 times while trying to get the first one in!
The electrics were also a HUGE issue! No household electrician wanted to touch it because they claimed it was car electricals, no campervan place would touch it because we were putting a massive power-drawing coffee machine in the back, and I struggled for weeks to find someone that would do it! Eventually, my coffee mechanic installed the electrics for me!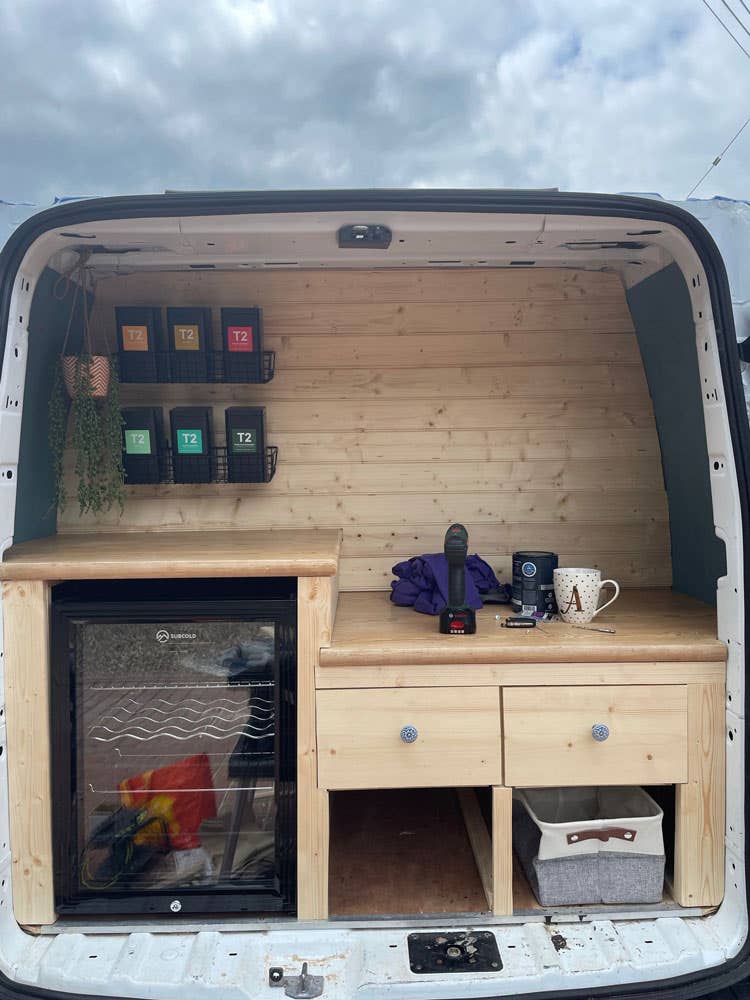 What are your future plans for the van?
I'm happy with the build, and don't think anything else needs adding or changing, so I'll just be brewing up LOTS of coffee!
Do you have any advice for other people looking to tackle their own van conversion?
There's a solution to EVERY problem. It doesn't matter what it is! Also, you can also always fit more in your van than you think!
Where to find the CANdice
You can find the Coffee Can Company on Instagram, where Amy has uploaded loads of photos of the build in one of the page's highlights. You'll also find CANdice and Amy at parks and events around Surrey every week.
I just wanted to say a huge thank you to Amy and the rest of the Coffee Can Company team for taking the time to send us over all of the insights and advice they picked up during their Ford conversion project, and for always having a gingerbread man for my son when we drop by!
Author's Note: There hasn't been an exchange of coffee-for-content or anything like that, this blog was prompted by me sending a message to the team after seeing that they and their van had gotten a bit flooded, and wanting to see if they needed a hand with anything. They didn't need anything, but then it turned out the van conversion was more interesting than I'd realised, so here we are!
Need to insure your converted campervan?
As well as a huge range of parts and accessories for classic and modern campers, we also supply specialist campervan insurance.
Through Just Kampers Insurance, you can get your camper covered with tailored vehicle insurance at a great price. How good is the price, you ask? Well, if we can't beat your like-for-like quote, you'll get a £50 Just Kampers voucher!