Here at Just Kampers, we're always interested in our customers own conversion projects. We love it when you guys get in touch; it's a pleasure to know that our customers enjoy sharing their passion with us. This week, we'd like to share Neil's VW Transporter conversion, aptly named 'Captain Nemo'.
Neil's 2013 Transporter van probably doesn't have a history you'd expect; though some may assume the paint to be Neil's custom choice, a bright orange exterior was actually necessary for Nemo's past job. The clue's in the name: RAC Orange. Neil's unique van has come a long way since it was used as a Roadside Assistance vehicle!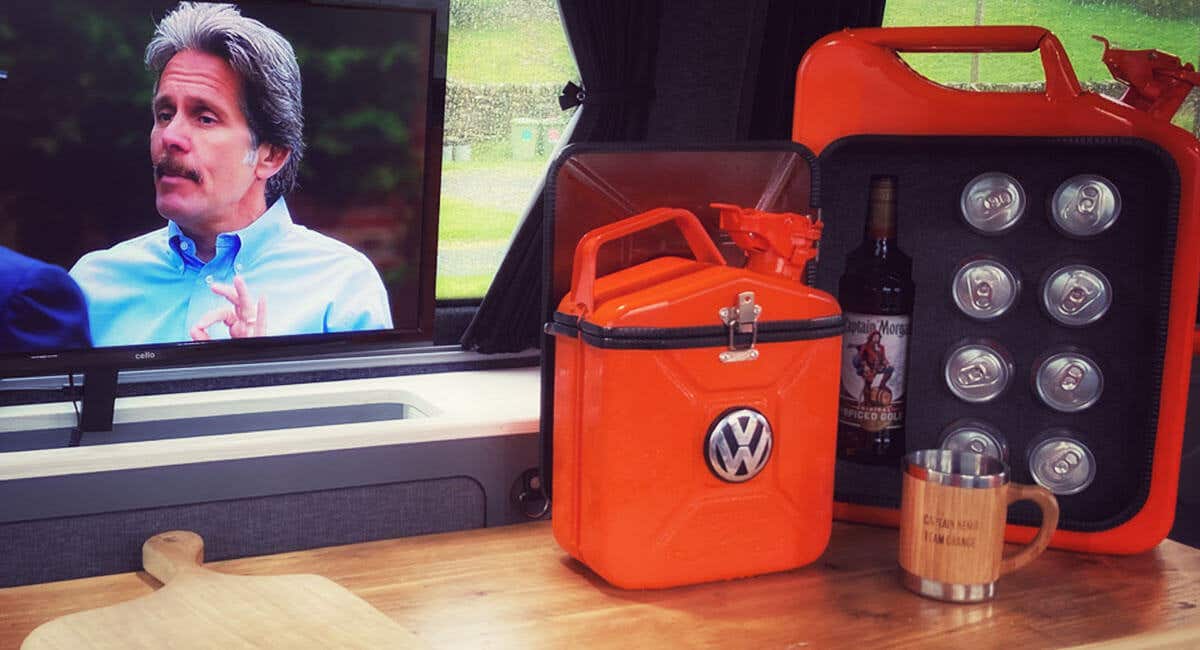 Nemo's since been transformed into a luxurious chill-out space. Since Neil bought his VW, he's definitely made it his own, along with an accompaniment of orange accessories. To match, of course!
To name just a few of these qualities, we've listed them below:
Custom orange Jerry Cans, converted to a miniature bar and ice bucket,
Orange camping chairs,
Bespoke cooking Bench (Complete with orange candles and what I think must be orange lentils?),
Orange Paddle Board,
Plus, a complimentary scattering of orange decorations.
One feature which we found particularly impressive was the wooden Hang Table; used when it's needed and mounted via the roof rail. Neil told us this was designed by a company named Tyres & Tides, based in Newquay. As demonstrated in these pictures, it looks like a great way to support a laptop or other devices. Then you're free to sit back and enjoy a film, as the sun sets around you.
Something else which impressed us, were some hidden appliances: Pop-up TV and Slide-away Kitchen! These are a great addition to the van and maximise Nemo's interior living space. Perfect examples of creative ways you can push the limit of a conversion vehicle and utilise its potential.
The conversion is complete with necessary power points throughout, a skyline pop-up roof, 20 inch wheels (based on RS6 alloys), and of course a well-deserved history of heroism on the motorway.
Neil kindly shared with us the unusual sequence of events which led to the purchase of his ex-RAC Transporter. His girlfriend told him to pop out to the shops, in search of some new boxer shorts. What does he come back with? A van!
Since he's owned this unique vehicle, he's embarked on many adventures. Neil spoke about his trips to North Sands in Salcombe, The Drove at Stonehenge, North Wales 360 and The Beacons. It was great to hear from Neil about the positive experiences he's has since he bought this bold and bright VW conversion.
To follow Neil on his journeys and discover more about Captian Nemo, you can follow him on Instagram, here: @captainnemovw.
We'd love to hear from you!
If you've got some interesting stories in your camper or an ongoing project that you'd like to share with us, we'd love to hear from you! To get in touch, email us about your project via: jkworld@justkampers.co.uk