Check out this gorgeous Beetle 1967 by JK customer Nick Avery. He recently finished the restoration himself, and his Beetle will be one of the classic Volkswagens displayed on the Just Kampers stand at the 2023 VolksWorld Show.
A little about Nick
Nick got in touch with us after seeing our offer to join us at the VolksWorld Show, keen to show off the Beetle project he recently finished up. A bricklayer and groundworker by day, Nick somehow found the energy to fix up his 1967 VW Beetle on evenings and weekends, transforming it from "nothing much appealing to the eye" (his words!) into a super cool classic.
Having first gotten interested in old VWs when he was 7, Nick is now the proud owner of this modified Beetle, which he finished working on in his "glorified shed" not too long ago. Again, he called it a glorified shed, not us!
About Nick's Beetle
Year: 1967
Engine: 1200cc
Wheels: 15x4.5 and 15x6 smooth steels
Exhaust: Standard set up with Cartune taper tips
Modifications: Air suspension, safari front windscreen, swan-neck mirrors, and a retrimmed interior in Harris tweed
Nick's Beetle Restoration Project
Nick got the car in early 2017, buying it from a good friend who wanted to part with the Beetle so they could pursue another project. Keen to get a pre-1967 Beetle, this Bug ticked that box even though it wasn't that impressive to look at when he went to see it.
Since then, Nick has done a full restoration and fitted a few mods, as well. He told us he'd done as much of the work as he could himself, but didn't take on the welding or painting, leaving those bits to the professionals.
Most of the work was done in a body shop owned by Nick's uncle, including all the bodywork and the paint. After that, he moved it to a barn 'in the middle of nowhere' to finish it. We can certainly sympathise with that, as JK HQ is also located in the middle of nowhere!
Before getting stuck into the restoration of his '67 Beetle, Nick had only really done some fairly basic bits, like suspension changes, checking over the brakes, and running a service, but this was definitely the biggest project he'd taken on.
We asked Nick what his favourite part of the project was, and he said he couldn't think of a favourite bit, but added that the whole time he was working on it he was eager to get it finished, but now it's done he misses tinkering with it.
Sounds to us like someone's going to be shopping for a new project before long…
One aspect that certainly wasn't Nick's favourite was finding those 'one year only' parts for his 1967 Beetle, which can be a bit of a challenge.
Other challenges included picking a colour for the Beetle, and trying to justify to his partner how much money was being spent on the project!
We didn't ask how that conversation went, but I recon he did great on the colour choice, at least!
Nick's product recommendations:
We asked Nick what products he'd recommend, having finished the restoration project – and specified that they didn't have to be JK products!
Nick said he'd been really impressed with everything he'd gotten from EvaResto, who did an awesome range of air ride and extreme lowering kits for classic VWs.
Click here to check out EvaResto and their range.
He also added that he'd also "highly recommend Just Kampers for the great parts and friendly customer service!", even though we didn't ask him to!
Future plans for Nick's Beetle:
Now the restoration is done, Nick is just looking to drive and enjoy his Beetle, and not be too scared to take it out and hit the road.
He already used it as his brother's wedding car, which is excellent, and he's planning to head to Dorset Volksfest, Classics at the Clubhouse, V Dub at the Pub, Players Classic and of course, the VolksWorld Show, where he'll be proudly showing off his Beetle on our Just Kampers display stand, alongside some other JK customers.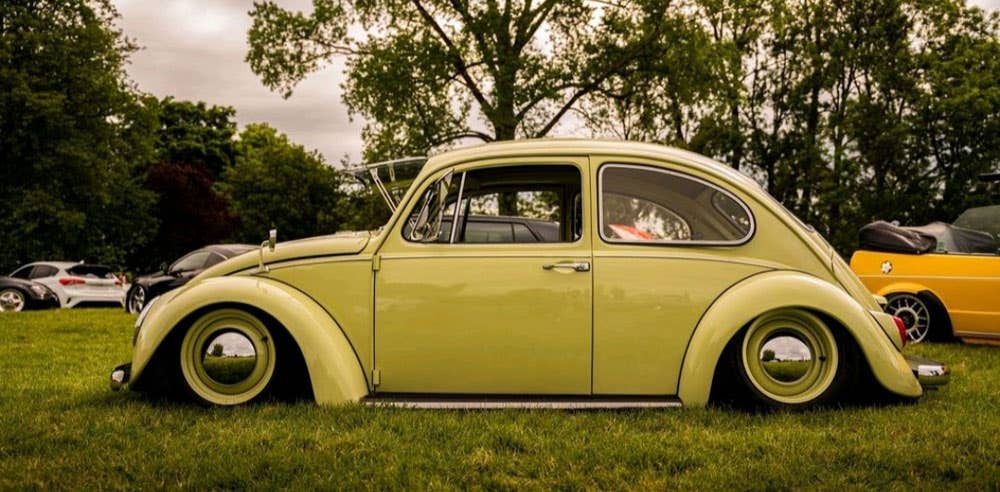 Thanks, Nick!
We wanted to say thank you to Nick for signing up to join us at the 2023 VolksWorld Show, and for sending us all this information about his restoration project and the great photos of the before, during, and after - we're excited to see your Beetle on display in March!
Fancy two free weekend tickets to VolksWorld, and getting your VW displayed at the show?
We're offering you the chance to have your classic VW on display with us at the 2023 VolksWorld Show, on 18 & 19 March 2023. We'll get you free tickets for the weekend, and give you a space for your vehicle on our brand new display area, to be seen by thousands of fellow VW fans.
There's no strings, no hassle, no cost - we're just keen to show off your classics and let everyone know that you absolutely can work on your old VW yourself.
Click here to find out how to get your VW displayed at the VolksWorld Show with Just Kampers.