Solution Bed System
Rock and Roll Bed System for VW Campervans
At Just Kampers we have long seen a gap in the market for a safe rock and roll bed system with full-length runners. The main need we saw for this was the versatility as it allows you so many more ways to use your van.
Just Kampers are exceptionally pleased to introduce the JK Solution Bed, an adaptable, versatile bed solution to suit your lifestyle. We took into consideration our long and varied experience of using campervans, what we knew campers needed from their bed and also how many different ways people used their campervans.
The solution is highly versatile, thanks in part to its full-length runner system. Arguably more important is the fact that it's very comfy to sit on, even over long journeys.
Safety
When designing our rock and roll bed, safety was a big priority for us, both for use when sleeping and when sitting.
The JK Solution Bed system designed for Volkswagen SWB (Short Wheelbase) T5's and T6's (Not Caravelle/Shuttle Models) is the first pull tested and TUV approved seat/bed to be introduced in the UK that doesn't need multiple and highly invasive modifications to your chassis.
The seat has been through in-chassis testing and complies with the latest TUV standards.
Rock and Roll Bed with Seatbelts
The JK Solution Bed offers 3 or 2 seat options with integral 3-point belts, integrated adjustable headrests and ISO FIX child seat fixings.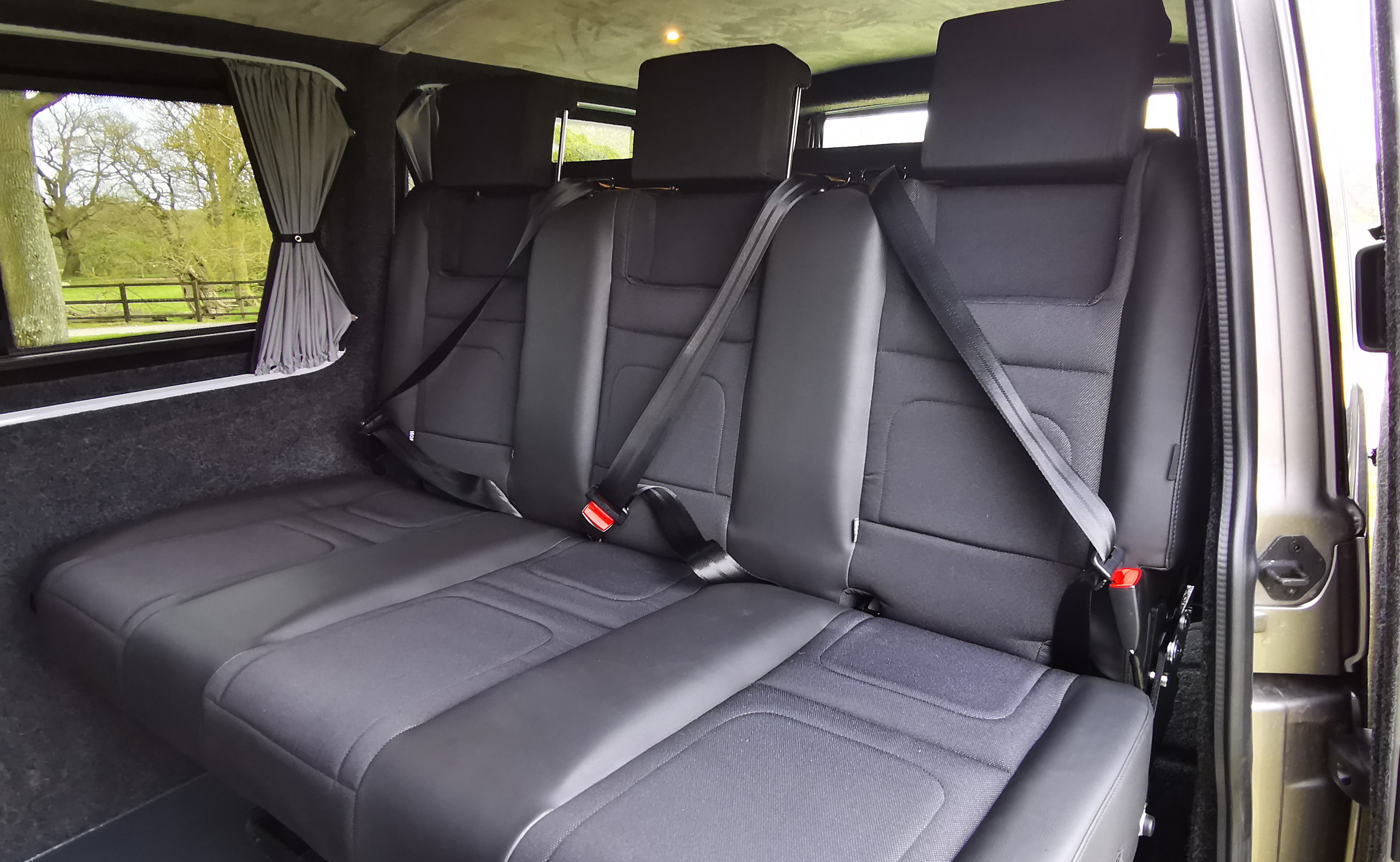 Comfort In Your VW Campervan
Your campervan is your home away from home, or for some people, their only home, so it's important that you are comfortable at every point of your journey. When in its upright position, the full -width & 3/4 width seats offer an all-round great support over both long and short journeys for both kids and adults. And yes, it's just as comfortable to sleep on as it is to sit, we've tested it! The JK Solution bed comes fully upholstered with over 6 inches of comfortable foam.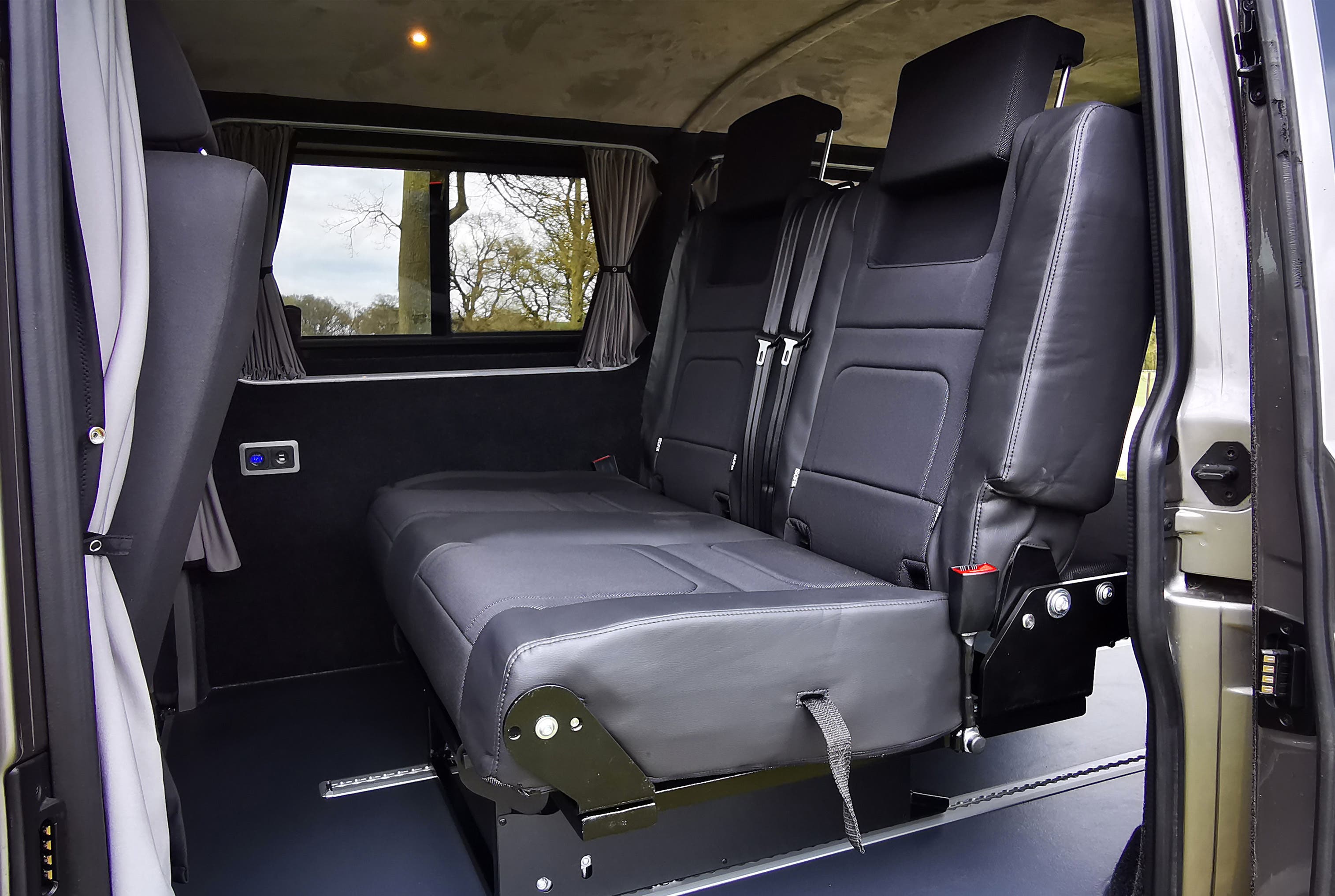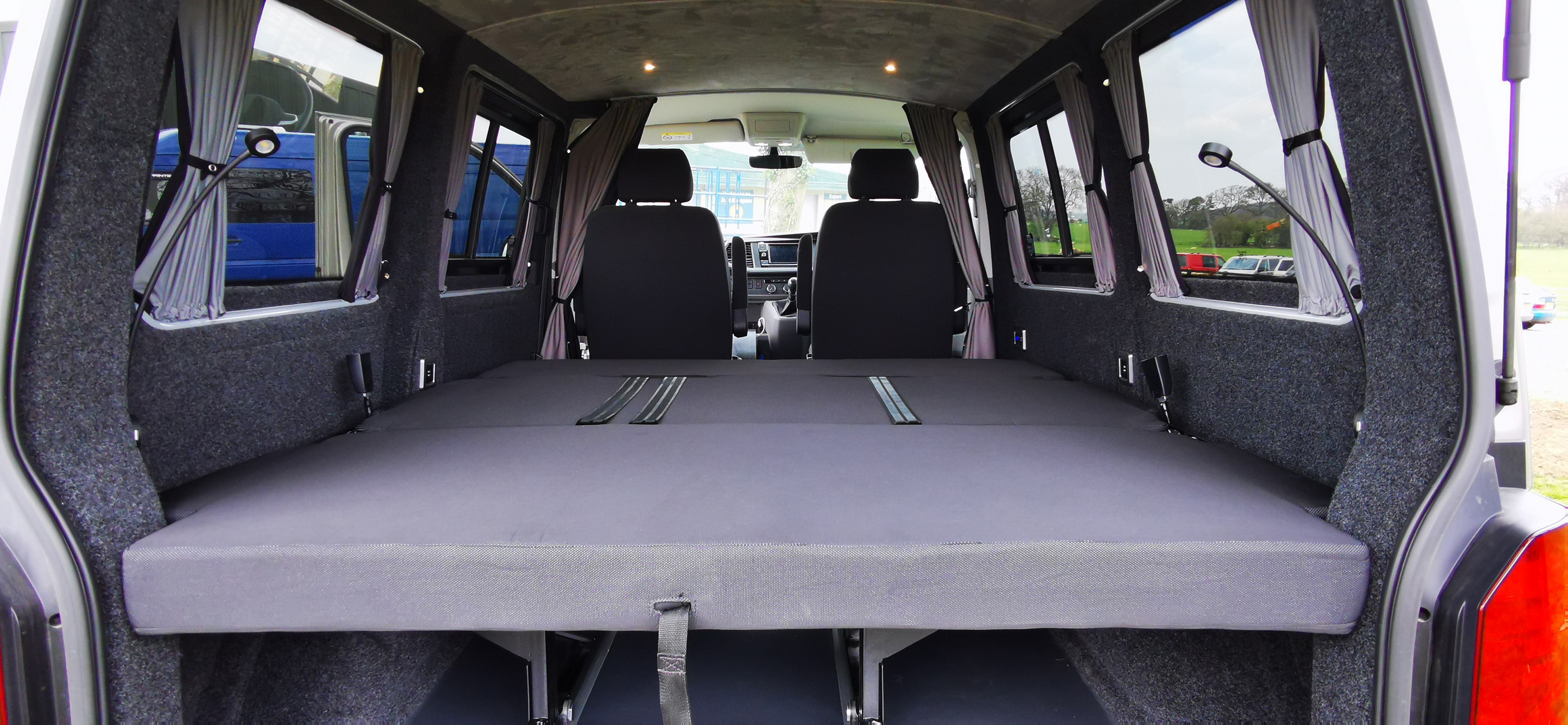 Versatile Rock and Roll Bed
Versatility was a key part of our solution. We found that no other bed system out there solved the problem of the large bed system getting in the way when wanting to use the van for transporting goods.
Our Solution bed is fully adjustable and versatile to suit your lifestyle, no matter what you do with your transporter. Our insulated floor with an inbuilt track system allows you to slide the seat forward and back through multiple points. You can even remove it completely should you require all of your vans load space to transport larger items, thus giving you complete versatility. With the Just Kampers rock and roll bed solution, you can carry loads, put your bike in the back of your van, or even your surf kit whilst still seating your family or friends.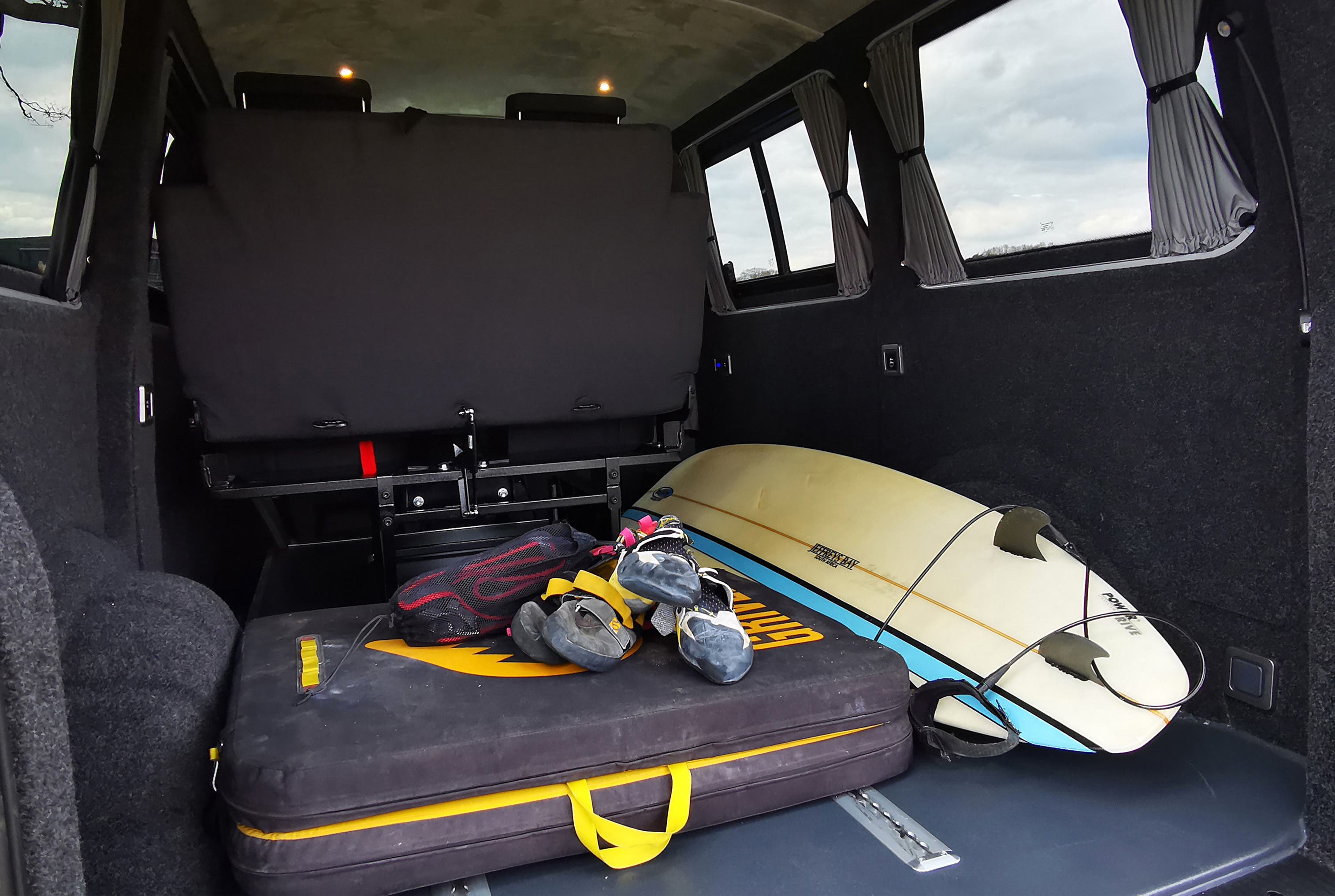 Easy to use
Designed with a lift and slide operation, the seat can be moved simply and quickly by lifting the front lever under the base of the seat. Using this simple lever, pull or push to slide the seat into your preferred position through its multiple points within the track system.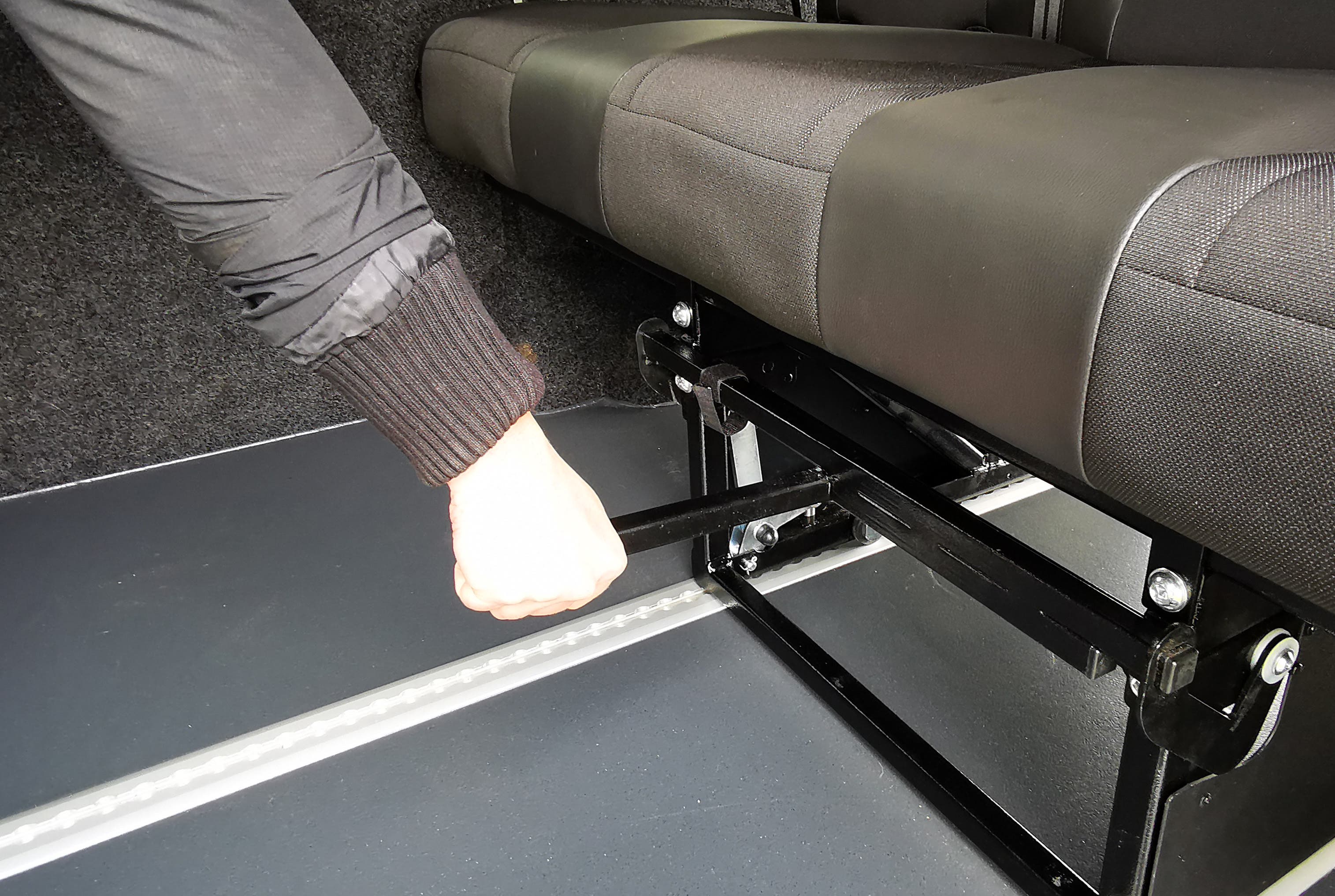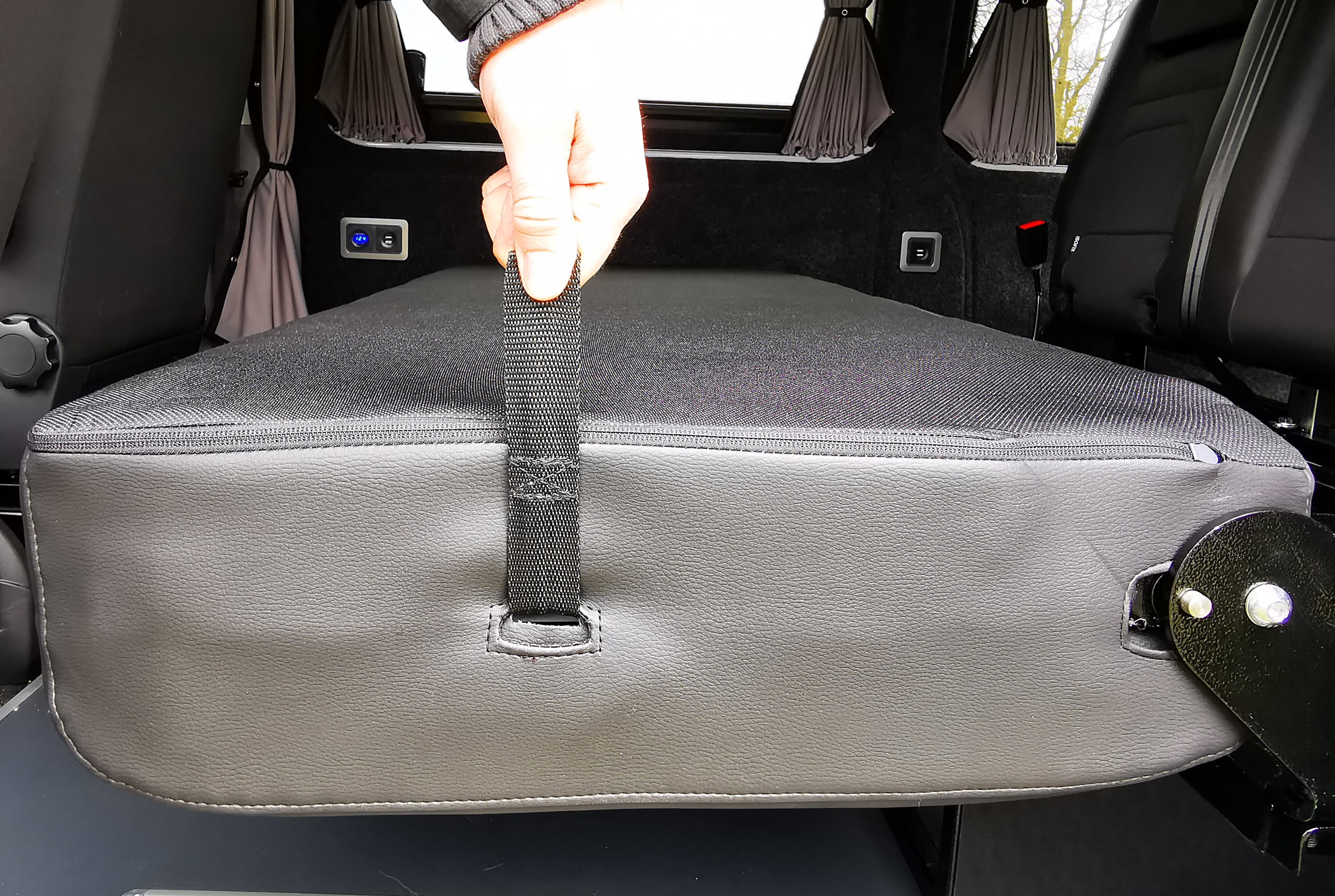 When you are ready to use the bed convert the seat to a bed, the JK Solution bed is incredibly so simple to use and deploys in seconds.
First, pull out the locking strap located on the side of the seat base. Then, rotate the seat cushion over to a horizontal position before pulling the red tag located at the base of the backrest and pull this towards you and drop the foam base into place. You now have a comfy bed, ready to be used.
Returning the bed to a seat is just as simple. Fold the backrest (middle section) back into its upright locked position, then fold the seat cushion (top section) back into its resting position as a seat base. Done!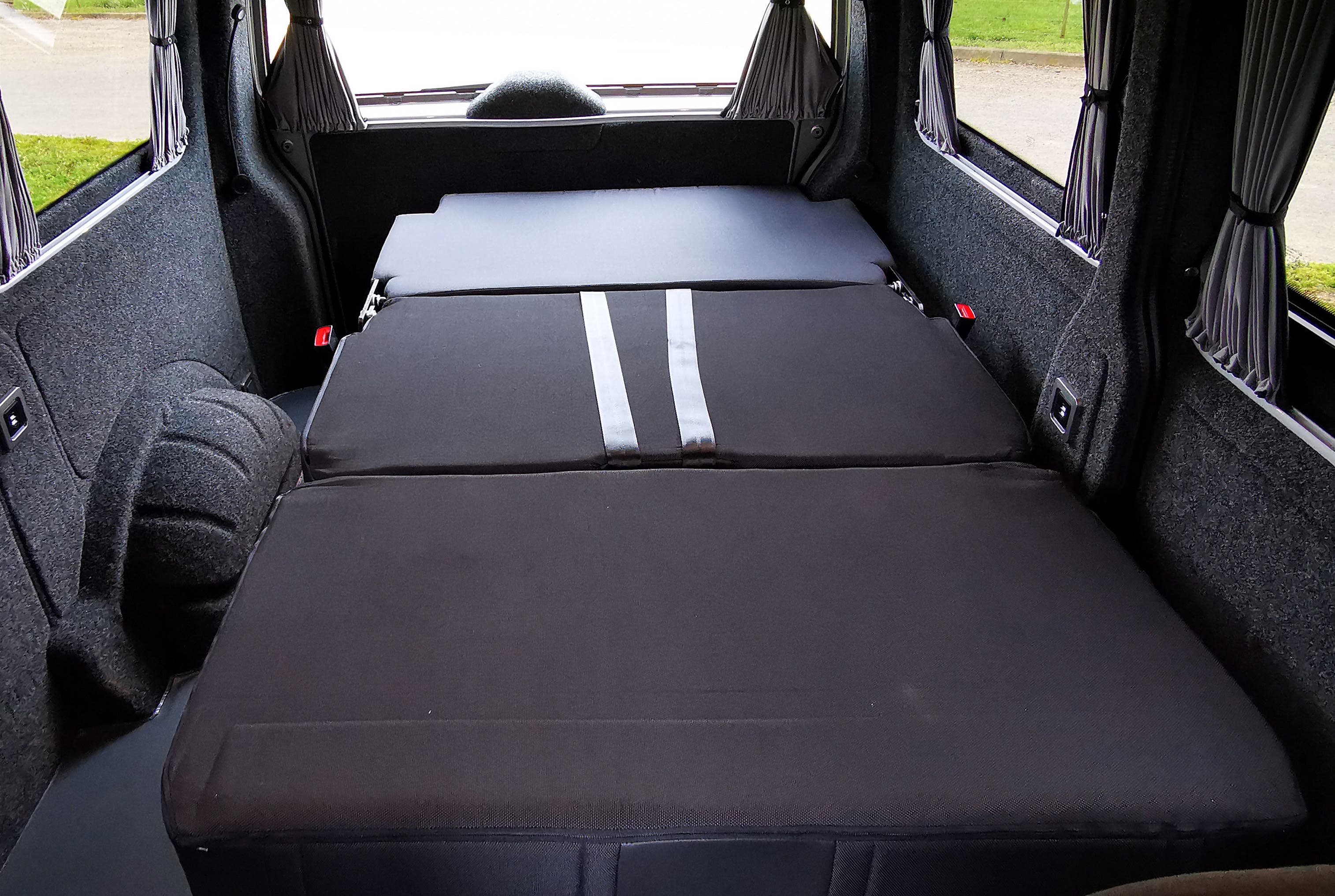 This bed also features an adjustable rear cushion, which can be used as a back support whilst the seat base and backrest are folded flat. When in its seated configuration, the rear cushion can be folded down to be used as a parcel shelf or folded back to create more rear space.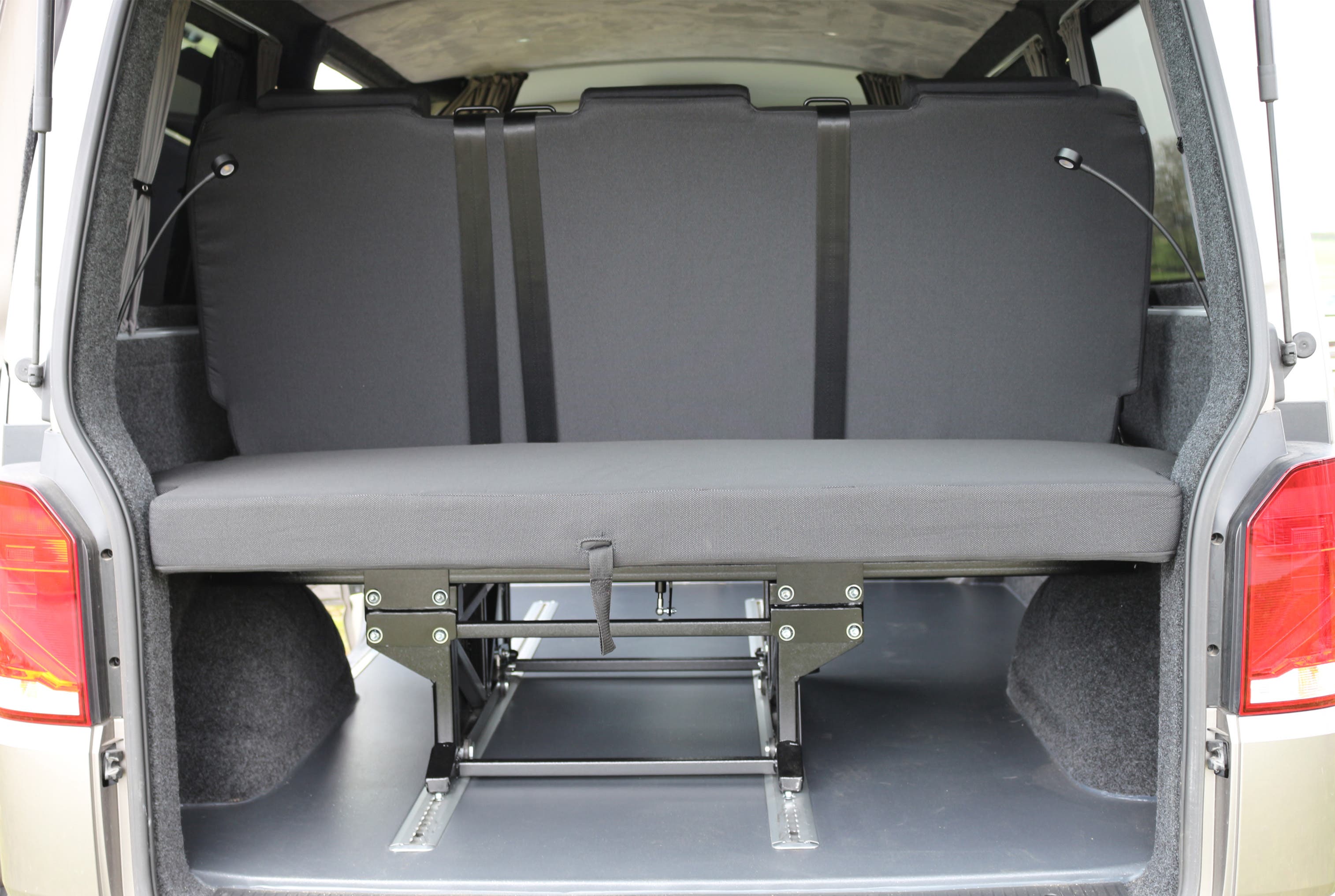 Fitting the Just Kampers Solution Bed System
Just Kampers Solution Bed System will need to be professionaly fitted to ensure your guarantee is not invalidated.
All of our Solution Bed systems include professional installation at no extra charge with our agreed authorised installer based in Hampshire.
Dub Van Styling conversion experts are fully trained and certified to install the JK Solution Sliding Seat System so sit back, relax, your van is in safe hands.
1. Once you have purchased the JK Solution Bed System, we will contact our authorised fitter located in Hampshire.
2. Our authorised installer, Dub Van Styling, will contact you to arrange a date for your installation.
3. When you have an installation date arranged, you will need to prepare your van. This means any previously installed interiors including, cupboards, kitchens and flooring will need to be removed completely. This allows the installation of your new floor/track system to be fitted without any complication. Read our guide on how to prepare your van.
If you are a conversion fitter or conversion business, we are currently looking for people like you to be added to our fitter network. Please get in touch if you would like to be involved.
Features
· TUV Approved
· Pull tested
· ISO FIX (Child seat fixing)
· Full or 3/4 width options
· Flat and comfortable sleeping surface
· Adjustable rear back cushion support
· Contoured seat cushions
· Fitted seat belts
· No need to drop or remove the fuel tank
· Multi-positional options
· Adjustable headrests
· No non-reversible modifications
Price includes
· Free professional fitting
· Floor rail system
· Insulated raised ply flooring
· Altro vinyl flooring
Technical Specification Bed:
Full Width
Width:1500 mm
Length:971mm
Seat height:464 mm
Seatbelts: 3
ISO FIX: 2

3/4 Width
Width:1120 mm
Length:966 mm
Seat height:458 mm
Seatbelts:2
ISO FIX: 2