Bike racks can appear overwhelming when researching, but it's a lot easier when you know what you're looking for. We've decided to put together a small buyers guide on how to choose the best bike rack for you; we'll help you understand and sort through all the jargon.
There are many different bike racks on the market, all perfect for different campervans and vehicles. Many factors such as the type of bike you own, will affect your choice. Other factors such as the way the bikes are mounted, and how many bikes you can fit to the rack, will affect your choice as well.
This small guide will help steer you in the right direction; specific qualities will aid a racks quality, some racks may support more weight than others, let's get started and begin to unpack the big box of bike rack info!
Why might I need a bike rack?
Some overlook this luxury but having another form of travel available when you're moving about in the camper, makes life that little bit more enjoyable!
It's not just about cycling through the woods on a summer's day, it's also a great way to get to the shops and back if you don't wish to disturb your awning!
Bike Rack mounting:
There are various mounting methods for bike racks to adhere to your classic camper. All offer different benefits for different applications. Some are a little stronger and will even hold a small motorbike or monkey bike!
The two most common types are: Tailgate mounted bike racks and tow bar mounted bike racks.
Tailgate mounted racks are ideal for people who look for a rack that could be used on more than one of their vehicles. Most tow bar mounted bike racks are relatively universal and can be swapped from vehicle to vehicle; they take advantage of the receiver tube or tow ball on the back of your vehicle.
Their main disadvantage is that they will often block the tailgate, which can make accessing the vehicle difficult. Some sophisticated systems allow you to tilt the bikes away from the vehicle in order to leave room for the opening door, but this can come with a higher price point.
A great example of a tow bar mounted bike rack is the Oris Tracc Tow Ball Mounted Bike Rack, J46395 on our website.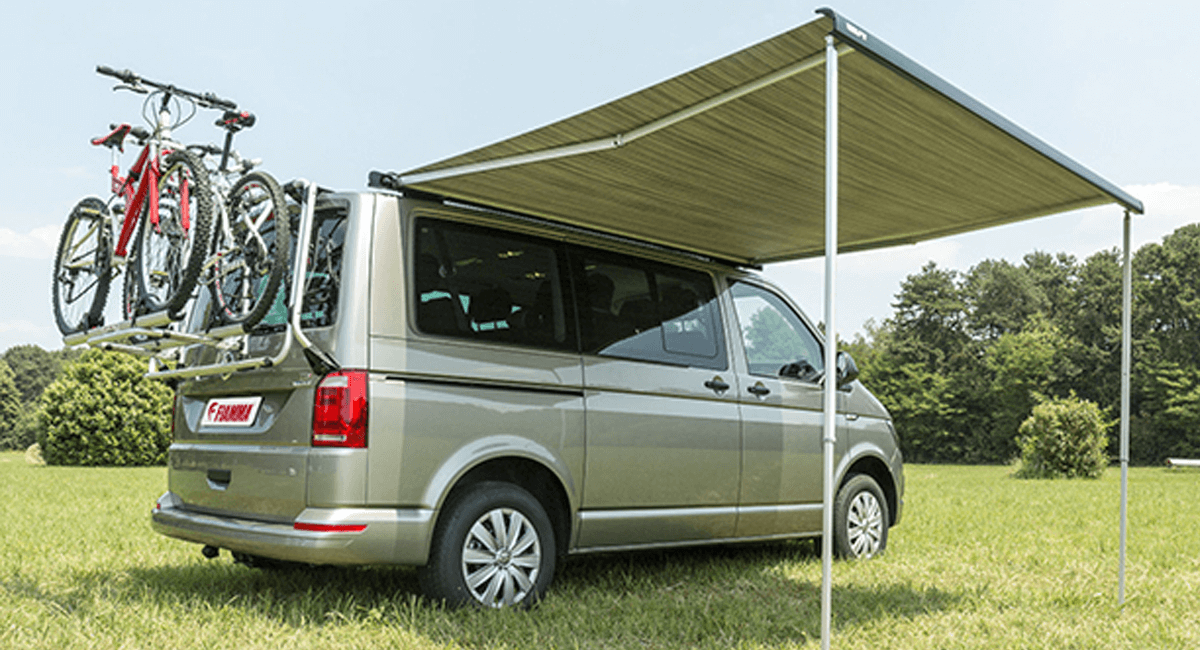 The Fiamma VW T5 Pro Bike Rack 2003-2015 (Tailgate only)
We sell a Fiamma tailgate bike rack complete with a bicycle cover, together under the number J13763.
Tailgate bike racks are good because they can be used spontaneously, if you decide you'd like to head out and enjoy an unexpected heatwave, then you can!
The bicycle rack is simply attached to the tailgate and does not have to be screwed or glued, so it can be removed for temporary use! One problem that occurs with a tailgate mounted rack is that it will require a lot of oomph to get the tailgate open, with all that weight on top. It's worth taking this into consideration if your bikes are particularly heavy.
The J13763 Fiamma model is made to fit T2 Splits from 1964-1967 or T2 Bays from 1967-1979.
How many bikes can be stored on a bike rack?
Most bike racks will carry between 1-3 bikes at a time. Be keen to measure your bikes before committing to an order, because not all bikes are standard size! Mountain bikes especially can have wider tyres than average, and this can put a bit of a spanner in the works.
One example of a three-bike loading cycle rack is the Fiamma Carry-Bike Rack for VW T25 from years 1979-1992. This product is available on our website via the number J11470.
This rack's been designed to follow the shape of the T25 and at standard will carry up to two bikes at one time, with a maximum loading capacity of 50 kg. A third optional rail can be added to the assembly, and this is what enables you to carry three bikes at one time!
Check out the very robust Fiamma Tailgate Bike Rack for VW T4 from 1991-2003. This sturdy structure will hold up to 4 bikes at one time, with the additional rails!! It's worth noting that most of the time, tailgate bike racks are unable to be mounted to vehicles with rear spoilers or rear bumper infills. This is because the areas which mount or rest on the vehicle then foul with these areas, preventing a safe fixture.
If you're interested in a bike rack for your T4, and would like the option to carry up to 4 bikes, you'll want to take a look J12209 for the additional rails.

Other optional rails and bike rack accessories:
We stock a variety of accessories, tailored for different bike racks. These include additional rails, bike kits, rail end caps, and bicycle covers. We also sell a few bundles which provide accessories alongside the bike rack for a cheaper price.
An example of this is the T5 Fiamma Bike Rack provided with a cover, which you save £8.19 on by purchasing them together as a bundle! You can find this on our website via the number J18728.
How are the bikes secured?
Most bike racks will come equipped with brackets and tensioning straps. The idea being that you place the wheels into the brackets and the strap will travel through the wheel and to the other side of the bracket.
Once pulled across it can be tensioned into place for a secure fixing. Depending on the design, some racks with have multiple brackets in different places, to keep the bikes sturdy.
As an example, most of our Fiamma Tailgate racks feature two brackets on the main rail, for both wheels to fix to.
They also have additional fixings above with tensioning straps, so that you can secure the frame to the rack as well as the wheels. More fixings will provide a stronger hold for your bike!
Can I still access the engine on my classic camper?
Yes! You don't need to worry about access to the engine bay in your classic, the tailgate mounted bike racks are reasonably smaller than those for other models. The bike racks are designed to sit on the tailgate, well above the door entrance to the rear engine.
Once the bikes are mounted on, you can still lift the door, should you need to perform any maintenance checks or carry out work on the heart of your classic camper. This goes for bike racks made both for Bays and Splits.
Why do we stock so many Fiamma bicycle racks?
Fiamma are market leaders in bike racks, with years of experience in trialling and developing high quality products. We also sell other Fiamma products on our website, they develop very high-quality awnings and other camping accessories.
Fiamma are known worldwide as pioneers in technical accessories for the camper and motorhome vehicle market. We have a lot of confidence in their products, and we deliver a plethora of their products to provide you with the best quality at the best prices.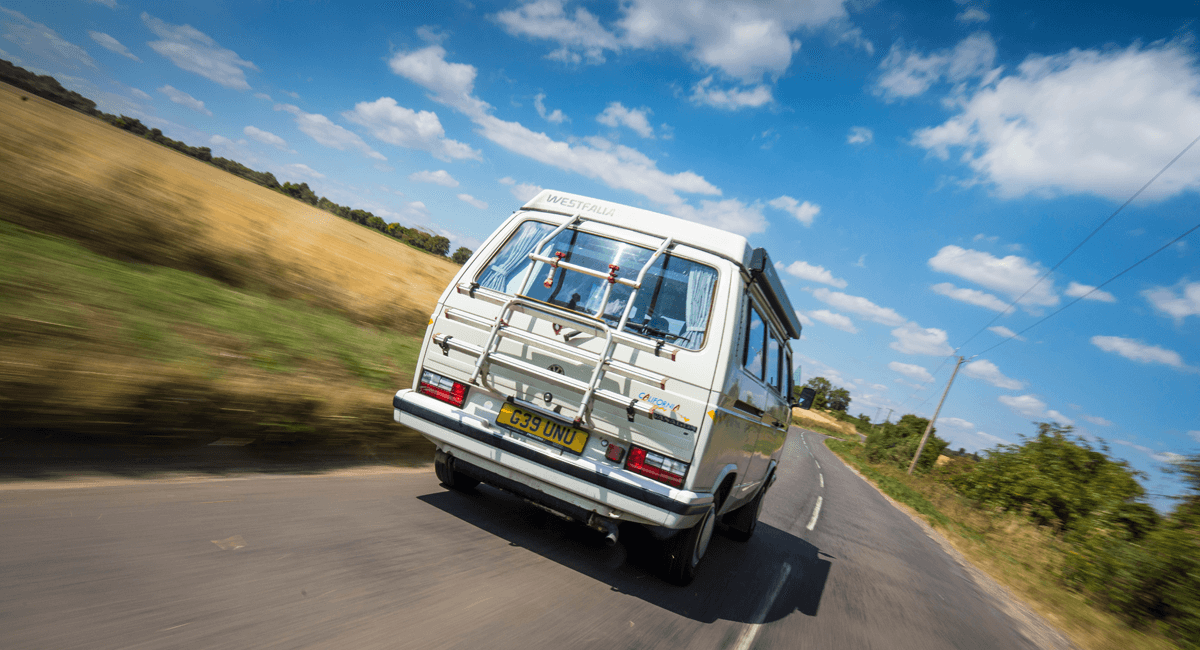 It's better to be safe than sorry!
It's important to choose the right rack for you, if you've got yourself a state-of-the-art carbon fibre road bike, then you'll want the most effective fixing to your vehicle as possible! If you're ever hesitant about the quality of your own fixing, please don't risk it!
If you're worried about the fitment of the bike rack to your vehicle, it's best to get a second opinion and advice of a professional fitter before you set off on a long journey.
However, if you think you may have a problem, if a rack is bent or faulty, please take a couple pics and send them through to our email: sales@justkampers.co.uk.
Bike racks are a convenient and safer way of transporting your bikes with you, as you go camping.
Enjoy the summer sun this year and get out and about on your bikes!