We were delighted when one of our customers, Rosie, sent us an email recently to jkworld@justkampers to talk about their awesome '73 Beetle and the great history they have with their Bug.
We asked her for some more info, and she was kind enough to give us the whole story, and some excellent photos.
So here it is, the story of Rosie and her VW Beetle, Goldie:
Goldie is a 1973 1303s VW Beetle, as per her name she is dressed in luxurious gold paint, and she's been in the family for around 10 years. Goldie is owned by the lovely Rosie, her bond with Goldie is routed very deeply in her family history.
Rosie previously lived in Bolton as a child and when Goldie was up for sale from her previous owner, her Mum recognised the original numberplate was from Bolton! There's been love in Rosie's family for other vintage VW's, her Mum has a 1979 T2 Bay window Campervan and her brother used to have a 1971 VW Beetle.
How did they get Goldie?
Rosie's Mum first saw the advert for Goldie in the back of a VolksWorld magazine. She recognised the numberplate was from Bolton; she spoke with the seller and booked a viewing, she also found out the seller had owned her for a whopping 25 years!
Between Rosie and her Mum's teamwork, they soon snapped Goldie up along with all the original documents. Thanks to their familiarity with Bolton, they know exactly where Goldie was bought new, which is rare information to have!
Sadly Rosie hadn't had the opportunity to enjoy as many adventures in Goldie as she wanted, and this wasn't helped by Covid, but things are looking up and at least lockdown presented an opportunity to give Goldie a restoration.
Rosie lives with her fiancé Rob, and once she moved to Basingstoke with him, she took full ownership of Goldie. She'd be well looked after, since Rob works for a car storage company, so they have plenty of space for Goldie to sit in the dry!
The restoration:
Goldie had been sat on the driveway for quite a while, so they weren't sure what problems there were. As they undertook initial checks, they soon discovered there was lots of oil leaking from the cylinder head, push rod tubes, and the rear main seal. As they started, they noticed that pretty much everything inside was looking very old and crusty! Not ideal.
They worked out the vast majority of the parts were original, so things were looking good. They took the engine out so that they could disassemble and clean it up. Rosie stated, "The most memorable part of the clean-up was definitely the engine oil basically turning back into dinosaurs, it was like rubber!". They restored all the rusty tin ware, repaired a hole in the inlet manifold, cut the heat pipes to remove carbon build up and then undertook service jobs like replacing spark plugs, HT leads, dizzy caps and the rest.
The heat exchangers had rusted through where it joins to the rear box, so that needed some welding to repair it. There was also a very strong smell of fuel whenever they would drive Goldie, so they replaced the fuel lines once everything else was cleaned up and put together.
They also replaced all the gaskets and once that was done, the engine was ready to be put back together and installed.
All this took Rosie and Rob around 5 months to complete during lockdown, using every weekend to restore Goldie.
The restoration goal was to have her finished by Rosies Mum's birthday. The plan was to get Goldie to a driveable state by that time, so they could drive her the 400-mile round trip to Bolton and back to surprise her Mum!
They got the engine in with a week to spare, and after one final quick trip to Just Kampers for a new fuel pump, Goldie was ready for the journey.
Rob ran a few test runs with Goldie, to work and back, before they braved the first 200 mile trip! She was packed up with every tool and fluid possibly required for every imaginable emergency, just in case she broke down along the way. Luckily "she drove like a dream and without a hint of hesitation!" as Rosie said. "The most enjoyable part of the whole experience was hearing her start up again".
The most challenging part for the two of them was the process of pulling apart the engine and putting it all back together, as neither of them has previously had any experience in that. Between the two of them, Rosie and Rob have a huge amount of car knowledge, and with the additional help of Rosie's brother Alex, who has a natural affinity for air-cooled vehicles, they managed to get everything together.
The proposal:
Rob and Rosie's proposal story was not the one that they had quite had in mind, the original plan was to attend a McFly concert, and Rob would to pop the question there! (McFly is Rosie's favourite band, and it must be said that she is definitely not alone on that one!!)
Thanks to Covid, this plan was no longer a possibility, so instead Rob came up with a plan B. This involved the two of them spending a weekend doing some maintenance work on Goldie together. The ring box was originally a bright yellow, Rob frantically searched for some different fabric to re-dress the box and after a while he found some blue fabric with beetles on it, so went ahead and re-dressed the box.
He then put the plan into action, Rob asked Rosie if she wouldn't mind popping the bonnet for him. The lever for the bonnet is conveniently located within the glove box, and this is where he had stowed the ring. She opened the glovebox, the ring box was found, and Rob popped the question! Goldie is a very important part of Rob and Rosie's relationship together and it's safe to say that she will be pride of place at their wedding later on this year.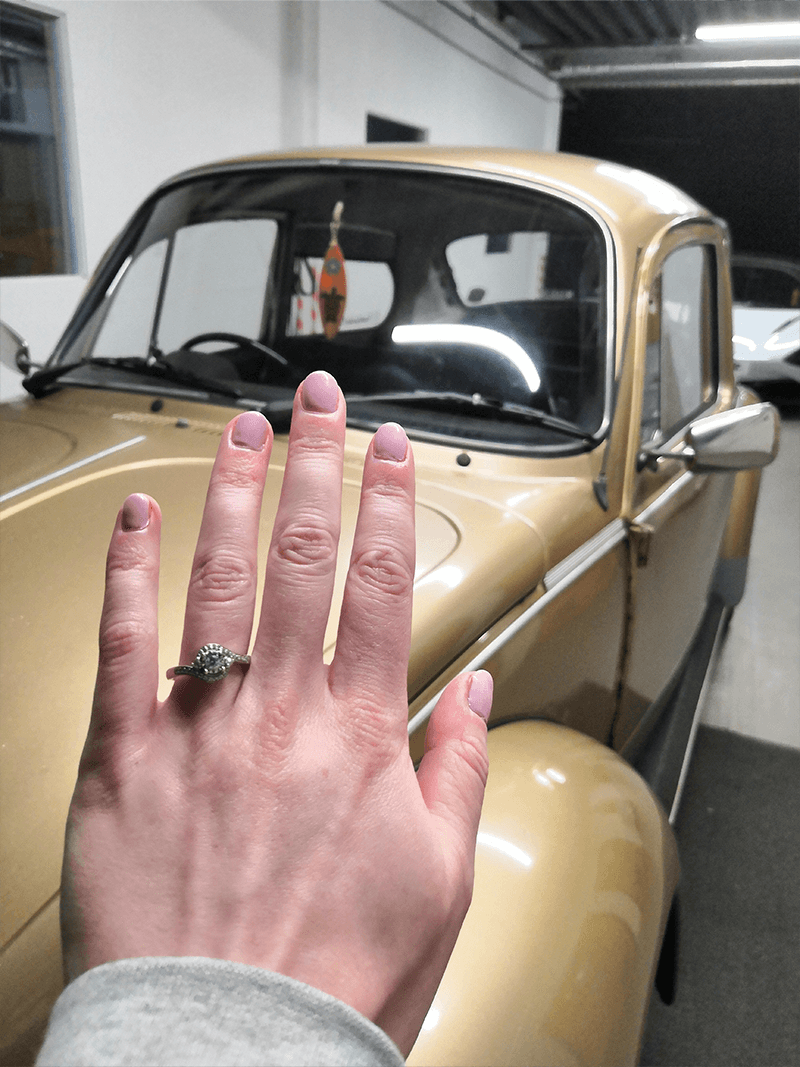 Best Beetle prize at Endless Summer Show 2021:
The summer of 2021 was the first summer that we were allowed to do anything properly, especially in terms of car shows!
The first ever show that the couple had the opportunity to attend since owning Goldie together, was the VW Endless Summer show in Basingstoke, which is conveniently very local to them. The show went ahead and the money raised goes toward the support of the Naomi House Children's Hospice.
Rosie's family convinced her to enter Goldie for the Best Beetle Competition as part of the show. Once Rosie had seen a few of the other contenders, she had no expectation of winning.
Before all the winners were announced, Rosie had offered for her family to go back to her house as the weather turned into torrential rain and everyone was soaked to the bone. I can vouch for that, I went to the Endless Summer show last year, and I remember watching the start of the awards ceremony whilst lighting flashed across the sky!
Later on, it was Rosie who was called up to the stage to accept the award for the Best Beetle Prize of 2021! It was such a shock to her that it took Rosie a moment to realise what exactly was going on and for her to run up and accept the award! The trophy is now pride of place in their living room.
VolksWorld 2022:
Goldie did attend the show, just a few weeks back in Esher, the original goal when Rosie took ownership of Goldie was to get her ready for VolksWorld 2020, which of course was cancelled. To finally have the opportunity to attend with her was fantastic. Rosie said that she felt so overwhelmed by the sheer level of people that are still so clearly passionate and enthusiastic about their classic vehicles.
She said it wasn't just about the vans and cars that were parked within the show area, but the plethora of vehicles outside in the car park were just as much a part of the event. The pride that people have for these vehicles is astounding and it's lovely to see. Rosie can't wait for next year's event, and hopes that maybe once day Goldie might have her own spot in the show!
Rosie has an Instagram account under the name of @teamgoldie73. Here is where she shares Goldie's progress and the journeys that Rosie and Rob have been on, to get Goldie where she is today. If you're interested in looking at her page, then please click the link in her name!