At Just Kampers, we have an absolute mountain of products dedicated to the modern VW Transporters, as well as a huge amount of knowledge about them and passion for them. We answer a dizzying array of questions about these iconic vehicles, and this week, we'd like to explore a commonly raised question:
Which is better, the T5 or the T6?
These popular modern vehicles represent a successful evolutionary step in VW's design process. The T4 is technically the official model which brought VW Transporters into the modern age, moving the engine to the front and bringing in a number of other key changes.
However, it wasn't until the release of the VW T5, that we bared witness to the much-improved handling and overall driving experience!
These vans are perfect for variety of applications, and excel as people-carriers, campervans, family vehicles, and of course commercial use!
What makes them so popular is their inspiration of both new and old. Despite their striking design progression from the original T2s, the modern Transporters are just as well suited to living the vanlife dream!
Alright, alright! So, we get how brilliant they are. But "which one is the best vehicle for me?" I hear you say…
An overview of the T5
The VW T5 was first launched on 6th October 2002; they went into full production on 25th April 2003 and replaced the fourth generation for the VW Transporter, the T4. The T5 stayed in production until 2010, when the model was replaced by the updated facelift model: the T5.1.
The T5 is most often used as a commercial vehicle, but can be modified for use as a van, minibus, single-cab, double-cab, drop side or chassis truck. Their variety of types and wheelbase lengths, makes them highly customisable to suit specific situations.
T5 positives:
Replacement engine parts can be simple to change and replace,
Generally, the cheaper of the two, when compared to the cost of a T6,
Older then the T6, so certain function relies less on an electronic interface,
Incredibly safe. Awarded a 4-star rating by Euro NCAP in 2008,
Built with safety equipment like ABS, front drivers and additional precautionary features.
T5 negatives:
Not considered quite as safe as the T6,
Only came in high roofs or standard roofs. There was no middle ground for customisability,
Arguably more known common faults that are likely to occur, when compared to the T6,
Not as environmentally friendly as the T6,
Very few driver assist or safety assistance features, which makes it harder to drive.
Let's explore these points in more detail…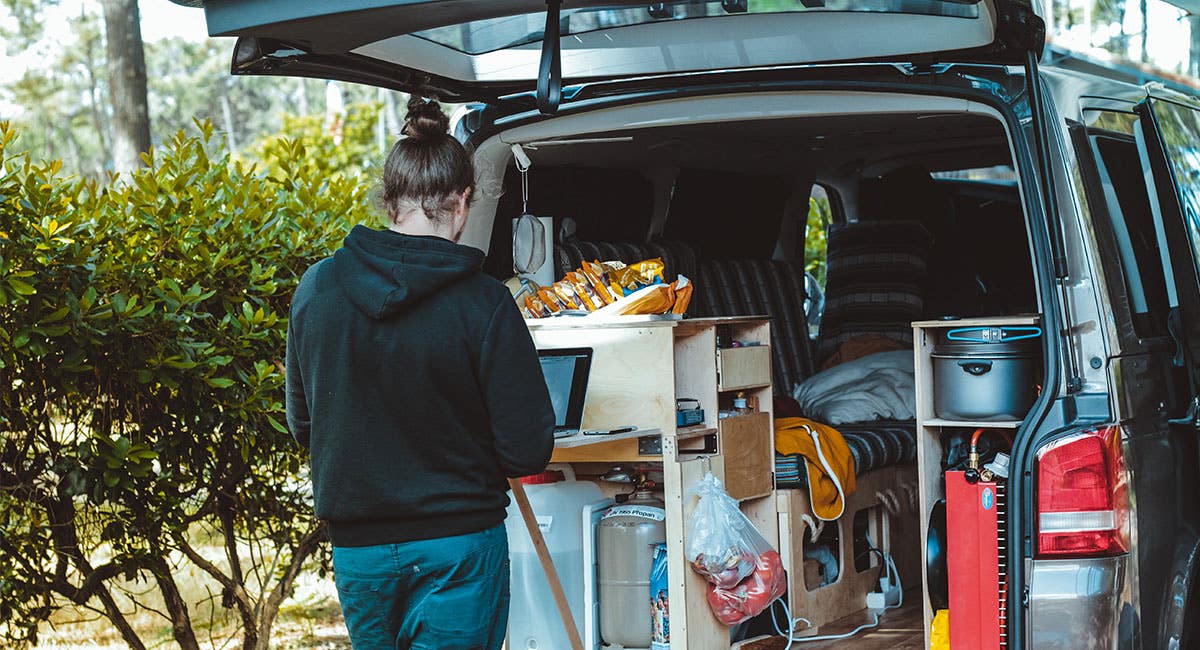 Photo credit to Brina Blum, via Unsplash.
The T5's wide variety of models:

The T5 came in a few variations, all with different features for unique purposes. VW Released the following models: Panel Van, Kombi, Pick-Up, Crew Cab, Chassis Cab, Shuttle, California, Multivan and Caravelle. To further customise the market, these vehicles were manufactured with two different wheelbase lengths to choose from. The short wheelbase (SWB) variant measured approximately 4.89 metres from front to back. The longer variant (LWB) measured roughly 5.3 metres long. There was also a T5 high-roof option, which would provide you with more headroom; a great option for those converting from panel van to camper!
If you're after a van with plenty of space in the back; for tools during the week and for the family at the weekend, you'll probably find a T5 Kombi would suit you best! If you don't need the space in the rear for carrying equipment, or need the space dedicated to seating, then the T5 Minibus would be a perfect option. If you're looking to modify your van into a camper, you're probably better off opting for a LWB model. This would give your interior space just a little bit more room.
These different vehicle types were also available, as the 2010 T5 facelift was introduced! The T5.1 is the recent and most updated variation of the T5 series. The front end was further refined in aid of a sleeker and more considered exterior. The easiest way to distinguish a T5 from a T5.1, is to look at the shape of the front lights, bonnet form and wing mirror covers.
Get the right engine for you:

In general, the T5 is a reliable and well-rounded vehicle. Bu when it comes to their different engines, some are better than others. The consensus seems to be, as long as you avoid the 2.5-litre engines, you should be okay. Others are much easier to work on and the parts are far cheaper to source.
The 2.5 is unfortunately very costly to maintain. However, its capacity to boast a whopping 174bhp, would have plenty of people turn a blind eye to the expense! Not to mention the 2.5 also came with an all-wheel drive option; VW's 4Motion set-up. But if you're looking for reliability and not speed, the 1.9-litre diesel will probably be a better choice.
How safe is the T5?

Crucial safety equipment in the T5, such as the ABS, front drivers, crumple zones and passenger airbags, are all tested to assess their degree of protection in the event of a crash. In 2008, the T5 was awarded a 4-star crash safety rating by the European New Car Assessment Programme. With a score so high, a T5 would be considered a capable and safe option for family holidays.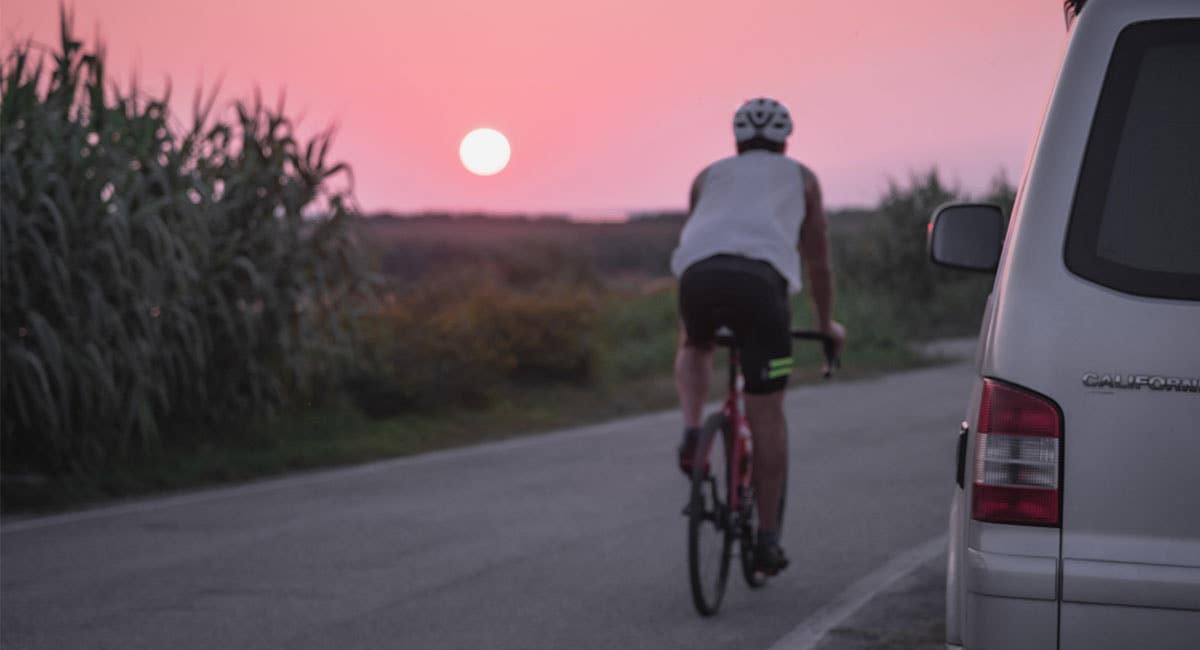 Photo credit to Marlo Wock, via Unsplash.
What are the common faults?

Even legends sometimes have their downfalls; unfortunately, the VW T5 did develop a few commonly occurring faults. The most reliable engine for long-term use, would be the 1.9. As we previously mentioned, when it comes to replacing parts, the replacements are more affordable when compared to the 2.5-litre. That being said, the 2.5 has proved to be a robust engine when looked after.
If you can keep an ear out for a misfire, issues can be resolved before they progress. The common misfire in cylinder two, is most often caused by premature camshaft wear. The VW T5 developed a few common faults over the years, but that's no cause for concern. These are all mendable or can potentially be avoided. If you're interested in purchasing a T5, we recommend you have a read through our JK T5 Buyers Guide. Here you'll learn all you need to know before buying a T5; faults to look out for, model variations, and approximate vehicle values. Our guide even has a downloadable T5 Viewing Checklist, with guidance and tips to assist you on your vehicle hunting journey.
She doesn't need to be perfect!

Don't forget, your new VW doesn't have to tick every box! There's plenty of conversion products available, which are dedicated to using space effectively. The fun thing about customising a vehicle yourself, is the opportunity to get creative.
Think outside the box!

Reimo Pop Tops are a perfect example; their main purpose is to provide your van with more living space. They convert your roof into a movable panel, which can be elevated to reveal a temporary room. Some people use this area as a sleeping space! Of course, you can purchase an already modified vehicle, or maybe you'll find yourself a California model, which had them from stock. Of similar calibre, we've got lots of products focussed on using unoccupied space in an efficient way! Your roof is an underrated feature; make the most of your interior space by moving unwanted clutter, upstairs. Roof racks, roof bars and roof boxes are an affordable and convenient way of managing your belongings
If you like the idea of utilising your roof space, we recommend the TentBox range!
They provide space on the roof for living or sleeping, much like a pop top roof. One main advantage is their temporary fixing method! Their installation is totally non-invasive; simply clamp onto your existing roof rack. You're then free to remove it if you're using your vehicle outside camping season!
Photo credit to Daniel Schwarz, via Unsplash.
Overview of the T6
The VW T6 was first launched in 2014; introduced as the next step in the VW Transporter progression. Volkswagen unveiled the updated T6.1 model at the Geneva Motor Show, back in March 2019.
The T6 makes for a very good commercial vehicle but is commonly modified for use in other ways. The most significant change to this generation of Transporter is their updated engine. Various changes were made to improve the vehicles efficiency, which in turn was rewarded with a Euro A 6 status. So you can drive through low emission zones, without paying!
T6 positives:
Driver assist features make it a viable option for users with slight physical impairments,
Awarded with Euro NCAP Gold Medal, making it the safest option for travelling with the kids,
Comes in three different roof height choices, providing better customisability,
The increased safety features makes it cheaper to insure,
Significantly more environmentally friendly, a battery-electric alternative is now available.
T6 negatives:
More expensive than a T5 to purchase,
Little room for modification and tinkering for people who are mechanically minded,
Increased reliability on electronic components makes it harder to mend your vehicle yourself,
Relatively common EGR valve failure, which allows coolant into the cylinder,
High quantity of varying engines makes it tricky to navigate the second-hand market.
Let's explore these factors in more detail…
Varying T6 models:

The T6 comes in a range of different types, including the Chassis Cab, California, Caravelle, Multivan, Shuttle, Kombi, and Panel Van. SWB and LWB options were also available, as well as a choice between three roof heights. The lowest measured about 1.9 m and the highest measures approximately 2.4 m. The additional headroom facilitates extra space, making it perfect for conversion, but bear in mind the height may restrict your vehicle access and parking opportunities.
The T6.1 was introduced in 2019 and is still being produced today. A few improvements include a facelift, electric power steering, a new dashboard and a deeper front grille. The T6.1 was designed with more driver-assist functions, than the original T6. The updated model also has a new 'infotainment' system, integrated within the new dashboard. In 2020, VW collaborated with ABT e-Line to produce the ABT e-Transporter 6.1, as a battery-electric alternative to the existing T6.1. The single motor was rated to produce roughly 111 hp, while drawing power from a 37.3 kW-hr battery.
VW T6 and its engines:

Significant technological advancements were made to the engines within the T6 and T6.1 range. When the new Transporter was first introduced, all came with BlueMotion and Stop/Start technology as standard. They were all Euro 6 compliant, and were equipped with a 13-litre AdBlue tank to clean up emissions.
The 2.0-litre diesel offered varying power ratings from as low as a five-speed manual with just 84 bhp. At the other end of the scale, is the seven-speed DSG or 4MOTION boasting a massive 180 bhp. With the T6.1 came a few improvements, including the seven-speed DSG BiTDi with 204 bhp, at the top of the food chain.
Of course, these varying specs have led to an array of engines in the second-hand market. It's important to research your vehicle thoroughly before buying, to be sure it's the right one for you!
The T6 doesn't have many common faults, but there were a few recalls:

There have been three recalls, which are important to be aware of if you're buying second-hand. These include:
Minor side airbag fault,
Driver's door experience issues with Bowden cable in cold weather,
Fuel line issue, due to fault in manufacturing process.
Carry out checks on a vehicle before you buy, to be sure the previous owner has adhered to regular service intervals and recalls problems were resolved. For more in-depth information, regarding safety checks and general T6 info, we recommend you visit our T6 Buyers Guide.
There aren't many issues reported for the T6 and T6.1 engines, however some have experienced EGR valve failures in the 180 and 204 bhp models. When these fail, it allows coolant to leak into the cylinders, which is less than ideal. Other than that, they are reasonably bulletproof!
Look after your Transporter and it will look after you.
Photo credit to Want To Create, via Unsplash.
The T6 has been awarded for its safety:

The T6, specifically the T6.1, has been awarded for it's impeccable safety standards. The Euro NCAP consortium has awarded the VW T6.1 with a 'Euro NCAP Gold Medal'. The group tested the safety and functionality of 19 light commercial vehicles, and the T6.1 came out on top! This awarded them the gold medal and secured the T6's reputation as a well-considered and safety conscious vehicle. The model was equipped with various driver assist functions and safety assistance options, customisable to match the driver/passenger requirements. This and the T6.1's additional features, meant the Euro NCAP had no choice but to crown the Transporter with its undoubtedly well-deserved title.
Other safety features, the T6.1 was applauded for, include Lane Assist, Front Assist, City Emergency Braking Function, and Adaptive Cruise Control with integrated speed limiter.
Safety Fact: Volkswagen were in fact, the first van manufacturer, to fit all commercial vans with Autonomous Emergency Braking systems as standard.
According to TR, VW's decision has the potential to save more than 100 lives and 120,000 casualties, on UK roads over the next ten years. It's also cut third party insurance claims by nearly 50%. As a result, vehicles fitted with AEB have recently paid up to 10% less on their insurance premium.
Safe? It's probably cheaper to insure!

Not only does this provide confirmation of the systems effectiveness but is also a factor worth considering when choosing a T6 vehicle. If the cost of insurance is a deciding factor, keep an eye out for vehicles with increased safety features. The safer your vehicle is, the less expensive your premium should be, especially for comprehensive cover. Which does propose a possible reason for purchasing a new Transporter, over something like a T2 Bay or Split.
Curious about the cost to insure a T5 or T6? Get in touch with Just Kampers Insurance.
Photo credit to Jens Herrndorff, via Unsplash.
If you're looking to experience the 'van-life' lifestyle, a new model like a T6 or T6.1 will have you feeling just as 'zazzed' and alive, but with a few improvements! They have higher reliability, increased safety, they can be cheaper to insure and are packed with features. Their only downside when compared with an older vehicle or T5, is their advanced technology; on the rare occasion that parts or components fail, they're often trickier to fix yourself and more expensive to source.
Comparison and summary
At the end of the day, the best vehicle for you, is down to personal preference and how you plan on using it. If you're after a vehicle that's built to assist you in trying circumstances, or something that's basically as safe as it could possibly be, you're probably better suited to something like a T6.1. However, if you're after a vehicle with less fly-by-wire components, something that's got potential to be more of a project, then an early T5 would likely be a better option!
Both vehicles have their ups and downs; what makes it even harder to compare, is that different people find different features appealing. Someone who sees a lot of value in driver assist systems, may not think so highly of a vehicle without AEB. However, many people find that older vehicles are easier to fix, due to their limited electrical components. As we said, different people with different lives, will suit different vehicles!
The versatile composition of the T5 and T6, make them great vehicle's for pretty much everyone. Of course, there are sizeable factors which set the T5 and T6 apart, but both are great options for anyone looking for a VW van. If you know exactly what you're after, then these vehicles make a great blank canvas; even base spec models provide you with enough features and potential, to make it a worthwhile investment!
This especially goes for people who want a T5 or T6, to convert for camping. They may not be as quirky or characterful as the old classics, but they sure compensate for it with the immense revision and improvement that has taken place over the years. They're easier to use and in some cases more spacious, but they still bring about that happy atmosphere which the originals introduced. So if you're looking for a van to convert, we stand by the VW T5 and T6, especially if a classic just isn't an option for you!
Not to mention, several happy campers enjoyed their T5's and T6's at this years JK Open Day!
Images taken at the 2022 JK Open Day. Credit to Nick Proctor from the JK Team.
As mentioned earlier, we've put together a Buyers Guide for both the VW T5 and T6. If you'd like to have a read through them, please click the corresponding link below:
Have fun and happy vehicle hunting!